Abstract
A disintegrin and a metalloprotease (ADAM) 9 is a metzincin cell-surface protease involved in several biological processes such as myogenesis, fertilization, cell migration, inflammatory response, proliferation, and cell–cell interactions. ADAM9 has been found over-expressed in several solid tumors entities such as glioma, melanoma, prostate cancer, pancreatic ductal adenocarcinoma, gastric, breast, lung, and liver cancers. Immunohistochemical analyses highlight ADAM9 expression by actual cancer cells and associate its abundant presence with clinicopathological features such as shortened overall survival, poor tumor grade, de-differentiation, therapy resistance, and metastasis formation. In each of these tumors, ADAM9 may contribute to tumor biology via proteolytic or non-proteolytic mechanisms. For example, in liver cancer, ADAM9 has been found to shed MHC class I polypeptide-related sequence A, contributing towards the evasion of tumor immunity. ADAM9 may also contribute to tumor biology in non-proteolytic ways probably through interaction with different integrins. For example, in melanoma, the interaction between ADAM9 and β1 integrins facilitates tumor stroma cross talks, which then promotes invasion and metastasis via the activation of MMP1 and MMP2. In breast cancer, the interaction between β1 integrins on endothelial cells and ADAM9 on tumor cells facilitate tumor cell extravasation and invasion to distant sites. This review summarizes the present knowledge on ADAM9 in solid cancers, and the different mechanisms which it employ to drive tumor progression.
Access options
Buy single article
Instant access to the full article PDF.
USD 39.95
Price excludes VAT (USA)
Tax calculation will be finalised during checkout.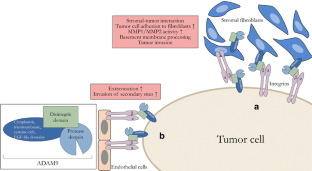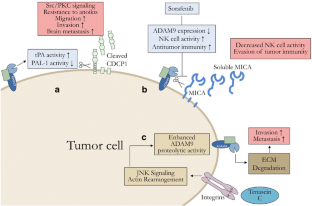 Abbreviations
ADAM9:

Disintegrin and metalloproteinase domain-containing protein 9

MHC:

Major histocompatibility complex

MMP1:

Matrix metalloprotease 1

MMP2:

Matrix metalloprotease 2
References
Edwards DR, Handsley MM, Pennington CJ (2008) The ADAM metalloproteinases. Mol Aspects Med 29(5):258–289

Blobel CP (2005) ADAMs: key components in EGFR signaling and development. Nat Rev Mol Cell Biol 6(1):32–43

Duffy MJ, McKiernan E, O'Donovan N, McGowan PM (2009) Role of ADAMs in cancer formation and progression. Clin Cancer Res 15(4):1140–1144

Seals DF, Courtneidge SA (2003) The ADAMs family of metalloproteases: multidomain proteins with multiple functions. Genes Dev 17(1):7–30

Wong E, Maretzky T, Peleg Y, Blobel CP, Sagi I (2015) The functional maturation of A disintegrin and metalloproteinase (ADAM) 9, 10, and 17 requires processing at a newly identified proprotein convertase (PC) cleavage site. J Biol Chem 290(19):12135–12146

Atapattu L, Saha N, Chheang C, Eissman MF, Xu K, Vail ME et al (2016) An activated form of ADAM10 is tumor selective and regulates cancer stem-like cells and tumor growth. J Exp Med 213(9):1741–1757

Le Gall SM, Maretzky T, Issuree PDA, Niu X-D, Reiss K, Saftig P et al (2010) ADAM17 is regulated by a rapid and reversible mechanism that controls access to its catalytic site. J Cell Sci 123(22):3913–3922

Grützmann R, Lüttges J, Sipos B, Ammerpohl O, Dobrowolski F, Alldinger I et al (2004) ADAM9 expression in pancreatic cancer is associated with tumor type and is a prognostic factor in ductal adenocarcinoma. Br J Cancer 90:1053–1058

Kim JM, Jeung H-C, Rha SY, Yu EJ, Kim TS, Shin YK et al (2014) The effect of disintegrin-metalloproteinase ADAM9 in gastric cancer progression. Mol Cancer Ther 13(12):3074–3085

Fritzsche FR, Wassermann K, Jung M, Tolle A, Kristiansen I, Lein M et al (2008) ADAM9 is highly expressed in renal cell cancer and is associated with tumor progression. BMC Cancer 8:179

Shintani Y, Higashiyama S, Ohta M, Hirabayashi H, Yamamoto S, Yoshimasu T, Matsuura N (2004) Overexpression of ADAM9 in non-small cell lung cancer correlates with brain metastasis. Cancer Res 64(12):4190–4196

Li J, Ji Z, Qiao C, Qi Y, Shi W (2013) Overexpression of ADAM9 promotes colon cancer cells invasion. J Investig Surg 26:127–133

Fritzsche FR, Jung M, Tölle A, Wild P, Hartmann A, Wassermann K et al (2008) ADAM9 expression is a significant and independent prognostic marker of PSA relapse in prostate cancer. Eur Urol 54(5):1097–1108

Fan X, Wang Y, Zhang C, Liu L, Yang S, Wang Y et al (2016) ADAM9 expression is associate with glioma tumor grade and histological type, and acts as a prognostic factor in lower-grade gliomas. Int J Mol Sci 17(9):E1276

O'Shea C, McKie N, Buggy Y, Duggan C, Hill ADK, McDermott E, Duffy MJ (2003) Expression of ADAM-9 mRNA and protein in human breast cancer. Int J Cancer 105(6):754–761

Tao K, Qian N, Tang Y, Ti Z, Song W, Cao D, Dou K (2010) Increased expression of a disintegrin and metalloprotease-9 in hepatocellular carcinoma: implications for tumor progression and prognosis. Jpn J Clin Oncol 40(7):645–651

Zigrino P, Mauch C, Fox JW, Nischt R (2005) Adam-9 expression and regulation in human skin melanoma and melanoma cell lines. Int J Cancer 116(6):853–859

Kohga K, Takehara T, Tatsumi T, Ishida H, Miyagi T, Hosui A, Hayashi N (2010) Sorafenib inhibits the shedding of major histocompatibility complex class I-related chain A on hepatocellular carcinoma cells by down-regulating a disintegrin and metalloproteinase 9. Hepatology 51(4):1264–1273

Micocci KC, de Oliveira Moritz MN, Lino RLB, Fernandes LR, Lima AGF, Figueiredo CC, Selistre-de-Araujo HS (2016) ADAM9 silencing inhibits breast tumor cells transmigration through blood and lymphatic endothelial cells. Biochimie 128:174–182

Zigrino P, Nischt R, Mauch C (2011) The disintegrin-like and cysteine-rich domains of ADAM-9 mediate interactions between melanoma cells and fibroblasts. J Biol Chem 286(8):6801–6807

Mygind KJ, Schwarz J, Sahgal P, Ivaska J, Kveiborg M (2018) Loss of ADAM9 expression impairs beta1 integrin endocytosis, focal adhesion formation and cancer cell migration. J Cell Sci 131(1):jcs205393

Ebrahimi F, Gopalan V, Smith RA, Lam AK-Y (2014) miR-126 in human cancers: clinical roles and current perspectives. Exp Mol Pathol 96(1):98–107

Hamada S, Satoh K, Fujibuchi W, Hirota M, Kanno A, Unno J et al (2012) MiR-126 acts as a tumor suppressor in pancreatic cancer cells via the regulation of ADAM9. Mol Cancer Res 10(1):3–10

Wan D, Shen S, Fu S, Preston B, Brandon C, He S et al (2016) miR-203 suppresses the proliferation and metastasis of hepatocellular carcinoma by targeting oncogene ADAM9 and oncogenic long non-coding RNA HULC. Anticancer Agents Med Chem 16(4):414–423

Zhou C, Liu J, Li Y, Liu L, Zhang X, Ma CY et al (2011) MicroRNA-1274a, a modulator of sorafenib induced a disintegrin and metalloproteinase 9 (ADAM9) down-regulation in hepatocellular carcinoma. FEBS Lett 585(12):1828–1834

Sung S, Kubo H, Shigemura K, Arnold RS, Logani S, Wang R et al (2006) Oxidative stress induces ADAM9 protein expression in human prostate cancer cells. Cancer Res 66:9519–9526

Mongaret C, Alexandre J, Thomas-Schoemann A, Bermudez E, Chéreau C, Nicco C et al (2011) Tumor invasion induced by oxidative stress is dependent on membrane ADAM 9 protein and its secreted form. Int J Cancer 129(4):791–798

Jia AY, Castillo-Martin M, Bonal DM, Sánchez-Carbayo M, Silva JM, Cordon-Cardo C (2014) MicroRNA-126 inhibits invasion in bladder cancer via regulation of ADAM9. Br J Cancer 110(12):2945–2954

Felli N, Felicetti F, Lustri AM, Errico MC, Bottero L, Cannistraci A et al (2013) MiR-126 and 126* restored expressions play a tumor suppressor role by directly regulating ADAM9 and MMP7 in melanoma. PLoS One 8(2):e56824

Wang S, Wang X, Guo Q, Wang G, Han X, Li X et al (2016) MicroRNA-126 overexpression inhibits proliferation and invasion in osteosarcoma cells. Technol Cancer Res Treat 15(5):NP49–NP59

Wang CZ, Yuan P, Li Y (2015) MiR-126 regulated breast cancer cell invasion by targeting ADAM9. Int J Clin Exp Pathol 8(6):6547–6553

Xiong Y, Kotian S, Zeiger MA, Zhang L, Kebebew E (2015) MiR-126-3p inhibits thyroid cancer cell growth and metastasis, and is associated with aggressive thyroid cancer. PLoS One 10(8):e0130496

Chiu K-L, Lin Y-S, Kuo T-T, Lo C-C, Huang Y-K, Chang H-F et al (2017) ADAM9 enhances CDCP1 by inhibiting miR-1 through EGFR signaling activation in lung cancer metastasis. Oncotarget 8(29):47365–47378

Fu Q, Cheng J, Zhang J, Zhang Y, Chen X, Luo S, Xie J (2017) MiR-20b reduces 5-FU resistance by suppressing the ADAM9/EGFR signaling pathway in colon cancer. Oncol Rep 37(1):123–130

Hu D, Shen D, Zhang M, Jiang N, Sun F, Yuan S, Wan K (2017) MiR-488 suppresses cell proliferation and invasion by targeting ADAM9 and lncRNA HULC in hepatocellular carcinoma. Am J Cancer Res 7(10):2070–2080

Ji T, Zhang X, Li W (2017) MicroRNA543 inhibits proliferation, invasion and induces apoptosis of glioblastoma cells by directly targeting ADAM9. Mol Med Rep 16(5):6419–6427

Qin C, Zhao Y, Gong C, Yang Z (2017) MicroRNA-154/ADAM9 axis inhibits the proliferation, migration and invasion of breast cancer cells. Oncol Lett 14(6):6969–6975

Micocci KC, Martin ACBM, Montenegro CDF, Durante AC, Pouliot N, Cominetti MR, Selistre-De-Araujo HS (2013) ADAM9 silencing inhibits breast tumor cell invasion in vitro. Biochimie 95(7):1371–1378

Moelans CB, De Weger RA, Monsuur HN, Vijzelaar R, Van Diest PJ (2010) Molecular profiling of invasive breast cancer by multiplex ligation-dependent probe amplification-based copy number analysis of tumor suppressor and oncogenes. Mod Pathol 23(7):1029

Fry JL, Toker A (2010) Secreted and membrane-bound isoforms of protease ADAM9 have opposing effects on breast cancer cell migration. Cancer Res 70(20):8187–8198

Mazzocca A, Coppari R, De Franco R, Cho JY, Libermann TA, Pinzani M, Toker A (2005) A secreted form of ADAM9 promotes carcinoma invasion through tumor–stromal interactions. Cancer Res 65(11):4728–4738

Brosicke N, van Landeghem FKH, Scheffler B, Faissner A (2013) Tenascin-C is expressed by human glioma in vivo and shows a strong association with tumor blood vessels. Cell Tissue Res 354(2):409–430

Sarkar S, Zemp FJ, Senger D, Robbins SM, Yong VW (2015) ADAM-9 is a novel mediator of tenascin-C-stimulated invasiveness of brain tumor-initiating cells. Neuro Oncol 17(8):1095–1105

Liu X, Wang S, Yuan A, Yuan X, Liu B (2016) MicroRNA-140 represses glioma growth and metastasis by directly targeting ADAM9. Oncol Rep 36(4):2329–2338

Formolo CA, Williams R, Gordish-Dressman H, MacDonald TJ, Lee NH, Hathout Y (2011) Secretome signature of invasive glioblastoma multiforme. J Proteome Res 10(7):3149–3159

Zhang J, Qi J, Chen N, Fu W, Zhou B, He A (2013) High expression of a disintegrin and metalloproteinase-9 predicts a shortened survival time in completely resected stage I non-small cell lung cancer. Oncol Lett 5(5):1461–1466

Zhang J, Chen N, Qi J, Zhou B, Qiu X (2014) HDGF and ADAM9 are novel molecular staging biomarkers, prognostic biomarkers and predictive biomarkers for adjuvant chemotherapy in surgically resected stage I non-small cell lung cancer. J Cancer Res Clin Oncol 140(8):1441–1449

Chang L, Gong F, Cui Y (2015) RNAi-mediated a disintegrin and metalloproteinase 9 gene silencing inhibits the tumor growth of non-small lung cancer in vitro and in vivo. Mol Med Rep 12(1):1197–1204

Lin CY, Chen HJ, Huang CC, Lai LC, Lu TP, Tseng GC et al (2014) ADAM9 promotes lung cancer metastases to brain by a plasminogen activator-based pathway. Cancer Res 74(18):5229–5243

Chiu K-L, Kuo T-T, Kuok Q-Y, Lin Y-S, Hua C-H, Lin C-Y et al (2015) ADAM9 enhances CDCP1 protein expression by suppressing miR-218 for lung tumor metastasis. Sci Rep 5:16426

Lin C-Y, Cho C-F, Bai S-T, Liu J-P, Kuo T-T, Wang L-J et al (2017) ADAM9 promotes lung cancer progression through vascular remodeling by VEGFA, ANGPT2, and PLAT. Sci Rep 7(1):15108

Kossmann CM, Annereau M, Thomas-Schoemann A, Nicco-Overney C, Chereau C, Batteux F et al (2017) ADAM9 expression promotes an aggressive lung adenocarcinoma phenotype. Tumour Biol 39(7):1–11

Josson S, Anderson CS, Sung SY, Johnstone PAS, Kubo H, Hsieh CL et al (2011) Inhibition of ADAM9 expression induces epithelial phenotypic alterations and sensitizes human prostate cancer cells to radiation and chemotherapy. Prostate 71(3):232–240

Liu CM, Hsieh CL, He YC, Lo SJ, Liang JA, Hsieh TF et al (2013) In vivo targeting of ADAM9 gene expression using lentivirus-delivered shRNA suppresses prostate cancer growth by regulating REG4 dependent cell cycle progression. PLoS One 8(1):e53795

Pen C-C, Liu C-M, Lin C-C, Lin C-C, Hsieh T-F, Josson S et al (2012) Combined dynamic alterations in urinary VEGF levels and tissue ADAM9 expression as markers for lethal phenotypic progression of prostate cancer. Chin J Physiol 55(6):390–397

Alldinger I, Dittert D, Peiper M, Fusco A, Chiappetta G, Staub E et al (2005) Gene expression analysis of pancreatic cell lines reveals genes overexpressed in pancreatic cancer. Pancreatology 5(4–5):370–379

Yamada D, Ohuchida K, Mizumoto K, Ohhashi S, Yu J, Egami T et al (2007) Increased expression of ADAM 9 and ADAM 15 mRNA in pancreatic cancer. Anticancer Res 27(2):793–799

Van Kampen JG, van Hooij O, Jansen CF, Smit FP, van Noort PI, Schultz I et al (2017) MiRNA-520f reverses epithelial-to-mesenchymal transition by targeting ADAM9 and TGFBR2. Cancer Res 77(8):2008–2017

Carl-McGrath S, Lendeckel U, Ebert M, Roessner A, Röcken C (2005) The disintegrin-metalloproteinases ADAM9, ADAM12, and ADAM15 are upregulated in gastric cancer. Int J Oncol 26(1):17–24

Wang J, Zhou Y, Fei X, Chen X, Yan J, Liu B, Zhu Z (2017) ADAM9 functions as a promoter of gastric cancer growth which is negatively and post-transcriptionally regulated by miR-126. Oncol Rep 37(4):2033–2040

Tannapfel A, Anhalt K, Hausermann P, Sommerer F, Benicke M, Uhlmann D et al (2003) Identification of novel proteins associated with hepatocellular carcinomas using protein microarrays. J Pathol 201(2):238–249

Li S-Q, Wang D-M, Zhu S, Meng H-Y, Han H-M, Lu H-J (2015) The protective roles of IL-6 trans-signaling regulated by ADAM9 on the liver in carbon tetrachloride-induced liver injury in mice. J Biochem Mol Toxicol 29(7):340–348

Giebeler N, Schönefuß A, Landsberg J, Tüting T, Mauch C, Zigrino P (2017) Deletion of ADAM-9 in HGF/CDK4 mice impairs melanoma development and metastasis. Oncogene 36(35):5058–5067
Funding
OS acknowledges support by Deutsche Forschungsgemeinschaft (SCHI 871/5, SCHI 871/8, SCHI 871/9, SCHI 871/11, INST 39/900-1, and SFB850-Project Z1), the Excellence Initiative of the German Federal and State Governments (EXC 294, BIOSS), the European Research Council (PoC 780730, ProteaseNter), and the German-Israeli Foundation (Grant no. 1444). This study was supported in part by the Excellence Initiative of the German Research Foundation (GSC-4, Spemann Graduate School).
About this article
Cite this article
Oria, V.O., Lopatta, P. & Schilling, O. The pleiotropic roles of ADAM9 in the biology of solid tumors. Cell. Mol. Life Sci. 75, 2291–2301 (2018). https://doi.org/10.1007/s00018-018-2796-x
Received:

Revised:

Accepted:

Published:

Issue Date:

DOI: https://doi.org/10.1007/s00018-018-2796-x
Keywords
ADAM9

Solid tumors

Proteolytic

Non-proteolytic

β1 integrins