Abstract
Human induced pluripotent stem cells (hiPSC) differentiate into multiple cell types. Selective cell targeting is often needed for analyzing gene function by overexpressing proteins in a distinct population of hiPSC-derived cell types and for monitoring cell fate in response to stimuli. However, to date, this has not been possible, as commonly used viruses enter the hiPSC via ubiquitously expressed receptors. Here, we report for the first time the application of a heterologous avian receptor, the tumor virus receptor A (TVA), to selectively transduce TVA+ cells in a mixed cell population. Expression of the TVA surface receptor via genetic engineering renders cells susceptible for infection by avian leucosis virus (ALV). We generated hiPSC lines with this stably integrated, ectopic TVA receptor gene that expressed the receptor while retaining pluripotency. The undifferentiated hiPSCTVA+ as well as their differentiating progeny could be infected by recombinant ALV (so-called RCAS virus) with high efficiency. Due to incomplete receptor blocking, even sequential infection of differentiating or undifferentiated TVA+ cells was possible. In conclusion, the TVA/RCAS system provides an efficient and gentle gene transfer system for hiPSC and extends our possibilities for selective cell targeting and lineage tracing studies.
Access options
Buy single article
Instant access to the full article PDF.
US$ 39.95
Tax calculation will be finalised during checkout.
Subscribe to journal
Immediate online access to all issues from 2019. Subscription will auto renew annually.
US$ 119
Tax calculation will be finalised during checkout.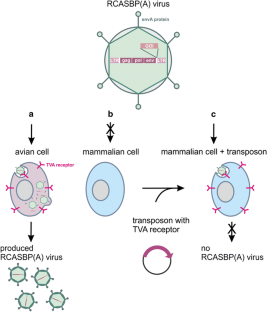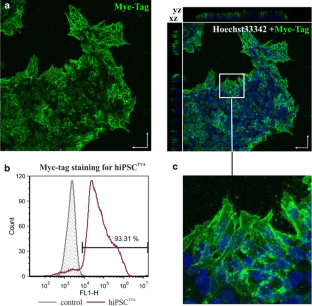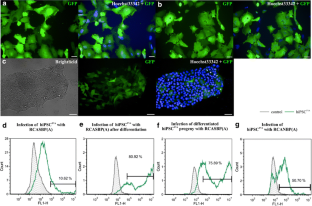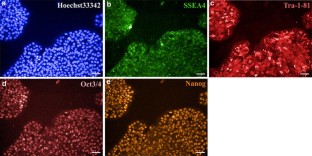 References
1.

Barnard RJ, Elleder D, Young JA (2006) Avian sarcoma and leukosis virus-receptor interactions: from classical genetics to novel insights into virus-cell membrane fusion. Virology 344:25–29

2.

Brennand KJ, Simone A, Jou J et al (2011) Modelling schizophrenia using human induced pluripotent stem cells. Nature 473:221–225

3.

Cronin J, Zhang XY, Reiser J (2005) Altering the tropism of lentiviral vectors through pseudotyping. Curr Gene Ther 5:387–398

4.

Csobonyeiova M, Polak S, Koller J et al (2014) Induced pluripotent stem cells and their implication for regenerative medicine. Cell Tissue Bank 16:171–180

5.

Federspiel MJ, Bates P, Young JA et al (1994) A system for tissue-specific gene targeting: transgenic mice susceptible to subgroup A avian leukosis virus-based retroviral vectors. Proc Natl Acad Sci USA 91:11241–11245

6.

Fraser MJ, Smith GE, Summers MD (1983) Acquisition of host cell DNA sequences by Baculoviruses: relationship between host DNA insertions and FP mutants of Autographa californica and Galleria mellonella nuclear polyhedrosis viruses. J Virol 47:287–300

7.

Fusaki N, Ban H, Nishiyama A et al (2009) Efficient induction of transgene-free human pluripotent stem cells using a vector based on Sendai virus, an RNA virus that does not integrate into the host genome. Proc Jpn Acad Ser B Phys Biol Sci 85:348–362

8.

Gibson DG, Young L, Chuang RY et al (2009) Enzymatic assembly of DNA molecules up to several hundred kilobases. Nat Methods 6:343–345

9.

Hong S, Hwang DY, Yoon S et al (2007) Functional analysis of various promoters in lentiviral vectors at different stages of in vitro differentiation of mouse embryonic stem cells. Mol Ther 15:1630–1639

10.

Hotta A, Cheung AY, Farra N et al (2009) Isolation of human iPS cells using EOS lentiviral vectors to select for pluripotency. Nat Methods 6:370–376

11.

Hughes SH (2004) The RCAS vector system. Folia Biol (Praha) 50:107–119

12.

Hughes SH, Greenhouse JJ, Petropoulos CJ et al (1987) Adaptor plasmids simplify the insertion of foreign DNA into helper-independent retroviral vectors. J Virol 61:3004–3012

13.

Kim A, Pyykko I (2011) Size matters: versatile use of PiggyBac transposons as a genetic manipulation tool. Mol Cell Biochem 354:301–309

14.

Lewis BC, Chinnasamy N, Morgan RA et al (2001) Development of an avian leukosis-sarcoma virus subgroup A pseudotyped lentiviral vector. J Virol 75:9339–9344

15.

Morgan BA, Fekete DM (1996) Manipulating gene expression with replication-competent retroviruses. Methods Cell Biol 51:185–218

16.

Norrman K, Fischer Y, Bonnamy B et al (2010) Quantitative comparison of constitutive promoters in human ES cells. PLoS One 5:e12413

17.

Ou W, Li P, Reiser J (2013) Targeting of herpes simplex virus 1 thymidine kinase gene sequences into the OCT4 locus of human induced pluripotent stem cells. PLoS One 8:e81131

18.

Potter CJ, Luo L (2010) Splinkerette PCR for mapping transposable elements in Drosophila. PLoS One 5:e10168

19.

Rong L, Gendron K, Bates P (1998) Conversion of a human low-density lipoprotein receptor ligandbinding repeat to a virus receptor: identification of residues important for ligand specificity. Proc Natl Acad Sci USA 95:8467–8472

20.

Takahashi K, Tanabe K, Ohnuki M et al (2007) Induction of pluripotent stem cells from adult human fibroblasts by defined factors. Cell 131:861–872

21.

Vervoort VS, Lu M, Valencia F et al (2008) A novel Flk1-TVA transgenic mouse model for gene delivery to angiogenic vasculature. Transgenic Res 17:403–415

22.

Von Werder A, Seidler B, Schmid RM et al (2012) Production of avian retroviruses and tissue-specific somatic retroviral gene transfer in vivo using the RCAS/TVA system. Nat Protoc 7:1167–1183

23.

Wilson MH, Coates CJ, George AL Jr (2007) PiggyBac transposon-mediated gene transfer in human cells. Mol Ther 15:139–145

24.

Yusa K, Rad R, Takeda J et al (2009) Generation of transgene-free induced pluripotent mouse stem cells by the piggyBac transposon. Nat Methods 6:363–369
Acknowledgments
We thank Mareen Schmidt-von Kegler and Maria Walther as well as the Berlin Institute of Health (BIH) Stem Cell Core Facility for excellent technical assistance and the people from the laboratory of Prof. Petra Seemann and Dr. Andreas Kurtz for helpful discussions regarding the study. Additionally, we thank Dr. Stephen Hughes for kindly providing us with the RCAS and RCAN vectors and Dr. Ansgar Petersen for help at the two-photon microscope. We appreciate the financial support and provision of laboratory facilities by Prof. Petra Reinke. Laura Hildebrand is a member of the DFG funded Berlin-Brandenburg School for Regenerative Therapies GSC 203. This work was supported by the grant 1315848A for the Berlin-Brandenburg Center for Regenerative Therapies (BCRT) by the Initiative and Networking Fund of the Helmholtz Association, Germany.
Conflict of interest
All authors state that they have no conflicts of interest.
Electronic supplementary material
Below is the link to the electronic supplementary material.
Supplementary material 1 (JPEG 157 kb) Supplemental Figure1: Confirmation of trilineage differentiation potential of Clone 1 hiPSCTVA Undirected differentiation of the hiPSCTVA+ as embryoid bodies (EBs) in two different media showed upregulation of markers for the three germ layers, while markers for pluripotency were downregulated
About this article
Cite this article
Hildebrand, L., Seemann, P., Kurtz, A. et al. Selective cell targeting and lineage tracing of human induced pluripotent stem cells using recombinant avian retroviruses. Cell. Mol. Life Sci. 72, 4671–4680 (2015). https://doi.org/10.1007/s00018-015-1957-4
Received:

Revised:

Accepted:

Published:

Issue Date:
Keywords
Induced pluripotent stem cells

TVA

ALV

Selective cell targeting

Lineage tracing