Abstract
Bacteriocin production is a widespread phenomenon among bacteria. Bacteriocins hold great promise for the treatment of diseases caused by pathogenic bacteria and could be used in the future as alternatives to existing antibiotics. The anti-infective potential of bacteriocins for inhibiting pathogens has been shown in various food matrices including cheese, meat, and vegetables. However, their inhibition of pathogens in vivo remains unclear and needs more investigation, due mainly to difficulties associated with demonstrating their health benefits. Many bacteriocins produced by established or potential probiotic organisms have been evaluated as potential therapeutic agents and interesting findings have been documented in vitro as well as in a few in vivo studies. Some recent in vivo studies point to the efficacy of bacteriocin-based treatments of human and animal infections. While further investigation remains necessary before the possibilities for bacteriocins in clinical practice can be described more fully, this review provides an overview of their potential applications to human and veterinary health.
Access options
Buy single article
Instant access to the full article PDF.
USD 39.95
Price includes VAT (USA)
Tax calculation will be finalised during checkout.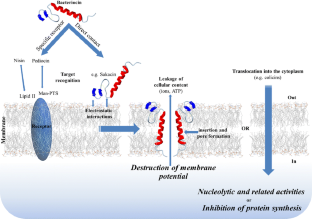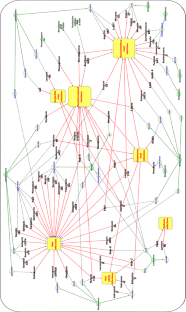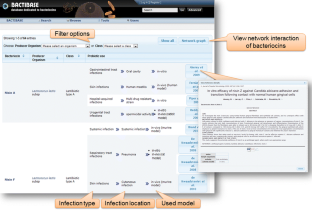 References
1.

Acheson D, Hohmann EL (2001) Nontyphoidal salmonellosis. Clin Infect Dis 32:263–269. doi:10.1086/318457

2.

Akerey B, Le-Lay C, Fliss I, Subirade M, Rouabhia M (2009) In vitro efficacy of nisin Z against Candida albicans adhesion and transition following contact with normal human gingival cells. J Appl Microbiol 107:1298–1307. doi:10.1111/j.1365-2672.2009.04312.x

3.

Al-Mahrous MM, Jack RW, Sandiford SK, Tagg JR, Beatson SA, Upton M (2011) Identification of a haemolysin-like peptide with antibacterial activity using the draft genome sequence of Staphylococcus epidermidis strain A487. FEMS Immunol Med Microbiol 62:273–282. doi:10.1111/j.1574-695X.2011.00811.x

4.

Armitage GC, Robertson PB (2009) The biology, prevention, diagnosis and treatment of periodontal diseases: scientific advances in the United States. J Am Dental Assoc 140:36S–43S

5.

Aunpad R, Na-Bangchang K (2007) Pumilicin 4, a novel bacteriocin with anti-MRSA and anti-VRE activity Produced by newly isolated bacteria Bacillus pumilus strain WAPB4. Curr Microbiol 55:308–313. doi:10.1007/s00284-006-0632-2

6.

Barboza-Corona JE, de la Fuente-Salcido N, Alva-Murillo N, Ochoa-Zarzosa A, López-Meza JE (2009) Activity of bacteriocins synthesized by Bacillus thuringiensis against Staphylococcus aureus isolates associated to bovine mastitis. Veterinary Microbiol 138:179–183

7.

Birri DJ, Brede DA, Forberg T, Holo H, Nes IF (2010) Molecular and genetic characterization of a novel bacteriocin locus in Enterococcus avium isolates from infants. Appl Environ Microbiol 76:483–492. doi:10.1128/aem.01597-09

8.

Birri DJ, Brede DA, Nes IF (2012) Salivaricin D, a novel intrinsically trypsin-resistant lantibiotic from Streptococcus salivarius 5M6c isolated from a healthy Infant. Appl Environ Microbiol 78:402–410. doi:10.1128/aem.06588-11

9.

Borrero J, Brede DA, Skaugen M, Diep DB, Herranz C, Nes IF, Cintas LM, Hernandez PE (2011) Characterization of Garvicin ML, a novel circular bacteriocin produced by Lactococcus garvieae DCC43, isolated from mallard ducks (Anas platyrhynchos). Appl Environ Microbiol 77:369–373. doi:10.1128/aem.01173-10

10.

Bowe WP, Filip JC, DiRienzo JM, Volgina A, Margolis DJ (2006) Inhibition of Propionibacterium acnes by bacteriocin-like inhibitory substances (BLIS) produced by Streptococcus salivarius. J Drugs Dermatol 5:868–870

11.

Brand AM, De Kwaadsteniet M, Dicks LMT (2010) The ability of nisin F to control Staphylococcus aureus infection in the peritoneal cavity, as studied in mice. Lett Appl Microbiol 51:645–649. doi:10.1111/j.1472-765X.2010.02948.x

12.

Breukink E, Wiedemann I, Kraaij Cv, Kuipers OP, Sahl H-G, de Kruijff B (1999) Use of the cell wall precursor lipid II by a pore-forming peptide antibiotic. Science 286:2361–2364. doi:10.1126/science.286.5448.2361

13.

Brogden KA (2005) Antimicrobial peptides: pore formers or metabolic inhibitors in bacteria? Nat Rev Microbiol 3:238–250. doi:nrmicro109810.1038/nrmicro1098

14.

Burton J, Chilcott C, Wescombe P, Tagg J (2010) Extended safety data for the oral cavity probiotic Streptococcus salivarius K12. Probiotics Antimicrob Proteins 2:135–144. doi:10.1007/s12602-010-9045-4

15.

Burton JP, Chilcott CN, Moore CJ, Speiser G, Tagg JR (2006) A preliminary study of the effect of probiotic Streptococcus salivarius K12 on oral malodour parameters. J Appl Microbiol 100:754–764. doi:10.1111/j.1365-2672.2006.02837.x

16.

Burton JP, Cowley S, Simon RR, McKinney J, Wescombe PA, Tagg JR (2011) Evaluation of safety and human tolerance of the oral probiotic Streptococcus salivarius K12: a randomized, placebo-controlled, double-blind study. Food Chem Toxicol 49:2356–2364. doi:10.1016/j.fct.2011.06.038

17.

Cao LT, Wu JQ, Xie F, Hu SH, Mo Y (2007) Efficacy of nisin in treatment of clinical mastitis in lactating dairy cows. J Dairy Sci 90:3980–3985. doi:10.3168/jds.2007-0153

18.

Carroll J, Draper LA, O'Connor PM, Coffey A, Hill C, Ross RP, Cotter PD, O'Mahony J (2010) Comparison of the activities of the lantibiotics nisin and lacticin 3147 against clinically significant mycobacteria. Int J Antimicrob Agents 36:132–136. doi:10.1016/j.ijantimicag.2010.03.029

19.

Castiglione F, Cavaletti L, Losi D, Lazzarini A, Carrano L, Feroggio M, Ciciliato I, Corti E, Candiani G, Marinelli F, Selva E (2007) A novel lantibiotic acting on bacterial cell wall synthesis produced by the uncommon Actinomycete Planomonospora sp. Biochemistry 46:5884–5895. doi:10.1021/bi700131x

20.

Castiglione F, Lazzarini A, Carrano L, Corti E, Ciciliato I, Gastaldo L, Candiani P, Losi D, Marinelli F, Selva E, Parenti F (2008) Determining the structure and mode of action of microbisporicin, a potent lantibiotic active against multiresistant pathogens. Chem Biol 15:22–31. doi:10.1016/j.chembiol.2007.11.009

21.

Chatterjee C, Paul M, Xie L, van der Donk WA (2005) Biosynthesis and mode of action of lantibiotics. Chem Rev 105:633–684. doi:10.1021/cr030105v

22.

Cintas LM, Casaus MP, Herranz C, Nes IF, Hernandez PE (2001) Review: bacteriocins of lactic acid bacteria. Food Sci Technol Int 7:281–305. doi:10.1106/R8DE-P6HU-CLXP-5RYT

23.

Clardy J, Fischbach MA, Walsh CT (2006) New antibiotics from bacterial natural products. Nat Biotech 24:1541–1550

24.

Cole K, Farnell MB, Donoghue AM, Stern NJ, Svetoch EA, Eruslanov BN, Volodina LI, Kovalev YN, Perelygin VV, Mitsevich EV, Mitsevich IP, Levchuk VP, Pokhilenko VD, Borzenkov VN, Svetoch OE, Kudryavtseva TY, Reyes-Herrera I, Blore PJ, de los Santos FS, Donoghue DJ (2006) Bacteriocins reduce Campylobacter colonization and alter gut morphology in Turkey poults. Poult Sci 85:1570–1575

25.

Corr SC, Li Y, Riedel CU, O'Toole PW, Hill C, Gahan CGM (2007) Bacteriocin production as a mechanism for the antiinfective activity of Lactobacillus salivarius UCC118. Proc Natl Acad Sci 104:7617–7621. doi:10.1073/pnas.0700440104

26.

Cotter PD, Hill C, Ross RP (2005) Bacteriocins: developing innate immunity for food. Nat Rev Micro 3:777–788

27.

Crispie F, Flynn J, Ross RP, Hill C, Meaney W (2004) Update on the development of a novel dry cow therapy using a bismuth-based intramammary teat seal in combination with the bacteriocin lacticin 3147. Irish Veterinary J 57:652–656

28.

Crispie F, Twomey D, Flynn J, Hill C, Ross P, Meaney W (2005) The lantibiotic lacticin 3147 produced in a milk-based medium improves the efficacy of a bismuth-based teat seal in cattle deliberately infected with Staphylococcus aureus. J Dairy Res 72:159–167. doi:10.1017/s0022029905000816

29.

Crost EH, Ajandouz EH, Villard C, Geraert PA, Puigserver A, Fons M (2011) Ruminococcin C, a new anti-Clostridium perfringens bacteriocin produced in the gut by the commensal bacterium Ruminococcus gnavus E1. Biochimie 93:1487–1494. doi:10.1016/j.biochi.2011.05.001

30.

Cursino L, Šmajs D, Šmarda J, Nardi RMD, Nicoli JR, Chartone-Souza E, Nascimento AMA (2006) Exoproducts of the Escherichia coli strain H22 inhibiting some enteric pathogens both in vitro and in vivo. J Appl Microbiol 100:821–829. doi:10.1111/j.1365-2672.2006.02834.x

31.

Dabour N, Zihler A, Kheadr E, Lacroix C, Fliss I (2009) In vivo study on the effectiveness of pediocin PA-1 and Pediococcus acidilactici UL5 at inhibiting Listeria monocytogenes. Int J Food Microbiol 133:225–233

32.

De Kwaadsteniet M, Doeschate KT, Dicks LMT (2009) Nisin F in the treatment of respiratory tract infections caused by Staphylococcus aureus. Lett Appl Microbiol 48:65–70. doi:10.1111/j.1472-765X.2008.02488.x

33.

de Kwaadsteniet M, ten Doeschate K, Dicks LMT (2008) Characterization of the structural gene encoding Nisin F, a new lantibiotic produced by a Lactococcus lactis subsp. lactis isolate from freshwater catfish (Clarias gariepinus). Appl Environ Microbiol 74:547–549. doi:10.1128/aem.01862-07

34.

de Kwaadsteniet M, van Reenen C, Dicks L (2010) Evaluation of nisin F in the treatment of subcutaneous skin infections, as monitored by using a bioluminescent strain of Staphylococcus aureus. Probiotics Antimicrob Proteins 2:61–65. doi:10.1007/s12602-009-9017-8

35.

Diep DB, Nes IF (2002) Ribosomally synthesized antibacterial peptides in Gram-positive bacteria. Curr Drug Targets 3:107–122. doi:10.2174/1389450024605409

36.

Diez-Gonzalez F (2007) Applications of bacteriocins in livestock. Curr Issues Intest Microbiol 8:15–23

37.

Dobson A, Crispie F, Rea MC, O'Sullivan O, Casey PG, Lawlor PG, Cotter PD, Ross P, Gardiner GE, Hill C (2011) Fate and efficacy of lacticin 3147-producing Lactococcus lactis in the mammalian gastrointestinal tract. FEMS Microbiol Ecol 76:602–614. doi:10.1111/j.1574-6941.2011.01069.x

38.

Dover SE, Aroutcheva AA, Faro S, Chikindas ML (2007) Safety study of an antimicrobial peptide lactocin 160, produced by the vaginal Lactobacillus rhamnosus. Infect Dis Obstet Gynecol. doi:10.1155/2007/78248

39.

Drider D, Fimland G, Hechard Y, McMullen L, Prevost H (2006) The continuing story of class IIa bacteriocins. Microbiol Mol Biol Rev 70:564–582

40.

Fernández L, Delgado S, Herrero H, Maldonado A, Rodríguez JM (2008) The bacteriocin nisin, an effective agent for the treatment of Staphylococcal Mastitis during lactation. J Human Lactation 24:311–316. doi:10.1177/0890334408317435

41.

Fimland G, Blingsmo OR, Sletten K, Jung G, Nes IF, Nissen-Meyer J (1996) New biologically active hybrid bacteriocins constructed by combining regions from various pediocin-like bacteriocins: the C-terminal region is important for determining specificity. Appl Environ Microbiol 62:3313–3318

42.

Fliss I, Hammami R, Le Lay C (2011) Biological control of human digestive microbiota using antimicrobial cultures and bacteriocins. In: Lacroix C (ed) Protective cultures, antimicrobial metabolites and bacteriophages for food and beverage biopreservation. Woodhead Publ Ltd, Abington Hall Abington, Cambridge Cb1 6ah, Cambs, UK, pp 240–263

43.

Franz CMAP, Van Belkum MJ, Holzapfel WH, Abriouel H, Gálvez A (2007) Diversity of enterococcal bacteriocins and their grouping in a new classification scheme. FEMS Microbiol Rev 31:293–310. doi:10.1111/j.1574-6976.2007.00064.x

44.

Gardiner GE, Rea MC, O'Riordan B, O'Connor P, Morgan SM, Lawlor PG, Lynch PB, Cronin M, Ross RP, Hill C (2007) Fate of the two-component lantibiotic lacticin 3147 in the gastrointestinal tract. Appl Environ Microbiol 73:7103–7109. doi:10.1128/aem.01117-07

45.

Ghobrial OG, Derendorf H, Hillman JD (2009) Pharmacodynamic activity of the lantibiotic MU1140. Int J Antimicrob Agents 33:70–74. doi:10.1016/j.ijantimicag.2008.07.028

46.

Gillor O, Kirkup BC, Riley MA (2004) Colicins and microcins: the next-generation antimicrobials. In: Advances in applied microbiology, vol 54. Academic Press, London, pp 129–146

47.

Gong HS, Meng XC, Wang H (2009) Plantaricin MG active against Gram-negative bacteria produced by Lactobacillus plantarum KLDS1.0391 isolated from "Jiaoke", a traditional fermented cream from China. Food Control 21:89–96

48.

Gordon DM, Oliver E, Littlefield-Wyer J (2007) The diversity of bacteriocins in Gram-negative bacteria. In: Riley MA, Chavan M (eds) Bacteriocins: ecology and evolution. Springer, Berlin Heidelberg New York, pp 5–18

49.

Grasemann H, Stehling F, Brunar H, Widmann R, Laliberte TW, Molina L, Döring G, Ratjen F (2007) Inhalation of Moli 1901 in patients with cystic fibrosis. Chest 131:1461–1466. doi:10.1378/chest.06-2085

50.

Guinane CM, Cotter PD, Hill C, Ross RP (2006) Spontaneous resistance in Lactococcus lactis IL1403 to the lantibiotic lacticin 3147. FEMS Microbiol Lett 260:77–83. doi:10.1111/j.1574-6968.2006.00302.x

51.

Halasa T, Huijps K, Osterás O, Hogeveen H (2007) Economic effects of bovine mastitis and mastitis management: a review. Veterinary Q 29:18–31

52.

Hammami R, Zouhir A, Ben Hamida J, Fliss I (2007) BACTIBASE: a new web-accessible database for bacteriocin characterization. BMC Microbiol 7:89

53.

Hammami R, Zouhir A, Le Lay C, Ben Hamida J, Fliss I (2010) BACTIBASE second release: a database and tool platform for bacteriocin characterization. BMC Microbiol 10:22

54.

Hammami R, Zouhir A, Le Lay C, Ben Hamida J, Fliss I (2011) Database mining for bacteriocin discovery. Cabi Publishing, Wallingford

55.

Hatakka K, Saxelin M (2008) Probiotics in intestinal and non-intestinal infectious diseases—clinical evidence. Curr Pharm Des 14:1351–1367

56.

Heng NC, Tagg JR (2006) What's in a name?. Class distinction for bacteriocins, Nat Rev Micro 4

57.

Heng NCK, Wescombe PA, Burton JP, Jack RW, Tagg JR (2007) The diversity of bacteriocins in Gram-positive bacteria. In: Riley MA, Chavan M (eds) Bacteriocins: ecology and evolution. Springer, Berlin Heidelberg New York, pp 45–92

58.

Hillman JD, McDonell E, Hillman CH, Zahradnik RT, Soni MG (2009) Safety assessment of ProBiora3, a probiotic mouthwash: subchronic toxicity study in rats. Int J Toxicol 28:357–367. doi:10.1177/1091581809340705

59.

Hillman JD, Mo J, McDonell E, Cvitkovitch D, Hillman CH (2007) Modification of an effector strain for replacement therapy of dental caries to enable clinical safety trials. J Appl Microbiol 102:1209–1219. doi:10.1111/j.1365-2672.2007.03316.x

60.

Hsu S-TD, Breukink E, Tischenko E, Lutters MAG, de Kruijff B, Kaptein R, Bonvin AMJJ, van Nuland NAJ (2004) The nisin-lipid II complex reveals a pyrophosphate cage that provides a blueprint for novel antibiotics. Nat Struct Mol Biol 11:963–967. doi:10.1038/nsmb830

61.

Humphrey T, O'Brien S, Madsen M (2007) Campylobacters as zoonotic pathogens: a food production perspective. Int J Food Microbiol 117:237–257. doi:10.1016/j.ijfoodmicro.2007.01.006

62.

Iwamoto T, Suzuki N, Tanabe K, Takeshita T, Hirofuji T (2010) Effects of probiotic Lactobacillus salivarius WB21 on halitosis and oral health: an open-label pilot trial. Oral Surg Oral Med Oral Pathol Oral Radiol Endodontol 110:201–208. doi:10.1016/j.tripleo.2010.03.032

63.

Iwatsuki K, Yamasaki O, Morizane S, Oono T (2006) Staphylococcal cutaneous infections: invasion, evasion and aggression. J Dermatol Sci 42:203–214. doi:10.1016/j.jdermsci.2006.03.011

64.

Izquierdo E, Wagner C, Marchioni E, Aoude-Werner D, Ennahar S (2009) Enterocin 96, a novel class II bacteriocin produced by Enterococcus faecalis WHE 96, isolated from Munster cheese. Appl Environ Microbiol 75:4273–4276. doi:10.1128/aem.02772-08

65.

Jabes D, Brunati C, Candiani G, Riva S, Romano' G, Donadio S (2011) Efficacy of the new lantibiotic NAI-107 in experimental infections induced by MDR Gram-positive pathogens. Antimicrob Agents Chemother. AAC.01288-01210. doi:10.1128/aac.01288-10

66.

Jack RW, Tagg JR, Ray B (1995) Bacteriocins of Gram-positive bacteria. Microbiol Rev 59:171–200

67.

Kachrimanidou M, Malisiovas N (2011) Clostridium difficile infection: a comprehensive review. Crit Rev Microbiol 37:178–187. doi:10.3109/1040841X.2011.556598

68.

Kang B, Seo J-G, Lee G-S, Kim J-H, Kim S, Han Y, Kang H, Kim H, Rhee J, Chung M-J, Park Y (2009) Antimicrobial activity of enterocins from Enterococcus faecalis SL-5 against Propionibacterium acnes, the causative agent in acne vulgaris, and its therapeutic effect. J Microbiol 47:101–109. doi:10.1007/s12275-008-0179-y

69.

Kannan K, Mankin AS (2011) Macrolide antibiotics in the ribosome exit tunnel: species-specific binding and action. Annals N Y Acad Sci 1241:33–47. doi:10.1111/j.1749-6632.2011.06315.x

70.

Kim PI, Sohng JK, Sung C, Joo H-S, Kim E-M, Yamaguchi T, Park D, Kim B-G (2010) Characterization and structure identification of an antimicrobial peptide, hominicin, produced by Staphylococcus hominis MBBL 2–9. Biochem Biophys Res Commun 399:133–138. doi:10.1016/j.bbrc.2010.07.024

71.

Kjos M, Nes IF, Diep DB (2009) Class II one-peptide bacteriocins target a phylogenetically defined subgroup of mannose phosphotransferase systems on sensitive cells. Microbiology 155:2949–2961. doi:10.1099/mic.0.030015-0

72.

Klaenhammer TR (1993) Genetics of bacteriocins produced by lactic acid bacteria. FEMS Microbiol Rev 12:39–85. doi:10.1016/0168-6445(93)90057-g

73.

Kleanthous C (2010) Swimming against the tide: progress and challenges in our understanding of colicin translocation. Nat Rev Micro 8:843–848

74.

Klostermann K, Crispie F, Flynn J, Meaney WJ, Paul Ross R, Hill C (2010) Efficacy of a teat dip containing the bacteriocin lacticin 3147 to eliminate Gram-positive pathogens associated with bovine mastitis. J Dairy Res 77:231–238. doi:10.1017/S0022029909990239

75.

Knoetze H, Todorov SD, Dicks LMT (2008) A class IIa peptide from Enterococcus mundtii inhibits bacteria associated with otitis media. Int J Antimicrob Agents 31:228–234. doi:10.1016/j.ijantimicag.2007.10.010

76.

Kruszewska D, Sahl H-G, Bierbaum G, Pag U, Hynes SO, Ljungh Å (2004) Mersacidin eradicates methicillin-resistant Staphylococcus aureus (MRSA) in a mouse rhinitis model. J Antimicrob Chemother 54:648–653. doi:10.1093/jac/dkh387

77.

Lamont RF, Sobel JD, Akins RA, Hassan SS, Chaiworapongsa T, Kusanovic JP, Romero R (2011) The vaginal microbiome: new information about genital tract flora using molecular-based techniques. BJOG Int J Obstet Gynaecol 118:533–549. doi:10.1111/j.1471-0528.2010.02840.x

78.

Lazzarini A, Gastaldo L, Candiani G, Ciciliato I, Losi D, Marinelli F, Selva E, Parenti F (2008) Antibiotic 107891, its factors A1 and A2, pharmaceutically acceptable salts and compositions, and use thereof. US Patent #07351687

79.

Line JE, Svetoch EA, Eruslanov BV, Perelygin VV, Mitsevich EV, Mitsevich IP, Levchuk VP, Svetoch OE, Seal BS, Siragusa GR, Stern NJ (2008) Isolation and purification of Enterocin E-760 with broad antimicrobial activity against Gram-positive and Gram-negative bacteria. Antimicrob Agents Chemother 52:1094–1100. doi:10.1128/aac.01569-06

80.

Loesche WJ, Kazor C (2002) Microbiology and treatment of halitosis. Periodontology 2000(28):256–279. doi:10.1034/j.1600-0757.2002.280111.x

81.

Lopez FE, Vincent PA, Zenoff AM, Salomón RA, Farías RN (2007) Efficacy of microcin J25 in biomatrices and in a mouse model of Salmonella infection. J Antimicrob Chemother 59:676–680. doi:10.1093/jac/dkm009

82.

Mandell LA, Wunderink RG, Anzueto A, Bartlett JG, Campbell GD, Dean NC, Dowell SF, File TM, Musher DM, Niederman MS, Torres A, Whitney CG (2007) Infectious diseases Society of America/American Thoracic Society consensus guidelines on the management of community-acquired pneumonia in adults. Clin Infect Dis 44:S27–S72. doi:10.1086/511159

83.

Manosroi A, Khanrin P, Lohcharoenkal W, Werner RG, Götz F, Manosroi W, Manosroi J (2010) Transdermal absorption enhancement through rat skin of gallidermin loaded in niosomes. Int J Pharm 392:304–310. doi:10.1016/j.ijpharm.2010.03.064

84.

Mao Y, Zhu C, Boedeker EC (2003) Foodborne enteric infections. Curr Opin Gastroenterol 19:11–22

85.

Martin-Visscher LA, van Belkum MJ, Garneau-Tsodikova S, Whittal RM, Zheng J, McMullen LM, Vederas JC (2008) Isolation and characterization of Carnocyclin A, a novel circular bacteriocin produced by Carnobacterium maltaromaticum UAL307. Appl Environ Microbiol 74:4756–4763. doi:10.1128/aem.00817-08

86.

Michel-Briand Y, Baysse C (2002) The pyocins of Pseudomonas aeruginosa. Biochimie 84:499–510. doi:10.1016/s0300-9084(02)01422-0

87.

Moll GN, Konings WN, Driessen AJM (1999) Bacteriocins: mechanism of membrane insertion and pore formation. Antonie van Leeuwenhoek 76:185–198. doi:10.1023/a:1002002718501

88.

Mota-Meira M, Morency H, Lavoie MC (2005) In vivo activity of mutacin B-Ny266. J Antimicrob Chemother 56:869–871. doi:10.1093/jac/dki295

89.

Muder RR, Yu VL, Woo AH (1986) Mode of transmission of Legionella pneumophila: a critical review. Arch Intern Med 146:1607–1612. doi:10.1001/archinte.1986.00360200183030

90.

Nishijima S, Kurokawa I, Katoh N, Watanabe K (2000) The bacteriology of acne vulgaris and antimicrobial susceptibility of Propionibacterium acnes and Staphylococcus epidermidis isolated from acne lesions. J Dermatol 27:318–323

91.

Oman TJ, van der Donk WA (2009) Insights into the mode of action of the two-peptide lantibiotic haloduracin. ACS Chem Biol 4:865–874. doi:10.1021/cb900194x

92.

Pangsomboon K, Bansal S, Martin GP, Suntinanalert P, Kaewnopparat S, Srichana T (2009) Further characterization of a bacteriocin produced by Lactobacillus paracasei HL32. J Appl Microbiol 106:1928–1940. doi:10.1111/j.1365-2672.2009.04146.x

93.

Papadakos G, Wojdyla JA, Kleanthous C (2012) Nuclease colicins and their immunity proteins. Q Rev Biophys 45:57–103

94.

Pascual L, Daniele M, Giordano W, Pájaro M, Barberis I (2008) Purification and partial characterization of novel bacteriocin L23 produced by Lactobacillus fermentum L23. Curr Microbiol 56:397–402. doi:10.1007/s00284-007-9094-4

95.

Pieterse R, Todorov SD (2010) Bacteriocins: exploring alternatives to antibiotics in mastitis treatment. Brazilian J Microbiol 41:542–562

96.

Pieterse R, Todorov SD, Dicks LMT (2008) Bacteriocin ST91KM, produced by Streptococcus gallolyticus subsp. macedonicus ST91KM, is a narrow-spectrum peptide active against bacteria associated with mastitis in dairy cattle (Clinical report). Can J Microbiol 54:525(527)

97.

Pieterse R, Todorov SD, Dicks LMT (2010) Mode of action and in vitro susceptibility of mastitis pathogens to macedocin ST91KM and preparation of a teat seal containing the bacteriocin. Brazilian J Microbiol 41:133–145. doi:10.1590/s1517-83822010000100020

98.

Piper C, Casey PG, Hill C, Cotter PD (2012) The lantibiotic Lacticin 3147 prevents systemic spread of Staphylococcus aureus in a murine infection model. Int J Microbiol. doi:10.1155/2012/806230

99.

Piper C, Draper LA, Cotter PD, Ross RP, Hill C (2009) A comparison of the activities of lacticin 3147 and nisin against drug-resistant Staphylococcus aureus and Enterococcus species. J Antimicrob Chemother 64:546–551. doi:10.1093/jac/dkp221

100.

Piper C, Hill C, Cotter PD, Ross RP (2011) Bioengineering of a Nisin A-producing Lactococcus lactis to create isogenic strains producing the natural variants Nisin F, Q and Z. Microb Biotechnol 4:375–382. doi:10.1111/j.1751-7915.2010.00207.x

101.

Ranganathan SC, Sonnappa S (2009) Pneumonia and other respiratory infections. Pediatr Clin North Am 56:135–156

102.

Rea MC, Clayton E, O'Connor PM, Shanahan F, Kiely B, Ross RP, Hill C (2007) Antimicrobial activity of lacticin 3147 against clinical Clostridium difficile strains. J Med Microbiol 56:940–946. doi:10.1099/jmm.0.47085-0

103.

Rea MC, Dobson A, O'Sullivan O, Crispie F, Fouhy F, Cotter PD, Shanahan F, Kiely B, Hill C, Ross RP (2010) Effect of broad- and narrow-spectrum antimicrobials on Clostridium difficile and microbial diversity in a model of the distal colon. Proc Natl Acad Sci. doi:10.1073/pnas.1001224107

104.

Rea MC, Sit CS, Clayton E, O'Connor PM, Whittal RM, Zheng J, Vederas JC, Ross RP, Hill C (2010) Thuricin CD, a posttranslationally modified bacteriocin with a narrow spectrum of activity against Clostridium difficile. Proc Natl Acad Sci 107:9352–9357. doi:10.1073/pnas.0913554107

105.

Reddy KVR, Aranha C, Gupta SM, Yedery RD (2004) Evaluation of antimicrobial peptide nisin as a safe vaginal contraceptive agent in rabbits: in vitro and in vivo studies. Reproduction 128:117–126. doi:10.1530/rep.1.00028

106.

Riboulet-Bisson E, Sturme MHJ, Jeffery IB, O'Donnell MM, Neville BA, Forde BM, Claesson MJ, Harris H, Gardiner GE, Casey PG, Lawlor PG, O'Toole PW, Ross RP (2012) Effect of Lactobacillus salivarius bacteriocin Abp118 on the mouse and pig intestinal microbiota. PLoS One 7:e31113. doi:10.1371/journal.pone.0031113

107.

Riley MA, Wertz JE (2002) BACTERIOCINS: evolution, ecology, and application. Annu Rev Microbiol 56:117–137. doi:10.1146/annurev.micro.56.012302.161024

108.

Rupnik M, Wilcox MH, Gerding DN (2009) Clostridium difficile infection: new developments in epidemiology and pathogenesis. Nat Rev Microbiol 7:526–536

109.

Salvucci E, Saavedra L, Hebert EM, Haro C, Sesma F (2012) Enterocin CRL35 inhibits Listeria monocytogenes in a murine model. Foodborne Pathog Dis 9:68–74. doi:10.1089/fpd.2011.0972

110.

Sánchez J, Basanta A, Gómez-Sala B, Herranz C, Cintas LM, Hernández PE (2007) Antimicrobial and safety aspects, and biotechnological potential of bacteriocinogenic enterococci isolated from mallard ducks (Anas platyrhynchos). Int J Food Microbiol 117:295–305. doi:10.1016/j.ijfoodmicro.2007.04.012

111.

Sánchez J, Diep DB, Herranz C, Nes IF, Cintas LM, Hernández PE (2007) Amino acid and nucleotide sequence, adjacent genes, and heterologous expression of hiracin JM79, a sec-dependent bacteriocin produced by Enterococcus hirae DCH5, isolated from Mallard ducks (Anas platyrhynchos). FEMS Microbiol Lett 270:227–236. doi:10.1111/j.1574-6968.2007.00673.x

112.

Sandiford S, Upton M (2012) Identification, characterization, and recombinant expression of epidermicin NI01, a novel unmodified bacteriocin produced by Staphylococcus epidermidis that displays potent activity against staphylococci. Antimicrob Agents Chemother 56:1539–1547. doi:10.1128/aac.05397-11

113.

Sawa N, Zendo T, Kiyofuji J, Fujita K, Himeno K, Nakayama J, Sonomoto K (2009) Identification and characterization of Lactocyclicin Q, a novel cyclic bacteriocin produced by Lactococcus sp. strain QU 12. Appl Environ Microbiol 75:1552–1558. doi:10.1128/aem.02299-08

114.

Segal N, Leibovitz E, Dagan R, Leiberman A (2005) Acute otitis media-diagnosis and treatment in the era of antibiotic resistant organisms: updated clinical practice guidelines. Int J Pediatr Otorhinolaryngol 69:1311–1319. doi:10.1016/j.ijporl.2005.05.003

115.

Sequeiros C, Vallejo M, Marguet E, Olivera N (2010) Inhibitory activity against the fish pathogen Lactococcus garvieae produced by Lactococcus lactis TW34, a lactic acid bacterium isolated from the intestinal tract of a Patagonian fish. Arch Microbiol 192:237–245. doi:10.1007/s00203-010-0552-1

116.

Shand R, Leyva K (2007) Peptide and protein antibiotics from the domain archaea: halocins and sulfolobicins, pp 93–109

117.

Shand RF, Leyva KJ (2008) Archaeal antimicrobials: an undiscovered country. In: Norfolk BP (ed) Archaea: new models for prokaryotic biology. Caister Academic, Wymondham, pp 233–242

118.

Shears P (2007) Resistance as a worldwide problem. In: Lewis K, Salyers AA, Taber HW, Wax RG (eds) Bacterial resistance to antimicrobials: mechanisms, genetics, medical practice, and public health, 2nd edn. Marcel Dekker, New York, pp 363–376

119.

Shelburne CE, An FY, Dholpe V, Ramamoorthy A, Lopatin DE, Lantz MS (2007) The spectrum of antimicrobial activity of the bacteriocin subtilosin A. J Antimicrob Chemother 59:297–300. doi:10.1093/jac/dkl495

120.

Silkin L, Hamza S, Kaufman S, Cobb SL, Vederas JC (2008) Spermicidal bacteriocins: lacticin 3147 and subtilosin A. Bioorg Med Chem Lett 18:3103–3106. doi:10.1016/j.bmcl.2007.11.024

121.

Smith K, Martin L, Rinaldi A, Rajendran R, Ramage G, Walker D (2012) Activity of Pyocin S2 against Pseudomonas aeruginosa biofilms. Antimicrob Agents Chemother 56:1599–1601. doi:10.1128/aac.05714-11

122.

Sosunov V, Mischenko V, Eruslanov B, Svetoch E, Shakina Y, Stern N, Majorov K, Sorokoumova G, Selishcheva A, Apt A (2007) Antimycobacterial activity of bacteriocins and their complexes with liposomes. J Antimicrob Chemother 59:919–925. doi:10.1093/jac/dkm053

123.

Steiner I, Errhalt P, Kubesch K, Hubner M, Holy M, Bauer M, Müller M, Hinterberger S, Widmann R, Mascher D, Freissmuth M, Kneussl M (2008) Pulmonary pharmacokinetics and safety of nebulized duramycin in healthy male volunteers. Naunyn-Schmiedeberg Arch Pharmacol 378:323–333. doi:10.1007/s00210-008-0293-8

124.

Stern NJ, Eruslanov BV, Pokhilenko VD, Kovalev YN, Volodina LL, Perelygin VV, Mitsevich EV, Mitsevich IP, Borzenkov VN, Levchuk VP, Svetoch OE, Stepanshin YG, Svetoch EA (2008) Bacteriocins reduce Campylobacter jejuni colonization while bacteria-producing bacteriocins are ineffective. Microb Ecol Health Dis 20:74–79. doi:10.1080/08910600802030196

125.

Stern NJ, Svetoch EA, Eruslanov BV, Kovalev YN, Volodina LI, Perelygin VV, Mitsevich EV, Mitsevich IP, Levchuk VP (2005) Paenibacillus polymyxa purified bacteriocin to control Campylobacter jejuni in chickens. J Food Protect 68:1450–1453

126.

Stern NJ, Svetoch EA, Eruslanov BV, Perelygin VV, Mitsevich EV, Mitsevich IP, Pokhilenko VD, Levchuk VP, Svetoch OE, Seal BS (2006) Isolation of a Lactobacillus salivarius strain and purification of its bacteriocin, which is inhibitory to Campylobacter jejuni in the chicken gastrointestinal system. Antimicrob Agents Chemother 50:3111–3116. doi:10.1128/aac.00259-06

127.

Sutyak KE, Anderson RA, Dover SE, Feathergill KA, Aroutcheva AA, Faro S, Chikindas ML (2008) Spermicidal activity of the safe natural antimicrobial peptide subtilosin. Infect Dis Obstet Gynecol. doi:10.1155/2008/540758

128.

Sutyak KE, Wirawan RE, Aroutcheva AA, Chikindas ML (2008) Isolation of the Bacillus subtilis antimicrobial peptide subtilosin from the dairy product-derived Bacillus amyloliquefaciens. J Appl Microbiol 104:1067–1074. doi:10.1111/j.1365-2672.2007.03626.x

129.

Sutyak Noll K, Prichard MN, Khaykin A, Sinko PJ, Chikindas ML (2012) The natural antimicrobial peptide subtilosin acts synergistically with glycerol monolaurate, lauric arginate and ε-poly-l-lysine against bacterial vaginosis-associated pathogens but not human lactobacilli. Antimicrob Agents Chemother. doi:10.1128/aac.05861-11

130.

Svetoch E, Eruslanov B, Kovalev Y, Mitsevich E, Mitsevich I, Levchuk V, Fursova N, Perelygin V, Stepanshin Y, Teymurasov M, Seal B, Stern N (2009) Antimicrobial activities of bacteriocins E 50–52 and B 602 against antibiotic-resistant strains involved in nosocomial infections. Probiotics Antimicrob Proteins 1:136–142. doi:10.1007/s12602-009-9027-6

131.

Svetoch EA, Eruslanov BV, Levchuk VP, Perelygin VV, Mitsevich EV, Mitsevich IP, Stepanshin J, Dyatlov I, Seal BS, Stern NJ (2011) Isolation of Lactobacillus salivarius 1077 (NRRL B-50053) and characterization of its bacteriocin, including the antimicrobial activity spectrum. Appl Environ Microbiol 77:2749–2754. doi:10.1128/aem.02481-10

132.

Svetoch EA, Eruslanov BV, Perelygin VV, Mitsevich EV, Mitsevich IP, Borzenkov VN, Levchuk VP, Svetoch OE, Kovalev YN, Stepanshin YG, Siragusa GR, Seal BS, Stern NJ (2008) Diverse antimicrobial killing by Enterococcus faecium E 50–52 bacteriocin. J Agric Food Chem 56:1942–1948. doi:10.1021/jf073284g

133.

Svetoch EA, Stern NJ (2010) Bacteriocins to control Campylobacter spp. in poultry—a review. Poultry Sci 89:1763–1768. doi:10.3382/ps.2010-00659

134.

Svetoch EA, Stern NJ, Eruslanov BV, Kovalev YN, Volodina LI, Perelygin VV, Mitsevich EV, Mitsevich IP, Pokhilenko VD, Borzenkov VN, Levchuk VP, Svetoch OE, Kudriavtseva TY (2005) Isolation of Bacillus circulans and Paenibacillus polymyxa strains inhibitory to Campylobacter jejuni and characterization of associated Bacteriocins. J Food Protect 68:11–17

135.

Teanpaisan R, Piwat S, Dahlén G (2011) Inhibitory effect of oral Lactobacillus against oral pathogens. Lett Appl Microbiol 53:452–459. doi:10.1111/j.1472-765X.2011.03132.x

136.

Teughels W, Loozen G, Quirynen M (2011) Do probiotics offer opportunities to manipulate the periodontal oral microbiota? J Clin Periodontol 38:159–177. doi:10.1111/j.1600-051X.2010.01665.x

137.

Turovskiy Y, Chikindas M (2011) Zinc lactate and sapindin act synergistically with lactocin 160 against Gardnerella vaginalis. Probiotics Antimicrob Proteins 3:144–149. doi:10.1007/s12602-011-9068-5

138.

Turovskiy Y, Ludescher R, Aroutcheva A, Faro S, Chikindas M (2009) Lactocin 160, a bacteriocin produced by vaginal Lactobacillus rhamnosus, targets cytoplasmic membranes of the vaginal pathogen, Gardnerella vaginalis. Probiotics Antimicrob Proteins 1:67–74. doi:10.1007/s12602-008-9003-6

139.

van Heel AJ, Montalban-Lopez M, Kuipers OP (2011) Evaluating the feasibility of lantibiotics as an alternative therapy against bacterial infections in humans. Exp Opin Drug Metabol Toxicol 7:675–680. doi:10.1517/17425255.2011.573478

140.

van Staden AD, Brand AM, Dicks LMT (2012) Nisin F-loaded brushite bone cement prevented the growth of Staphylococcus aureus in vivo. J Appl Microbiol. doi:10.1111/j.1365-2672.2012.05241.x

141.

van Staden DA, Brand AM, Endo A, Dicks LMT (2011) Nisin F, intraperitoneally injected, may have a stabilizing effect on the bacterial population in the gastro-intestinal tract, as determined in a preliminary study with mice as model. Lett Appl Microbiol 53:198–201. doi:10.1111/j.1472-765X.2011.03091.x

142.

Varella Coelho ML, JD Santos Nascimento, Fagundes PC, Madureira DJ, Oliveira SSD, Vasconcelos de Paiva Brito MA, Freire Bastos MDCD (2007) Activity of staphylococcal bacteriocins against Staphylococcus aureus and Streptococcus agalactiae involved in bovine mastitis. Res Microbiol 158:625–630

143.

Vazquez-Boland JA, Kuhn M, Berche P, Chakraborty T, Dominguez-Bernal G, Goebel W, Gonzalez-Zorn B, Wehland J, Kreft J (2001) Listeria pathogenesis and molecular virulence determinants. Clin Microbiol Rev 14:584–640. doi:10.1128/CMR.14.3.584-640.2001

144.

Vendrell D, Balcázar JL, Ruiz-Zarzuela I, de Blas I, Gironés O, Múzquiz JL (2006) Lactococcus garvieae in fish: a review. Comp Immunol Microbiol Infect Dis 29:177–198. doi:10.1016/j.cimid.2006.06.003

145.

Verberkmoes NC, Russell AL, Shah M, Godzik A, Rosenquist M, Halfvarson J, Lefsrud MG, Apajalahti J, Tysk C, Hettich RL, Jansson JK (2008) Shotgun metaproteomics of the human distal gut microbiota. ISME J 3:179–189. doi:10.1038/ismej.2008.108

146.

Verdon J, Berjeaud J-M, Lacombe C, Héchard Y (2008) Characterization of anti-Legionella activity of warnericin RK and delta-lysin I from Staphylococcus warneri. Peptides 29:978–984. doi:10.1016/j.peptides.2008.01.017

147.

Vivekananda MR, Vandana KL, Bhat KG (2010) Effect of the probiotic Lactobacilli reuteri (Prodentis) in the management of periodontal disease: a preliminary randomized clinical trial

148.

Vriezen JAC, Valliere M, Riley MA (2009) The evolution of reduced microbial killing. Genome Biol Evol 2009:400–408. doi:10.1093/gbe/evp042

149.

Willey JM, van der Donk WA (2007) Lantibiotics: peptides of diverse structure and function. Annu Rev Microbiol 61:477–501. doi:10.1146/annurev.micro.61.080706.093501

150.

Wirawan RE, Klesse NA, Jack RW, Tagg JR (2006) Molecular and genetic characterization of a novel nisin variant produced by Streptococcus uberis. Appl Environ Microbiol 72:1148–1156. doi:10.1128/aem.72.2.1148-1156.2006

151.

Wirawan RE, Swanson KM, Kleffmann T, Jack RW, Tagg JR (2007) Uberolysin: a novel cyclic bacteriocin produced by Streptococcus uberis. Microbiology 153:1619–1630. doi:10.1099/mic.0.2006/005967-0

152.

Wu J, Hu S, Cao L (2007) Therapeutic effect of Nisin Z on subclinical mastitis in lactating cows. Antimicrob Agents Chemother 51:3131–3135. doi:10.1128/aac.00629-07

153.

Wu S, Jia S, Sun D, Chen M, Chen X, Zhong J, Huan L (2005) Purification and characterization of two novel antimicrobial peptides subpeptin JM4-A and subpeptin JM4-B produced by Bacillus subtilis JM4. Curr Microbiol 51:292–296. doi:10.1007/s00284-005-0004-3

154.

Zahradnik RT, Magnusson I, Walker C, McDonell E, Hillman CH, Hillman JD (2009) Preliminary assessment of safety and effectiveness in humans of ProBiora3 ™, a probiotic mouthwash. J Appl Microbiol 107:682–690. doi:10.1111/j.1365-2672.2009.04243.x

155.

Zouhir A, Hammami R, Fliss I, Hamida J (2010) A new structure-based classification of Gram-positive bacteriocins. Protein J 29:432–439. doi:10.1007/s10930-010-9270-4
About this article
Cite this article
Hammami, R., Fernandez, B., Lacroix, C. et al. Anti-infective properties of bacteriocins: an update. Cell. Mol. Life Sci. 70, 2947–2967 (2013). https://doi.org/10.1007/s00018-012-1202-3
Received:

Revised:

Accepted:

Published:

Issue Date:
Keywords
Bacteriocins

Anti-infective properties

Pathogens

Clinical therapy