Abstract
Matrix metalloproteinase (MMP)-9 (gelatinase B) is involved in extracellular matrix degradation in the context of the motility and in in vivo migration of normal and malignant cells. Accordingly, its expression is highly regulated at the transcriptional level. In several types of human cancers, MMP-9 expression is abnormally elevated and has been associated with poor prognosis. Such high levels of MMP-9 expression are found in tumor cells and in stromal components. Therefore, it is important to understand the spatiotemporal expression pattern of MMP-9 in tissues for the development of effective therapeutic strategies that are aimed at suppressing mmp-9 gene activation. In the present work, we describe a transgenic mouse model harboring a luciferase gene under the control of the murine mmp-9 promoter. We found that the expression pattern of the transgene was similar to that of the endogenous mmp-9 gene either constitutively or following inflammatory stimuli. A constitutive transgene expression was observed in the bone marrow, consistent with the observed high levels of endogenous mmp-9 gene expression normally found in the bone. LPS injection in mice also induced a consistent and significant increase in bioluminescent signals in the liver, which is a major target of LPS-induced septic shock. Finally, we further used the model to provide evidence that mmp-9 is activated in stromal cells of the lung and spleen in melanoma tumor-bearing mice. This bioluminescent imaging model may facilitate in vivo monitoring of MMP-9 activation in stromal cells in tumor progression and inflammatory diseases.
Access options
Buy single article
Instant access to the full article PDF.
USD 39.95
Price excludes VAT (USA)
Tax calculation will be finalised during checkout.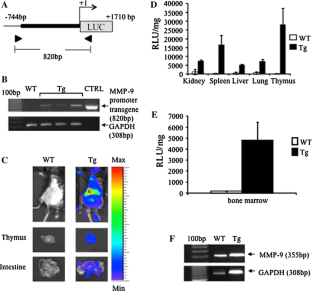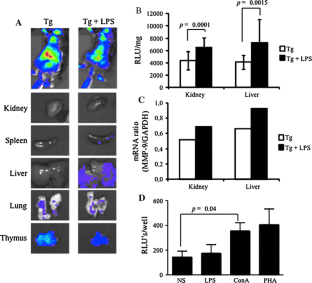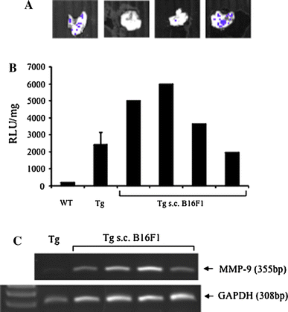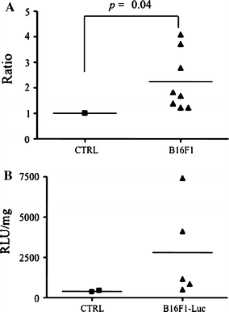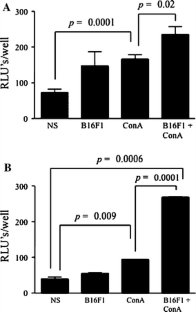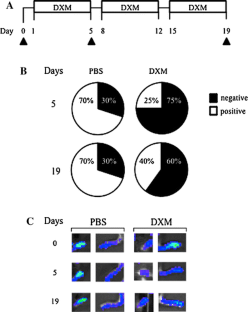 References
Lopez-Otin C, Matrisian LM (2007) Emerging roles of proteases in tumour suppression. Nat Rev Cancer 7:800–808. doi:10.1038/nrc2228

Coussens LM, Fingleton B, Matrisian LM (2002) Matrix metalloproteinase inhibitors and cancer: trials and tribulations. Science 295:2387–2392. doi:10.1126/science.1067100

Overall CM, Kleifeld O (2006) Towards third generation matrix metalloproteinase inhibitors for cancer therapy. Br J Cancer 94:941–946. doi:10.1038/sj.bjc.6603043

Coussens LM, Tinkle CL, Hanahan D, Werb Z (2000) MMP-9 supplied by bone marrow-derived cells contributes to skin carcinogenesis. Cell 103:481–490. doi:10.1016/S0092-8674(00)00139-2

Bergers G, Brekken R, McMahon G, Vu TH, Itoh T, Tamaki K, Tanzawa K, Thorpe P, Itohara S, Werb Z, Hanahan D (2000) Matrix metalloproteinase-9 triggers the angiogenic switch during carcinogenesis. Nat Cell Biol 2:737–744. doi:10.1038/35036374

Itoh T, Tanioka M, Matsuda H, Nishimoto H, Yoshioka T, Suzuki R, Uehira M (1999) Experimental metastasis is suppressed in MMP-9-deficient mice. Clin Exp Metastasis 17:177–181. doi:10.1023/A:1006603723759

Acuff HB, Carter KJ, Fingleton B, Gorden DL, Matrisian LM (2006) Matrix metalloproteinase-9 from bone marrow-derived cells contributes to survival but not growth of tumor cells in the lung microenvironment. Cancer Res 66:259–266. doi:10.1158/0008-5472.CAN-05-2502

Esteve PO, Chicoine E, Robledo O, Aoudjit F, Descoteaux A, Potworowski EF, St-Pierre Y (2002) Protein kinase C-zeta regulates transcription of the matrix metalloproteinase-9 gene induced by IL-1 and TNF-alpha in glioma cells via NF-kappa B. J Biol Chem 277:35150–35155. doi:10.1074/jbc.M108600200

Thorrez L, Van Deun K, Tranchevent LC, Van Lommel L, Engelen K, Marchal K, Moreau Y, Van Mechelen I, Schuit F (2008) Using ribosomal protein genes as reference: a tale of caution. PLoS ONE 3:e1854. doi:10.1371/journal.pone.0001854

Aoudjit F, Esteve PO, Desrosiers M, Potworowski EF, St-Pierre Y (1997) Gelatinase B (MMP-9) production and expression by stromal cells in the normal and adult thymus and experimental thymic lymphoma. Int J Cancer 71:71–78. doi:10.1002/(SICI)1097-0215(19970328)

Opdenakker G, Masure S, Grillet B, Van Damme J (1991) Cytokine-mediated regulation of human leukocyte gelatinases and role in arthritis. Lymphokine Cytokine Res 10:317–324

Renckens R, Roelofs JJ, Florquin S, de Vos AF, Lijnen HR, van't Veer C, van der Poll T (2006) Matrix metalloproteinase-9 deficiency impairs host defense against abdominal sepsis. J Immunol 176:3735–3741

Murch O, Collin M, Sepodes B, Foster SJ, Mota-Filipe H, Thiemermann C (2006) Lysophosphatidylcholine reduces the organ injury and dysfunction in rodent models of gram-negative and gram-positive shock. Br J Pharmacol 148:769–777. doi:10.1038/sj.bjp.0706788

Aoudjit F, Potworowski EF, St-Pierre Y (1998) Bi-directional induction of matrix metalloproteinase-9 and tissue inhibitor of matrix metalloproteinase-1 during T lymphoma/endothelial cell contact: implication of ICAM-1. J Immunol 160:2967–2973

Kuvibidila SR, Gardner R, Velez M, Yu L (2010) Iron deficiency, but not underfeeding reduces the secretion of interferon-gamma by mitogen-activated murine spleen cells. Cytokine 52:230–237. doi:10.1016/j.cyto.2010.08.004

Ortega N, Wang K, Ferrara N, Werb Z, Vu TH (2010) Complementary interplay between matrix metalloproteinase-9, vascular endothelial growth factor and osteoclast function drives endochondral bone formation. Dis Model Mech 3:224–235. doi:10.1242/dmm.004226

Reponen P, Sahlberg C, Munaut C, Thesleff I, Tryggvason K (1994) High expression of 92-kD type IV collagenase (gelatinase B) in the osteoclast lineage during mouse development. J Cell Biol 124:1091–1102

Yoshida W, Uzuki M, Nishida J, Shimamura T, Sawai T (2009) Examination of in vivo gelatinolytic activity in rheumatoid arthritis synovial tissue using newly developed in situ zymography and image analyzer. Clin Exp Rheumatol 27:587–593

Gruber BL, Sorbi D, French DL, Marchese MJ, Nuovo GJ, Kew RR, Arbeit LA (1996) Markedly elevated serum MMP-9 (gelatinase B) levels in rheumatoid arthritis: a potentially useful laboratory marker. Clin Immunol Immunopathol 78:161–171. doi:10.1006/clin.1996.0025

Zhou H, Bernhard EJ, Fox FE, Billings PC (1993) Induction of metalloproteinase activity in human T-lymphocytes. Biochim Biophys Acta 1177:174–178. doi:10.1016/0167-4889(93)90037-P

Xie B, Dong Z, Fidler IJ (1994) Regulatory mechanisms for the expression of type IV collagenases/gelatinases in murine macrophages. J Immunol 152:3637–3644

Arechavaleta-Velasco F, Ogando D, Parry S, Vadillo-Ortega F (2002) Production of matrix metalloproteinase-9 in lipopolysaccharide-stimulated human amnion occurs through an autocrine and paracrine proinflammatory cytokine-dependent system. Biol Reprod 67:1952–1958. doi:10.1095/biolreprod.102.004721

Carlsen H, Moskaug JO, Fromm SH, Blomhoff R (2002) In vivo imaging of NF-kappa B activity. J Immunol 168:1441–1446

Ruiter D, Bogenrieder T, Elder D, Herlyn M (2002) Melanoma-stroma interactions: structural and functional aspects. Lancet Oncol 3:35–43

Giraudo E, Inoue M, Hanahan D (2004) An amino-bisphosphonate targets MMP-9-expressing macrophages and angiogenesis to impair cervical carcinogenesis. J Clin Investig 114:623–633. doi:10.1172/JCI22087

Ahn GO, Brown JM (2008) Matrix metalloproteinase-9 is required for tumor vasculogenesis but not for angiogenesis: role of bone marrow-derived myelomonocytic cells. Cancer Cell 13:193–205. doi:10.1016/j.ccr.2007.11.032

Marconi C, Bianchini F, Mannini A, Mugnai G, Ruggieri S, Calorini L (2008) Tumoral and macrophage uPAR and MMP-9 contribute to the invasiveness of B16 murine melanoma cells. Clin Exp Metastasis 25:225–231. doi:10.1007/s10585-007-9136-0

Lin EY, Li JF, Gnatovskiy L, Deng Y, Zhu L, Grzesik DA, Qian H, Xue XN, Pollard JW (2006) Macrophages regulate the angiogenic switch in a mouse model of breast cancer. Cancer Res 66:11238–11246. doi:10.1158/0008-5472.CAN-06-1278

Shekhar MP, Werdell J, Santner SJ, Pauley RJ, Tait L (2001) Breast stroma plays a dominant regulatory role in breast epithelial growth and differentiation: implications for tumor development and progression. Cancer Res 61:1320–1326

Stuelten CH, DaCosta Byfield S, Arany PR, Karpova TS, Stetler-Stevenson WG, Roberts AB (2005) Breast cancer cells induce stromal fibroblasts to express MMP-9 via secretion of TNF-alpha and TGF-beta. J Cell Sci 118:2143–2153. doi:10.1242/jcs.02334

Voigt H, Houben R, Schrama D, Hofmann UB, Vetter-Kauczok CS, Becker JC (2007) Matrix metalloproteinase induction in the tumor stroma does not depend on CD147 expression in murine B16 melanoma. Tumour Biol 28:229–237. doi:000107418[pii]10.1159/000107418

MacDougall JR, Bani MR, Lin Y, Rak J, Kerbel RS (1995) The 92-kDa gelatinase B is expressed by advanced stage melanoma cells: suppression by somatic cell hybridization with early stage melanoma cells. Cancer Res 55:4174–4181

Hofmann UB, Houben R, Brocker EB, Becker JC (2005) Role of matrix metalloproteinases in melanoma cell invasion. Biochimie 87:307–314. doi:10.1016/j.biochi.2005.01.013

Mohan R, Rinehart WB, Bargagna-Mohan P, Fini ME (1998) Gelatinase B/lacZ transgenic mice, a model for mapping gelatinase B expression during developmental and injury-related tissue remodeling. J Biol Chem 273:25903–25914. doi:10.1074/jbc.273.40.25903

Gross S, Piwnica-Worms D (2005) Real-time imaging of ligand-induced IKK activation in intact cells and in living mice. Nat Methods 2:607–614. doi:10.1038/nmeth779

Gross S, Piwnica-Worms D (2005) Spying on cancer: molecular imaging in vivo with genetically encoded reporters. Cancer Cell 7:5–15. doi:10.1016/j.ccr.2004.12.011

Grossman E, Tao J, Wilson R, Park SY, Bell G, Chong A (2010) Seeing is believing: how the MIP-luc mouse can advance the field of islet transplantation and β-cell regeneration. Islets 2:261–262. doi:10.4161/isl.2.4.12028

Welch DR, Schissel DJ, Howery RP, Aeed PA (1989) Tumor-elicited polymorphonuclear cells, in contrast to "normal" circulating polymorphonuclear cells, stimulate invasive and metastatic potentials of rat mammary adenocarcinoma cells. Proc Natl Acad Sci USA 86:5859–5863

Acuff HB, Carter KJ, Fingleton B, Gorden DL, Matrisian LM (2006) Matrix metalloproteinase-9 from bone marrow-derived cells contributes to survival but not growth of tumor cells in the lung microenvironment. Cancer Res 66:259–266. doi:10.1158/0008-5472.CAN-0502502
Acknowledgments
We thank Diane Tremblay for her excellent technical support. K.B.P. was supported by a doctoral studentship from the Fonds de la Recherche en Santé du Québec (FRSQ). This work was supported by the Cancer Research Society of Canada.
About this article
Cite this article
Biron-Pain, K., St-Pierre, Y. Monitoring mmp-9 gene expression in stromal cells using a novel transgenic mouse model. Cell. Mol. Life Sci. 69, 783–791 (2012). https://doi.org/10.1007/s00018-011-0777-4
Received:

Revised:

Accepted:

Published:

Issue Date:

DOI: https://doi.org/10.1007/s00018-011-0777-4
Keywords
mmp-9

Transgenic cancer

Melanoma

Metastasis