Abstract
Regulation of apoptosis at various stages of differentiation plays an important role in spermatogenesis. Therefore, the identification and characterisation of highly expressed genes in the testis that are involved in apoptosis is of great value to delineate the mechanism of spermatogenesis. Here, we reported that Fank1, a novel gene highly expressed in testis, functioned as an anti-apoptotic protein that activated the activator protein 1 (AP-1) pathway. We found that Jab1 (Jun activation domain-binding protein 1), a co-activator of AP-1, specifically interacted with Fank1. Reporter analyses showed that Fank1 activated AP-1 pathway in a Jab1-dependent manner. Fank1 overexpression also increased the expression and activation of endogenous c-Jun. Further study showed that Fank1 inhibited cell apoptosis by upregulating and activating endogenous c-Jun and its downstream target, Bcl-3. This process was shown to be Jab1 dependent. Taken together, our results indicated that by interacting with Jab1, Fank1 could suppress cell apoptosis by activating the AP-1-induced anti-apoptotic pathway.
Access options
Buy single article
Instant access to the full article PDF.
USD 39.95
Price excludes VAT (USA)
Tax calculation will be finalised during checkout.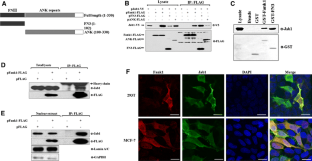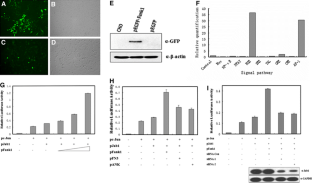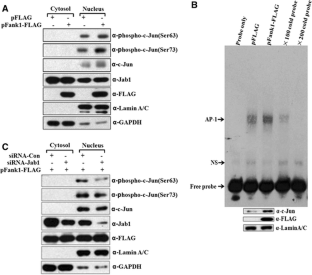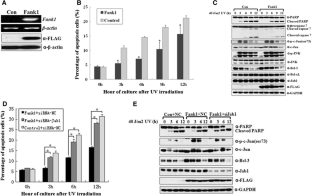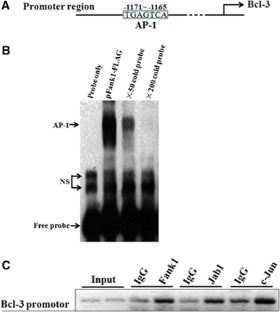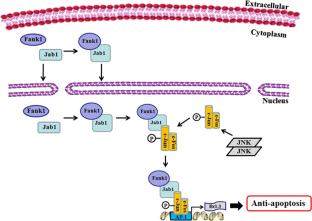 References
Kierszenbaum AL (1994) Mammalian spermatogenesis in vivo and in vitro: a partnership of spermatogenic and somatic cell lineages. Endocr Rev 15:116–134

Sinha Hikim AP, Swerdloff RS (1999) Hormonal and genetic control of germ cell apoptosis in the testis. Rev Reprod 4:38–47

Zheng Z, Zheng H, Yan W (2007) Fank1 is a testis-specific gene encoding a nuclear protein exclusively expressed during the transition from the meiotic to the haploid phase of spermatogenesis. Gene Expr Patterns 7:777–783

Wei N, Tsuge T, Serino G, Dohmae N, Takio K, Matsui M, Deng XW (1998) The COP9 complex is conserved between plants and mammals and is related to the 26S proteasome regulatory complex. Curr Biol 8:919–922

Claret FX, Hibi M, Dhut S, Toda T, Karin M (1996) A new group of conserved coactivators that increase the specificity of AP-1 transcription factors. Nature 383:453–457

Schreiber M, Kolbus A, Piu F, Szabowski A, Mohle-Steinlein U, Tian J, Karin M, Angel P, Wagner EF (1999) Control of cell cycle progression by c-Jun is p53 dependent. Genes Dev 13:607–619

Ivanov VN, Bhoumik A, Krasilnikov M, Raz R, Owen-Schaub LB, Levy D, Horvath CM, Ronai Z (2001) Cooperation between STAT3 and c-jun suppresses Fas transcription. Mol Cell 7:517–528

Rebollo A, Dumoutier L, Renauld JC, Zaballos A, Ayllon V, Martinez AC (2000) Bcl-3 expression promotes cell survival following interleukin-4 deprivation and is controlled by AP1 and AP1-like transcription factors. Mol Cell Biol 20:3407–3416

Hibi M, Lin A, Smeal T, Minden A, Karin M (1993) Identification of an oncoprotein- and UV-responsive protein kinase that binds and potentiates the c-Jun activation domain. Genes Dev 7:2135–2148

Gupta S, Campbell D, Derijard B, Davis RJ (1995) Transcription factor ATF2 regulation by the JNK signal transduction pathway. Science 267:389–393

Karin M (1995) The regulation of AP-1 activity by mitogen-activated protein kinases. J Biol Chem 270:16483–16486

Passegue E, Jochum W, Schorpp-Kistner M, Mohle-Steinlein U, Wagner EF (2001) Chronic myeloid leukemia with increased granulocyte progenitors in mice lacking junB expression in the myeloid lineage. Cell 104:21–32

Kashatus D, Cogswell P, Baldwin AS (2006) Expression of the Bcl-3 proto-oncogene suppresses p53 activation. Genes Dev 20:225–235

Schwechheimer C (2004) The COP9 signalosome (CSN): an evolutionary conserved proteolysis regulator in eukaryotic development. Biochim Biophys Acta 1695:45–54

Tomoda K, Kubota Y, Arata Y, Mori S, Maeda M, Tanaka T, Yoshida M, Yoneda-Kato N, Kato JY (2002) The cytoplasmic shuttling and subsequent degradation of p27Kip1 mediated by Jab1/CSN5 and the COP9 signalosome complex. J Biol Chem 277:2302–2310

Chamovitz DA, Segal D (2001) Jab1/CSN5 and the COP9 signalosome. a complex situation. EMBO Rep 2:96–101

Tomoda K, Kubota Y, Kato J (1999) Degradation of the cyclin-dependent-kinase inhibitor p27Kip1 is instigated by Jab1. Nature 398:160–165

Bech-Otschir D, Kraft R, Huang X, Henklein P, Kapelari B, Pollmann C, Dubiel W (2001) COP9 signalosome-specific phosphorylation targets p53 to degradation by the ubiquitin system. EMBO J 20:1630–1639

Wan M, Cao X, Wu Y, Bai S, Wu L, Shi X, Wang N, Cao X (2002) Jab1 antagonizes TGF-beta signaling by inducing Smad4 degradation. EMBO Rep 3:171–176

Skorstengaard K, Jensen MS, Sahl P, Petersen TE, Magnusson S (1986) Complete primary structure of bovine plasma fibronectin. Eur J Biochem 161:441–453

Mosavi LK, Minor DL Jr, Peng ZY (2002) Consensus-derived structural determinants of the ankyrin repeat motif. Proc Natl Acad Sci USA 99:16029–16034

Shaulian E, Karin M (2002) AP-1 as a regulator of cell life and death. Nat Cell Biol 4:131–136

Eferl R, Wagner EF (2003) AP-1: a double-edged sword in tumorigenesis. Nat Rev Cancer 3:859–868

Binetruy B, Smeal T, Karin M (1991) Ha-Ras augments c-Jun activity and stimulates phosphorylation of its activation domain. Nature 351:122–127

Smeal T, Binetruy B, Mercola DA, Birrer M, Karin M (1991) Oncogenic and transcriptional cooperation with Ha-Ras requires phosphorylation of c-Jun on serines 63 and 73. Nature 354:494–496

Smeal T, Binetruy B, Mercola D, Grover-Bardwick A, Heidecker G, Rapp UR, Karin M (1992) Oncoprotein-mediated signalling cascade stimulates c-Jun activity by phosphorylation of serines 63 and 73. Mol Cell Biol 12:3507–3513

Angel P, Hattori K, Smeal T, Karin M (1988) The jun proto-oncogene is positively autoregulated by its product, Jun/AP-1. Cell 55:875–885

Ham J, Babij C, Whitfield J, Pfarr CM, Lallemand D, Yaniv M, Rubin LL (1995) A c-Jun dominant negative mutant protects sympathetic neurons against programmed cell death. Neuron 14:927–939

Estus S, Zaks WJ, Freeman RS, Gruda M, Bravo R, Johnson EM Jr (1994) Altered gene expression in neurons during programmed cell death: identification of c-jun as necessary for neuronal apoptosis. J Cell Biol 127:1717–1727

Bossy-Wetzel E, Bakiri L, Yaniv M (1997) Induction of apoptosis by the transcription factor c-Jun. EMBO J 16:1695–1709

Angel P, Baumann I, Stein B, Delius H, Rahmsdorf HJ, Herrlich P (1987) 12-O-tetradecanoyl-phorbol-13-acetate induction of the human collagenase gene is mediated by an inducible enhancer element located in the 5′-flanking region. Mol Cell Biol 7:2256–2266

Angel P, Allegretto EA, Okino ST, Hattori K, Boyle WJ, Hunter T, Karin M (1988) Oncogene jun encodes a sequence-specific trans-activator similar to AP-1. Nature 332:166–171

Wisdom R, Johnson RS, Moore C (1999) c-Jun regulates cell cycle progression and apoptosis by distinct mechanisms. EMBO J 18:188–197

Shalini S, Bansal MP (2006) Role of selenium in spermatogenesis: differential expression of cjun and cfos in tubular cells of mice testis. Mol Cell Biochem 292:27–38
Acknowledgments
We thank Dr. Dong-Yan Jin for constructive suggestions and critical reading of manuscript. This work was supported by grants from the National Program for Important Research Plans (2006CB944002) and the National Program for Key Basic Research Projects (2006CB504001) from the Ministry of Science and Technology of China, a grant for Creative Research Group (No. 30721063) from the National Natural Science Foundation of China, the National Laboratory Special Fund (2060204), and the Institute Fund for Young Scientist (2009PY10).
Electronic supplementary material
Below is the link to the electronic supplementary material.
PI incorporation FACS analysis of Fank1 inhibition of CPT induced apoptosis. Stable HeLa/Flag-Fank1 and HeLa/Con cell lines were exposed to 10 µM CPT. At indicated times, cells were treated as described in 'Materials and Methods' section and analysed by FACS. The percentage of apoptotic cells (% of total cells) was determined by program EXPO32-ADC, and the results were shown as a bar graph (*p<0.05). The data were representative of three different experiments and error bars represented the standard deviations of triplicate samples. (TIFF 19882 kb)
Fank1 inhibited CPT induced apoptosis by upregulating c-Jun and Bcl-3 expression. Stable HeLa/Flag-Fank1 and HeLa/Con cell lines were exposed to 10 µM CPT. The cell lysates were analysed by immunoblotting with the indicated antibodies. GAPDH was used as a loading control. (TIFF 24484 kb)
Annexin V/PI FACS assay to analyse apoptosis in stable cells transfected with the indicated siRNA (Jab1 siRNA2 or control siRNA). Stable cells were treated as described in 'Materials and Methods'. After staining with FITC-Annexin V and PI, cells were analysed by the Accuri C6 flow cytometer system. Inset numbers represent the percentage of each population in the quadrants. Early apoptotic cells (Annexin V+/PI-, Q1-LR), late apoptotic cells (Annexin V+/PI+, Q1-UR) and dead cells (Annexin V-/PI+, Q1-UL). Data were from one of three independent experiments which yielded similar results. (TIFF 25386 kb)
About this article
Cite this article
Wang, H., Song, W., Hu, T. et al. Fank1 interacts with Jab1 and regulates cell apoptosis via the AP-1 pathway. Cell. Mol. Life Sci. 68, 2129–2139 (2011). https://doi.org/10.1007/s00018-010-0559-4
Received:

Revised:

Accepted:

Published:

Issue Date:

DOI: https://doi.org/10.1007/s00018-010-0559-4
Keywords
Fank1

Jab1

AP-1

Bcl-3

Apoptosis