Abstract
Objective and design
The objective of this study was to assess the effect of vamorolone, a first-in-class dissociative steroidal compound, to inhibit inflammation when administered after disease onset in the murine collagen antibody-induced arthritis model of arthritis.
Animals
84 DBA1/J mice were used in this study (n = 12 per treatment group).
Treatment
Vamorolone or prednisolone was administered orally after disease onset for a duration of 7 days.
Methods
Disease score and bone erosion were assessed using previously described scoring systems. Cytokines were measured in joints via immunoassay, and joint cathepsin B activity (marker of inflammation) was assessed using optical imaging of joints on live mice.
Results
We found that vamorolone treatment led to a reduction of several disease parameters including disease score, joint inflammation, and the presence of pro-inflammatory mediators to a degree similar of that observed with prednisolone treatment. More importantly, histopathological analysis of affected joints showed that vamorolone treatment significantly reduced the degree of bone erosion while this bone-sparing property was not observed with prednisolone treatment at any of the tested doses.
Conclusions
While many intervention regimens in other studies are administered prior to disease onset in animal models, the current study involves delivery of the potential therapeutic after disease onset. Based on the findings, vamorolone may offer an efficacious, yet safer alternative to conventional steroidal compounds in the treatment of rheumatoid arthritis and other inflammatory diseases.
This is a preview of subscription content, log in to check access.
Access options
Buy single article
Instant access to the full article PDF.
US$ 39.95
Tax calculation will be finalised during checkout.
Subscribe to journal
Immediate online access to all issues from 2019. Subscription will auto renew annually.
US$ 99
Tax calculation will be finalised during checkout.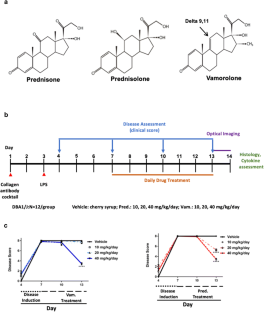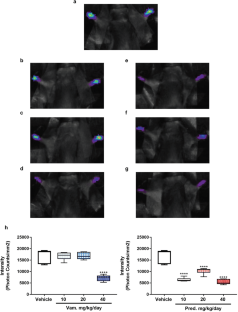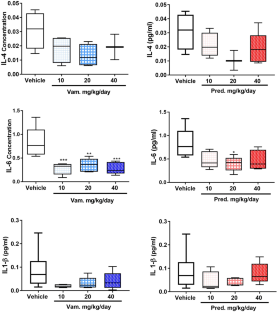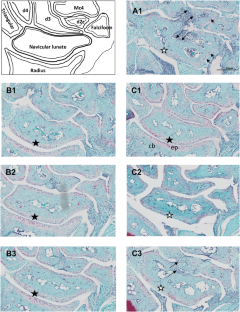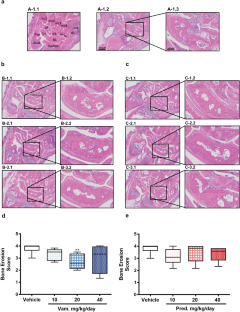 Abbreviations
CAIA:

Collagen antibody-induced arthritis

RA:

Rheumatoid arthritis

GCs:

Glucocorticoids

DMARDs:

Disease-modifying anti-rheumatic drugs

GREs:

Glucocorticoid response elements

MR:

Mineralocorticoid receptor

i.p.:

Intraperitoneal

LPS:

Lipopolysaccharide

Vam.:

Vamorolone

Pred.:

Prednisolone

Pisi:

Pisiform

NL:

Navicular lunate

Tri:

Triangular

mc:

Metacarpal

cb:

Cortical bone

ep:

Epiphysis
References
1.

Vos T, Allen C, Arora M, Barber RM, Bhutta ZA, Brown A, et al. Global, regional, and national incidence, prevalence, and years lived with disability for 310 diseases and injuries, 1990–2015: a systematic analysis for the global burden of disease study 2015. Lancet. 2016;388:1545–602.

2.

Sokka T, Toloza S, Cutolo M, Kautiainen H, Makinen H, Gogus F, et al. Women, men, and rheumatoid arthritis: analyses of disease activity, disease characteristics, and treatments in the QUEST-RA study. Arthritis Res Ther. 2009;11:R7.

3.

Haraoui B, Jovaisas A, Bensen WG, Faraawi R, Kelsall J, Dixit S, et al. Use of corticosteroids in patients with rheumatoid arthritis treated with infliximab: treatment implications based on a real-world Canadian population. RMD Open. 2015;1:e000078.

4.

Bijlsma JW, Jacobs JW. Glucocorticoid in the treatment of rheumatoid arthritis: still used after 65 years. Ann NY Acad Sci. 2014;1318:27–31.

5.

Keystone EC, Smolen J, Riel PV. Developing an effective treatment algorithm for rheumatoid arthritis. Rheumatology (Oxford). 2012;51:v48–54.

6.

Baschant U, Lane NE, Tuckerman J. The multiple facets of glucocorticoid action in rheumatoid arthritis. Nat Rev Rheumatol. 2012;8:645–55.

7.

Ethgen O, Esteves FDL, Bruyere O, Reginster JY. What do we know about the safety of corticosteroids in rheumatoid arthritis? Curr Med Res Opin. 2013;29:1147–60.

8.

Jacobs JW, Bijlsma JW, van Laar JM. Glucocorticoids in early rheumatoid arthritis: are the benefits of joint-sparing effects offset by the adverse effect of osteoporosis? the effects on bone in the Utrecht study and the CAMERA-II study. Neuroimmunomodulation. 2015;22:66–71.

9.

Rehman Q, Lane NE. Effect of glucocorticoids on bone density. Med Pediatr Oncol. 2003;41:212–6.

10.

Herrlich P. Cross-talk between glucocorticoid receptor and AP-1. Oncogene. 2001;20:2465–75.

11.

Coghlan MJ, Elmore SW, Kym PR, Kort ME. The pursuit of differentiated ligands for the glucocorticoid receptor. Curr Top Med Chem. 2003;14:1617–35.

12.

Hudson WH, Vera IMS, Nwachukwu JC, Weikum ER, Herbst AG, Yang Q, Bain DL, Nettles KW, Kojetin DJ, Ortlund EA. Cryptic glucocorticoid receptor-binding sites pervade genomic NF-κB response elements. Nat Commun. 2018;9:1337.

13.

Reeves EK, Hoffman EP, Nagaraju K, Damsker JM, McCall JM. VBP15: preclinical characterization of a novel anti-inflammatory delta 9,11 steroid. Bioorganic Med Chem. 2013;21:2241–9.

14.

Heier CR, Damsker JM, Yu Q, Dillingham BC, Huynh T, Van der Meulen JH, Sali A, et al. VBP15, a novel anti-inflammatory and membrane-stabilizer, improves muscular dystrophy without side effects. EMBO Mol Med. 2013;5:1569–85.

15.

Heier CR, Yu Q, Fiorillo AA, Tully CB, Tucker A, Mazala DA, Uaesoontrachoon K, et al. Vamorolone targets dual nuclear receptors to treat inflammation and dystrophic cardiomyopathy. Life Sci Alliance. 2019;2(1):6.

16.

Damsker JM, Dillingham BC, Rose MC, Balsley MA, Heier CR, Watson AM, et al. VBP15, a glucocorticoid analogue, is effective at reducing allergic lung inflammation in mice. PLoS One. 2013;8:e63871.

17.

Dillingham BC, Knoblach SM, Many GM, Harmon BT, Mullen AM, Heier CR, et al. VBP15, a novel anti-inflammatory, is effective at reducing the severity of murine experimental autoimmune encephalomyelitis. Cell Mol Neurobiol. 2015;3:377–87.

18.

Damsker JM, Conklin LS, Sadri S, Dillingham BC, Panchapakesan K, Heier CR, et al. VBP15, a novel dissociative steroid compound, reduces NFκB-induced expression of inflammatory cytokines in vitro and symptoms of murine trinitrobenzene sulfonic acid-induced colitis. Inflamm Res. 2016;65:737–43.

19.

Hoffman EP, Riddle V, Siegler MA, Dickerson D, Backonia M, Kramer WG, et al. Phase 1 trial of vamorolone, a first-in-class steroid, shows improvements in side effects via biomarkers bridged to clinical outcomes. Steroids. 2018;134:43–52.

20.

Conklin LS, Damsker JM, Hoffman EP, et al. Phase Iia trial in Duchenne muscular dystrophy shows vamorolone is a first-in-class dissociative steroidal anti-inflammatory drug. Elsevier Pharma Res. 2018;136:140–50.

21.

Baudy AR, Sali A, Jordan S, Kesari A, Johnston HK, Hoffman EP, Nagaraju K. Non-invasive optical imaging of muscle pathology in mdx mice using cathepsin caged near-infrared imaging. Mol Imaging Biol. 2011;13:462–70.

22.

Kachigian LM. Collagen antibody induced arthritis. Nat Protoc. 2006;1:2512–6.

23.

Tong B, Wan B, Wei Z, Wang T, Zhao P, Dou Y, et al. Role of cathepsin B in regulating migration and invasion of fibroblast-like synoviocytes into inflamed tissue from patients with rheumatoid arthritis. Clin Exp Immunol. 2014;177:586–97.

24.

Ohmura K, Nguyen LT, Locksley RM, Mathis D, Benoist C. Interleukin-4 can be a key positive regulator of inflammatory arthritis. Arthritis Rheum. 2005;52:1866–75.

25.

Firestein GS, Alvaro-Gracia JM, Maki R, Alvaro-Garcia JM. Quantitative analysis of cytokine gene expression in rheumatoid arthritis. J Immunol. 1990;144:3347–53.

26.

van Leeuwen MA, Westra J, Limburg PC, van Riel PL, van Rijswijk MH. Interleukin-6 in relation to other proinflammatory cytokines, chemotactic activity and neutrophil activation in rheumatoid synovial fluid. Ann Rheum Dis. 1995;54:33–8.

27.

Sreetama SC, Chandra G, Van der Meulen JH, Ahmad MM, Suzuki P, et al. Membrane stabilization by modified steroid offers a potential therapy for muscular dystrophy due to dysferlin deficit. Mol Ther. 2018;26:2231–42.

28.

Fujisawa K, Aono H, Hasunuma T, Yamamoto K, Mita S, Nishioka K. Activation of transcription factor nf-κb in human synovial cells in response to tumor necrosis factor α. Arthritis Rheum. 1996;39:197–203.

29.

Miyazawa K, Mori A, Yamamoto K, Okudaira H. Constitutive transcription of the human interleukin-6 gene by rheumatoid synoviocytes: spontaneous activation of NF-kappaB and CBF1. Am J Pathol. 1998;152:793–803.

30.

Wernecke C, Braun HJ, Dragoo JL. The effect of intra-articular corticosteroids on articular cartilage. Orthop J Sports Med. 2015;3:2325967115581163.

31.

Bas DB, Su J, Sandor K, Agalave NM, Lundberg J, Codeluppi S, Baharpoor A, et al. Collagen antibody-induced arthritis evokes persistent pain with spinal glial involvement and transient prostaglandin dependency. Arthritis Rheum. 2012;64:3886–96.

32.

Cojocaru M, Cojocaru IM, Silosi I, Vrabie CD, Tanasescu R. Extra-articular manifestations in rheumatoid arthritis. Maedica (Buchar). 2010;5:286–91.

33.

Hansson AS, Lu S, Holmdahl R. Extra-articular cartilage affected in collagen-induced, but not pristane-induced, arthritis models. Clin Exp Immunol. 2002;127:37–42.

34.

Marinova-Mutafchieva L, Williams RO, Mason LJ, Mauri C, Feldmann M, Maini RN. Dynamics of proinflammatory cytokine expression in the joints of mice with collagen-induced arthritis (CIA). Clin Exp Immunol. 1997;107:507–12.

35.

Rioja I, Bush KA, Buckton JB, Dickson MC, Life PF. Joint cytokine quantification in two rodent arthritis models: kinetics of expression, correlation of mRNA and protein levels and response to prednisolone treatment. Clin Exp Immunol. 2004;137:65–73.
Funding
Supported by a small business technology transfer (STTR) Grant from the National Institutes of Health (1R41AR068816-01). This award supported all experiments described in this manuscript.
Ethics declarations
Conflict of interest
:JMD, MRC, RL, and KN are employed by ReveraGen BioPharma Inc. JMD has ReveraGen BioPharma Inc. stock options, and KN has ReveraGen BioPharma Inc. founder shares. AAF has a consulting agreement with ReveraGen BioPharma Inc.
Ethical approval
All procedures performed in studies involving animals were in accordance with the ethical standards of the Institutional Animal Care and Use Committee at Children's National Health System.
Additional information
Publisher's Note
Springer Nature remains neutral with regard to jurisdictional claims in published maps and institutional affiliations.
Responsible Editor: John Di Battista.
About this article
Cite this article
Damsker, J.M., Cornish, M.R., Kanneboyina, P. et al. Vamorolone, a dissociative steroidal compound, reduces collagen antibody-induced joint damage and inflammation when administered after disease onset. Inflamm. Res. 68, 969–980 (2019). https://doi.org/10.1007/s00011-019-01279-z
Received:

Revised:

Accepted:

Published:

Issue Date:
Keywords
Rheumatoid arthritis

Glucocorticoids

Inflammation

Autoimmunity