Abstract
Objective
The aim of this study is to investigate the involvement of TLR9 in the regulation of iNOS expression and nitric oxide (NO) production in Porphyromonas gingivalis LPS-treated mouse macrophages.
Methods
Mouse macrophage cell line (RAW264.7) was transfected with siRNAs against TLR9 and then stimulated with P. gingivalis LPS. At indicated time points, the activated cells were lysed. Gene and protein expression of iNOS were determined by RT-PCR and immunoblotting, respectively. The level of nitric oxide (NO) production in the supernatant of the activated cells was determined by Griess reaction assay.
Results and conclusion
Depletion of TLR9 in mouse macrophages demonstrated the markedly decreased iNOS gene and protein expression by P. gingivalis LPS compared to those of the wild-type or control siRNA transfected cells. In consistent with these results, the level of NO secretion was also significantly diminished in TLR9-depleted cells after challenged with P. gingivalis LPS. These results indicate that TLR9 involves in the regulation of the iNOS expression and the NO secretion in P. gingivalis LPS-treated macrophages.
Access options
Buy single article
Instant access to the full article PDF.
USD 39.95
Price excludes VAT (USA)
Tax calculation will be finalised during checkout.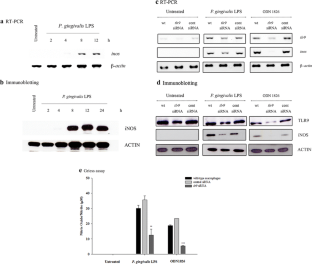 References
Darveau RP. The oral microbial consortium's interaction with the periodontal innate defense system. DNA Cell Biol. 2009;28(8):389–95.

Bostanci N, Belibasakis GN. Porphyromonas gingivalis: an invasive and evasive opportunistic oral pathogen. FEMS Microbiol Lett. 2012;333(1):1–9. https://doi.org/10.1111/j.1574-6968.2012.02579.x.

Ullah MO, Sweet MJ, Mansell A, Kellie S, Kobe B. TRIF-dependent TLR signaling, its functions in host defense and inflammation, and its potential as a therapeutic target. J Leukoc Biol. 2016;100(1):27–45. https://doi.org/10.1189/jlb.2RI1115-531R.

Holden JA, Attard TJ, Laughton KM, Mansell A, O'Brien-Simpson NM, Reynolds EC. Porphyromonas gingivalis lipopolysaccharide weakly activates M1 and M2 polarized mouse macrophages but induces inflammatory cytokines. Infect Immun. 2014;82(10):4190–203. https://doi.org/10.1128/IAI.02325-14.

Hussain QA, McKay IJ, Gonzales-Marin C, Allaker RP. Detection of adrenomedullin and nitric oxide in different forms of periodontal disease. J Periodontal Res. 2016;51(1):16–25. https://doi.org/10.1111/jre.12273.

Kaisho T, Akira S. Toll-like receptor function and signaling. J Allergy Clin Immunol. 2006;117(5):979–87. https://doi.org/10.1016/j.jaci.2006.02.023 (quiz 88).

Mifsud EJ, Tan AC, Jackson DC. TLR agonists as modulators of the innate immune response and their potential as agents against infectious disease. Front Immunol. 2014;5:79. https://doi.org/10.3389/fimmu.2014.00079.

Uematsu S, Akira S. Toll-like receptors and innate immunity. J Mol Med (Berl). 2006;84(9):712–25. https://doi.org/10.1007/s00109-006-0084-y.

Bhan U, Ballinger MN, Zeng X, Newstead MJ, Cornicelli MD, Standiford TJ. Cooperative interactions between TLR4 and TLR9 regulate interleukin 23 and 17 production in a murine model of gram negative bacterial pneumonia. PLoS One. 2010;5(3):e9896. https://doi.org/10.1371/journal.pone.0009896.

Andrews K, Abdelsamed H, Yi AK, Miller MA, Fitzpatrick EA. TLR2 regulates neutrophil recruitment and cytokine production with minor contributions from TLR9 during hypersensitivity pneumonitis. PLoS One. 2013;8(8):e73143. https://doi.org/10.1371/journal.pone.0073143.

Utaisincharoen P, Anuntagool N, Chaisuriya P, Pichyangkul S, Sirisinha S. CpG ODN activates NO and iNOS production in mouse macrophage cell line (RAW 264.7). Clin Exp Immunol. 2002;128(3):467–73.

Wang M, Krauss JL, Domon H, Hosur KB, Liang S, Magotti P, et al. Microbial hijacking of complement-toll-like receptor crosstalk. Sci Signal. 2010;3(109):ra11. https://doi.org/10.1126/scisignal.2000697.

Crump KE, Oakley JC, Xia-Juan X, Madu TC, Devaki S, Mooney EC, et al. Interplay of toll-like receptor 9, myeloid cells, and deubiquitinase A20 in periodontal inflammation. Infect Immun. 2017. https://doi.org/10.1128/IAI.00814-16.

Kim PD, Xia-Juan X, Crump KE, Abe T, Hajishengallis G, Sahingur SE. Toll-like receptor 9-mediated inflammation triggers alveolar bone loss in experimental murine periodontitis. Infect Immun. 2015;83(7):2992–3002. https://doi.org/10.1128/IAI.00424-15.
Acknowledgements
MP acknowledges support from the Talent Management Program of Mahidol University. This work was supported by Thailand Research Fund Grant Number MRG5980057 for support of MP and Grant Number BRG5980004 for support of PU.
Ethics declarations
Conflict of interest
The authors declare no potential conflicts of interest with respect to authorship and/or publication of this article.
Additional information
Responsible Editor: John Di Battista.
Electronic supplementary material
Below is the link to the electronic supplementary material.
Supplementary Fig. 1. TLR2 and TLR4 expression in TLR9-depleted mouse macrophages. Mouse macrophages were transfected with siRNAs against TLR9. At indicated time points, the cells were lysed. TLR2 and TLR4 mRNA expression were measured by RT-PCR (TIF 364 KB)
About this article
Cite this article
Pudla, M., Srisatjaluk, R. & Utaisincharoen, P. Induction of inducible nitric oxide synthase (iNOS) in Porphyromonas gingivalis LPS-treated mouse macrophage cell line (RAW264.7) requires Toll-like receptor 9. Inflamm. Res. 67, 723–726 (2018). https://doi.org/10.1007/s00011-018-1168-1
Received:

Revised:

Accepted:

Published:

Issue Date:

DOI: https://doi.org/10.1007/s00011-018-1168-1
Keywords
iNOS

Nitric oxide

Porphyromonas gingivalis LPS

RAW264.7

TLR9