Abstract
Objective and design
Sodium lauryl sulfate (SLS) is a known irritant. It releases pro-inflammatory mediators considered pivotal in inflammatory pain. The sensory effects of SLS in the skin remain largely unexplored. In this study, SLS was evaluated for its effect on skin sensory functions.
Subjects
Eight healthy subjects were recruited for this study.
Treatment
Skin sites were randomized to topical SLS 0.25, 0.5, 1, 2% and vehicle for 24 h. Topical capsaicin 1% was applied for 30 min at 24 h after SLS application.
Methods
Assessments included laser Doppler imaging of local vasodilation and flare reactions, rating of spontaneous pain, assessment of primary thermal and tactile hyperalgesia, and determination of secondary dynamic and static hyperalgesia.
Results
SLS induced significant and dose-dependent local inflammation and primary hyperalgesia to tactile and thermal stimulation at 24 h after application, with SLS 2% treatment eliciting results comparable to those observed following treatment with capsaicin 1%. SLS induced no spontaneous pain, small areas of flare, and minimal secondary hyperalgesia. The primary hyperalgesia vanished within 2–3 days, whereas the skin inflammation persisted and was only partly normalized by Day 6.
Conclusions
SLS induces profound perturbations of skin sensory functions lasting 2–3 days. SLS-induced inflammation may be a useful model for studying the mechanisms of inflammatory pain.
This is a preview of subscription content,
to check access.
Access this article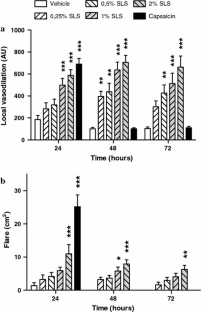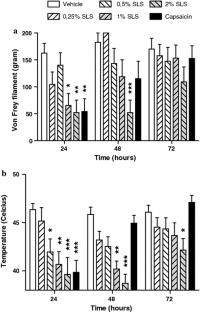 References
Tupker RA, Willis C, Berardesca E, Lee CH, Fartasch M, Agner T, et al. Guidelines on sodium lauryl sulfate (SLS) exposure tests A report from the Standardization Group of the European Society of Contact Dermatitis. Contact Derm. 1997;37:53–69.

Verri WA Jr, Cunha TM, Parada CA, Poole S, Cunha FQ, Ferreira SH. Hypernociceptive role of cytokines and chemokines: targets for analgesic drug development? Pharmacol Ther. 2006;112:116–38.

Thacker MA, Clark AK, Marchand F, McMahon SB. Pathophysiology of peripheral neuropathic pain: immune cells and molecules. Anesth Analg. 2007;105:838–47.

Spiekstra SW, Toebak MJ, Sampat-Sardjoepersad S, van Beek PJ, Boorsma DM, Stoof TJ, et al. Induction of cytokine (interleukin-1alpha and tumor necrosis factor-alpha) and chemokine (CCL20, CCL27, and CXCL8) alarm signals after allergen and irritant exposure. Exp Dermatol. 2005;14:109–16.

Piguet PF, Grau GE, Hauser C, Vassalli P. Tumor necrosis factor is a critical mediator in hapten induced irritant and contact hypersensitivity reactions. J Exp Med. 1991;173:673–9.

Effendy I, Loffler H, Maibach HI. Epidermal cytokines in murine cutaneous irritant responses. J Appl Toxicol. 2000;20:335–41.

Niwa M, Nagai K, Oike H, Kobori M. Evaluation of the skin irritation using a DNA microarray on a reconstructed human epidermal model. Biol Pharm Bull. 2009;32:203–8.

Hunziker T, Brand CU, Kapp A, Waelti ER, Braathen LR. Increased levels of inflammatory cytokines in human skin lymph derived from sodium lauryl sulphate-induced contact dermatitis. Br J Dermatol. 1992;127:254–7.

de Jongh CM, Lutter R, Verberk MM, Kezic S. Differential cytokine expression in skin after single and repeated irritation by sodium lauryl sulphate. Exp Dermatol. 2007;16:1032–40.

Ulfgren AK, Klareskog L, Lindberg M. An immunohistochemical analysis of cytokine expression in allergic and irritant contact dermatitis. Acta Derm Venereol. 2000;80:167–70.

Eberhard Y, Ortiz S, Ruiz LA, Kuznitzky R, Serra HM. Up-regulation of the chemokine CCL21 in the skin of subjects exposed to irritants. BMC Immunol. 2004;5:7–15.

Loffler H, Aramaki J, Effendy I. Response to thermal stimuli in skin pretreated with sodium lauryl sulfate. Acta Derm Venereol. 2001;81:395–7.

Pedersen JL, Kehlet H. Hyperalgesia in a human model of acute inflammatory pain: a methodological study. Pain. 1998;74:139–51.

Rolke R, Magerl W, Campbell KA, Schalber C, Caspari S, Birklein F, et al. Quantitative sensory testing: a comprehensive protocol for clinical trials. Eur J Pain. 2006;10:77–88.

Sandkuhler J. Models and mechanisms of hyperalgesia and allodynia. Physiol Rev. 2009;89:707–58.

Hoffmann RT, Schmelz M. Time course of UVA- and UVB-induced inflammation and hyperalgesia in human skin. Eur J Pain. 1999;3:131–9.

Sycha T, Gustorff B, Lehr S, Tanew A, Eichler HG, Schmetterer L. A simple pain model for the evaluation of analgesic effects of NSAIDs in healthy subjects. Br J Clin Pharmacol. 2003;56:165–72.

Kilo S, Forster C, Geisslinger G, Brune K, Handwerker HO. Inflammatory models of cutaneous hyperalgesia are sensitive to effects of ibuprofen in man. Pain. 1995;62:187–93.

Chassaing C, Schmidt J, Eschalier A, Cardot JM, Dubray C. Hyperalgesia induced by cutaneous freeze injury for testing analgesics in healthy volunteers. Br J Clin Pharmacol. 2006;61:389–97.

Rukwied R, Mayer A, Kluschina O, Obreja O, Schley M, Schmelz M. NGF induces non-inflammatory localized and lasting mechanical and thermal hypersensitivity in human skin. Pain. 2010;148:407–13.

Fullerton A, Rode B, Serup J. Skin irritation typing and grading based on laser Doppler perfusion imaging. Skin Res Technol. 2002;8:23–31.

Gloor M, Senger B, Langenauer M, Fluhr JW. On the course of the irritant reaction after irritation with sodium lauryl sulphate. Skin Res Technol. 2004;10:144–8.

Fairweather I, McGlone F, Reilly D, Rukwied R. Controlled dermal cell damage as human in vivo model for localised pain and inflammation. Inflamm Res. 2004;53:118–23.

Koltzenburg M, Torebjork HE, Wahren LK. Nociceptor modulated central sensitization causes mechanical hyperalgesia in acute chemogenic and chronic neuropathic pain. Brain. 1994;117(Pt 3):579–91.

Bishop T, Ballard A, Holmes H, Young AR, McMahon SB. Ultraviolet-B induced inflammation of human skin: Characterisation and comparison with traditional models of hyperalgesia. Eur J Pain. 2009;13:524–32.

Wallengren J, Hakanson R. Effects of capsaicin, bradykinin and prostaglandin E2 in the human skin. Br J Dermatol. 1992;126:111–7.

Schwarz T, Luger TA. Effect of UV irradiation on epidermal cell cytokine production. J Photochem Photobiol B. 1989;4:1–13.

Willis CM, Stephens CJ, Wilkinson JD. Differential patterns of epidermal leukocyte infiltration in patch test reactions to structurally unrelated chemical irritants. J Invest Dermatol. 1993;101:364–70.

Scheynius A, Fischer T, Forsum U, Klareskog L. Phenotypic characterization in situ of inflammatory cells in allergic and irritant contact dermatitis in man. Clin Exp Immunol. 1984;55:81–90.

Avnstorp C, Ralfkiaer E, Jorgensen J, Wantzin GL. Sequential immunophenotypic study of lymphoid infiltrate in allergic and irritant reactions. Contact Derm. 1987;16:239–45.

Urbanski A, Schwarz T, Neuner P, Krutmann J, Kirnbauer R, Kock A, et al. Ultraviolet light induces increased circulating interleukin-6 in humans. J Invest Dermatol. 1990;94:808–11.

Scholzen TE, Brzoska T, Kalden DH, O'Reilly F, Armstrong CA, Luger TA, et al. Effect of ultraviolet light on the release of neuropeptides and neuroendocrine hormones in the skin: mediators of photodermatitis and cutaneous inflammation. J Investig Dermatol Symp Proc. 1999;4:55–60.

Yoshizumi M, Nakamura T, Kato M, Ishioka T, Kozawa K, Wakamatsu K, et al. Release of cytokines/chemokines and cell death in UVB-irradiated human keratinocytes, HaCaT. Cell Biol Int. 2008;32:1405–11.

Angst MS, Clark JD, Carvalho B, Tingle M, Schmelz M, Yeomans DC. Cytokine profile in human skin in response to experimental inflammation, noxious stimulation, and administration of a COX-inhibitor: a microdialysis study. Pain. 2008;139:15–27.

Summer GJ, Romero-Sandoval EA, Bogen O, Dina OA, Khasar SG, Levine JD. Proinflammatory cytokines mediating burn-injury pain. Pain. 2008;135:98–107.

Opree A, Kress M. Involvement of the proinflammatory cytokines tumor necrosis factor-alpha, IL-1 beta, and IL-6 but not IL-8 in the development of heat hyperalgesia: effects on heat-evoked calcitonin gene-related peptide release from rat skin. J Neurosci. 2000;20:6289–93.

Gustorff B, Anzenhofer S, Sycha T, Lehr S, Kress HG. The sunburn pain model: the stability of primary and secondary hyperalgesia over 10 hours in a crossover setting. Anesth Analg. 2004;98:173–7. (table).
Acknowledgments
The study was supported by research grants from the Rosa and Asta Jensen Foundation and the Viborg Hospital Research Foundation.
Additional information
Responsible Editor: G. Geisslinger.
About this article
Cite this article
Petersen, L.J., Lyngholm, A.M. & Arendt-Nielsen, L. A novel model of inflammatory pain in human skin involving topical application of sodium lauryl sulfate. Inflamm. Res. 59, 775–781 (2010). https://doi.org/10.1007/s00011-010-0189-1
Received:

Revised:

Accepted:

Published:

Issue Date:

DOI: https://doi.org/10.1007/s00011-010-0189-1
Keywords