Abstract
Objective and design
This study aims to investigate the effects of curcumin (Cur) on the extracellular matrix protein metabolism of articular chondrocytes and on their production of inflammatory mediators.
Methods
Human chondrocytes in alginate beads and human cartilage explants were cultured in the absence or in the presence of interleukin (IL)-1beta (10−11 M) and with or without Cur (5–20 μM). Nitric oxide (NO) synthesis was measured by the Griess spectrophotometric method; prostaglandin (PG) E2 by a specific radioimmunoassay; and IL-6, IL-8, aggrecan (Agg), matrix metalloproteinase (MMP)-3, and tissue inhibitor of metalloproteinase (TIMP)-1 by specific enzyme-amplified immunoassays. Proteoglycan degradation was evaluated by the release of 35S-glycosaminoglycans (GAG) from human cartilage explants.
Results
In alginate beads and cartilage explant models, Cur inhibited the basal and the IL-1beta-stimulated NO, PGE2, IL-6, IL-8, and MMP-3 production by human chondrocytes in a concentration-dependent manner. The TIMP-1 and the Agg productions were not modified. In the basal condition, 35S-GAG release from cartilage explants was decreased by Cur.
Conclusions
Curcumin was a potent inhibitor of the production of inflammatory and catabolic mediators by chondrocytes, suggesting that this natural compound could be efficient in the treatment of osteoarthritis.
Access options
Buy single article
Instant access to the full article PDF.
US$ 39.95
Tax calculation will be finalised during checkout.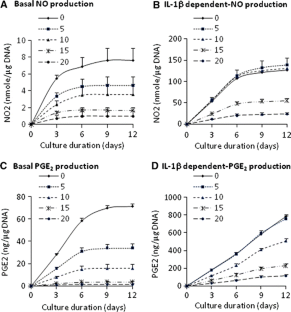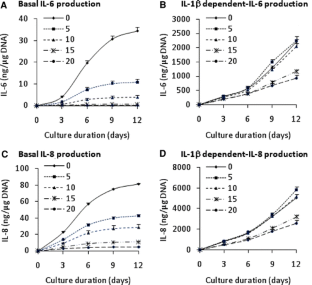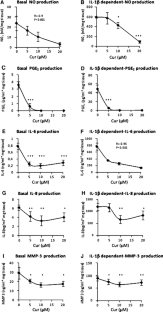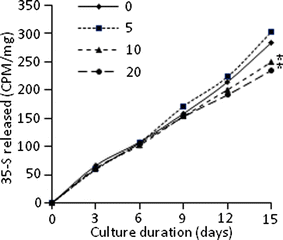 References
1.

Zhang W, Moskowitz RW, Nuki G, Abramson S, Altman RD, Arden N, et al. OARSI recommendations for the management of hip and knee osteoarthritis, Part II: OARSI evidence-based, expert consensus guidelines. Osteoarthr Cartil. 2008;16:137–62.

2.

Goel A, Kunnumakkara AB, Aggarwal BB. Curcumin as "Curecumin": from kitchen to clinic. Biochem Pharmacol. 2008;75:787–809.

3.

Jagetia GC, Aggarwal BB. "Spicing up" of the immune system by curcumin. J Clin Immunol. 2007;27:19–35.

4.

Li WQ, Dehnade F, Zafarullah M. Oncostatin M-induced matrix metalloproteinase and tissue inhibitor of metalloproteinase-3 genes expression in chondrocytes requires Janus kinase/STAT signaling pathway. J Immunol. 2001;166:3491–8.

5.

Schulze-Tanzil G, Mobasheri A, Sendzik J, John T, Shakibaei M. Effects of curcumin (diferuloylmethane) on nuclear factor kappaB signaling in interleukin-1beta-stimulated chondrocytes. Ann N Y Acad Sci. 2004;1030:578–86.

6.

Shakibaei M, John T, Schulze-Tanzil G, Lehmann I, Mobasheri A. Suppression of NF-kappaB activation by curcumin leads to inhibition of expression of cyclo-oxygenase-2 and matrix metalloproteinase-9 in human articular chondrocytes: implications for the treatment of osteoarthritis. Biochem Pharmacol. 2007;73:1434–45.

7.

Jackson JK, Higo T, Hunter WL, Burt HM. The antioxidants curcumin and quercetin inhibit inflammatory processes associated with arthritis. Inflamm Res. 2006;55:168–75.

8.

Liacini A, Sylvester J, Li WQ, Huang W, Dehnade F, Ahmad M, et al. Induction of matrix metalloproteinase-13 gene expression by TNF-alpha is mediated by MAP kinases, AP-1, and NF-kappaB transcription factors in articular chondrocytes. Exp Cell Res. 2003;288:208–17.

9.

Liacini A, Sylvester J, Li WQ, Zafarullah M. Inhibition of interleukin-1-stimulated MAP kinases, activating protein-1 (AP-1) and nuclear factor kappa B (NF-kappa B) transcription factors down-regulates matrix metalloproteinase gene expression in articular chondrocytes. Matrix Biol. 2002;21:251–62.

10.

Shakibaei M, Schulze-Tanzil G, John T, Mobasheri A. Curcumin protects human chondrocytes from IL-l1beta-induced inhibition of collagen type II and beta1-integrin expression and activation of caspase-3: an immunomorphological study. Ann Anat. 2005;187:487–97.

11.

Chowdhury TT, Salter DM, Bader DL, Lee DA. Signal transduction pathways involving p38 MAPK, JNK, NFkappaB and AP-1 influences the response of chondrocytes cultured in agarose constructs to IL-1beta and dynamic compression. Inflamm Res. 2008;57:306–13.

12.

Toegel S, Wu SQ, Piana C, Unger FM, Wirth M, Goldring MB, et al. Comparison between chondroprotective effects of glucosamine, curcumin, and diacerein in IL-1beta-stimulated C-28/I2 chondrocytes. Osteoarthr Cartil. 2008;16:1205–12.

13.

Sanchez C, Mateus MM, Defresne MP, Crielaard JMR, Reginster JYL, Henrotin YE. Metabolism of human articular chondrocytes cultured in alginate beads. Longterm effects of interleukin 1 beta and nonsteroidal antiinflammatory drugs. J Rheumatol. 2002;29:772–82.

14.

Henrotin Y, Labasse A, Zheng SX, Galais P, Tsouderos Y, Crielaard JM, et al. Strontium ranelate increases cartilage matrix formation. J Bone Miner Res. 2001;16:299–308.

15.

Decker T, Lohmann-Matthes ML. A quick and simple method for the quantitation of lactate dehydrogenase release in measurements of cellular cytotoxicity and tumor necrosis factor (TNF) activity. J Immunol Methods. 1988;115:61–9.

16.

Labarca C, Paigen K. A simple, rapid, and sensitive DNA assay procedure. Anal Biochem. 1980;102:344–52.

17.

Serteyn D, Deby-Dupont G, Pincemail J, Mottart E, Philippart C, Lamy M. Equine postanaesthetic myositis: thromboxanes, prostacyclin and prostaglandin E2 production. Vet Res Commun. 1988;12:219–26.

18.

Green LC, Wagner DA, Glogowski J, Skipper PL, Wishnok JS, Tannenbaum SR. Analysis of nitrate, nitrite, and [15 N] nitrate in biological fluids. Anal Biochem. 1982;126:131–8.

19.

Guo JF, Jourdian GW, MacCallum DK. Culture and growth characteristics of chondrocytes encapsulated in alginate beads. Connect Tissue Res. 1989;19:277–97.

20.

Deodhar SD, Sethi R, Srimal RC. Preliminary study on antirheumatic activity of curcumin (diferuloyl methane). Ind J Med Res. 1980;71:632–4.

21.

Brouet I, Ohshima H. Curcumin, an anti-tumour promoter and anti-inflammatory agent, inhibits induction of nitric oxide synthase in activated macrophages. Biochem Biophys Res Commun. 1995;206:533–40.

22.

Nanji AA, Jokelainen K, Tipoe GL, Rahemtulla A, Thomas P, Dannenberg AJ. Curcumin prevents alcohol-induced liver disease in rats by inhibiting the expression of NF-kappa B-dependent genes. Am J Physiol Gastrointest Liver Physiol. 2003;284:G321–7.

23.

Laufer S. Role of eicosanoids in structural degradation in osteoarthritis. Curr Opin Rheumatol. 2003;15:623–7.

24.

Attur M, Al-Mussawir HE, Patel J, Kitay A, Dave M, Palmer G, et al. Prostaglandin E2 exerts catabolic effects in osteoarthritis cartilage: evidence for signaling via the EP4 receptor. J Immunol. 2008;181:5082–8.

25.

Henrotin Y, Kurz B. Antioxidant to treat osteoarthritis: dream or reality? Curr Drug Targets. 2007;8:347–57.

26.

Henrotin Y, Kurz B, Aigner T. Oxygen and reactive oxygen species in cartilage degradation: friends or foes? Osteoarthr Cartil. 2005;13:643–54.

27.

Kaneko S, Satoh T, Chiba J, Ju C, Inoue K, Kagawa J. Interleukin-6 and interleukin-8 levels in serum and synovial fluid of patients with osteoarthritis. Cytokines Cell Mol Ther. 2000;6:71–9.

28.

Flannery CR, Little CB, Hughes CE, Curtis CL, Caterson B, Jones SA. IL-6 and its soluble receptor augment aggrecanase-mediated proteoglycan catabolism in articular cartilage. Matrix Biol. 2000;19:549–53.

29.

Rowan AD, Koshy PJ, Shingleton WD, Degnan BA, Heath JK, Vernallis AB, et al. Synergistic effects of glycoprotein 130 binding cytokines in combination with interleukin-1 on cartilage collagen breakdown. Arthritis Rheum. 2001;44:1620–32.

30.

de Hooge AS, van De Loo FA, Arntz OJ, van Den Berg WB. Involvement of IL-6, apart from its role in immunity, in mediating a chronic response during experimental arthritis. Am J Pathol. 2000;157:2081–91.

31.

Wong PK, Quinn JM, Sims NA, van Nieuwenhuijze A, Campbell IK, Wicks IP. Interleukin-6 modulates production of T lymphocyte-derived cytokines in antigen-induced arthritis and drives inflammation-induced osteoclastogenesis. Arthritis Rheum. 2006;54:158–68.

32.

Matsukawa A, Yoshimura T, Maeda T, Ohkawara S, Takagi K, Yoshinaga M. Neutrophil accumulation and activation by homologous IL-8 in rabbits. IL-8 induces destruction of cartilage and production of IL-1 and IL-1 receptor antagonist in vivo. J Immunol. 1995;154:5418–25.

33.

Woessner JF Jr, Gunja-Smith Z. Role of metalloproteinases in human osteoarthritis. J Rheumatol Suppl. 1991;27:99–101.

34.

Pelletier JP, Mineau F, Faure MP, Martel-Pelletier J. Imbalance between the mechanisms of activation and inhibition of metalloproteases in the early lesions of experimental osteoarthritis. Arthritis Rheumatism. 1990;33:1466–76.

35.

Funk JL, Oyarzo JN, Frye JB, Chen G, Lantz RC, Jolad SD, et al. Turmeric extracts containing curcuminoids prevent experimental rheumatoid arthritis. J Nat Prod. 2006;69:351–5.

36.

Sharma RA, Gescher AJ, Steward WP. Curcumin: the story so far. Eur J Cancer. 2005;41:1955–68.

37.

Cheng AL, Hsu CH, Lin JK, Hsu MM, Ho YF, Shen TS, et al. Phase I clinical trial of curcumin, a chemopreventive agent, in patients with high-risk or pre-malignant lesions. Anticancer Res. 2001;21:2895–900.

38.

Ireson CR, Jones DJ, Orr S, Coughtrie MW, Boocock DJ, Williams ML, et al. Metabolism of the cancer chemopreventive agent curcumin in human and rat intestine. Cancer Epidemiol Biomarkers Prev. 2002;11:105–11.

39.

Ireson C, Orr S, Jones DJ, Verschoyle R, Lim CK, Luo JL, et al. Characterization of metabolites of the chemopreventive agent curcumin in human and rat hepatocytes and in the rat in vivo, and evaluation of their ability to inhibit phorbol ester-induced prostaglandin E2 production. Cancer Res. 2001;61:1058–64.

40.

Pan MH, Lin-Shiau SY, Lin JK. Comparative studies on the suppression of nitric oxide synthase by curcumin and its hydrogenated metabolites through down-regulation of I kappa B kinase and NF kappa B activation in macrophages. Biochem Pharmacol. 2000;60:1665–76.
Acknowledgments
The work was supported by an educational grant from BioXtract. Christelle Sanchez is a Postdoctoral Researcher of the National Fund for Scientific Research (FNRS, Belgium). The authors extend their appreciation to Paul Simonis and Murielle Lemestre (Centre Hospitalier Universitaire de Liège) for their skillful technical assistance.
Additional information
Responsible Editor: J. Di Battista.
About this article
Cite this article
Mathy-Hartert, M., Jacquemond-Collet, I., Priem, F. et al. Curcumin inhibits pro-inflammatory mediators and metalloproteinase-3 production by chondrocytes. Inflamm. Res. 58, 899 (2009). https://doi.org/10.1007/s00011-009-0063-1
Received:

Revised:

Accepted:

Published:
Keywords
Curcumin

Inflammation

Arthritis

Chondrocytes

Cartilage