Abstract
Adipose tissue is one of the main sources of inflammatory mediators, with interleukin-6 (IL-6) among them. Although high systemic levels of inflammatory mediators are cachectogenic and/or anorexic, today it is a widely propagated thesis that in the background of obesity, a low level of chronic inflammation can be found, with IL-6 being one of the many suggested mediators. This paper reviews the studies describing elevated IL-6 levels in obese patients and the role of adipocytes and adipose-tissue macrophages in the production of IL-6. The secretion of IL-6 is regulated by several physiologic or pathologic factors: hormones, cytokines, diet, physical activity, stress, hypoxia, and others. Adipose tissue-derived IL-6 may have an effect on metabolism through several mechanisms, including adipose tissue-specific gene expression, triglyceride release, lipoprotein lipase downregulation, insulin sensitivity, and so on. Having a better understanding of these mechanisms may contribute to the prevention and treatment of obesity.
Access options
Buy single article
Instant access to the full article PDF.
US$ 39.95
Tax calculation will be finalised during checkout.
Subscribe to journal
Immediate online access to all issues from 2019. Subscription will auto renew annually.
US$ 79
Tax calculation will be finalised during checkout.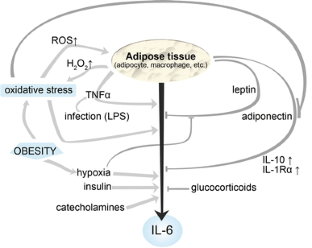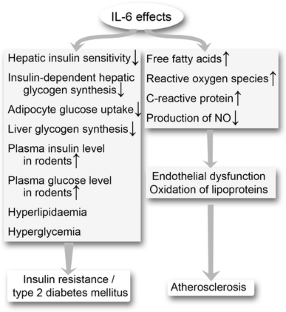 References
1.

Hotamisligil GS, Shargill NS, Spiegelman BM. Adipose expression of tumor necrosis factor-alpha: direct role in obesity-linked insulin resistance. Science. 1993;259:87–91.

2.

Fulop AK, Foldes A, Buzas E, Hegyi K, Miklos IH, Romics L, et al. Hyperleptinemia, visceral adiposity, and decreased glucose tolerance in mice with a targeted disruption of the histidine decarboxylase gene. Endocrinology. 2003;144:4306–14.

3.

Horvath BV, Falus A, Toth S, Szalai C, Lazar-Molnar E, Holub MC, et al. Inverse regulation of interleukin-6 (IL-6) and IL-6 receptor in histamine deficient histidine decarboxylase-knock-out mice. Immunol Lett. 2002;80:151–4.

4.

Donaszi-Ivanov A, Scharek P, Falus A, Fulop AK. Hepatic acute-phase reaction in histamine-deficient gene targeted mice. Inflammopharmacology. 2004;12:47–55.

5.

Langhans W. Anorexia of infection: current prospects. Nutrition. 2000;16:996–1005.

6.

Inui A. Cytokines and sickness behavior: implications from knockout animal models. Trends Immunol. 2001;22:469–73.

7.

Negri DR, Mezzanzanica D, Sacco S, Gadina M, Benigni F, Cajola L, et al. Role of cytokines in cancer cachexia in a murine model of intracerebral injection of human tumours. Cytokine. 2001;15:27–38.

8.

Wallenius V, Wallenius K, Ahren B, Rudling M, Carlsten H, Dickson SL, et al. Interleukin-6-deficient mice develop mature-onset obesity. Nat Med. 2002;8:75–9.

9.

Barton BE, Murphy TF. Cancer cachexia is mediated in part by the induction of IL-6-like cytokines from the spleen. Cytokine. 2001;16:251–7.

10.

Pou KM, Massaro JM, Hoffmann U, Vasan RS, Maurovich-Horvat P, Larson MG, et al. Visceral and subcutaneous adipose tissue volumes are cross-sectionally related to markers of inflammation and oxidative stress: the Framingham Heart Study. Circulation. 2007;116:1234–41.

11.

Roytblat L, Rachinsky M, Fisher A, Greemberg L, Shapira Y, Douvdevani A, et al. Raised interleukin-6 levels in obese patients. Obes Res. 2000;8:673–5.

12.

Vgontzas AN, Papanicolaou DA, Bixler EO, Kales A, Tyson K, Chrousos GP. Elevation of plasma cytokines in disorders of excessive daytime sleepiness: role of sleep disturbance and obesity. J Clin Endocrinol Metab. 1997;82:1313–6.

13.

Yudkin JS, Stehouwer CD, Emeis JJ, Coppack SW. C-reactive protein in healthy subjects: associations with obesity, insulin resistance, and endothelial dysfunction: a potential role for cytokines originating from adipose tissue? Arterioscler Thromb Vasc Biol. 1999;19:972–8.

14.

Das UN. Is obesity an inflammatory condition? Nutrition. 2001;17:953–66.

15.

Vozarova B, Weyer C, Hanson K, Tataranni PA, Bogardus C, Pratley RE. Circulating interleukin-6 in relation to adiposity, insulin action, and insulin secretion. Obes Res. 2001;9:414–7.

16.

Viguerie N, Poitou C, Cancello R, Stich V, Clement K, Langin D. Transcriptomics applied to obesity and caloric restriction. Biochimie. 2005;87:117–23.

17.

Cancello R, Clement K. Is obesity an inflammatory illness? Role of low-grade inflammation and macrophage infiltration in human white adipose tissue. BJOG. 2006;113:1141–7.

18.

Wu D, Ren Z, Pae M, Guo W, Cui X, Merrill AH, et al. Aging up-regulates expression of inflammatory mediators in mouse adipose tissue. J Immunol. 2007;179:4829–39.

19.

Braddon FE, Rodgers B, Wadsworth ME, Davies JM. Onset of obesity in a 36 year birth cohort study. Br Med J (Clin Res Ed). 1986;293:299–303.

20.

Morrill AC, Chinn CD. The obesity epidemic in the United States. J Public Health Policy. 2004;25:353–66.

21.

Mohamed-Ali V, Pinkney JH, Coppack SW. Adipose tissue as an endocrine and paracrine organ. Int J Obes Relat Metab Disord. 1998;22:1145–58.

22.

Trayhurn P, Wood IS. Signalling role of adipose tissue: adipokines and inflammation in obesity. Biochem Soc Trans. 2005;33:1078–81.

23.

Somers W, Stahl M, Seehra JS. 1.9 A crystal structure of interleukin 6: implications for a novel mode of receptor dimerization and signaling. EMBO J. 1997;16:989–97.

24.

May LT, Ghrayeb J, Santhanam U, Tatter SB, Sthoeger Z, Helfgott DC, et al. Synthesis and secretion of multiple forms of beta 2-interferon/B-cell differentiation factor 2/hepatocyte-stimulating factor by human fibroblasts and monocytes. J Biol Chem. 1988;263:7760–6.

25.

May LT, Santhanam U, Tatter SB, Bhardwaj N, Ghrayeb J, Sehgal PB. Phosphorylation of secreted forms of human beta 2-interferon/hepatocyte stimulating factor/interleukin-6. Biochem Biophys Res Commun. 1988;152:1144–50.

26.

Tilg H, Dinarello CA, Mier JW. IL-6 and APPs: anti-inflammatory and immunosuppressive mediators. Immunol Today. 1997;18:428–32.

27.

Xing Z, Gauldie J, Cox G, Baumann H, Jordana M, Lei XF, et al. IL-6 is an antiinflammatory cytokine required for controlling local or systemic acute inflammatory responses. J Clin Invest. 1998;101:311–20.

28.

Gudmundsson A, Ershler WB, Goodman B, Lent SJ, Barczi S, Carnes M. Serum concentrations of interleukin-6 are increased when sampled through an indwelling venous catheter. Clin Chem. 1997;43:2199–201.

29.

Mohamed-Ali V, Goodrick S, Rawesh A, Katz DR, Miles JM, Yudkin JS, et al. Subcutaneous adipose tissue releases interleukin-6, but not tumor necrosis factor-alpha, in vivo. J Clin Endocrinol Metab. 1997;82:4196–200.

30.

Chan JC, Cheung JC, Stehouwer CD, Emeis JJ, Tong PC, Ko GT, et al. The central roles of obesity-associated dyslipidaemia, endothelial activation and cytokines in the metabolic syndrome—an analysis by structural equation modelling. Int J Obes Relat Metab Disord. 2002;26:994–1008.

31.

Martin C, Boisson C, Haccoun M, Thomachot L, Mege JL. Patterns of cytokine evolution (tumor necrosis factor-alpha and interleukin-6) after septic shock, hemorrhagic shock, and severe trauma. Crit Care Med. 1997;25:1813–9.

32.

Fain JN, Madan AK, Hiler ML, Cheema P, Bahouth SW. Comparison of the release of adipokines by adipose tissue, adipose tissue matrix, and adipocytes from visceral and subcutaneous abdominal adipose tissues of obese humans. Endocrinology. 2004;145:2273–82.

33.

Chung S, Lapoint K, Martinez K, Kennedy A, Boysen Sandberg M, McIntosh MK. Preadipocytes mediate lipopolysaccharide-induced inflammation and insulin resistance in primary cultures of newly differentiated human adipocytes. Endocrinology. 2006;147:5340–51.

34.

Shoelson SE, Lee J, Goldfine AB. Inflammation and insulin resistance. J Clin Invest. 2006;116:1793–801.

35.

Bastard JP, Jardel C, Bruckert E, Blondy P, Capeau J, Laville M, et al. Elevated levels of interleukin 6 are reduced in serum and subcutaneous adipose tissue of obese women after weight loss. J Clin Endocrinol Metab. 2000;85:3338–42.

36.

Sopasakis VR, Sandqvist M, Gustafson B, Hammarstedt A, Schmelz M, Yang X, et al. High local concentrations and effects on differentiation implicate interleukin-6 as a paracrine regulator. Obes Res. 2004;12:454–60.

37.

Fried SK, Bunkin DA, Greenberg AS. Omental and subcutaneous adipose tissues of obese subjects release interleukin-6: depot difference and regulation by glucocorticoid. J Clin Endocrinol Metab. 1998;83:847–50.

38.

Kern PA, Ranganathan S, Li C, Wood L, Ranganathan G. Adipose tissue tumor necrosis factor and interleukin-6 expression in human obesity and insulin resistance. Am J Physiol Endocrinol Metab. 2001;280:E745–51.

39.

Klein B, Zhang XG, Lu ZY, Bataille R. Interleukin-6 in human multiple myeloma. Blood. 1995;85:863–72.

40.

Preti HA, Cabanillas F, Talpaz M, Tucker SL, Seymour JF, Kurzrock R. Prognostic value of serum interleukin-6 in diffuse large-cell lymphoma. Ann Intern Med. 1997;127:186–94.

41.

Weisberg SP, McCann D, Desai M, Rosenbaum M, Leibel RL, Ferrante AW Jr. Obesity is associated with macrophage accumulation in adipose tissue. J Clin Invest. 2003;112:1796–808.

42.

Trayhurn P, Wood IS. Adipokines: inflammation and the pleiotropic role of white adipose tissue. Br J Nutr. 2004;92:347–55.

43.

Semenza GL. HIF-1 and mechanisms of hypoxia sensing. Curr Opin Cell Biol. 2001;13:167–71.

44.

Wang B, Wood IS, Trayhurn P. Dysregulation of the expression and secretion of inflammation-related adipokines by hypoxia in human adipocytes. Pflugers Arch. 2007;455:479–92.

45.

Furukawa S, Fujita T, Shimabukuro M, Iwaki M, Yamada Y, Nakajima Y, et al. Increased oxidative stress in obesity and its impact on metabolic syndrome. J Clin Invest. 2004;114:1752–61.

46.

Lin Y, Berg AH, Iyengar P, Lam TK, Giacca A, Combs TP, et al. The hyperglycemia-induced inflammatory response in adipocytes: the role of reactive oxygen species. J Biol Chem. 2005;280:4617–26.

47.

Ozcan U, Cao Q, Yilmaz E, Lee AH, Iwakoshi NN, Ozdelen E, et al. Endoplasmic reticulum stress links obesity, insulin action, and type 2 diabetes. Science. 2004;306:457–61.

48.

Ahn KS, Aggarwal BB. Transcription factor NF-kappaB: a sensor for smoke and stress signals. Ann NY Acad Sci. 2005;1056:218–33.

49.

Black PH. The inflammatory consequences of psychologic stress: relationship to insulin resistance, obesity, atherosclerosis and diabetes mellitus, type II. Med Hypotheses. 2006;67:879–91.

50.

Ogawa W, Kasuga M. Cell signaling. Fat stress and liver resistance. Science. 2008;322:1483–4.

51.

Anderson PD, Mehta NN, Wolfe ML, Hinkle CC, Pruscino L, Comiskey LL, et al. Innate immunity modulates adipokines in humans. J Clin Endocrinol Metab. 2007;92:2272–9.

52.

Pietsch J, Batra A, Stroh T, Fedke I, Glauben R, Okur B, et al. Toll-like receptor expression and response to specific stimulation in adipocytes and preadipocytes: on the role of fat in inflammation. Ann NY Acad Sci. 2006;1072:407–9.

53.

Batra A, Pietsch J, Fedke I, Glauben R, Okur B, Stroh T, et al. Leptin-dependent toll-like receptor expression and responsiveness in preadipocytes and adipocytes. Am J Pathol. 2007;170:1931–41.

54.

Fasshauer M, Paschke R. Regulation of adipocytokines and insulin resistance. Diabetologia. 2003;46:1594–603.

55.

Fantuzzi G. Adipose tissue, adipokines, and inflammation. J Allergy Clin Immunol. 2005;115:911–9. quiz 920.

56.

Weigert J, Neumeier M, Schaffler A, Fleck M, Scholmerich J, Schutz C, et al. The adiponectin paralog CORS-26 has anti-inflammatory properties and is produced by human monocytic cells. FEBS Lett. 2005;579:5565–70.

57.

Naugler WE, Sakurai T, Kim S, Maeda S, Kim K, Elsharkawy AM, et al. Gender disparity in liver cancer due to sex differences in MyD88-dependent IL-6 production. Science. 2007;317:121–4.

58.

Edwards KM, Mills PJ. Effects of estrogen versus estrogen and progesterone on cortisol and interleukin-6. Maturitas. 2008;61:330–3.

59.

Giraldo E, Hinchado MD, Garcia JJ, Ortega E. Influence of gender and oral contraceptives intake on innate and inflammatory response. Role of neuroendocrine factors. Mol Cell Biochem. 2008;313:147–53.

60.

O'Brien SM, Fitzgerald P, Scully P, Landers A, Scott LV, Dinan TG. Impact of gender and menstrual cycle phase on plasma cytokine concentrations. Neuroimmunomodulation. 2007;14:84–90.

61.

Krogh-Madsen R, Plomgaard P, Keller P, Keller C, Pedersen BK. Insulin stimulates interleukin-6 and tumor necrosis factor-alpha gene expression in human subcutaneous adipose tissue. Am J Physiol Endocrinol Metab. 2004;286:E234–8.

62.

Vicennati V, Vottero A, Friedman C, Papanicolaou DA. Hormonal regulation of interleukin-6 production in human adipocytes. Int J Obes Relat Metab Disord. 2002;26:905–11.

63.

Esposito K, Nappo F, Marfella R, Giugliano G, Giugliano F, Ciotola M, et al. Inflammatory cytokine concentrations are acutely increased by hyperglycemia in humans: role of oxidative stress. Circulation. 2002;106:2067–72.

64.

Oberbach A, Tonjes A, Kloting N, Fasshauer M, Kratzsch J, Busse MW, et al. Effect of a 4 week physical training program on plasma concentrations of inflammatory markers in patients with abnormal glucose tolerance. Eur J Endocrinol. 2006;154:577–85.

65.

Nicklas BJ, Ambrosius W, Messier SP, Miller GD, Penninx BW, Loeser RF, et al. Diet-induced weight loss, exercise, and chronic inflammation in older, obese adults: a randomized controlled clinical trial. Am J Clin Nutr. 2004;79:544–51.

66.

Petersen AM, Pedersen BK. The anti-inflammatory effect of exercise. J Appl Physiol. 2005;98:1154–62.

67.

Lyngso D, Simonsen L, Bulow J. Interleukin-6 production in human subcutaneous abdominal adipose tissue: the effect of exercise. J Physiol. 2002;543:373–8.

68.

Laimer M, Ebenbichler CF, Kaser S, Sandhofer A, Weiss H, Nehoda H, et al. Markers of chronic inflammation and obesity: a prospective study on the reversibility of this association in middle-aged women undergoing weight loss by surgical intervention. Int J Obes Relat Metab Disord. 2002;26:659–62.

69.

Swarbrick MM, Stanhope KL, Austrheim-Smith IT, Van Loan MD, Ali MR, Wolfe BM, et al. Longitudinal changes in pancreatic and adipocyte hormones following Roux-en-Y gastric bypass surgery. Diabetologia. 2008;51:1901–11.

70.

Lin E, Phillips LS, Ziegler TR, Schmotzer B, Wu K, Gu LH, et al. Increases in adiponectin predict improved liver, but not peripheral, insulin sensitivity in severely obese women during weight loss. Diabetes. 2007;56:735–42.

71.

Kopp HP, Kopp CW, Festa A, Krzyzanowska K, Kriwanek S, Minar E, et al. Impact of weight loss on inflammatory proteins and their association with the insulin resistance syndrome in morbidly obese patients. Arterioscler Thromb Vasc Biol. 2003;23:1042–7.

72.

Vazquez LA, Pazos F, Berrazueta JR, Fernandez-Escalante C, Garcia-Unzueta MT, Freijanes J, et al. Effects of changes in body weight and insulin resistance on inflammation and endothelial function in morbid obesity after bariatric surgery. J Clin Endocrinol Metab. 2005;90:316–22.

73.

Akira S, Taga T, Kishimoto T. Interleukin-6 in biology and medicine. Adv Immunol. 1993;54:1–78.

74.

van Hall G, Steensberg A, Sacchetti M, Fischer C, Keller C, Schjerling P, et al. Interleukin-6 stimulates lipolysis and fat oxidation in humans. J Clin Endocrinol Metab. 2003;88:3005–10.

75.

Trujillo ME, Sullivan S, Harten I, Schneider SH, Greenberg AS, Fried SK. Interleukin-6 regulates human adipose tissue lipid metabolism and leptin production in vitro. J Clin Endocrinol Metab. 2004;89:5577–82.

76.

Petersen EW, Carey AL, Sacchetti M, Steinberg GR, Macaulay SL, Febbraio MA, et al. Acute IL-6 treatment increases fatty acid turnover in elderly humans in vivo and in tissue culture in vitro. Am J Physiol Endocrinol Metab. 2005;288:E155–62.

77.

Peters M, Schirmacher P, Goldschmitt J, Odenthal M, Peschel C, Fattori E, et al. Extramedullary expansion of hematopoietic progenitor cells in interleukin (IL)-6-sIL-6R double transgenic mice. J Exp Med. 1997;185:755–66.

78.

Di Gregorio GB, Hensley L, Lu T, Ranganathan G, Kern PA. Lipid and carbohydrate metabolism in mice with a targeted mutation in the IL-6 gene: absence of development of age-related obesity. Am J Physiol Endocrinol Metab. 2004;287:E182–7.

79.

Bruun JM, Lihn AS, Verdich C, Pedersen SB, Toubro S, Astrup A, et al. Regulation of adiponectin by adipose tissue-derived cytokines: in vivo and in vitro investigations in humans. Am J Physiol Endocrinol Metab. 2003;285:E527–33.

80.

Simons PJ, van den Pangaart PS, Aerts JM, Boon L. Pro-inflammatory delipidizing cytokines reduce adiponectin secretion from human adipocytes without affecting adiponectin oligomerization. J Endocrinol. 2007;192:289–99.

81.

Zvonic S, Baugh JE Jr, Arbour-Reily P, Mynatt RL, Stephens JM. Cross-talk among gp130 cytokines in adipocytes. J Biol Chem. 2005;280:33856–63.

82.

Emilie D, Wijdenes J, Gisselbrecht C, Jarrousse B, Billaud E, Blay JY, et al. Administration of an anti-interleukin-6 monoclonal antibody to patients with acquired immunodeficiency syndrome and lymphoma: effect on lymphoma growth and on B clinical symptoms. Blood. 1994;84:2472–9.

83.

van Gameren MM, Willemse PH, Mulder NH, Limburg PC, Groen HJ, Vellenga E, et al. Effects of recombinant human interleukin-6 in cancer patients: a phase I–II study. Blood. 1994;84:1434–41.

84.

Givon T, Slavin S, Haran-Ghera N, Michalevicz R, Revel M. Antitumor effects of human recombinant interleukin-6 on acute myeloid leukemia in mice and in cell cultures. Blood. 1992;79:2392–8.

85.

Zhang XG, Klein B, Bataille R. Interleukin-6 is a potent myeloma-cell growth factor in patients with aggressive multiple myeloma. Blood. 1989;74:11–3.

86.

Trikha M, Corringham R, Klein B, Rossi JF. Targeted anti-interleukin-6 monoclonal antibody therapy for cancer: a review of the rationale and clinical evidence. Clin Cancer Res. 2003;9:4653–65.

87.

Nishimoto N, Kanakura Y, Aozasa K, Johkoh T, Nakamura M, Nakano S, et al. Humanized anti-interleukin-6 receptor antibody treatment of multicentric Castleman disease. Blood. 2005;106:2627–32.

88.

Nishimoto N, Yoshizaki K, Miyasaka N, Yamamoto K, Kawai S, Takeuchi T, et al. Treatment of rheumatoid arthritis with humanized anti-interleukin-6 receptor antibody: a multicenter, double-blind, placebo-controlled trial. Arthritis Rheum. 2004;50:1761–9.

89.

Genovese MC, McKay JD, Nasonov EL, Mysler EF, da Silva NA, Alecock E, et al. Interleukin-6 receptor inhibition with tocilizumab reduces disease activity in rheumatoid arthritis with inadequate response to disease-modifying antirheumatic drugs: the tocilizumab in combination with traditional disease-modifying antirheumatic drug therapy study. Arthritis Rheum. 2008;58:2968–80.

90.

Reaven GM. Pathophysiology of insulin resistance in human disease. Physiol Rev. 1995;75:473–86.

91.

Festa A, D'Agostino R Jr, Tracy RP, Haffner SM. Elevated levels of acute-phase proteins and plasminogen activator inhibitor-1 predict the development of type 2 diabetes: the insulin resistance atherosclerosis study. Diabetes. 2002;51:1131–7.

92.

Spranger J, Kroke A, Mohlig M, Hoffmann K, Bergmann MM, Ristow M, et al. Inflammatory cytokines and the risk to develop type 2 diabetes: results of the prospective population-based European Prospective Investigation into Cancer and Nutrition (EPIC)-Potsdam Study. Diabetes. 2003;52:812–7.

93.

Klover PJ, Zimmers TA, Koniaris LG, Mooney RA. Chronic exposure to interleukin-6 causes hepatic insulin resistance in mice. Diabetes. 2003;52:2784–9.

94.

Senn JJ, Klover PJ, Nowak IA, Mooney RA. Interleukin-6 induces cellular insulin resistance in hepatocytes. Diabetes. 2002;51:3391–9.

95.

Rotter V, Nagaev I, Smith U. Interleukin-6 (IL-6) induces insulin resistance in 3T3–L1 adipocytes and is, like IL-8 and tumor necrosis factor-alpha, overexpressed in human fat cells from insulin-resistant subjects. J Biol Chem. 2003;278:45777–84.

96.

Senn JJ, Klover PJ, Nowak IA, Zimmers TA, Koniaris LG, Furlanetto RW, et al. Suppressor of cytokine signaling-3 (SOCS-3), a potential mediator of interleukin-6-dependent insulin resistance in hepatocytes. J Biol Chem. 2003;278:13740–6.

97.

Tsigos C, Papanicolaou DA, Kyrou I, Defensor R, Mitsiadis CS, Chrousos GP. Dose-dependent effects of recombinant human interleukin-6 on glucose regulation. J Clin Endocrinol Metab. 1997;82:4167–70.

98.

Aguirre V, Werner ED, Giraud J, Lee YH, Shoelson SE, White MF. Phosphorylation of Ser307 in insulin receptor substrate-1 blocks interactions with the insulin receptor and inhibits insulin action. J Biol Chem. 2002;277:1531–7.

99.

Emanuelli B, Peraldi P, Filloux C, Sawka-Verhelle D, Hilton D, Van Obberghen E. SOCS-3 is an insulin-induced negative regulator of insulin signaling. J Biol Chem. 2000;275:15985–91.

100.

Sabio G, Das M, Mora A, Zhang Z, Jun JY, Ko HJ, et al. A stress signaling pathway in adipose tissue regulates hepatic insulin resistance. Science. 2008;322:1539–43.

101.

Mather K, Anderson TJ, Verma S. Insulin action in the vasculature: physiology and pathophysiology. J Vasc Res. 2001;38:415–22.

102.

Unger RH. Lipotoxicity in the pathogenesis of obesity-dependent NIDDM. Genetic and clinical implications. Diabetes. 1995;44:863–70.

103.

Inoguchi T, Li P, Umeda F, Yu HY, Kakimoto M, Imamura M, et al. High glucose level and free fatty acid stimulate reactive oxygen species production through protein kinase C-dependent activation of NAD(P)H oxidase in cultured vascular cells. Diabetes. 2000;49:1939–45.

104.

Lau DC, Dhillon B, Yan H, Szmitko PE, Verma S. Adipokines: molecular links between obesity and atheroslcerosis. Am J Physiol Heart Circ Physiol. 2005;288:H2031–41.

105.

Libby P, Ridker PM, Maseri A. Inflammation and atherosclerosis. Circulation. 2002;105:1135–43.

106.

Ahima RS. Metabolic actions of adipocyte hormones: focus on adiponectin. Obesity (Silver Spring). 2006;14(Suppl 1):9S–15S.

107.

Norberg M, Stenlund H, Lindahl B, Andersson C, Weinehall L, Hallmans G, et al. Components of metabolic syndrome predicting diabetes: no role of inflammation or dyslipidemia. Obesity (Silver Spring). 2007;15:1875–85.
Additional information
Responsible Editor: S. Stimpson.
About this article
Cite this article
Eder, K., Baffy, N., Falus, A. et al. The major inflammatory mediator interleukin-6 and obesity. Inflamm. Res. 58, 727 (2009). https://doi.org/10.1007/s00011-009-0060-4
Received:

Accepted:

Published:
Keywords
Obesity

Interleukin-6

Adipose tissue

Inflammation

Adipokines