Abstract
Sole nanomaterials or nanomaterials bound to specific biomolecules have been proposed to regulate the immune system. These materials have now emerged as new tools for eliciting immune-based therapies to treat various cancers. Graphene, graphene oxide (GO) and reduced GO (rGO) are the latest nanomaterials among other carbon nanotubes that have attracted wide interest among medical industry players due to their extraordinary properties, inert-state, non-toxic and stable dispersion in a various solvent. Currently, GO and rGO are utilized in various biomedical application including cancer immunotherapy. This review will highlight studies that have been carried out in elucidating the stimulation of GO and rGO on selected innate and adaptive immune cells and their effect on cancer progression to shed some insights for researchers in the development of various GO- and rGO-based immune therapies against various cancers.
Access options
Buy single article
Instant access to the full article PDF.
US$ 39.95
Tax calculation will be finalised during checkout.
Subscribe to journal
Immediate online access to all issues from 2019. Subscription will auto renew annually.
US$ 79
Tax calculation will be finalised during checkout.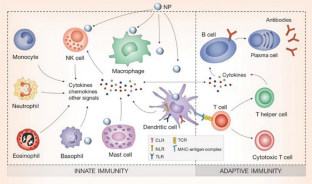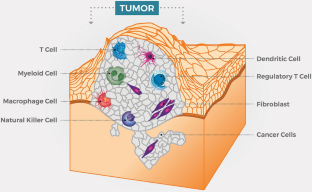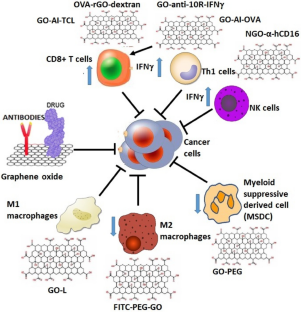 Funding
This research was supported from research university individual grant from Universiti Sains Malaysia (1001/CIPPT/8012205).
Ethics declarations
Conflict of Interest
The authors declared no conflict interest in any form.
Additional information
Publisher's Note
Springer Nature remains neutral with regard to jurisdictional claims in published maps and institutional affiliations.
About this article
Cite this article
Yunus, M.A., Ramli, M.M., Osman, N.H. et al. Stimulation of Innate and Adaptive Immune Cells with Graphene Oxide and Reduced Graphene Oxide Affect Cancer Progression. Arch. Immunol. Ther. Exp. 69, 20 (2021). https://doi.org/10.1007/s00005-021-00625-6
Received:

Accepted:

Published:
Keywords
Graphene oxide

Reduced graphene oxide

Innate immune cells

Adaptive immune cells

Cancers