Abstract
The effects of HIV infection and antiretroviral therapy (ART) on the gut microbiome are poorly understood and the literature data are inconsistent. The aim of this study was to assess the alpha and beta diversity of the fecal microbiota in HIV-infected patients on successful antiretroviral therapy with regard to sexual preferences and CD4 nadir. Thirty-six HIV-infected ART-treated patients with HIV viremia below 20 copies/ml and CD4 > 500 cells/μl were divided into two subgroups based on CD4 nadir. The composition of the intestinal microbiota was assessed by 16SrRNA sequencing (MiSeq Illumina). The alpha and beta diversity were analyzed according to CD4 nadir count and sexual preference. Several alpha diversity indexes were significantly higher in the MSM group than in heterosexual patients. The alpha diversity did not differ significantly between patients with CD4 nadir > 500 cells/μl and CD4 nadir < 200 cells/μl. Beta diversity was also associated with sexual preference. A significant difference in Weighted Unifrac was observed between all MSM and all non-MSM participants (p = 0.001). The MSM group was more diverse and demonstrated greater distances in Weighted Unifrac than the non-MSM group. The relative abundance of the Prevotella enterotype was higher in the MSM than the non-MSM group. Sexual preferences demonstrated a stronger influence on alpha and beta diversity in HIV-infected patients following successful antiretroviral treatment than HIV infection itself. The observed lack of association between CD4 nadir and alpha and beta diversity may be caused by the restoration of the faecal microbiota following antiretroviral treatment.
Access options
Buy single article
Instant access to the full article PDF.
US$ 39.95
Tax calculation will be finalised during checkout.
Subscribe to journal
Immediate online access to all issues from 2019. Subscription will auto renew annually.
US$ 79
Tax calculation will be finalised during checkout.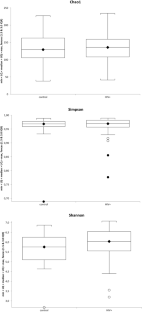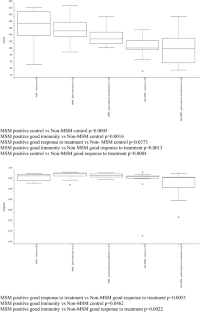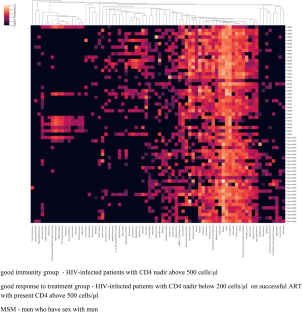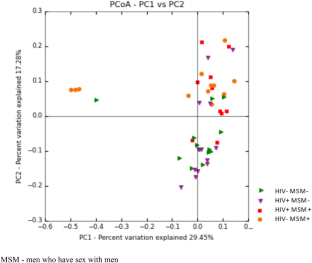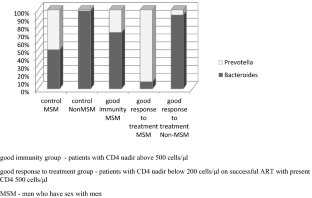 References
Brenchley JM, Schacker TW, Ruff LE et al (2004) CD4+ T cell depletion during all stages of HIV disease occurs predominantly in the gastrointestinal tract. J Exp Med 200:749–759. https://doi.org/10.1084/jem.20040874

Brenchley JM, Price DA, Schacker TW et al (2006) Microbial translocation is a cause of systemic immune activation in chronic HIV infection. Nat Med 12:1365–1371. https://doi.org/10.1038/nm1511

Das S (2010) Risk of cardiovascular disease in HIV-infected patients. J Antimicrobial Chemother 65:386–389. https://doi.org/10.1093/jac/dkp460

Dillon SM, Lee EJ, Kotter CV et al (2014) An altered intestinal mucosal microbiome in HIV-1 infection is associated with mucosal and systemic immune activation and endotoxemia. Mucosal Immunol 7:983–994. https://doi.org/10.1038/mi.2013.116

Dinh DM, Volpe GE, Duffalo C et al (2015) Intestinal microbiota, microbial translocation, and systemic inflammation in chronic HIV infection. J Infect Dis 211:19–27. https://doi.org/10.1093/infdis/jiu409

Dong TS, Gupta A (2019) Influence of early life, diet, and the environment on the microbiome. Clin Gastroenterol Hepatol 17:231–242. https://doi.org/10.1016/j.cgh.2018.08.067

Elhed A, Unutmaz D (2010) Th17 cells and HIV infection. Curr Opin HIV AIDS 5:146–150. https://doi.org/10.1097/COH.0b013e32833647a8

Guillen Y, Noguera-Julian M, Rivera J et al (2019) Low nadir CD4+ T-cell counts predict gut dysbiosis in HIV-1 infection. Mucosal Immunol 12:232–246. https://doi.org/10.1038/s41385-018-0083-7

Klein D, Hurley LB, Sidney S (2003) Cardiovascular disease and HIV infection. N Engl J Med 349:1869–1870. https://doi.org/10.1056/NEJM200311063491918

Klindworth A, Pruesse E, Schweer T et al (2013) Evaluation of general 16S ribosomal RNA gene PCR primers for classical and next-generation sequencing-based diversity studies. Nucleic Acids Res 41:e1. https://doi.org/10.1093/nar/gks808

Kuller LH, Tracy R, Belloso W et al (2008) Inflammatory and coagulation biomarkers and mortality in patients with HIV infection. PLoS Med 5:e203. https://doi.org/10.1371/journal.pmed.0050203

Liang SC, Tan XY, Luxenberg DP et al (2006) Interleukin (IL)-22 and IL-17 are coexpressed by Th17 cells and cooperatively enhance expression of antimicrobial peptides. J Exp Med 203:2271–2279. https://doi.org/10.1084/jem.20061308

Liu J, Williams B, Frank D et al (2017) Inside out: HIV, the gut microbiome, and the mucosal immune system. J Immunol 198:605–614. https://doi.org/10.4049/jimmunol.1601355

Lozupone CA, Li M, Campbell TB et al (2013) Alterations in the gut microbiota associated with HIV-1 infection. Cell Host Microbe 14:329–339. https://doi.org/10.1016/j.chom.2013.08.006

Lu W, Feng Y, Jing F et al (2018) Association between gut microbiota and CD4 recovery in HIV-1 infected patients. Front Microbiol 9:1451. https://doi.org/10.3389/fmicb.2018.01451

McHardy IH, Li X, Tong M et al (2013) HIV Infection is associated with compositional and functional shifts in the rectal mucosal microbiota. Microbiome 1:26. https://doi.org/10.1186/2049-2618-1-26

Mutlu EA, Keshavarzian A, Losurdo J et al (2014) A compositional look at the human gastrointestinal microbiome and immune activation parameters in HIV infected subjects. PLoS Pathog 10:e1003829. https://doi.org/10.1371/journal.ppat.1003829

Noguera-Julian M, Rocafort M, Guillen Y et al (2016) Gut microbiota linked to sexual preference and HIV infection. EBioMedicine 5:135–146. https://doi.org/10.1016/j.ebiom.2016.01.032

Nowak P, Troseid M, Avershina E et al (2015) Gut microbiota diversity predicts immune status in HIV-1 infection. AIDS 29:2409–2418. https://doi.org/10.1097/QAD.0000000000000869

Paiardini M, Frank I, Pandrea I et al (2008) Mucosal immune dysfunction in AIDS pathogenesis. AIDS Rev 10:36–46

Palella FJ, Delaney KM, Moorman AC et al (1998) Declining morbidity and mortality among patients with advanced human immunodeficiency virus infection. HIV Outpatient Study Investigators. N Engl J Med 338:853–860. https://doi.org/10.1056/NEJM199803263381301

Strategies for Management of Antiretroviral Therapy Study Group (2006) CD4+ count-guided interruption of antiretroviral treatment. N Engl J Med 355:2283–2296. https://doi.org/10.1056/NEJMoa062360

Tuddenham SA, Koay WL, Zhao N et al (2020) The impact of human immunodeficiency virus infection on gut microbiota α-diversity: an individual-level meta-analysis. Clin Infect Dis 70:615–627. https://doi.org/10.1093/cid/ciz258

Vazquez-Castellanos JF, Serrano-Villar S, Latorre A et al (2015) Altered metabolism of gut microbiota contributes to chronic immune activation in HIV-infected individuals. Mucosal Immunol 8:760–772. https://doi.org/10.1038/mi.2014.107

Vesterbacka J, Rivera J, Noyan K et al (2017) Richer gut microbiota with distinct metabolic profile in HIV infected elite controllers. Sci Rep 7:6269. https://doi.org/10.1038/s41598-017-06675-1

Villanueva-Millan MJ, Perez-Matute P, Recio-Fernandez E et al (2017) Differential effects of antiretrovirals on microbial translocation and gut microbiota composition of HIV-infected patients. J Int AIDS Soc 20:21526. https://doi.org/10.7448/ias.20.1.21526

Wang Z, Usyk M, Sollecito CS et al (2020) Altered gut microbiota and host metabolite profiles in women with human immunodeficiency virus. Clin Infect Dis 71:2345–2353. https://doi.org/10.1093/cid/ciz1117
Acknowledgements
This work was supported by grant no. 01/2017 from Polish Scientific AIDS Society.
Additional information
Publisher's Note
Springer Nature remains neutral with regard to jurisdictional claims in published maps and institutional affiliations.
About this article
Cite this article
Jabłonowska, E., Strzelczyk, J., Piekarska, A. et al. Gut Microbiota Diversity in HIV-Infected Patients on Successful Antiretroviral Treatment is Linked to Sexual Preferences but not CD4 Nadir. Arch. Immunol. Ther. Exp. 69, 14 (2021). https://doi.org/10.1007/s00005-021-00616-7
Received:

Accepted:

Published:
Keywords
Gut microbiota

HIV

CD4 nadir

MSM