Abstract
WNT signaling pathway regulates several processes involved in the homeostasis of normal cells. Its dysregulation is associated with pathological outcomes like cancer. We previously demonstrated that downregulation of WNT7A correlates with higher proliferation rates in acute lymphoblastic leukemia. However, the regulation of this gene in pathological and normal conditions remains unexplored. In this work, we aimed to analyze the transcriptional regulation of WNT7A in leukemic cells and in normal T lymphocytes after a proliferative stimulus. WNT7A expression was measured in blood cells and in T lymphocytes after phytohemagglutinin-L (PHA-L) treatment or T-cell receptor (TCR) activation by qPCR and Western blot. Promoter methylation was assessed using methylation-sensitive restriction enzymes, and histone modifications were determined by chromatin immunoprecipitation and qPCR. In T-cell acute lymphoblastic leukemia (T-ALL), WNT7A expression is silenced through DNA methylation of CpG island in the promoter region. In normal peripheral blood cells, WNT7A is mainly expressed by monocytes and T lymphocytes. TCR activation induces the downregulation of WNT7A in normal T lymphocytes by changes in histone methylation marks (H3K4me2/3) and histone deacetylases. A proliferative stimulus mediated by IL-2 keeps WNT7A expression at low levels but in the absence of IL-2, the expression of this gene tends to be restored. Furthermore, after TCR activation and WNT7A downregulation, target genes associated with the WNT canonical pathway were upregulated indicating an independent activity of WNT7A from the WNT canonical pathway. WNT7A expression is silenced by long-term DNA methylation in T-ALL-derived cells and downregulated by histone modifications after TCR activation in normal T lymphocytes.
Access options
Buy single article
Instant access to the full article PDF.
US$ 39.95
Tax calculation will be finalised during checkout.
Subscribe to journal
Immediate online access to all issues from 2019. Subscription will auto renew annually.
US$ 79
Tax calculation will be finalised during checkout.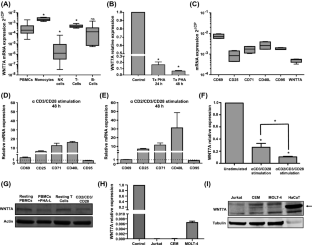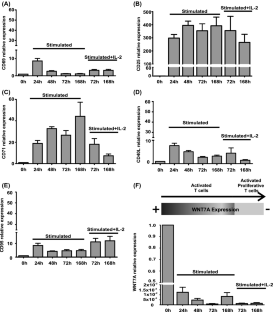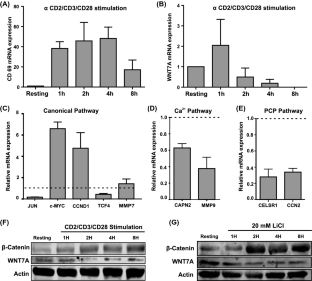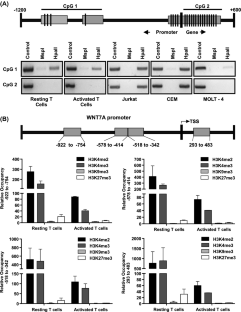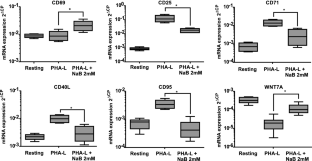 References
Ahmadzadeh A, Norozi F, Shahrabi S et al (2016) Wnt/beta-catenin signaling in bone marrow niche. Cell Tissue Res 363:321–335

Bigas A, Guiu J, Gama-Norton L (2013) Notch and Wnt signaling in the emergence of hematopoietic stem cells. Blood Cells Mol Dis 51:264–270

Brownlie RJ, Zamoyska R (2013) T cell receptor signalling networks: branched, diversified and bounded. Nat Rev Immunol 13:257–269

Hirata T, Zheng Q, Chen Z et al (2015) Wnt7A is a putative prognostic and chemosensitivity marker in human malignant pleural mesothelioma. Oncol Rep 33:2052–2060

Huang CC, Orvis GD, Kwan KM et al (2014) Lhx1 is required in Mullerian duct epithelium for uterine development. Dev Biol 389:124–136

Huang X, Zhu H, Gao Z et al (2018) Wnt7a activates canonical Wnt signaling, promotes bladder cancer cell invasion, and is suppressed by miR-370-3p. J Biol Chem 293:6693–6706

Jia B, Qiu X, Chu H et al (2019) Wnt7a predicts poor prognosis, and contributes to growth and metastasis in tongue squamous cell carcinoma. Oncol Rep 41:1749–1758

Kim TH, Moon JY, Kim SH et al (2015) Clinical significance of aberrant Wnt7a promoter methylation in human non-small cell lung cancer in Koreans. J Korean Med Sci 30:155–161

Kondratov AG, Kvasha SM, Stoliar LA et al (2012) Alterations of the WNT7A gene in clear cell renal cell carcinomas. PLoS ONE 7:e47012

Kuznetsova AV, Kurinov AM, Chentsova EV et al (2015) Effect of hrWnt7a on human retinal pigment epithelial cells in vitro. Bull Exp Biol Med 159:534–540

LaMere SA, Thompson RC, Komori HK et al (2016) Promoter H3K4 methylation dynamically reinforces activation-induced pathways in human CD4 T cells. Genes Immun 17:283–297

Le Grand F, Jones AE, Seale V et al (2009) Wnt7a activates the planar cell polarity pathway to drive the symmetric expansion of satellite stem cells. Cell Stem Cell 4:535–547

Lovatt M, Bijlmakers MJ (2010) Stabilisation of beta-catenin downstream of T cell receptor signalling. PLoS ONE 5:e12794

Luckey MA, Kimura MY, Waickman AT et al (2014) The transcription factor ThPOK suppresses Runx3 and imposes CD4(+) lineage fate by inducing the SOCS suppressors of cytokine signaling. Nat Immunol 15:638–645

Ma AY, Xie SW, Zhou JY et al (2017) Nomegestrol acetate suppresses human endometrial cancer RL95-2 cells proliferation in vitro and in vivo possibly related to upregulating expression of SUFU and Wnt7a. Int J Mol Sci 18:E1337

Naito T, Taniuchi I (2013) Roles of repressive epigenetic machinery in lineage decision of T cells. Immunology 139:151–157

Niehrs C (2012) The complex world of WNT receptor signalling. Nat Rev Mol Cell Biol 13:767–779

Ochoa-Hernandez AB, Ramos-Solano M, Meza-Canales I et al (2012) Peripheral T-lymphocytes express WNT7A and its restoration in leukemia-derived lymphoblasts inhibits cell proliferation. BMC Cancer 12:60

Parr BA, McMahon A (1998) Sexually dimorphic development of the mammalian reproductive tract requires WNT7a. Nature 395:707–710

Qu Q, Sun G, Murai K et al (2013) Wnt7a regulates multiple steps of neurogenesis. Mol Cell Biol 33:2551–2559

Ramos-Solano M, Meza-Canales ID, Torres-Reyes LA et al (2015) Expression of WNT genes in cervical cancer-derived cells: implication of WNT7A in cell proliferation and migration. Exp Cell Res 335:39–50

Rasmussen TA, Schmeltz Søgaard O, Brinkmann C et al (2013) Comparison of HDAC inhibitors in clinical development: effect on HIV production in latently infected cells and T-cell activation. Hum Vaccin Immunother 9:993–1001

Rattis FM, Voermans C, Reya T (2004) Wnt signaling in the stem cell niche. Curr Opin Hematol 11:88–94

Reya T, Duncan AW, Ailles L et al (2003) A role for Wnt signalling in self-renewal of haematopoietic stem cells. Nature 423:409–414

Rodriguez RM, Lopez-Larrea C, Suarez-Alvarez B (2015) Epigenetic dynamics during CD4(+) T cells lineage commitment. Int J Biochem Cell Biol 67:75–85

Ross SH, Cantrell DA (2018) Signaling and function of interleukin-2 in T lymphocytes. Annu Rev Immunol 36:411–433

Schmidl C, Delacher M, Huehn J et al (2018) Epigenetic mechanisms regulating T-cell responses. J Allergy Clin Immunol 142:728–743

Sercan Z, Pehlivan M, Sercan HO (2010) Expression profile of WNT, FZD and sFRP genes in human hematopoietic cells. Leuk Res 34:946–949

Skov S, Rieneck K, Bovin LF et al (2003) Histone deacetylase inhibitors: a new class of immunosuppressors targeting a novel signal pathway essential for CD154 expression. Blood 101:1430–1438

Staal FJ, Luis TC, Tiemessen MM (2008) WNT signalling in the immune system: WNT is spreading its wings. Nat Rev Immunol 8:581–593

Staal FJ, Chhatta A, Mikkers H (2016) Caught in a Wnt storm: complexities of Wnt signaling in hematopoiesis. Exp Hematol 44:451–457

Stewart DJ (2014) Wnt signaling pathway in non-small cell lung cancer. J Natl Cancer Inst 106:djt356

Tennis MA, Vanscoyk MM, Wilson LA et al (2012) Methylation of Wnt7a is modulated by DNMT1 and cigarette smoke condensate in non-small cell lung cancer. PLoS ONE 7:e32921

Tiemessen MM, Staal FJ (2013) Wnt signaling in leukemias and myeloma: T-cell factors are in control. Future Oncol 9:1757–1772

Tiemessen MM, Baert MR, Kok L et al (2014) T Cell factor 1 represses CD8 + effector T cell formation and function. J Immunol 193:5480–5487

Wallace J, Lutgen V, Avasarala S et al (2018) Wnt7a induces a unique phenotype of monocyte-derived macrophages with lower phagocytic capacity and differential expression of pro- and anti-inflammatory cytokines. Immunology 153:203–213

Wang Y, Cho C, Williams J et al (2018) Interplay of the Norrin and Wnt7a/Wnt7b signaling systems in blood-brain barrier and blood-retina barrier development and maintenance. Proc Natl Acad Sci USA 115:E11827–E11836

Willert K, Nusse R (2012) Wnt proteins. Cold Spring Harb Perspect Biol 4:a007864

Willinger T, Freeman T, Herbert M et al (2006) Human naive CD8 T cells down-regulate expression of the WNT pathway transcription factors lymphoid enhancer binding factor 1 and transcription factor 7 (T cell factor-1) following antigen encounter in vitro and in vivo. J Immunol 176:1439–1446

Winn RA, Marek L, Han SY et al (2005) Restoration of Wnt-7a expression reverses non-small cell lung cancer cellular transformation through frizzled-9-mediated growth inhibition and promotion of cell differentiation. J Biol Chem 280:19625–19634

Wu B, Crampton SP, Hughes CC (2007) Wnt signaling induces matrix metalloproteinase expression and regulates T cell transmigration. Immunity 26:227–239

Xu Q, Krause M, Samoylenko A et al (2016) Wnt signaling in renal cell carcinoma. Cancers 8:E57

Xue HH, Zhao DM (2012) Regulation of mature T cell responses by the Wnt signaling pathway. Ann N Y Acad Sci 1247:16–33

Zimmerman MA, Singh N, Martin PM et al (2012) Butyrate suppresses colonic inflammation through HDAC1-dependent Fas upregulation and Fas-mediated apoptosis of T cells. Am J Physiol Gastrointest Liver Physiol 302:G1405–1415
Acknowledgements
This work was supported by the Fondo de Investigación en Salud – IMSS, grant number FIS/IMSS/PROT/G13/1243 and FIS/IMSS/PROT/G14/1316 both to Luis Felipe Jave-Suárez. Christian Barreto-Vargas and Monserrat Alvarez-Zavala are grateful for their scholarship obtained from Consejo Nacional de Ciencia y Tecnología (CONACyT), Mexico. We are grateful to Cristina Artaza Irigaray for proofreading of the manuscript.
Ethics declarations
Conflict of interest
The authors declare no conflict of interest.
Additional information
Publisher's Note
Springer Nature remains neutral with regard to jurisdictional claims in published maps and institutional affiliations.
About this article
Cite this article
Barreto-Vargas, C., Alvarez-Zavala, M., Garcia-Chagollan, M. et al. WNT7A Expression is Downregulated in T Lymphocytes after T-Cell Receptor Activation Due to Histone Modifications and in T-ALL by DNA Methylation. Arch. Immunol. Ther. Exp. 68, 18 (2020). https://doi.org/10.1007/s00005-020-00583-5
Received:

Accepted:

Published:
Keywords
WNT signaling

Epigenetics

Transcription regulation

T lymphocytes

Leukemia

DNA methylation

Histone modification