Abstract
The natural compound camptothecin (CPT) derivatives have widely been used for anti-cancer treatments, including lung cancer. However, many chemoresistant cancer cells often develop a relatively higher threshold for inducing apoptosis, causing a limited efficacy of anti-cancer drugs. Likewise, lung cancer cells acquire chemoresistance against CPT analogs, such as irinotecan and topotecan, finally resulting in an unsatisfied outcome and poor prognosis of lung cancer patients. TFPP is a quinone-containing compound as a candidate for CPT-based combination chemotherapy. In this study, we examined the effect of TFPP and CPT cotreatment on non-small cell lung cancer (NSCLC) cells. Cell proliferation and flow cytometry-based Annexin-V/PI staining assays demonstrated the synergistic effect of TFPP on CPT-induced apoptosis in both NSCLC A549 and H1299 cells. The results of CPT and TFPP cotreatment cause the regulation of the ERK-Bim axis and the activation of mitochondrial-mediated caspase cascade, including caspase-9 and caspase-3. Besides, TFPP significantly enhanced CPT-induced endogenous reactive oxygen species (ROS) in the two NSCLC cells. In contrast, the treatment of N-acetyl-l-cysteine (NAC), an ROS scavenger, rescues the apoptosis of NSCLC cells induced by TFPP and CPT cotreatment, suggesting that the synergistic effect of TFPP on CPT-induced anti-NSCLC cells is through upregulating ROS production. Consequently, our results suggest that TFPP sensitizes NSCLC towards CPT-based chemotherapy may act through decreasing the apoptosis-initiating threshold. Therefore, TFPP may be a promising chemosensitizer for lung cancer treatment, and the underlying mechanism warrants further.
Access options
Buy single article
Instant access to the full article PDF.
USD 39.95
Price includes VAT (USA)
Tax calculation will be finalised during checkout.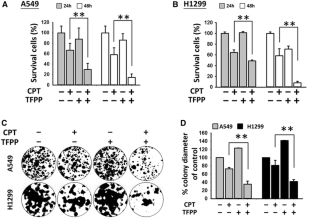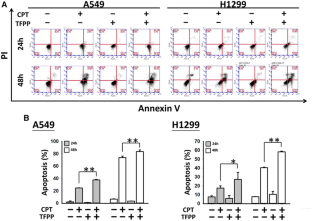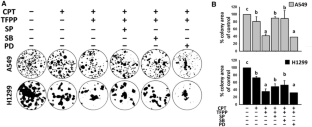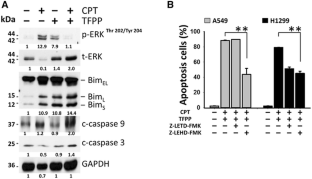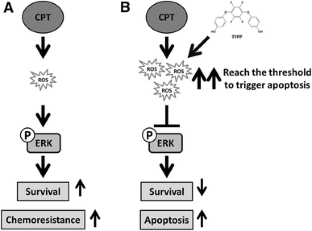 References
Abrams SL, Steelman LS, Shelton JG et al (2010) The raf/mek/erk pathway can govern drug resistance, apoptosis and sensitivity to targeted therapy. Cell Cycle 9:1781–1791

Barrera G (2012) Oxidative stress and lipid peroxidation products in cancer progression and therapy. ISRN Oncol 2012:137289

Benites J, Valderrama JA, Rivera F et al (2008) Studies on quinones. Part 42: synthesis of furylquinone and hydroquinones with antiproliferative activity against human tumor cell lines. Bioorg Med Chem 16:862–868

Bolton JL, Trush MA, Penning TM et al (2000) Role of quinones in toxicology. Chem Res Toxicol 13:135–160

Brea-Calvo G, Siendones E, Sanchez-Alcazar JA et al (2009) Cell survival from chemotherapy depends on NF-kappaB transcriptional up-regulation of coenzyme q biosynthesis. PLoS One 4:e5301

Chen K, Chu BZ, Liu F et al (2015) New benzimidazole acridine derivative induces human colon cancer cell apoptosis in vitro via the ROS-JNK signaling pathway. Acta Pharmacol Sin 36:1074–1084

Chiu CC, Chou HL, Chen BH et al (2015) Bpiq, a novel synthetic quinoline derivative, inhibits growth and induces mitochondrial apoptosis of lung cancer cells in vitro and in zebrafish xenograft model. BMC Cancer 15:962

Cho HS, Chang SH, Chung YS et al (2009) Synergistic effect of erk inhibition on tetrandrine-induced apoptosis in a549 human lung carcinoma cells. J Vet Sci 10:23–28

Chou TC, Talalay P (1981) Generalized equations for the analysis of inhibitions of michaelis-menten and higher-order kinetic systems with two or more mutually exclusive and nonexclusive inhibitors. Eur J Biochem 115:207–216

Chou TC, Talalay P (1984) Quantitative analysis of dose-effect relationships: the combined effects of multiple drugs or enzyme inhibitors. Adv Enzyme Regul 22:27–55

Cimino GD, Pan CX, Henderson PT (2013) Personalized medicine for targeted and platinum-based chemotherapy of lung and bladder cancer. Bioanalysis 5:369–391

Cory S, Adams JM (2002) The BCL2 family: regulators of the cellular life-or-death switch. Nat Rev Cancer 2:647–656

Coulthard LR, White DE, Jones DL et al (2009) P38(MAPK): stress responses from molecular mechanisms to therapeutics. Trends Mol Med 15:369–379

Dhillon AS, Hagan S, Rath O et al (2007) MAP kinase signalling pathways in cancer. Oncogene 26:3279–3290

Ewings KE, Wiggins CM, Cook SJ (2007) Bim and the pro-survival BCL-2 proteins: opposites attract, ERK repels. Cell Cycle 6:2236–2240

Fong Y, Lin YC, Wu CY et al (2014) The antiproliferative and apoptotic effects of sirtinol, a sirtuin inhibitor on human lung cancer cells by modulating AKT/beta-catenin-FOXO3a axis. Sci World J 2014:937051

Fraser M, Leung B, Jahani-Asl A et al (2003) Chemoresistance in human ovarian cancer: the role of apoptotic regulators. Reprod Biol Endocrinol 1:66

Gallego MA, Ballot C, Kluza J et al (2008) Overcoming chemoresistance of non-small cell lung carcinoma through restoration of an aif-dependent apoptotic pathway. Oncogene 27:1981–1992

Hung JJ, Jeng WJ, Hsu WH et al (2012) Predictors of death, local recurrence, and distant metastasis in completely resected pathological stage-I non-small-cell lung cancer. J Thorac Oncol 7:1115–1123

Ichinose Y, Seto T, Nishiwaki Y et al (2011) Phase I study of topotecan and cisplatin in patients with small cell lung cancer. Jpn J Clin Oncol 41:197–203

Jayasooriya RG, Choi YH, Hyun JW et al (2014) Camptothecin sensitizes human hepatoma HEP3b cells to trail-mediated apoptosis via ROS-dependent death receptor 5 upregulation with the involvement of MAPKs. Environ Toxicol Pharmacol 38:959–967

Kim HT, Han JY, Lee DH et al (2006) A phase II study of irinotecan plus cisplatin for patients with advanced stage IIIB or IV NSCLC previously treated with nonplatinum-based chemotherapy. Cancer 107:799–805

Liang Y, Wakelee HA (2013) Adjuvant chemotherapy of completely resected early stage non-small cell lung cancer (NSCLC). Transl Lung Cancer Res 2:403–410

McCubrey JA, Steelman LS, Chappell WH et al (2007) Roles of the raf/mek/erk pathway in cell growth, malignant transformation and drug resistance. Biochim Biophys Acta 1773:1263–1284

Michaelidis B, Hatzikamari M, Antoniou V et al (2009) Stress activated protein kinases, JNKs and p38 MAPK, are differentially activated in ganglia and heart of land snail helix lucorum (l.) during seasonal hibernation and arousal. Comp Biochem Physiol A: Mol Integr Physiol 153:149–153

Mor G, Montagna MK, Alvero AB (2008) Modulation of apoptosis to reverse chemoresistance. Methods Mol Biol 414:1–12

Ogawa K, Hosokawa A, Ueda A et al (2012) Irinotecan plus mitomycin c as second-line chemotherapy for advanced gastric cancer resistant to fluoropyrimidine and cisplatin: a retrospective study. Gastroenterol Res Pract 2012:640401

Okon IS, Coughlan KA, Zhang M et al (2015) Gefitinib-mediated reactive oxygen specie (ROS) instigates mitochondrial dysfunction and drug resistance in lung cancer cells. J Biol Chem 290:9101–9110

Ong JY, Yong PV, Lim YM et al (2015) 2-Methoxy-1,4-naphthoquinone (MNQ) induces apoptosis of a549 lung adenocarcinoma cells via oxidation-triggered JNK and p38 MAPK signaling pathways. Life Sci 135:158–164

Patankar NA, Pritchard J, van Grinsven M et al (2013) Topotecan and doxorubicin combination to treat recurrent ovarian cancer: the influence of drug exposure time and delivery systems to achieve optimum therapeutic activity. Clin Cancer Res 19:865–877

Patel SH, Ajlouni M, Chapman R et al (2007) A prospective phase ii study of induction carboplatin and vinorelbine followed by concomitant topotecan and accelerated radiotherapy (ART) in locally advanced non-small cell lung cancer (NSCLC). J Thorac Oncol 2:831–837

Read W, McLeod H, Govindan R (2004) Irinotecan and carboplatin in metastatic or recurrent NSCLC: an update. Oncology 18(14 Suppl 14):15–17

Ruiz-Ramos R, Cebrian ME, Garrido E (2005) Benzoquinone activates the erk/mapk signaling pathway via ROS production in HL-60 cells. Toxicology 209:279–287

Sharma V, Joseph C, Ghosh S et al (2007) Kaempferol induces apoptosis in glioblastoma cells through oxidative stress. Mol Cancer Ther 6:2544–2553

Shatos MA, Gu J, Hodges RR et al (2008) Erk/p44p42 mitogen-activated protein kinase mediates egf-stimulated proliferation of conjunctival goblet cells in culture. Invest Ophthalmol Vis Sci 49:3351–3359

Shi K, Wang D, Cao X et al (2013) Endoplasmic reticulum stress signaling is involved in mitomycin C (MMC)-induced apoptosis in human fibroblasts via perk pathway. PLoS One 8:e59330

Smith L, Watson MB, O'Kane SL et al (2006) The analysis of doxorubicin resistance in human breast cancer cells using antibody microarrays. Mol Cancer Ther 5:2115–2120

Strasser A (2005) The role of BH3-only proteins in the immune system. Nat Rev Immunol 5:189–200

Strauss GM, Herndon JE 2nd, Maddaus MA et al (2008) Adjuvant paclitaxel plus carboplatin compared with observation in stage IB non-small-cell lung cancer: CALGB 9633 with the cancer and leukemia group b, radiation therapy oncology group, and north central cancer treatment group study groups. J Clin Oncol 26:5043–5051

Tait SW, Green DR (2010) Mitochondria and cell death: outer membrane permeabilization and beyond. Nat Rev Mol Cell Biol 11:621–632

Tamburini M, Buccheri G, Brunelli C et al (2000) The difficult choice of chemotherapy in patients with unresectable non-small-cell lung cancer. Support Care Cancer 8:223–228

Timur M, Akbas SH, Ozben T (2005) The effect of topotecan on oxidative stress in MCF-7 human breast cancer cell line. Acta Biochim Pol 52:897–902

Trachootham D, Lu W, Ogasawara MA et al (2008) Redox regulation of cell survival. Antioxid Redox Signal 10:1343–1374

Trachootham D, Alexandre J, Huang P (2009) Targeting cancer cells by ROS-mediated mechanisms: a radical therapeutic approach? Nat Rev Drug Discov 8:579–591

Tsang WP, Chau SP, Kong SK et al (2003) Reactive oxygen species mediate doxorubicin induced p53-independent apoptosis. Life Sci 73:2047–2058

Uramoto H, Tanaka F (2014) Recurrence after surgery in patients with NSCLC. Transl Lung Cancer Res 3:242–249

Wang J, Yi J (2008) Cancer cell killing via ROS: to increase or decrease, that is the question. Cancer Biol Ther 7:1875–1884

Wang J, Yuan Z (2013) Gambogic acid sensitizes ovarian cancer cells to doxorubicin through ROS-mediated apoptosis. Cell Biochem Biophys 67:199–206

Wang CY, Cusack JC Jr, Liu R et al (1999) Control of inducible chemoresistance: enhanced anti-tumor therapy through increased apoptosis by inhibition of NF-kappaB. Nat Med 5:412–417

Wei Y, An Z, Zou Z et al (2015) The stress-responsive kinases MAPKAPK2/MAPKAPK3 activate starvation-induced autophagy through beclin 1 phosphorylation. Elife 4:e05289

Westover D, Ling X, Lam H et al (2015) Fl118, a novel camptothecin derivative, is insensitive to ABCG2 expression and shows improved efficacy in comparison with irinotecan in colon and lung cancer models with ABCG2-induced resistance. Mol Cancer 14:92

Wirth M, Berthold E, Grashoff M et al (1994) Detection of mycoplasma contaminations by the polymerase chain reaction. Cytotechnology 16:67–77

Xenidis N, Vardakis N, Varthalitis I et al (2011) Alpha multicenter phase ii study of pegylated liposomal doxorubicin in combination with irinotecan as second-line treatment of patients with refractory small-cell lung cancer. Cancer Chemother Pharmacol 68:63–68

Yamaguchi T, Okada T, Takeuchi K et al (2003) Enhancement of thymidine kinase-mediated killing of malignant glioma by BIMS, a BH3-only cell death activator. Gene Ther 10:375–385

Yamakawa K, Yokohira M, Nakano Y et al (2016) Activation of MEK1/2-ERK1/2 signaling during NNK-induced lung carcinogenesis in female A/J mice. Cancer Med 5:903–913

Yang XQ, Li CY, Xu MF et al (2015) Comparison of first-line chemotherapy based on irinotecan or other drugs to treat non-small cell lung cancer in stage IIIB/IV: a systematic review and meta-analysis. BMC Cancer 15:949

Zeng CW, Zhang XJ, Lin KY et al (2012) Camptothecin induces apoptosis in cancer cells via microrna-125b-mediated mitochondrial pathways. Mol Pharmacol 81:78–586
Acknowledgments
This study was supported by the Grants #MOST101-2320-B-037-046-MY3 and #MOST 102-2632-B-037-001-MY3 from the Ministry of Science and Technology (MOST), Taiwan; by the Grant #KMU-TP104A03 from the KMU Research Project, Taiwan; by the Grant #NSYSUKMU104-P031 from the NSYSU-KMU Joint Research Project, Taiwan; and by the Grant #104-CM-KMU-006 from ChiMei-KMU Joint Research Project, Taiwan. We are also grateful for the instrument supports of flow cytometry from the Center for Research Resources and Development at Kaohsiung Medical University, Taiwan.
Electronic supplementary material
Below is the link to the electronic supplementary material.
The synergistic effects of CPT and TFPP combination on anti-proliferation of NSCLC cells using the Chou–Talalay method (Chou and Talalay 1981, 1984). H1299 cells were treated with the indicated concentrations of CPT and TFPP combinations for 48 h, respectively. The proliferative rate of H1299 cells was measured by Trypan blue exclusion assay. (A) The synergistic effects of CPT and TFPP combination are evaluated using the program CalcuSyn and the lines represent the effective doses (EDs) of the effects of the two compounds to achieve 50, 75, or 90 % inhibition. The dots represent the experimental doses used for achieving the above inhibitory effects. (B) The table represent the mean values of combination index, which represent the degree of CPT and TFPP interactions, < 1 for synergistic-, = 1 for synergistic-, and > 1 for antagonistic effects, respectively. Data are presented as mean ± SD from at least three independent experiments (TIFF 191 kb)
 2 The results of MitoSox assay. (A) A549 and H1299 cells were pre-treated with either 2 mM ROS scavenger NAC or ERK inhibitor PD98059 for 3 h, and were then subject to CPT treatment for 48 h. Afterward, the cells were staining with a ROS-sensitive dye MitoSox, which is mitochondria-selective. (D) The quantificative analysis of (B). Data are presented as mean ± SD (anot statistical significance; b p < 0.05; c p < 0.001) (TIFF 275 kb)
 3 Determining the role of MAPK in CPT-induced apoptosis of NSCLC cells. (A) A549 and H1299 cells were pre-treated with ROS scavenger NAC or MAPK specific inhibitors, and were then subject to CPT treatment for 48 h, respectively. Afterward, the apoptosis was detected using a flow cytometry-based Annexin-V-staining assay. (B) The quantitative analysis of (A). Data are presented as mean ± SD (anot statistical significance; b p < 0.05; c p < 0.001) (TIFF 450 kb)
About this article
Cite this article
Chou, HL., Fong, Y., Wei, CK. et al. A Quinone-Containing Compound Enhances Camptothecin-Induced Apoptosis of Lung Cancer Through Modulating Endogenous ROS and ERK Signaling. Arch. Immunol. Ther. Exp. 65, 241–252 (2017). https://doi.org/10.1007/s00005-016-0424-8
Received:

Accepted:

Published:

Issue Date:
Keywords
Non-small cell lung cancer

Chemoresistance

Apoptosis threshold

Camptothecin

TFPP

ERK signaling pathway