Abstract
To evaluate prospectively the efficacy of methotrexate (MTX) in the treatment of recurrent idiopathic acute anterior uveitis (RIAAU). Nineteen out of 22 RIAAU patients completed the study (two patients withdrew their consent shortly after study initiation, one patient discontinued after 4 weeks because of the adverse effects). All patients were treated with MTX in a starting dose of 15 mg/week, increased to target dose of 25 mg/week after 4 weeks. In patients taking systemic corticosteroids (CS) the dose was gradually tapered (by 2.5 mg every week) until discontinuation. The mean follow-up period was 3.3 years (19–59 months). Sixteen patients (84 %) remained flare-free on MTX therapy. In the remaining three patients the mean interval between flares increased from 4.8 to 18.3 months. Systemic CS were tapered off in all patients. The number of acute anterior uveitis flares in the whole cohort decreased from 2.12 to 0.11/patient-year (p < 0.0001). All flares observed on MTX therapy occurred in HLA-B27-positive patients. MTX dosed at 25 mg/week is highly effective in the treatment of RIAAU.
Access options
Buy single article
Instant access to the full article PDF.
USD 39.95
Price includes VAT (USA)
Tax calculation will be finalised during checkout.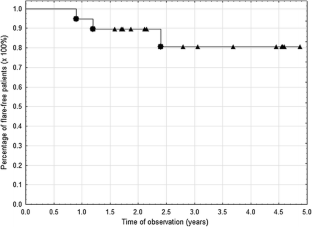 References
Bom S, Zamiri P, Lightman S (2001) Use of methotrexate in the management of sight-threatening uveitis. Ocul Immunol Inflamm 9:35–40

Chang JH, Wakefield D (2002) Uveitis: a global perspective. Ocul Immunol Inflamm 10:263–279

Dandona L, Dandona R, John RK et al (2000) Population based assessment of uveitis in an urban population in southern India. Br J Ophthalmol 84:706–709

Darrell RW, Wagener HP, Kurland LT (1962) Epidemiology of uveitis. Incidence and prevalence in a small urban community. Arch Ophthalmol 68:502–514

Foeldvari I, Wierk A (2005) Methotrexate is an effective treatment for chronic uveitis associated with juvenile idiopathic arthritis. J Rheumatol 32:362–365

Gangaputra S, Newcomb CW, Liesegang TL et al (2009) Methotrexate for ocular inflammatory diseases. Ophthalmology 116:2188–2198

Jabs DA, Rosenbaum JT (2001) Guidelines for the use of immunosuppressive drugs in patients with ocular inflammatory disorders: recommendations of an expert panel. Am J Ophthalmol 131:679

Kaplan-Messas A, Barkana Y, Avni I et al (2003) Methotrexate as a first-line corticosteroid-sparing therapy in a cohort of uveitis and scleritis. Ocul Immunol Inflamm 11:131–139

Muñoz-Fernández S, García-Aparicio AM, Hidalgo MV et al (2009) Methotrexate: an option for preventing the recurrence of acute anterior uveitis. Eye 23:1130–1133

Samson CM, Waheed N, Baltatzis S et al (2001) Methotrexate therapy for chronic noninfectious uveitis: analysis of a case series of 160 patients. Ophthalmology 108:1134–1139

Selmi C (2014) Diagnosis and classification of autoimmune uveitis. Autoimmun Rev 13:591–594

Shah SS, Lowder CY, Schmitt MA et al (1992) Low-dose methotrexate therapy for ocular inflammatory disease. Ophthalmology 99:1419–1423
Acknowledgments
Special thanks to Mr. Romuald Zadora-Przyłęcki for help in editing the manuscript.
Ethics declarations
Conflict of Interest
The authors declare that there is no conflict of interests regarding the publication of this article.
Ethical Approval
All procedures performed in studies involving human participants were in accordance with the ethical standards of the institutional and/or national research committee and with the 1964 Helsinki declaration and its later amendments or comparable ethical standards.
Informed Consent
Informed consent was obtained from all individual participants included in the study.
About this article
Cite this article
Bachta, A., Kisiel, B., Tłustochowicz, M. et al. High Efficacy of Methotrexate in Patients with Recurrent Idiopathic Acute Anterior Uveitis: a Prospective Study. Arch. Immunol. Ther. Exp. 65, 93–97 (2017). https://doi.org/10.1007/s00005-016-0402-1
Received:

Accepted:

Published:

Issue Date:
Keywords
Uveitis

Inflammation

Immunotherapy

Methotrexate