Abstract
Interleukin (IL)-27 is a novel cytokine secreted by stimulated antigen-presenting cells. Initial studies on the biology of IL-27 provided evidence for its role in the initiation of TH1 responses; however, subsequent work has indicated that IL-27 has broad inhibitory effects on TH1, TH2, and TH17 subsets of T cells as well as the expansion of inducible regulatory T cells. The involvement of IL-27 in the regulation of angiogenesis and antiviral response has also recently been reported. The aim of this review is to highlight the potential areas of IL-27 clinical application, especially the management of neoplastic and viral diseases as well as autoimmune disorders, including rheumatoid arthritis and multiple sclerosis. The review will also serve to elaborate on the molecular mechanisms involved in the expression of this cytokine and signaling from the IL-27 receptor.
Access options
Buy single article
Instant access to the full article PDF.
USD 39.95
Price excludes VAT (USA)
Tax calculation will be finalised during checkout.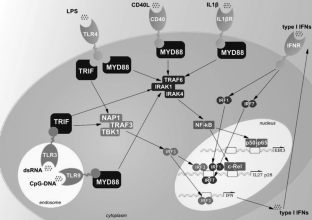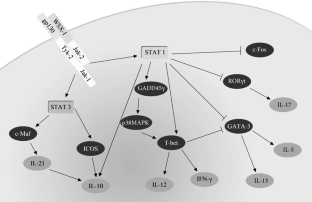 References
Artis D, Villarino A, Silverman M et al (2004) The IL-27 receptor (WSX-1) is an inhibitor of innate and adaptive elements of type 2 immunity. J Immunol 173:5626–5634

Awasthi A, Carrier Y, Peron J et al (2007) A dominant function for interleukin 27 in generating interleukin 10-producing anti-inflammatory T cells. Nat Immunol 12:1380–1389

Batten M, Li J, Yi S et al (2006) Interleukin 27 limits autoimmune encephalomyelitis by suppressing the development of interleukin 17-producing T cells. Nat Immunol 7:929–936

Batten M, Kljavin NM, Li J et al (2008) Cutting edge: IL-27 is a potent inducer of IL-10 but not FoxP3 in murine T cells. J Immunol 180:2752–2756

Bender H, Wiesinger M, Nordhoff C et al (2009) Interleukin-27 displays interferon-gamma-like functions in human hepatoma cells and hepatocytes. Hepatology 50:585–591

Chae SC, Li CS, Kim KM et al (2007) Identification of polymorphisms in human interleukin-27 and their association with asthma in a Korean population. J Hum Genet 52:355–361

Chiyo M, Shimozato O, Iizasa T et al (2005) Expression of IL-27 in murine carcinoma cells produces antitumor effects and induces protective immunity in inoculated host animals. Int J Cancer 115:437–442

Collison LW, Workman CJ, Kuo TT et al (2007) The inhibitory cytokine IL-35 contributes to regulatory T-cell function. Nature 450:566–569

Coulomb-L'Hermine A, Larousserie F, Pflanz S et al (2007) Expression of interleukin-27 by human trophoblast cells. Placenta 28:1133–1140

Crabé S, Guay-Giroux A, Tormo AJ et al (2009) The IL-27 p28 subunit binds cytokine-like factor 1 to form a cytokine regulating NK and T cell activities requiring IL-6R for signaling. J Immunol 183:7692–7702

Diveu C, McGeachy M, Boniface K et al (2009) IL-27 blocks RORc expression to inhibit lineage commitment of Th17 Cells. J Immunol 182:5748–5756

Fakruddin JM, Lempicki RA, Gorelick RJ et al (2007) Noninfectious papilloma virus-like particles inhibit HIV-1 replication: implications for immune control of HIV-1 infection by IL-27. Blood 109:1841–1849

Feng XM, Chen XL, Liu N et al (2007) Interleukin-27 upregulates major histocompatibility complex class II expression in primary human endothelial cells through induction of major histocompatibility complex class II transactivator. Hum Immunol 68:965–972

Feng XM, Liu N, Yang SG et al (2008) Regulation of the class II and class I MHC pathways in human THP-1 monocytic cells by interleukin-27. Biochem Biophys Res Commun 367:553–559

Fitzgerald DC, Ciric B, Touil T et al (2007) Suppressive effect of IL-27 on encephalitogenic Th17 cells and the effector phase of experimental autoimmune encephalomyelitis. J Immunol 179:3268–3275

Furukawa M, Takaishi H, Takito J et al (2009) IL-27 abrogates receptor activator of NF-kappaB ligand-mediated osteoclastogenesis of human granulocyte-macrophage colony-forming unit cells through STAT1-dependent inhibition of c-Fos. J Immunol 183:2397–2406

Graber J, Allie S, Mullen K et al (2008) Interleukin-17 in transverse myelitis and multiple sclerosis. J Neuroimmunol 196:124–132

Greenwell-Wild T, Vazquez N, Jin W et al (2009) IL-27 inhibition of HIV-1 involves an intermediate induction of type I interferon. Blood 114:1864–1874

Hisada M, Kamiya S, Fujita K et al (2004) Potent antitumor activity of interleukin-27. Cancer Res 64:1152–1156

Hölscher C, Hölscher A, Rückerl D et al (2005) The IL-27 receptor chain WSX-1 differentially regulates antibacterial immunity and survival during experimental tuberculosis. J Immunol 174:3534–3544

Kamiya S, Owaki T, Morishima N et al (2004) An indispensable role for STAT1 in IL-27-induced T-bet expression but not proliferation of naive CD4+ T cells. J Immunol 173:3871–3877

Kanda N, Watanabe S (2008) IL-12, IL-23 and IL-27 enhance human β-defensin-2 production in human keratinocytes. Eur J Immunol 38:1287–1296

Kelchtermans H, Schurgers E, Geboes L et al. (2009) Effector mechanisms of interleukin-17 in collagen-induced arthritis in the absence of interferon-gamma and counteraction by interferon-gamma. Arthritis Res Ther 11:R122

Kryczek I, Wei S, Zou L, Altuwaijri S et al (2007) Cutting edge: Th17 and regulatory T cell dynamics and the regulation by IL-2 in the tumor microenvironment. J Immunol 178:6730–6733

Kryczek I, Bruce AT, Gudjonsson JE et al (2008) Induction of IL-17 + T cell trafficking and development by IFN-gamma: mechanism and pathological relevance in psoriasis. J Immunol 181:4733–4741

Lapenta C, Santini SM, Spada M et al (2006) IFN-alpha-conditioned dendritic cells are highly efficient in inducing cross-priming CD8(+) T cells against exogenous viral antigens. Eur J Immumol 36:2046–2060

Larousserie F, Pflanz S, Coulomb-L'Hermine A et al (2004) Expression of IL-27 in human Th1-associated granulomatous diseases. J Pathol 202:164–171

Larousserie F, Charlot P, Bardel E et al (2006) Differential effects of IL-27 on human B cell subsets. J Immunol 176:5890–5897

Liu J, Cao S, Herman LM et al (2003) Differential regulation of interleukin (IL)-12 p35 and p40 gene expression and interferon (IFN)-gamma-primed IL-12 production by IFN regulatory factor 1. J Exp Med 198:1265–1276

Liu J, Guan X, Tamura T et al (2004) Synergistic activation of interleukin-12 p35 gene transcription by interferon regulatory factor-1 and interferon consensus sequence-binding protein. J Biol Chem 279:55609–55617

Liu J, Guan X, Ma X (2007) Regulation of IL-27 p28 gene expression in macrophages through MyD88- and interferon-gamma-mediated pathways. J Exp Med 204:141–152

Lucas S, Ghilardi N, Li J et al (2003) IL-27 regulates IL-12 responsiveness of naive CD4+ T cells through Stat1-dependent and -independent mechanisms. Proc Natl Acad Sci USA 100:15047–15052

Maaser C, Egan LJ, Birkenbach MP et al (2004) Expression of Epstein-Barr virus-induced gene 3 and other interleukin 12-related molecules by human intestinal epithelium. Immunology 112:437–445

Mayer KD, Mohrs K, Reiley W et al (2008) Cutting edge: T-bet and IL-27R are critical for in vivo IFN-gamma production by CD8 T cells during infection. J. Immunol 180:693–697

Miyazaki Y, Inoue H, Matsumura M et al (2005) Exacerbation of experimental allergic asthma by augmented Th2 responses in WSX-1-deficient mice. J Immunol 175:2401–2407

Molle C, Nguyen M, Flamand V et al (2007) IL-27 synthesis induced by TLR ligation critically depends on IFN regulatory factor 3. J Immunol 178:7607–7615

Morishima N, Owaki T, Asakawa M et al (2005) Augmentation of effector CD8+ T cell generation with enhanced granzyme B expression by IL-27. J Immunol 175:1686–1693

Neufert C, Becker C, Wirtz S et al (2007) IL-27 controls the development of inducible regulatory T cells and Th17 cells via differential effects on STAT1. Eur J Immunol 37:1809–1816

Niedbala W, Cai B, Wei X et al (2008) Interleukin 27 attenuates collagen-induced arthritis. Ann Rheum Dis 67:1474–1479

Oniki S, Nagai H, Horikawa T et al (2006) Interleukin-23 and interleukin-27 exert quite different antitumor and vaccine effects on poorly immunogenic melanoma. Cancer Res 66:6395–6404

Owaki T, Asakawa M, Fukai F et al (2006a) IL-27 induces Th1 differentiation via p38 MAPK/T-bet- and intercellular adhesion molecule-1/LFA-1/ERK1/2-dependent pathways. J Immunol 177:7579–7587

Owaki T, Asakawa M, Kamiya S et al (2006b) IL-27 suppresses CD28-mediated IL-2 production through suppressor of cytokine signaling 3. J Immunol 176:2773–2780

Pearl J, Khader S, Solache A et al (2004) IL-27 signaling compromises control of bacterial growth in mycobacteria-infected mice. J Immunol 173:7490–7496

Pflanz S, Timans JC, Cheung J et al (2002) IL-27, a heterodimeric cytokine composed of EBI3 and p28 protein, induces proliferation of naive CD4(+) T cells. Immunity 16:779–790

Pflanz S, Hibbert L, Mattson J et al (2004) WSX-1 and glycoprotein 130 constitute a signal-transducing receptor for IL-27. J Immunol 172:2225–2231

Pirhonen J, Siren J, Julkunen I et al (2007) IFN-alpha regulates Toll-like receptor-mediated IL-27 gene expression in human macrophages. J Leukoc Biol 82:1185–1192

Remoli ME, Gafa V, Giacomini E et al (2007) IFN-beta modulates the response to TLR stimulation in human DC: involvement of IFN regulatory factor-1 (IRF-1) in IL-27 gene expression. Eur J Immunol 37:3499–3508

Rosas LE, Satoskar AA, Roth KM et al (2006) Interleukin-27R (WSX-1/T-cell cytokine receptor) gene-deficient mice display enhanced resistance to leishmania donovani infection but develop severe liver immunopathology. Am J Pathol 168:158–169

Salcedo R, Stauffer JK, Lincoln E et al (2004) IL-27 mediates complete regression of orthotopic primary and metastatic murine neuroblastoma tumors: role for CD8 + T cells. J Immunol 173:7170–7182

Salcedo R, Hixon J, Stauffer J et al (2009) Immunologic and therapeutic synergy of IL-27 and IL-2: enhancement of T cell sensitization, tumor-specific CTL reactivity and complete regression of disseminated neuroblastoma metastases in the liver and bone marrow. J Immunol 182:4328–4338

Schnurr M, Toy T, Shin A et al (2005) Extranuclear nucleotide signalling by P2 receptors inhibits IL-12 ad enhances IL-23 expression in human dendritic cells: a novel role for cAMP pathway. Blood 105:1582–1589

Schuetze N, Schoeneberger S, Mueller U et al (2005) IL-12 family members: differential kinetics of their TLR4-mediated induction by Salmonella enteritidis and the impact of IL-10 in bone marrow-derived macrophages. Int Immunol 17:649–659

Shahrara S, Huang Q, Mandelin A et al (2008) Th-17 cells in rheumatoid arthritis. Arthritis Res Ther 10:R93

Shimizu M, Shimamura M, Owaki T et al (2006) Antiangiogenic and antitumor activities of IL-27. J Immunol 176:7317–7324

Shimozato O, Sato A, Kawamura K et al. (2009) The secreted form of p28 subunit of interleukin (IL)-27 inhibits biological functions of IL-27 and suppresses anti-allogeneic immune responses. Immunology 128(1 suppl):e816–825

Stumhofer JS, Laurence A, Wilson EH et al (2006) Interleukin 27 negatively regulates the development of interleukin 17-producing T helper cells during chronic inflammation of the central nervous system. Nat Immunol 7:937–945

Stumhofer JS, Silver JS, Laurence A et al (2007) Interleukins 27 and 6 induce STAT3-mediated T cell production of interleukin 10. Nat Immunol 8:1363–1371

Tassi E, Braga M, Longhi R et al (2009) Non-redundant role for IL-12 and IL-27 in modulating Th2 polarization of carcinoembryonic antigen specific CD4 T cells from pancreatic cancer patients. PLOS One 4:e7234

Villarino AV, Stumhofer JS, Saris C et al (2006) IL-27 limits IL-2 production during Th1 differentiation. J Immunol 176:237–247

Wang J, Wang G, Sun B et al (2008) Interleukin-27 suppresses experimental autoimmune encephalomyelitis during bone marrow stromal cell treatment. J Autoimmun 30:222–229

Wesa A, Kalinski P, Kirkwood JM et al (2007) Polarized type-1 dendritic cells (DC1) producing high levels of IL-12 family members rescue patient TH1-type antimelanoma CD4+ T cell responses in vitro. J Immunother 30:75–82

Wirtz S, Becker C, Fantini MC (2005) EBV-induced gene 3 transcription is induced by TLR signalling in primary dendritic cells via NF-kappa B activation. J Immunol 174:2814–2824

Xu J, Yang Y, Qiu G et al (2009) c-Maf regulates IL-10 expression during Th17 polarization. J Immunol 182:6226–6236

Yang J, Yang M, Htut TM et al (2008) Epstein-Barr virus-induced gene 3 negatively regulates IL-17, IL-22 and RORgammat. Eur J Immunol 38:1204–1214

Yoshida H, Hamano S, Senaldi G et al (2001) WSX-1 is required for the initiation of Th1 responses and resistance to L. mayor infection. Immunity 15:569–578

Yoshimoto T, Yoshimoto T, Yasuda K et al (2007) IL-27 suppresses Th2 cell development and Th2 cytokines production from polarized Th2 cells: a novel therapeutic way for Th2-mediated allergic inflammation. J Immunol 179:4415–4423

Yoshimoto T, Morishima N, Mizoguchi I et al (2008) Antiproliferative activity of IL-27 on melanoma. J Immunol 180:6527–6535

Yuan X, Hu J, Yoshimoto T et al (2005) Bone marrow derived neural stem-like cells expressing IL-27 exhibit antitumor activity in intracranial gliomas. Mol Ther 11:S268

Zhang B, Rong G, Wei H et al (2008) The prevalence of Th17 cells in patients with gastric cancer. Biochem Biophys Res Commun 374:533–537
About this article
Cite this article
Jankowski, M., Kopiński, P. & Goc, A. Interleukin-27: Biological Properties and Clinical Application. Arch. Immunol. Ther. Exp. 58, 417–425 (2010). https://doi.org/10.1007/s00005-010-0098-6
Received:

Accepted:

Published:

Issue Date:

DOI: https://doi.org/10.1007/s00005-010-0098-6
Keywords
IL-27

Cancer

Multiple sclerosis

Rheumatoid arthritis

HIV

Immunotherapy