Abstract
The current practice is to make the mathematical analysis of many Islamic patterns in 2D; however, since such patterns actually have 3D features, the third dimension must also be considered. Indeed, the three-dimensional features of the patterns made by carving on stone are very numerous. In this work, it is proposed to perform a 3D mathematical analysis of patterns of this type by algorithmic decomposition. In the cemetery of Ahlat, which is an existing monument, a tombstone with high three-dimensional features, designed by Asil b. Veys (Uveys), was chosen for algorithmical analysis. The mathematical design rules of the star polygon pattern in the selected monument were determined, as based on the shape grammar theory. The probable rules for the creation of the star polygon pattern in this study were produced simultaneously in the computer environment using a visual programming language and a 3D parametric pattern generator of the pattern was created.
This is a preview of subscription content, log in to check access.
Access options
Buy single article
Instant access to the full article PDF.
US$ 39.95
Price includes VAT for USA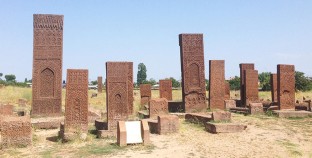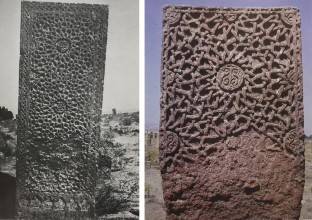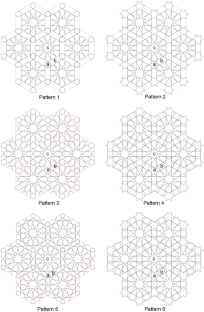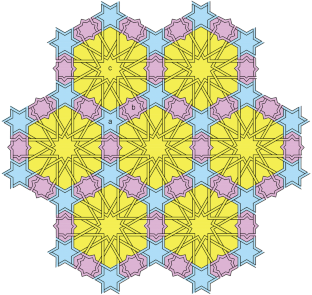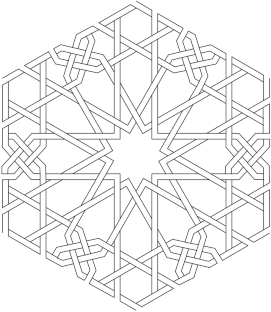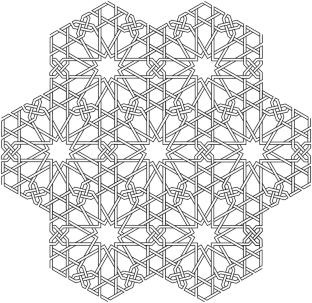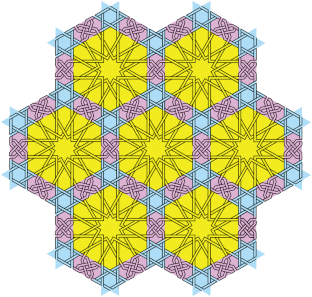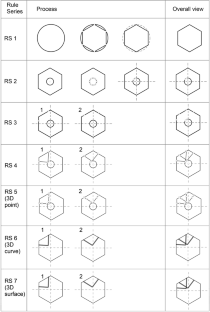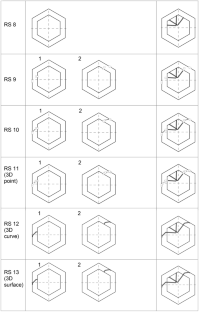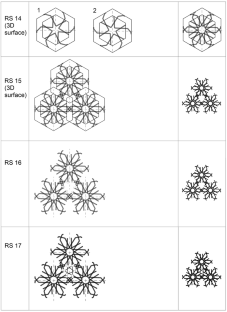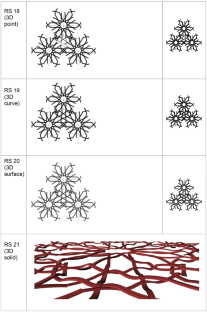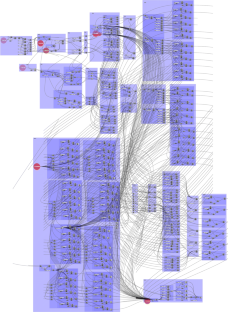 References
Alacam, S., Guzelci O.Z., Gurer, E. and S.Z. Bacinoglu. 2017. Reconnoitring computational potentials of the vault-like forms: Thinking aloud on muqarnas tectonics. International Journal of Architectural Computing15 (4): 285–303.

Arik, M. and M. Sancak. 2007. Turkish-Islamic Art and Penrose Tilings. Balkan Physics Letters15 (3): 84–95.

Baykara, T. and M.C. Isik. 2016. Physical Characterization, Microstructural Evaluation, and Condition Assessment of Ancient Ahlat Tombstones in the Seljukian Cemetery of Ahlat (Turkey). International Journal of Architectural Heritage10 (8): 1025–1040.

Beatini, V. 2017. Kinetic Rosette Patterns and Tessellations. International Journal of Computational Methods and Experimental Measurements5 (4): 631–641.

Bodner, B.L. 2012. From Sultaniyeh to Tashkent Scrolls: Euclidean Constructions of Two Nine- and Twelve-Pointed Interlocking Star Polygon Designs. Nexus Network Journal14 (2): 307–332.

Bonner, J. 2003. Three traditions of self-similarity in fourteenth and fifteenth century Islamic geometric ornament. In: ISAMA-BRIDGES Conference Proceedings (Granada, Spain, July 23-25), eds. J. Barrallo, J. Martinez-Aroza, N. Friedman, R. Sarhangi, J.A. Maldonado and C. Sequin, 1–12. http://archive.bridgesmathart.org/2003/. Accessed 3 August 2018.

Bonner, J.F. 2016. The Historical Significance of the Geometric Designs in the Northeast Dome Chamber of the Friday Mosque at Isfahan. Nexus Network Journal18: 55–103.

Bonner, J. 2017. Islamic Geometric Patterns: Their Historical Development and Traditional Methods of Construction. NY: Springer.

Bourgoin, J. 1879. Les Eléments de l'Art Arabe: Le Trait des Entrelacs. Paris: Firmin-Didot.

Broug, E. 2008. Islamic Geometric Patterns. London: Thames and Hudson.

Burckhardt, T. 2009. Art of Islam: Language and Meaning. Bloomington, Indiana: World Wisdom Inc.

Castera, Jean-Marc. 2011. Flying Patterns. In: Bridges Coimbra Conference Proceedings (Coimbra, Portugal, July 27-31), eds. R. Sarhangi and C. Sequin, 263–270. Phoenix, Arizona: Tessellations Publishing.

Cenani, Sehnaz and Gulen Cagdas. 2007. A Shape Grammar Study: Form Generation with Geometric Islamic Patterns. In: 10th Generative Art Conference Proceedings (Milan, Italy, December 12–14), ed. C. Soddu, 216–223. Milan: Domus Argenia Publisher.

Corcuff, Marie-Pascale. 2018. Jules Bourgoin (1838–1908): A Forerunner of Generative Shape Grammers. In: Nexus Architecture and Mathematics 2018 Conference Book, eds. Kim Williams and Marco Giorgio Bevilacqua, 257–262. Kim Williams Books.

Critchlow, K. 1983. Islamic Patterns: An Analytical and Cosmological Approach. London: Thames & Hudson.

Cromwell, P.R. 2009. The Search for Quasi-Periodicity in Islamic 5-fold Ornament. The Mathematical Intelligencer31: 36–56.

Demiriz, Y. 2000. Islam sanatinda Geometrik susleme: Bir Envanter Denemesi. Istanbul: Lebib Yalkin Yayinlari.

Duarte, J.P. 2005. Towards the mass customization of housing: the grammar of Siza's houses at Malagueira. Environment and Planning B: Planning and Design32 (3): 347–380.

El-Said, I. and A. Parman. 1976. Geometric Concepts in Islamic Art. London: World of Islam Festival Publishing Company Ltd.

Hankin E.H. 1925a. The Drawing of Geometric Patterns in Saracenic Art. Archaeological survey of India: Memoirs. Calcutta: Government of India, Central Publication Branch.

Hankin E.H. 1925b. Examples of methods of drawing geometrical arabesque patterns. The Mathematical Gazette12: 371–373.

Isik, E., Bakis, A., Akilli, A. and F. Hattatoglu. 2015. Usability of Ahlat Stone as Aggregate in Reactive Powder Concrete. Int. Journal of Applied Sciences and Engineering Research4 (4): 507–514.

Kaplan, C.S. and D.H. Salesin. 2004. Islamic Star Patterns in Absolute Geometry. ACM Transactions on Graphics23 (2): 97–119.

Kaplan, C.S. 2005. Islamic Star Patterns from Polygons in Contact. In: Proceedings of the Graphics Interface 2005 Conference (May 9-11, Victoria, British Columbia, Canada), ed. M. McCool, 177–185. Waterloo, Ontario: Canadian Human-Computer Communications Society and A K Peters Ltd.

Karamagarali, B.1992. Ahlat Mezar Taslari. Ankara: Kultur Bakanligi Yayinlari.

Kasraei, M.H., Nourian, Y. and M. Mahdavinejad, 2016. Girih for domes: analysis of three Iranian domes. Nexus Network Journal18: 311–321.

Knight, T. and G. Stiny. 2015. Making grammars: From computing with shapes to computing with things. Design Studies41: 8–28.

Kuban, D. 2002. Selcuklu Caginda Anadolu Sanati. Istanbul: Yapi Kredi Yayinlari.

Makovicky, E. and N.M. Makovicky. 2017. Nonperiodic Octagonal Patterns from a Jali Screen in the Mausoleum of Muhammad Ghaus in Gwalior and Their Periodic Relatives. Nexus Network Journal19: 101–120.

Mulayim, S. 1982. Anadolu Turk Mimarisinde Geometrik Suslemeler: Selcuklu Cagi. Ankara: Kultur ve Turizm Bakanligi Yayinlari.

Necipoglu, G. 1995. The Topkapi Scroll- Geometry and Ornament in Islamic Architecture: Topkapi Palace Museum Library MS H. Santa Monica, CA: The Getty Center for the History of Art and the Humanities.

Oney, G. 1978. Anadolu Selcuklu Mimarisinde Susleme ve El Sanatlari. Ankara: Turkiye Is Bankasi Kultur Yayinlari.

Ozkar, M. 2011. Visual schemas: pragmatics of design learning in foundations studios. Nexus Network Journal13 (1): 113–130.

Redondo-Buitrago, A. and D. Huylebrouck. 2015. Nonagons in the Hagia Sophia and the Selimiye Mosque. Nexus Network Journal17 (1): 157–181.

Redondo-Buitrago, Antonia. 2018. On Polygons, Set Squares and Mudejar Carpentry. In: Nexus Architecture and Mathematics 2018 Conference Book, eds. Kim Williams and Marco Giorgio Bevilacqua, 73–77. Kim Williams Books.

Rigby, J. 2005. A Turkish Interlacing Pattern and the Golden Ratio: Whirling Dervishes and a Geometry Lecture in Konya. Mathematics in School34 (1): 16–24.

Sarhangi, R. 2012. Interlocking Star Polygons in Persian Architecture: The Special Case of the Decagram in Mosaic Designs. Nexus Network Journal14 (2): 345-372.

Schneider, 1980. Geometrische Bauornamente der Seldschuken in Kleinasien. Wiesbaden: Reichert.

Stiny, G. and J. Gips. 1972. Shape grammars and the generative specification of painting and sculpture. Information Processing71: 1460–1465.

Stiny, G. 2006. Shape: Talking about Seeing and Doing. Cambridge, Massachusetts: MIT Press.

Wilson, E. 1988. Islamic Designs. London: The British Museum Press.
About this article
Cite this article
Agirbas, A. Algorithmic Decomposition of Geometric Islamic Patterns: A Case Study with Star Polygon Design in the Tombstones of Ahlat. Nexus Netw J 22, 113–137 (2020). https://doi.org/10.1007/s00004-018-0416-6
Keywords
Design analysis

Geometric islamic patterns

Shape grammars

Design computation

Parametric design