Abstract
This work aimed to optimize the E-beam treatment of whole-boned dry-cured hams to reach the food safety objective for Listeria monocytogenes. According to the zero-tolerance criteria in the USA and China, 2.39 decimal reductions are required. Boned hams were grouped by their thickness in clusters A (≤ 7 cm) and B (> 7 cm). All of them were contaminated with Listeria innocua as a surrogate of the pathogen. The inoculum (approx. 107 cells) was placed in the space before occupied by the bone. Then, bilateral treatments at 1 and 2 kGy were applied to A and B clusters, respectively. Listerial load reductions higher than 2.39 log colony forming units (CFU) were observed in the innermost part of the pieces. The absorbed doses by the treated hams were < 3 kGy, avoiding the radiation over-exposure that could compromise their sensory quality. Therefore, taking into account the thickness of whole-bone ham pieces could optimize the sanitization effect of the E-beam treatment.
Access options
Buy single article
Instant access to the full article PDF.
USD 39.95
Price excludes VAT (USA)
Tax calculation will be finalised during checkout.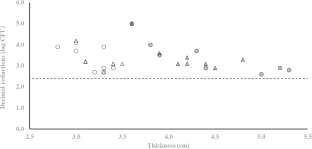 References
Cambero MI, Cabeza MC, Escudero R, Manzano S, García-Márquez I, Velasco R, Ordóñez JA (2012) Sanitation of selected ready-to-eat intermediate-moisture foods of animal origin by E-beam irradiation. Foodborne Pathog Dis 9(7):594–599. https://doi.org/10.1089/fpd.2011.1111

Chen Y, Chen M, Wang J, Wu Q, Cheng J, Zhang J, Sun Q, Xue L, Zeng H, Lei T, Pang R, Ye Q, Wu S, Zhang S, Wu H, Li W, Kou X (2020) Heterogeneity, characteristics, and public health implications of Listeria monocytogenes in ready-to-eat foods and pasteurized milk in China. Front Microbiol 11:642. https://doi.org/10.3389/fmicb.2020.00642

Eldesouky A, Pulido AF, Mesias FJ (2015) The role of packaging and presentation format in consumers' preferences for food: an application of projective techniques. J Sens Stud 30(5):360–369. https://doi.org/10.1111/joss.12162

IAEA (2015) Manual of good practice in food irradiation. Technical Reports Series No. 481, International Atomic Energy Agency, Vienna

ICMSF (2018) Listeria monocytogenes in ready-to-eat deli-meats. Microorganisms in Foods 7. Microbiological testing in Food Safety Management, 2nd edn. Springer, Cham, pp 357–384

Lucas JR, Selgas MD, García ML, Velasco R, Cabeza MC (2020) Control of Listeria monocytogenes in boned dry-cured ham by E-beam treatment. J Food Saf 40(2):e12757. https://doi.org/10.1111/jfs.12757

Lucas JR, Alía A, Velasco R, Selgas MD, Cabeza MC (2021) Effect of E-beam treatment on expression of virulence and stress-response genes of Listeria monocytogenes in dry-cured ham. Int J Food Microbiol 340:109057. https://doi.org/10.1016/j.ijfoodmicro.2021.109057

Montiel R, Peirotén Á, Ortiz S, Bravo D, Gaya P, Martínez-Suárez JV, Tapiador J, Nuñez M, Medina M (2020) Inactivation of Listeria monocytogenes during dry-cured ham processing. Int J Food Microbiol 318:108469. https://doi.org/10.1016/j.ijfoodmicro.2019.108469

Tahergorabi R, Matak KE, Jaczynski J (2012) Application of electron beam to inactivate Salmonella in food: recent developments. Food Res Int 45:685–694. https://doi.org/10.1016/j.foodres.2011.02.003

Venugopal V, Doke SN, Thomas P (1999) Radiation processing to improve the quality of fishery products. Crit Rev Food Sci Nutr 39(5):391–440. https://doi.org/10.1080/10408699991279222
Acknowledgements
Projects Ref. RTA 2013-00070-C03-02 and RTA 2017-00027-C03-02, European Found FEDER and Investigation Group BSCH-UCM Nº 920276 Ref GR3/14 are acknowledged. J.R. Lucas thanks the Consejo Nacional de Ciencia, Tecnología e Innovación Tecnológica (CONCYTEC) of the Government of Perú (contract Nº 215-2015-FONDECYT).
Ethics declarations
Conflict of interest
The authors declare that they have no conflict of interest.
Additional information
Publisher's Note
Springer Nature remains neutral with regard to jurisdictional claims in published maps and institutional affiliations.
Electronic supplementary material
Below is the link to the electronic supplementary material.
About this article
Cite this article
Lucas, J.R., Velasco, R., Selgas, M.D. et al. Dry-cured ham thickness is a limiting factor for its sanitization by E-beam treatment. J Consum Prot Food Saf (2022). https://doi.org/10.1007/s00003-022-01410-z
Received:

Revised:

Accepted:

Published:

DOI: https://doi.org/10.1007/s00003-022-01410-z
Keywords
Boned dry-cured ham

E-beam treatment

Listeria

Food safety objective

Thickness