Zusammenfassung
Zusätzlich zu dem inzwischen sehr gut untersuchten Bisphenol A konnte kürzlich auch Bisphenol F in Lebensmitteln (Speisesenf) nachgewiesen werden. Basierend auf dem postulierten Bildungsmechanismus von Bisphenol F nach Zoller et al. (Food Addit Contam Part A 33(1):137–146, 2016) aus Sinalbin wurden Untersuchungen zur Entstehung von Bisphenol F durchgeführt. Nach Optimierung der LC-MS/MS-Untersuchungsmethode konnten in gängigen Speisesenfen die Gehalte verschiedener Bisphenol F-Isomere bestimmt werden. Die höchsten Gehalte wiesen mittelscharfe Speisesenfe auf, die niedrigsten scharfe Senfe. Dabei war immer 4,4′-Bisphenol F das Hauptisomer. Nur in wenigen Proben wurden geringe Mengen an 2,4′-Bisphenol F gefunden.
Abstract
Beside the well characterized bisphenol A, bisphenol F was recently detected in foodstuff (mustard). In this study, the formation mechanism of bisphenol F from sinalbin was verified. After optimizing the LC–MS/MS- method, the appearance of the different Bisphenol F-isomers in various mustard samples were evaluated. The highest concentrations were found in medium hot mustard, the lowest were found in hot mustard. In all samples, 4,4′-bisphenol F was quantified as the most frequent isomer. Only a few mustard samples showed 2,4′-bisphenol F in low concentrations.
Access options
Buy single article
Instant access to the full article PDF.
US$ 39.95
Tax calculation will be finalised during checkout.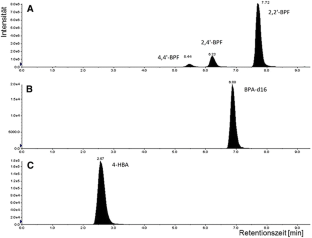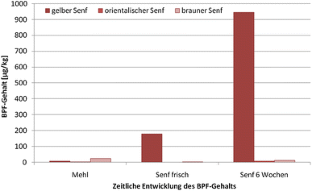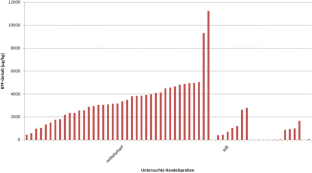 Literatur
Anastassiades M, Lehotay SJ, Stajnbaher D, Schenck FJ (2003) Fast and easy multiresidue method employing acetonitrile extraction/partitioning and dispersive solid-phase extraction for the determination of pesticide residues in produce. J AOAC Int 86(2):412–431

Bernsmann T, Fürst P (2012) Determination of polycyclic aromatic hydrocarbons (PAH) in Food with GC–MS/MS. http://docplayer.net/20944908-Determination-of-polycyclic-aromatic-hydrocarbons-pah-in-food-with-gc-ms-ms.html. Abgerufen am 01.02.2017

BfR (2015) Bisphenol F in Senf: das Auftreten von unerwünschten Wirkungen auf die Gesundheit durch gemessene BPF-Gehalte ist unwahrscheinlich Stellungnahme Nr. 044/2015 des Bundesinstituts für Risikobewertung vom 8. Juni 2015

BLV (2015) Bisphenol F in Senf: Fakten und Risikobewertung des BLV (Bundesamt für Lebensmittelsicherheit und Veterinärwesen) vom 19.05.2015

Hashimoto Y, Nakamura M (2000) Estrogenic activity of dental materials and bisphenol A realted chemicals in vitro. Dent Mater J 19(3):245–262

Hashimoto Y, Moriguchi Y, Kawaguchi M, Miyazaki K, Nakamura M (2001) Measurment of estrogenic activity of chemicals for the development of new dental polymers. Toxicol Vitro 15:421–425

Kang J-H, Katayama Y, Kondo F (2006) Biodegradation or metabolism of bisphenol A: from microorganisms to mammals. Toxicology 217:81–90

Kielmeier U (2015) Bisphenol F in Senf - wie kommt der Bisphenol A-ähnliche Stoff in die Würze? Chemisches und Veterinäruntersuchungsamt Stuttgart. http://www.analytik-news.de/Fachartikel/Volltext/cvuas17.pdf. Abgerufen am 20.07.2016

Rochester JR, Bolden AL (2015) Bisphenol S and F—a systematic review and comparison of the hormonal activity of bisphenol A substitutes. Environ Health Perspect 123(7):643–650

Shi Y, Lafontaine C, Berube M, Espourteille F (2009) Determination of bisphenol A in infant formula by automated sample preparation and liquid chromatography–mass spectrometry. Application Note: 474, Thermo Fisher Scientific, Franklin, MA, USA

Yamasaki K, Takeyoshi M, Sawaki M, Imatanaka N, Shinada K, Takatsuki M (2003) Immature rat uterotrophic assay of 18 chemicals and Hershberger assay of 30 chemicals. Toxicology 183:93–115

Zoller O, Brüschweiler BJ, Magnin R, Reinhard H, Rhyn P, Rupp H, Zeltner S, Felleisen R (2016) Natural occurrence of bisphenol F in mustard. Food Addit Contam Part A 33(1):137–146
Danksagung
Den Mitarbeitern in der zentralen Analytik des Landesinstituts für Lebensmittel, Lebensmittelhygiene und kosmetische Mittel am bayerischen Landesamt für Gesundheit und Lebensmittelsicherheit gilt der besondere Dank für die gewissenhafte Durchführung der Laboruntersuchungen.
Ethics declarations
Conflict of interest
The authors declare that they have no conflict of interest.
About this article
Cite this article
Reger, D., Pavlovic, M., Pietschmann-Keck, M. et al. Bisphenol F in Senf: Aktueller Wissensstand und Nachweis mittels LC-MS/MS. J Consum Prot Food Saf 12, 131–137 (2017). https://doi.org/10.1007/s00003-017-1091-3
Received:

Accepted:

Published:

Issue Date:
Schlüsselwörter
Keywords
Bisphenol F

LC–MS/MS

Mustard