Abstract
According to Regulation (EC) No 1107/2009, the safety of the operator concerning plant protection products (PPP) must be evaluated. The levels of operator exposure with use of certified personal protective equipment can be estimated using a model or experimental exposure data. However, the existing models have shortcomings, especially the lack of operator exposure data during upward applications using a backpack sprayer. The aim of this study was to monitor the dermal exposure of operators using backpack motorised mist-blower power sprayers for application of fungicides in vineyards. The measured actual dermal exposure levels ranged from 49.3 mg/kg a.s. (active substance) applied (75th percentile) to 89.2 mg/kg a.s. applied (95th percentile), and were lower than those estimated with the European Food Safety Authority model (5–2 %, respectively). The transfer factors provided by the personal protective equipment (coverall and gloves) were low, 1.7 and 2.4 % (75th percentile) and 5.1 and 8.6 % (95th percentile) respectively.
Access options
Buy single article
Instant access to the full article PDF.
USD 39.95
Price excludes VAT (USA)
Tax calculation will be finalised during checkout.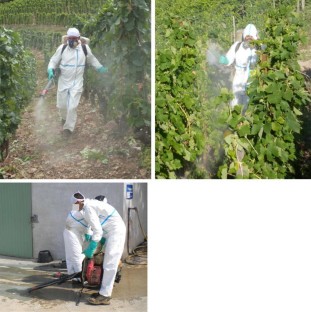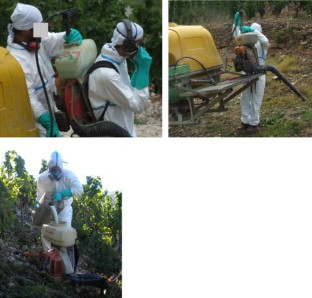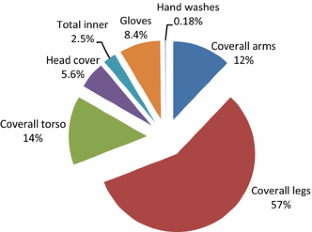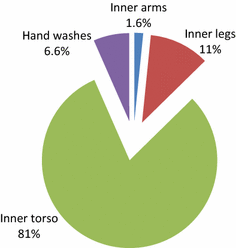 References
Baldi I, Lebailly P, Jean S, Rougetet L, Dulaurent S, Marquet P (2006) Pesticide contamination of workers in vineyards in France. J Expo Sci Environ Epidemiol 16(2):115–124

Commission Regulation (EC) (2009) No 1107/2009 of the European parliament and of the council of 21 October 2009 concerning the placing of plant protection products on the market and repealing Council Directives 79/117/EEC and 91/414/EEC. OJ. L309/1

Commission Regulation (EU) (2011) No 546/2011 of 10 June 2011 implementing Regulation (EC) No 1107/2009 of the European Parliament and of the Council as regards uniform principles for evaluation and authorisation of plant protection products. OJ. L155/127

Council Directive of 21 December 1989 (1989) on the approximation of the laws of the Member States relating to personal protective equipment (89/686/EEC). OJ. L399/18

Driver J, Ross J, Mihlan G, Lunchick C, Landenberger B (2007) Derivation of single layer clothing penetration factors from the pesticide handlers exposure database. Regul Toxicol Pharmacol 49:125–137

EFSA (2014) Guidance on the assessment of exposure of operators, workers, residents and bystanders in risk assessment for plant protection products. EFSA J 12(10):3874, 55

Großkopf C, Mielke H, Westphal D, Erdtmann-Vourliotis M, Hamey P, Bouneb F, Rautmann D, Stauber F, Wicke H, Maasfeld W, Salazar JD, Chester G, Martin S (2013) A new model for the prediction of agricultural operator exposure during professional application of plant protection products in outdoor crops. J Verbr Lebensm 8:143–153

International Organisation for standardization (ISO) (2001) Protective clothing—protection against liquid chemicals—determination of resistance of protective clothing materials to permeation by liquids and gases. (Standard N° ISO 6529:2001) Geneva, Switzerland: ISO

International Organisation for standardization (ISO) (2011) Protective clothing—performance requirements for protective clothing worn by operators applying pesticides. (Standard N° ISO 27065:2011) Geneva, Switzerland: ISO

Machera M, Goumenou M, Kapetanakis E, Kalamarakis A, Glass R (2001) Determination of the potential dermal and inhalation exposure of operators, following spray applications of the fungicide penconazole in vineyards and greenhouses. Fresenius Environ Bull 10:464–469

OECD/GD (97)148 (1997) Guidance document for the conduct of studies of occupational exposure to pesticides during agricultural application. OECD Environmental Health and Safety Publications, Paris

Spaan S, Marrufo Valenzuela N, Glass R, Gerritsen R (2014) Bystanders, residents, operators and workers exposure models for plant protection products—efficacy of work wear and PPE. BROWSE seventh framework programme. http://www.browseproject.eu

Tsakirakis A, Kasiotis K, Charistou A, Arapaki N, Tsatsakis A, Tsakalof A, Machera K (2014) Dermal and inhalation exposure of operators during fungicide application in vineyards. Evaluation of coverall performance. Sci Total Environ 470–471:282–289
Acknowledgments
The authors would like to thank STAPHYT acting as the test facility for the study, C.H. Roussel for his key support as field principal investigator and Eurofins Agroscience Services Chem SAS which took care of all the specimen analyses and Institut Français du Textile et de l'Habillement, Ecully, France for performing the permeation tests.
Ethics declarations
Funding
Anses-French agency for food, environmental and occupational health & safety.
Conflict of interest
The authors declare that they have no conflict of interest.
Disclaimer
The findings and conclusions in this report are those of the authors and do not necessarily represent the views of Anses.
About this article
Cite this article
Thouvenin, I., Bouneb, F. & Mercier, T. Operator dermal exposure and individual protection provided by personal protective equipment during application using a backpack sprayer in vineyards. J. Verbr. Lebensm. 11, 325–336 (2016). https://doi.org/10.1007/s00003-016-1047-z
Received:

Accepted:

Published:

Issue Date:

DOI: https://doi.org/10.1007/s00003-016-1047-z
Keywords
Backpack sprayer

Pesticide

Personal protective equipment

Operator

Vineyard