Abstract
Due to the huge variety of fish species on the European market and the loss of morphologic characters upon fish processing, molecular methods are needed for reliable species identification of fishery products. There are 3 official methods for fish species authentication in Germany and a 4th method is currently considered to be included into the official collection of methods. Within the framework of the EU project 'Labelfish' (the Atlantic network on genetic control of fish and seafood labelling and traceability) species authenticity of fish samples from the German market and from German restaurants was analysed with 2 official methods in the years 2013 and 2014. Substitution of fish species was remarkably high among common sole restaurant samples (50 %), followed by substitution of tinned tuna species (17.4 %) and fresh and frozen tuna products (13.2 %). However there was no adulteration of market cod samples at all. Substitution of fish used in restaurants presumably is taking place directly within the restaurants rather than earlier in the retail sector, because species used as substitutes in restaurants were not be found in the respective fresh and frozen products from the retail.
Access options
Buy single article
Instant access to the full article PDF.
US$ 39.95
Tax calculation will be finalised during checkout.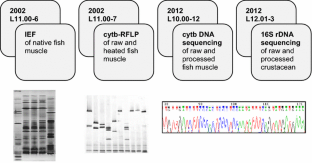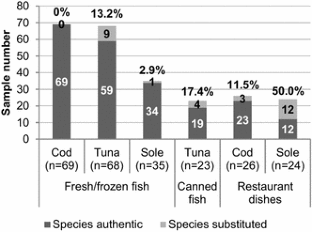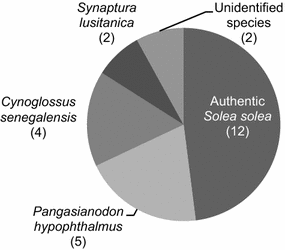 References
Asero R, Mistrello G, Roncarolo D, Casarini M, Falagiani P (1999) True monosensitivity to a tropical sole. Allergy 54:1228–1229. doi:10.1034/j.1398-9995.1999.00359.x

Ebo DG, Kuehn A, Bridts CH, Hilger C, Hentges F, Stevens WJ (2010) Monosensitivity to Pangasius and Tilapia caused by allergens other than parvalbumin. J Invest Allerg Clin 20:84–88

Fisch-Informationszentrum e.V. (2014) Daten und Fakten 2014 im Überblick. http://www.fischinfo.de/images/broschueren/book/Fischwirtschaft%20-%20Daten%20und%20Fakten%202014/index.html. Accessed 16 July 2015

Friedman MA, Flemin LE, Fernandez M, Bienfang P, Schrank K, Dickey R, Bottein MY, Backer L, Ayyar R, Weisman R, Watkins S, Granade R, Reich A (2008) Ciguatera fish poisoning: treatment, prevention and management. Mar Drugs 6:456–479. doi:10.3390/Md20080022

Griffiths AM, Sotelo CG, Mendes R, Pérez-Martín RI, Schröder U, Shorten M, Silva HA, Verrez-Bagnis V, Mariani S (2014) Current methods for seafood authenticity testing in Europe: is there a need for harmonisation? Food Control 45:95–100. doi:10.1016/j.foodcont.2014.04.020

Hebert PDN, Cywinska A, Ball SL, DeWaard JR (2003) Biological identifications through DNA barcodes. P R Soc B-Biol Sci 270:313–321. doi:10.1098/rspb.2002.2218

Kappel K, Schröder U (2015) Substitution of high-priced fish with low-priced species: adulteration of common sole in German restaurants. Food Control. doi:10.1016/j.foodcont.2015.06.024

Ratnasingham S, Hebert PDN (2007) BOLD: the barcode of life data system (www.barcodinglife.org). Mol Ecol Notes 7:355–364. doi:10.1111/j.1471-8286.2006.01678.x
Acknowledgments
European Union INTERREG Atlantic Area Program (Labelfish, project 2011-1/163).
Additional information
The "Food Science Dialog" took place from September 15th to 18th 2015 in Hamburg, Germany and was hosted and organized by the Hamburg University of Applied Science (HAW), the Authority of Health and Consumer Protection (BGV) and the Authority for Science and Research (BWF) in Cooperation with the University of Wageningen, The Netherlands.
About this article
Cite this article
Kappel, K., Schröder, U. Species identification of fishery products in Germany. J. Verbr. Lebensm. 10, 31–34 (2015). https://doi.org/10.1007/s00003-015-0988-y
Keywords
Fish Species

Bigeye Tuna

Cytb Sequencing

Common Sole

Ring Trial