Abstract
Public concern has been expressed on the use of genetically modified (gm) maize MON810 as animal feed and for human consumption. Several studies have been conducted on potential effects of feeding MON810 to livestock focusing on animal performance, animal health and fate of recombinant DNA or protein. Though, no information on effects of feeding gm maize on the gene expression level is available so far. From 2005 until 2007, a study with 36 lactating dairy cows fed gm maize (N = 18, MON810) or the near-isogenic counterpart (N = 18) was carried out, investigating the fate of recombinant DNA and protein. After a period of 25 months, ten cows fed transgenic maize and seven cows fed near-isogenic maize were slaughtered due to operational reasons. In a short follow-up study, tissues of the gastrointestinal tract and samples from liver were used for gene expression analysis of major genes of the inflammation, cell cycle and apoptosis pathways. Statistical analysis of the examined gene expression pattern revealed no significant difference in the gene expression profile of cows fed transgenic or near-isogenic feed ration. Therefore, it can be assumed that compared to near-isogenic feed, gm maize MON810 does not have any effect on major genes involved in apoptosis, inflammation and cell cycle in the gastrointestinal tract and in the liver of dairy cows.
Access options
Buy single article
Instant access to the full article PDF.
US$ 39.95
Tax calculation will be finalised during checkout.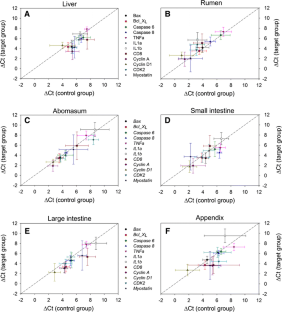 References
Adel-Patient K, Guimaraes VD, Paris A, Drumare M-F, Ah-Leung S, Lamourette P, Nevers M-C, Canlet C, Molina J, Bernard H, Créminon C, Wal J-M (2011) Immunological and metabolomic impacts of administration of Cry1Ab protein and MON 810 maize in mouse. PLoS One 6(1):e16346

Ashkenazi A (2008) Directing cancer cells to self-destruct with pro-apoptotic receptor agonists. Nat Rev Drug Discov 7(12):1001–1012

Bogdanovich S, Krag TO, Barton ER, Morris LD, Whittemore LA, Ahima RS, Khurana TS (2002) Functional improvement of dystrophic muscle by myostatin blockade. Nature 420(6914):418–421

Bravo A, Gill SS, Soberon M (2007) Mode of action of Bacillus thuringiensis Cry and Cyt toxins and their potential for insect control. Toxicon 49(4):423–435

Chowdhury EH, Mikami O, Murata H, Sultana P, Shimada N, Yoshioka M, Guruge KS, Yamamoto S, Miyazaki S, Yamanaka N, Nakajima Y (2004) Fate of maize intrinsic and recombinant genes in calves fed genetically modified maize Bt11. J Food Prot 67(2):365–370

de Maagd RA, Bravo A, Crickmore N (2001) How Bacillus thuringiensis has evolved specific toxins to colonize the insect world. Trends Genet 17(4):193–199

de Vendômois JS, Roullier F, Cellier D, Seralini GE (2009) A comparison of the effects of three GM corn varieties on mammalian health. Int J Biol Sci 5(7):706–726

Ding C, Cantor CR (2004) Quantitative analysis of nucleic acids—the last few years of progress. J Biochem Mol Biol 37(1):1–10

English L, Slatin SL (1992) Mode of action of delta-endotoxins from Bacillus thuringiensis: a comparison with other bacterial toxins. Insect Biochem Mol Biol 22(1):1–7

Finamore A, Roselli M, Britti S, Monastra G, Ambra R, Turrini A, Mengheri E (2008) Intestinal and peripheral immune response to MON810 maize ingestion in weaning and old mice. J Agric Food Chem 56(23):11533–11539

Flachowsky G, Aulrich K (2003) Assessment of novel foods in animal nutrition. Forum Nutr 56:335–337

Gruber H, Paul V, Guertler P, Spiekers H, Tichopad A, Meyer HH, Muller M (2011) Fate of Cry1Ab protein in agricultural systems under slurry management of cows fed genetically modified maize (Zea mays L.) MON810: a quantitative assessment. J Agric Food Chem 59(13):7135–7144

Guertler P, Paul V, Albrecht C, Meyer HH (2009) Sensitive and highly specific quantitative real-time PCR and ELISA for recording a potential transfer of novel DNA and Cry1Ab protein from feed into bovine milk. Anal Bioanal Chem 393(6–7):1629–1638

Guertler P, Paul V, Steinke K, Wiedemann S, Preißinger W, Albrecht C, Spiekers H, Schwarz FJ, Meyer HHD (2010) Long-term feeding of genetically modified corn (MON810)—fate of cry1Ab DNA and recombinant protein during the metabolism of the dairy cow. Livest Sci 131(2–3):250–259

Höfte H, Whiteley HR (1989) Insecticidal crystal proteins of Bacillus thuringiensis. Microbiol Rev 53(2):242–255

James C (2011) Global status of commercialized biotech/GM crops: 2011. ISAAA Brief No. 43. ISAAA, Ithaca

Karim S, Dean DH (2000) Pesticidal and receptor binding properties of Bacillus thuringiensis Cry1Ab and Cry1Ac delta-endotoxin mutants to Pectinophora gossypiella and Helicoverpa zea. Curr Microbiol 41(6):430–440

Kliem H, Berisha B, Meyer HH, Schams D (2009) Regulatory changes of apoptotic factors in the bovine corpus luteum after induced luteolysis. Mol Reprod Dev 76(3):220–230

Kroghsbo S, Madsen C, Poulsen M, Schrøder M, Kvist PH, Taylor M, Gatehouse A, Shu Q, Knudsen I (2008) Immunotoxicological studies of genetically modified rice expressing PHA-E lectin or Bt toxin in Wistar rats. Toxicology 245(1–2):24–34

Lavrik IN, Golks A, Krammer PH (2005) Caspases: pharmacological manipulation of cell death. J Clin Invest 115(10):2665–2672

Lee SJ, McPherron AC (1999) Myostatin and the control of skeletal muscle mass. Curr Opin Genet Dev 9(5):604–607

Livak KJ, Schmittgen TD (2001) Analysis of relative gene expression data using real-time quantitative PCR and the 2(−Delta Delta C(T)) method. Methods 25(4):402–408

Lutz B, Wiedemann S, Einspanier R, Mayer J, Albrecht C (2005) Degradation of Cry1Ab protein from genetically modified maize in the bovine gastrointestinal tract. J Agric Food Chem 53(5):1453–1456

Mesnage R, Clair E, Gress S, Then C, Székács A, Séralini GE (2012) Cytotoxicity on human cells of Cry1Ab and Cry1Ac Bt insecticidal toxins alone or with a glyphosate-based herbicide. J Appl Toxicol. doi:10.1002/jat.2712

Mestdagh P, Van Vlierberghe P, De Weer A, Muth D, Westermann F, Speleman F, Vandesompele J (2009) A novel and universal method for microRNA RT-qPCR data normalization. Genome Biol 10(6):R64

Nguyen HT, Jehle JA (2007) Quantitative analysis of the seasonal and tissue-specific expression of Cry1Ab in transgenic maize MON810. J Plant Dis Prot 114(2):82–87

Onose J, Imai T, Hasumura M, Ueda M, Ozeki Y, Hirose M (2008) Evaluation of subchronic toxicity of dietary administered Cry1Ab protein from Bacillus thuringiensis var. Kurustaki HD-1 in F344 male rats with chemically induced gastrointestinal impairment. Food Chem Toxicol 46(6):2184–2189

Paul V, Guertler P, Wiedemann S, Meyer HH (2010) Degradation of Cry1Ab protein from genetically modified maize (MON810) in relation to total dietary feed proteins in dairy cow digestion. Transgenic Res 19(4):683–689

Pfaffl MW (2006) Relative quantification. In: Dorak T (ed) Real-time PCR. International University Line, La Jolla, CA, USA, pp 63–82

Rani R, Kansal V, Kaushal D, De S (2011) Dietary intervention of cow ghee and soybean oil on expression of cell cycle and apoptosis related genes in normal and carcinogen treated rat mammary gland. Mol Biol Rep 38(5):3299–3307

Reiter M, Walf VM, Christians A, Pfaffl MW, Meyer HH (2007) Modification of mRNA expression after treatment with anabolic agents and the usefulness for gene expression-biomarkers. Anal Chim Acta 586(1–2):73–81

Revelo XS, Waldron MR (2012) In vitro effects of Escherichia coli lipopolysaccharide on the function and gene expression of neutrophils isolated from the blood of dairy cows. J Dairy Res 95(5):2422–2441

Riedmaier I, Tichopad A, Reiter M, Pfaffl MW, Meyer HH (2009) Identification of potential gene expression biomarkers for the surveillance of anabolic agents in bovine blood cells. Anal Chim Acta 638(1):106–113

Schnepf E, Crickmore N, Van Rie J, Lereclus D, Baum J, Feitelson J, Zeigler DR, Dean DH (1998) Bacillus thuringiensis and its pesticidal crystal proteins. Microbiol Mol Biol Rev 62(3):775–806

Shimada N, Miyamoto K, Kanda K, Murata H (2006) Bacillus thuringiensis insecticidal crylab toxin does not affect the membrane integrity of the mammalian intestinal epithelial cells: an in vitro study. In Vitro Cell Dev Biol Anim 42(1):45–49

Steinke K, Guertler P, Paul V, Wiedemann S, Ettle T, Albrecht C, Meyer HH, Spiekers H, Schwarz FJ (2010) Effects of long-term feeding of genetically modified corn (event MON810) on the performance of lactating dairy cows. J Anim Physiol Anim Nutr (Berl) 94(5):e185–e193

Suzuki T, Higgins PJ, Crawford DR (2000) Control selection for RNA quantitation. Biotechniques 29(2):332–337

Székács A, Lauber É, Juracsek J, Darvas B (2010a) Cry1Ab toxin production of MON 810 transgenic maize. Environ Toxicol Chem 29(1):182–190

Székács A, Lauber É, Takács E, Darvas B (2010b) Detection of Cry1Ab toxin in the leaves of MON 810 transgenic maize. Anal Bioanal Chem 396(6):2203–2211

Vázquez-Padrón RI, Moreno-Fierros L, Neri-Bazán L, de la Riva GA, López-Revilla R (1999) Intragastric and intraperitoneal administration of Cry1Ac protoxin from Bacillus thuringiensis induces systemic and mucosal antibody responses in mice. Life Sci 64(21):1897–1912

Walsh MC, Buzoianu SG, Gardiner GE, Rea MC, Gelencsé E, Jánosi A, Epstein MM, Ross RP, Lawlor PG (2011) Fate of transgenic DNA from orally administered Bt MON810 maize and effects on immune response and growth in pigs. PLoS One 6(11):e27177

Wong ML, Medrano JF (2005) Real-time PCR for mRNA quantitation. Biotechniques 39(1):75–85

Xu W, Cao S, He X, Luo Y, Guo X, Yuan Y, Huang K (2009) Safety assessment of Cry1Ab/Ac fusion protein. Food Chem Toxicol 47(7):1459–1465

Zhang X, Candas M, Griko NB, Rose-Young L, Bulla LA (2005) Cytotoxicity of Bacillus thuringiensis Cry1Ab toxin depends on specific binding of the toxin to the cadherin receptor BT-R1 expressed in insect cells. Cell Death Differ 12(11):1407–1416
Acknowledgments
We thank the Bavarian State Ministry of Nutrition, Agriculture and Forestry for funding this project. The employees at the slaughterhouse in Grub (Poing, Germany) and the colleagues at the Bavarian Research Center for Agriculture are gratefully acknowledged.
About this article
Cite this article
Guertler, P., Brandl, C., Meyer, H.H.D. et al. Feeding genetically modified maize (MON810) to dairy cows: comparison of gene expression pattern of markers for apoptosis, inflammation and cell cycle. J. Verbr. Lebensm. 7, 195–202 (2012). https://doi.org/10.1007/s00003-012-0778-8
Received:

Accepted:

Published:

Issue Date:
Keywords
MON810

Gene expression

Apoptosis

Inflammation

Cell cycle

Dairy cow

Gastrointestinal tract