Abstract
During flights, reduced odor and taste perception is reported. Passengers tend to prefer spicier meals than on the ground. The conditions on board were simulated at the Fraunhofer flight test facility in Holzkirchen, Germany, consisting of a front fuselage of an Airbus A310-200 in a huge metal tube in which all relevant parameters can be adjusted (humidity, temperature, pressure). Flight tests were carried out at low atmospheric pressure corresponding to cabin conditions on board at cruising altitude and were repeated at normal atmospheric pressure corresponding to ground conditions. All other parameters were kept constant. Under these conditions, test persons smelled and tasted food-safe flavorants to evaluate the mean odor and taste thresholds and tasted different flavored food. Even tomato juice and various wines were tasted for odor and taste qualities, intensities and individual preferences. At low pressure conditions, higher taste and odor thresholds of flavorants were generally observed with few exceptions. Salt, sugar, glutamate and most odorant thresholds increased clearly. Organic acids and some bitter tastants showed no change. Transferred to complete meals, more salt, sugar and herbs were necessary on board to serve meals that tasted similar to the way they did on the ground. Sour ingredients had to be reduced. The odor and taste spectrum of the beverages investigated changed in various ways. Light and fresh flavors decreased, whereas intensive flavors persisted.
Access options
Buy single article
Instant access to the full article PDF.
USD 39.95
Price excludes VAT (USA)
Tax calculation will be finalised during checkout.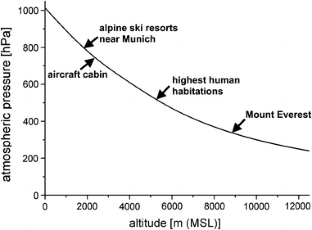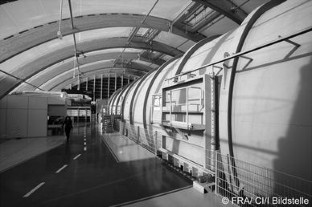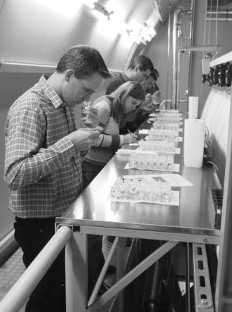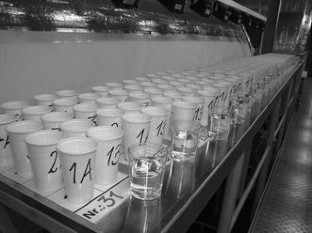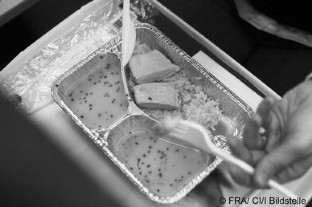 References
Belitz HD, Grosch W (1992) Lehrbuch der Lebensmittelchemie, 4th edn. Springer, Berlin, p 187

Boland AB, Delahunty CM, van Ruth SM (2006) Influence of the texture of gelatin gels and pectin gels on strawberry flavour release and perception. Food Chem 96:452–460

Butler GC, Nicholas J, Lackland DT, Friedberg W (2000) Perspectives of those impacted: airline pilot's perspective. Health Phys 79:602–607

Cayot N, Pretot F, Doublier JL, Meunier JM, Guichard E (2004) Release of isoamyl acetate from starch pastes of various structures: thermodynamic and kinetic parameters. J Agric Food Chem 52:5436–5442

Chen DW, Zhang M (2007) Non-volatile taste active compounds in the meat of Chinese mitten crab (Eriocheir sinensis). Food Chem 104:1200–1205

Coste O, van Beers P, Touitou Y (2007) Impact of hypobaric hypoxia in pressurized cabins of simulated long-distance flights on the 24 h patterns of biological variables, fatigue, and clinical status. Chronobiol Int 24:1139–1157

Dalton J (1801) Eine neue Theorie über die Beschaffenheit gemischter luftförmiger Flüssigkeiten, besonders der atmosphärischen Luft. Nicholsons J 5:241ff

Engel KH, Flath RA, Buttery RG, Mon TR, Ramming DW (1988) Investigation of volatile constituents in nectarines. 1. Analytical and sensory characterization of aroma components in some nectarine cultivars. J Agric Food Chem 36:549–553

GESTIS (2010) Database on hazardous substances. Institut für Arbeitsschutz der Deutschen Gesetzlichen Unfallversicherung (IFA). http://www.dguv.de/ifa/de/gestis/stoffdb/index.jsp#. Accessed May 26 2010

Griffith NM (1974) Sensory properties of the chloro-anisole. Chem Sens Flavor 1:187–195

Henry W (1803) Experiments on the quantity of gases absorbed by water, at different temperatures, and under different pressure. Philos Trans R Soc (Lond) 93:29–274

Hornung DE, Yongentob SL, Mozell MM (1987) Olfactory mucosa/air partitioning of odorants. Brain Res 413:147–154

imedo (2009) GmbH: Gesundheitsnews. informiert & gesund. RSS E-Mail. Tomatensaftkonsum im Flugzeug hat gesundheitliche Gründe. http://www.gesundheitsnews.imedo.de/news/1010769-gesundheitliche-grunde-sorgen-fur-tomatensaft-konsum-in-flugzeugen, June 11 2009

ISO 4120:2004 (2004) Sensory analysis—methodology—triangle test. International Organization for Standardization

ISO 5495:2005 and ISO 5495:2005/Cor 1:2006 (2005) Sensory analysis—methodology—paired comparison test. International Organization for Standardization

Keutgen A, Pawelzik E (2007) Modifications of taste-relevant compounds in strawberry fruit under NaCl salinity. Food Chem 105:1487–1494

Koliandris A, Lee A, Ferry AL, Hill S, Mitchell J (2008) Relationship between structure of hydrocolloid gels and solutions and flavour release. Food Hydrocoll 22:623–630

Kurtz DB, Zhao K, Hornung DE, Scherer P (2004) Experimental and numerical determination of odorant solubility in nasal and olfactory mucosa. Chem Senses 29:763–773

Larsen M, Poll L (1992) Odour thresholds of some important aroma compounds in strawberries. Z Lebensm Unters Forsch 195:120–123

Olabi AA, Lawless HT, Hunter JB, Levitsky DA, Halpern BP (2002) The effect of microgravity and space flight on the chemical sense. J Food Sci 67:468–478

Schieberle P (1991) Primary odorants of pale lager beer. Differences to other beers and changes during storage. Z Lebensm Unters Forsch 193:558–565

Shvets VN, Portugalov VV (1977) Effect of the factors of space flight on erythropoiesis. Eksperimental noi Biologii i Meditsiny 83:238–240

Singh SB, Sharma A, Panjwani U, Yadav DK, Chandra K, Sharma KN, Selvamurthy W (1997) Hydrobaric hypoxia and hedonic matrix in rats. Jpn J Physiol 47:327–333

Stark T, Bareuther S, Hofmann T (2006) Molecular definition of the taste of roasted cocoa nibs (Theobroma cocoa) by means of quantitative studies and sensory experiments. J Agric Food Chem 54:5530–5539

Wenzel J (2001) Physiologische Randbedingungen für die Auslegung von Flugzeugkabinen. DGLR-Bericht 01:39–40

West JB (2004) The physiological basis of high-altitude diseases. Ann Intern Med 141:789–800

Westerterp-Plantenga MS, Westerterp KR, Rubbens M, Verwegen CRT, Richelet JP, Gardette B (1999) Appetite at "high altitude" [Operation Everest III (Comex-'97]: a simulated ascent of Mount Everest. J Appl Physiol 87:391–399
Acknowledgments
We gratefully thank Lufthansa AG, represented by Dr. Ingo Bülow, Herbert Huber and Chef Sommelier Markus Del Monego, and LSG Sky Chefs In-Flight Management Solutions GmbH, represented by Bernd Hildenbrand, Ernst Derenthal, Willi Woidera and Alois Strobl, who supported us in the selection of food and beverages and prepared the dishes. Special thanks go to colleagues Gunnar Grün, Andreas Holm, Gerhard Riedl, Hans Gottschling and Martin Lebschy for technical control of the low pressure tube and Franziska Liesch, Anna Morper and Irmgard Mayer for laboratory support and flight attendance.
About this article
Cite this article
Burdack-Freitag, A., Bullinger, D., Mayer, F. et al. Odor and taste perception at normal and low atmospheric pressure in a simulated aircraft cabin. J. Verbr. Lebensm. 6, 95–109 (2011). https://doi.org/10.1007/s00003-010-0630-y
Received:

Accepted:

Published:

Issue Date:

DOI: https://doi.org/10.1007/s00003-010-0630-y
Keywords
Odor perception

Taste perception

Low atmospheric pressure

Threshold of flavorants

Tomato juice