Abstract
Camellia oleifera originates from China and is important for the economy of southern China. Seeds from the cultivars LCDG, YAYC, and CR3 of Camellia oleifera were analyzed for their amount of 14 different fatty acids (unsaturated, monounsaturated, polyunsaturated, and saturated). In contrast to former investigations additional kinds of fatty acids could be isolated from Camellia oleifera seeds: The composition of this oil is very similar to olive oil, comprising 67.7–76.7 % oleic acid, 82–84 % unsaturated fatty acids, 68–77 % monounsaturated fatty acids, and 7–14 % polyunsaturated acids. Moreover, Camellia oleifera oil has many advantages to rapeseed oil, peanut oil, soybean oil, safflower seed oil, and especially pig oil.
This is a preview of subscription content, log in to check access.
Access options
Buy single article
Instant access to the full article PDF.
US$ 39.95
Price includes VAT for USA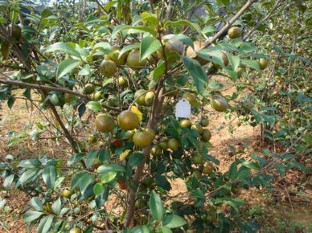 References
Chen J-H, Liau B-C, Jong T-T, Chang C-M J (2009) Extraction and purification of flavanone glycosides and kaemferol glycosides from defatted Camellia oleifera seeds by salting-out using hydrophilic isopropanol. Sep Purif Technol 67:31–37

Chinese standard GB/T 22223-2008. Determination of total fat, saturated fat, and unsaturated fat in foods—Hydrolytic Extraction—Gas Chromatography. http://blog.jianghu.taobao.com/u/ODYxMDgwODI=/blog/blog/_detail.htm?aid=20629530, http://www.yzm930.net/myproducts.php3?pid=2169

Gerber M (1997) Olive oil, monounsaturated fatty acids and cancer. Cancer Lett 114:91–92. http://blog.jianghu.taobao.com/u/ODYxMDgwODI=/blog/blog/_detail.htm?aid=20629530, http://www.yzm930.net/myproducts.php3?pid=2169

Lee C-P, Shih P-H, Hsu C-L, Yen G-C (2007) Hepatoprotection of tea seed oil (Camillia oleifera Abel.) against CCl4-induced oxidative damage in rats. Food Chem Toxicol 45:888–895

Long Z, Wang D (2008) Chemical constituents of olive oil and from Camellia oleifera seed oil. J Chin Cereals Oils Assoc 23:121–123

Maggio RM, Kaufman TS, del Carlo M, Cerretani L, Bendini A, Cichelli A, Compagnone D (2009) Monitoring of fatty acid composition in virgin olive oil by Fourier transformed infrared spectroscopy coupled with partial least squares. Food Chem 114:1549–1554

Rui Y, Wang W, Zhang F, Lu Y, Rashid F, Liu Q (2007) A new kind of fatty acid emerging from transgenic cotton seed. La Rivsita Italiana delle Sostanze Grasse 84:40–43

Wang X-N, Chen Y-Z, Wu L-Q, Liu R-K, Yang X-H, Wang R, Yu K-W (2008) Oil content and fatty acid composition of Camellia oleifera seed. J Cent South Univ For Technol 28:11–17

Wu X-J, Li H-B, Pang Y, Tang L, Feng B-M, Wang Y-Q (2006) Analysis of fatty acids composition in the seed of C. japonica L. and C. oleifera Abel. J Dalian Univ 27:56–58

Zhang D-Q, Tan X-F, Peng W-X, Liu Q-M, Zeng Y-L, Chen H-P, Tian H, Ma Q-Z (2007a) Improved application of Camellia oleifera on biomass energy by enlarging its production. Acta Scientiarum Naturalium Universitatis Sunyatseni 46(Supp):109–110

Zhang G-W, Que L-S, Lai S-Y, Guo X-M (2007b) Fatty acid composition and contents in the seeds of six oil tea (Camellia oleifera) superior clones species. Jiangxi Sci 25:33–36
Acknowledgements
The authors appreciate the financial support of the National Project of Scientific and Technical Supporting Programs of the Eleventh 5-year Plan Period Funded by Ministry of Science & Technology of China (No. 2006BAD18B02-04). This work is also supported by the Eleventh 5-year Plan Period Funded by Guangxi province forest Science & Technology (Gui Lin Ke Zi [2009] N. 6).
Additional information
J. Ma, H. Ye, and Y. Rui contributed equally to this work.
About this article
Cite this article
Ma, J., Ye, H., Rui, Y. et al. Fatty acid composition of Camellia oleifera oil. J. Verbr. Lebensm. 6, 9–12 (2011). https://doi.org/10.1007/s00003-010-0581-3
Received:

Accepted:

Published:

Issue Date:
Keywords
Camellia oleifera oil

Fatty acids

Unsaturated fatty acids

Monounsaturated fatty acids

Polyunsaturated fatty acids