Abstract
The stability of the natural sweetener stevioside during different processing and storage conditions as well as the effects of its interaction with water-soluble vitamins, food relevant organic acids and other common low calorie sweeteners and its application in coffee and tea beverages were evaluated. Incubation of the solid sweetener stevioside at elevated temperatures for 1 h showed good stability up to 120°C, whilst at temperatures exceeding 140°C forced decomposition was noticed. In aqueous solutions stevioside is remarkable stable in a pH range 2–10 under thermal treatment up to 80°C, however, under strong acidic conditions (pH 1) a significant decrease in the stevioside concentration was detected. Up to 4 h incubation of stevioside with individual water-soluble vitamins in aqueous solution at 80°C showed no significant changes in regard to stevioside and the B-vitamins, whereas a protective effect of stevioside on the degradation of ascorbic acid was observed resulting in a significant delayed degradation rate. In the presence of other individual low calorie sweeteners practically no interaction was found at room temperature after 4 months incubation in aqueous media. Stability studies of stevioside in solutions of organic acids showed a tendency towards enhanced decomposition of the sweetener at lower pH values depending on the acidic medium. In a stevioside-sweetened coffee and tea beverage, practically, no significant chances neither in caffeine content nor in stevioside content could be noticed. Furthermore an overview of already performed studies in literature about the Stevia-sweetener stevioside and rebaudioside A is given.
This is a preview of subscription content, log in to check access.
Access options
Buy single article
Instant access to the full article PDF.
US$ 39.95
Price includes VAT for USA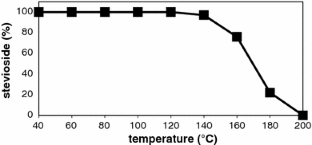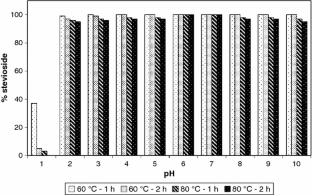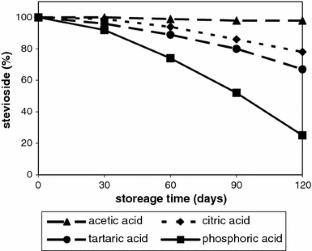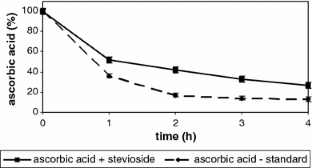 References
AOAC (1984) Official methods of analysis of the Association of Official Analytical Chemists, 14th edn. Association of Official Analytical Chemists, Arlington, pp 830–886

Bergmeyer HU, Bernt E, Schmidt F, Storck H (1974) d-Glucose. In: Bergmeyer HU (ed) Methods of enzymatic analysis, vol 2, 3rd edn. Verlag Chemie, Weinheim, pp 1241–1246

Beutler HO (1984) Ascorbic acid. In: Bergmayer HU (ed) Methods of enzymatic analysis, vol 6, 3rd edn. Weinheim, Verlag Chemie, pp 376–385

Chang SS, Cook JM (1983) Stability studies of stevioside and rebaudioside A in carbonated beverages. J Agric Food Chem 31:409–412

Clos JF, DuBois GE, Prakash I (2008) Photostability of rebaudioside A and stevioside in beverages. J Agric Food Chem 56:8507–8513

Fischer JF (1977) A high-pressure liquid chromatographic method for the quantitation of neohesperidin dihydrochalcone. J Agric Food Chem 25:682–683

Kinghorn AD, Soejarto DD (1985) Current status of stevioside as a sweetening agent for human uses. In: Wagner H, Hikino H, Farnsworth NR (eds) Progress in economic and medicinal plant research, vol 1. Academic Press, London, pp 1–52

Kroyer G, Washüttl J (1979) The influence of watersoluble vitamins and essential amino acids on the stability of sodium saccharin and sodium cyclamate under thermal treatment. Food Sci Technol 12:186–284

Kroyer G, Pinger R, Washüttl J, Steiner I (1993) Stability and interaction of the artificial sweeteners aspartame and acesulfame K in food. Ernährung/Nutrition 17:614–617

Shirakawa T, Onishi T (1979) Quantitative analysis of stevioside in soy sauce and hydrolizate of vegetable protein. Kagawa-ken Hakko Shokuhin Shikenjo Hokuku 71:35–39

Soejarto D, Compadre CM, Medon PJ, Kamath SK, Kinghorn AD (1983) Potential sweetening agents of plant origin. II. Field search for sweet-tasting stevia species. Econ Bot 37:71–79

Terada H, Sakabe Y (1984) High-performance liquid chromatographic determination of theobromine, theophylline and caffeine in food products. J Chromatogr 291:453–459
About this article
Cite this article
Kroyer, G. Stevioside and Stevia-sweetener in food: application, stability and interaction with food ingredients. J. Verbr. Lebensm. 5, 225–229 (2010). https://doi.org/10.1007/s00003-010-0557-3
Received:

Accepted:

Published:

Issue Date:
Keywords
Low calorie sweetener

Stevioside

Stability

Interaction

Organic acids

Water-soluble vitamins

Caffeine