Abstract
'Smart cities' is a term that has gained traction in academia, business and government to describe cities that, on the one hand, are increasingly composed of and monitored by pervasive and ubiquitous computing and, on the other, whose economy and governance is being driven by innovation, creativity and entrepreneurship, enacted by smart people. This paper focuses on the former and, drawing on a number of examples, details how cities are being instrumented with digital devices and infrastructure that produce 'big data'. Such data, smart city advocates argue enables real-time analysis of city life, new modes of urban governance, and provides the raw material for envisioning and enacting more efficient, sustainable, competitive, productive, open and transparent cities. The final section of the paper provides a critical reflection on the implications of big data and smart urbanism, examining five emerging concerns: the politics of big urban data, technocratic governance and city development, corporatisation of city governance and technological lock-ins, buggy, brittle and hackable cities, and the panoptic city.
Access options
Buy single article
Instant access to the full article PDF.
USD 39.95
Price excludes VAT (USA)
Tax calculation will be finalised during checkout.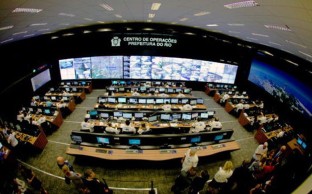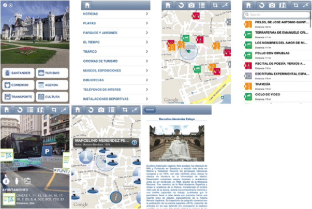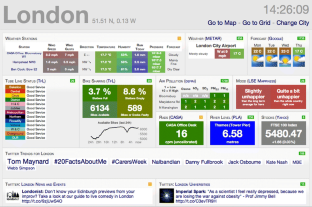 References
Allwinkle, S., & Cruickshank, P. (2011). Creating smart-er cities: An overview. Journal of Urban Technology, 18(2), 1–16.

Amin, A., & Thrift, N. (2002). Cities: Reimagining the Urban. London: Polity.

Bates, J. (2012). "This is what modern deregulation looks like": Co-optation and contestation in the shaping of the UK's Open Government Data Initiative. The Journal of Community Informatics, 8(2). http://www.ci-journal.net/index.php/ciej/article/view/845/916. Accessed 6 Feb 2013.

Batty, M., Axhausen, K. W., Giannotti, F., Pozdnoukhov, A., Bazzani, A., Wachowicz, M., et al. (2012). Smart cities of the future. European Physical Journal Special Topics, 214(1), 481–518.

Bowker, G., & Star, L. (1999). Sorting things out: Classification and Its consequences. Cambridge: MIT Press.

Boyd, D., & Crawford, K. (2012). Critical questions for big data. Information, Communication and Society, 15(5), 662–679.

Caragliu, A., Del Bo, C., Nijkamp, P. ( 2009). Smart Cities in Europe. Series Research Memoranda 0048. VU University Amsterdam, Faculty of Economics, Business Administration and Econometrics.

Dodge, M., & Kitchin, R. (2004). Flying through code/space: The real virtuality of air travel. Environment and Planning A, 36(2), 195–211.

Dodge, M., & Kitchin, R. (2005). Codes of life: Identification codes and the machine-readable world. Environment and Planning D: Society and Space, 23(6), 851–881.

Dodge, M., & Kitchin, R. (2007a). The automatic management of drivers and driving spaces. Geoforum, 38(2), 264–275.

Dodge, M., & Kitchin, R. (2007b). Outlines of a world coming in existence': Pervasive computing and the ethics of forgetting. Environment and Planning B, 34(3), 431–445.

Dutton, W. H., Blumler, J. G., & Kraemer, K. L. (1987). Wired cities: Shaping future communication. New York: Macmillan.

Farber, D. (2013). Counting the internet of things in real time. C|Net, July 30th. http://news.cnet.com/8301-11386_3-57596162-76/counting-the-internet-of-things-in-real-time/. Accessed 18 Sep 2013.

Ferro, E. & Osella, M. (2013). Eight business model archetypes for PSI re-use. Open Data on the Web workshop. http://www.w3.org/2013/04/odw/odw13_submission_27.pdf. Accessed 10 May 2013.

Feuer, A. (2013). The Mayor's Geek Squad. New York Times, March 23rd. http://www.nytimes.com/2013/03/24/nyregion/mayor-bloombergs-geek-squad.html. Accessed 9 May 2013.

Florida, R. (2004). The rise of the creative class. New York: Basic Books.

Gitelman, L., & Jackson, V. (2013). Introduction. In L. Gitelman (Ed.), "Raw data" is an oxymoron (pp. 1–14). Cambridge: MIT Press.

Graham, S., & Marvin, S. (1999). Planning cybercities: Integrating telecommunications into urban planning. Town Planning Review, 70(1), 89–114.

Greenfield, A. (2006). Everyware: The dawning age of ubiquitous computing. Boston: New Riders.

Greenfield, A. (2013). Against the Smart City (The City is Here for You to Use). New York: Do Projects.

Hancke, G. P., de Carvalho e Silva, B., & Hancke, G. P, Jr. (2013). The role of advanced sensing in smart cities. Sensors, 13(1), 393–425.

Hannah, M. (1997). Imperfect panopticism: Envisioning the construction of normal lives. In G. Benko & U. Strohmayer (Eds.), Space and social theory (pp. 344–360). Oxford: Blackwell.

Haque, U. (2012). What Is a City that It Would Be 'Smart'? Volume #34: City in a Box. http://volumeproject.org/blog/2012/12/21/volume-34-city-in-a-box/.

Hill, D. (2013). On the smart city: Or, a 'manifesto' for smart citizens instead. City of Sound, 1st Feb 2013. http://www.cityofsound.com/blog/2013/02/on-the-smart-city-a-call-for-smart-citizens-instead.html. Accessed 5 Feb 2013.

Hollands, R. G. (2008). Will the real smart city please stand up? City, 12(3), 303–320.

Ishida, T., & Isbister, K. (2000). Digital cities: Technologies, experiences, and future perspectives. LNCS: Springer. 1765.

Johnson, J.A. (2013). From open data to information justice. Paper presented at the Annual Conference of the Midwest Political Science Association, April 13, 2013, Chicago, Illinois. http://papers.ssrn.com/abstract=2241092. Accessed 16 Aug 2013.

Kitchin, R. (2013). Big data and human geography: Opportunities, challenges and risks. Dialogues in Human Geography.

Kitchin, R., & Dodge, M. (2011). Code/space: Software and everyday life. Cambridge, MA: MIT Press.

Kloeckl, K., Senn, O., & Ratti, C. (2012). Enabling the real-time city: LIVE Singapore! Journal of Urban Technology, 19(2), 89–112.

Komninos, N. (2002). Intelligent cities: Innovation. Routledge: Knowledge Systems and Digital Spaces.

Kourtit, K., Nijkamp, P., & Arribas-Bel, D. (2012). Smart cities perspective—A comparative European study by means of self-organizing maps. Innovation, 25(2), 229–246.

Laney, D. (2001). 3D Data management: Controlling data volume, velocity and variety. Meta Group. http://blogs.gartner.com/doug-laney/files/2012/01/ad949-3D-Data-Management-Controlling-Data-Volume-Velocity-and-Variety.pdf. Accessed 16 Jan 2013.

Lauriault, T.P. (2012). Data, Infrastructures and Geographical Imaginations: Mapping Data Access Discourses in Canada. PhD Thesis, Carleton University, Ottawa.

Lyon, D. (2007). Surveillance studies: An overview. Cambridge: Polity.

Manyika, J., Chiu, M., Brown, B., Bughin, J., Dobbs, R., Roxburgh, C., et al. (2011). Big data: The next frontier for innovation, competition, and productivity. McKinsey Global Institute.

Marz, N., & Warren, J. (2012). Big data: Principles and best practices of scalable realtime data systems. Manning: MEAP edition.

Mattern, S. (2013). Methodolatry and the art of measure: The new wave of urban data science. Design Observer: Places. 5th November 2013. http://designobserver.com/places/feature/0/38174/. Accessed 15 Nov 2013.

Mayer-Schonberger, V., & Cukier, K. (2013). Big data: A revolution that will change how we live, work and think. London: John Murray.

Miller, H. J. (2010). The data avalanche is here. Shouldn't we be digging? Journal of Regional Science, 50(1), 181–201.

Mims, C. (2013). Coming soon: the cybercrime of things. The Atlantic, August 6th. http://www.theatlantic.com/technology/archive/2013/08/coming-soon-the-cybercrime-of-things/278409/. Accessed 15 Nov 2013.

Morozov, E. (2013). To save everything, click here: Technology, solutionism, and the urge to fix problems that don't exist. New York: Allen Lane.

Paganini, P. (2013). Israeli road control system hacked, causes traffic jam on Haifa highway. The Hacker News, October 28th. http://thehackernews.com/2013/10/israeli-road-control-system-hacked.html. Accessed 13 Nov 2013.

Rial, N. (2013). The power of big data in Europe. New Europe, May 24th. http://www.neurope.eu/article/power-big-data-europe. Accessed 27 May 2013.

Ribes, D., & Jackson, S. J. (2013). Data bite man: The work of sustaining long-term study. In L. Gitelman (Ed.), "Raw data" is an oxymoron (pp. 147–166). Cambridge: MIT Press.

Rosenberg, D. (2013). Data before the fact. In L. Gitelman (Ed.), "Raw data" is an oxymoron (pp. 15–40). Cambridge: MIT Press.

Schaffers, H., Komninos, N., Pallot, M., Trousse, B., Nilsson, M., & Oliveira, A. (2011). Smart cities and the future internet: Towards cooperation frameworks for open innovation. In J. Domingue, et al. (Eds.), Future Internet Assembly (pp. 431–446). LNCS: Springer.

Shepard, M. (2011). Sentient city: Ubiquitous computing, architecture, and the future of urban space. Cambridge, Mass: MIT Press.

Singer, N. (2012). Mission control, built for cities: I.B.M. Takes 'Smarter Cities' Concept to Rio de Janeiro. New York Times, 3 March 2012. http://www.nytimes.com/2012/03/04/business/ibm-takes-smarter-cities-concept-to-rio-de-janeiro.html. Accessed 9 May 2013.

Smolan, R. & Erwitt, J. (2012). The Human Face of Big Data. New York: Sterling.

Sui, D., Elwood, S., & Goodhild, M. (Eds.). (2012). Crowdsourced geographic knowledge: Volunteered geographic information in theory and practice. Dordrecht: Springer.

Townsend, A. (2013). Smart cities: Big data, civic hackers, and the quest for a new utopia. New York: W.W. Norton & Co.

Townsend, A., Maguire, R., Liebhold, M. & Crawford, M. (no date) A planet of civic laboratories: The future of cities, information and inclusion. Institute for the Future, Palo Alto.

Zikopoulos, P. C., Eaton, C., deRoos, D., Deutsch, T., & Lapis, G. (2012). Understanding big data. New York: McGraw Hill.
Acknowledgments
An early version of this paper was originally presented at the 'Smart Urbanism: Utopian Vision or False Dawn' workshop at the University of Durham, 20–21 June 2013. Many thanks to the organisers and attendees for constructive feedback.
About this article
Cite this article
Kitchin, R. The real-time city? Big data and smart urbanism. GeoJournal 79, 1–14 (2014). https://doi.org/10.1007/s10708-013-9516-8
Published:

Issue Date:

DOI: https://doi.org/10.1007/s10708-013-9516-8
Keywords