Bacteriocins of lactic acid bacteria: extending the family
Abstract
Lactic acid bacteria (LAB) constitute a heterogeneous group of microorganisms that produce lactic acid as the major product during the fermentation process. LAB are Gram-positive bacteria with great biotechnological potential in the food industry. They can produce bacteriocins, which are proteinaceous antimicrobial molecules with a diverse genetic origin, posttranslationally modified or not, that can help the producer organism to outcompete other bacterial species. In this review, we focus on the various types of bacteriocins that can be found in LAB and the organization and regulation of the gene clusters responsible for their production and biosynthesis, and consider the food applications of the prototype bacteriocins from LAB. Furthermore, we propose a revised classification of bacteriocins that can accommodate the increasing number of classes reported over the last years.
Keywords
Bacteriocin 
Lactic acid bacteria 
Antimicrobial peptides 
Lantibiotics 
Lasso peptides 
Sactipeptides 
Circular bacteriocin 
Linear azole-containing peptides 
Glycocins 
Introduction
The production of antagonistic substances by living organisms is a conserved characteristic throughout evolution, constituting an effective ancestral defense mechanism. Bacteriocins are ribosomally produced antimicrobial peptides from bacteria, either processed or not by additional posttranslational modification (PTM) enzymes, and exported to the extracellular medium (Cotter et al. 2005).
Bacteriocins produced by lactic acid bacteria (LAB) are particularly interesting due to the long history of safe use of some of them and the generally regarded as safe (GRAS) and Qualified Presumption of Safety (QPS) status that most LAB possess. LAB are a heterogeneous group of Gram-positive fermentative bacteria belonging to Firmicutes that encompasses various genera (Table
1
) (Carr et al.
2002
). Although bifidobacteria are not strictly LAB, they have been traditionally studied together and will also be considered in this review.
Table 1
Number of putative bacteriocin gene cluster identified in 238 complete genomes
Genera

Class I

Class II

Class III

Total

 

Lanthipeptide I

Lanthipeptide II

Cyclic peptide

Sactipeptide

Glycocin

Lasso peptide

LAP

 
 

Aerococcus (1)

 
 
 
 
 
 
 
 
 

0

Bifidobacterium (31)

 

2

2

 
 
 
 
 
 

4

Carnobacterium (3)

 

1

6

 
 
 
 

1

 

8

Enterococcus (12)

 

3

 

1

1

 
 

13

7

25

Lactobacillus (59)

 
 

16

 

23

 

3

86

76

204

Lactococcus (13)

3

 
 

7

 
 

1

20

1

32

Leuconostoc (8)

 
 

1

 
 
 
 

6

 

7

Oenococcus (1)

 
 

1

 
 
 
 
 
 

1

Pediococcus (3)

1

 
 
 
 
 
 
 

2

3

Streptococcus (105)

16

22

15

7

5

4

33

388

10

500

Tetragenococcus (1)

 
 
 
 
 
 
 
 

1

1

Weisella (1)

 
 
 
 
 
 
 
 
 

0

TOTAL

19

29

41

15

29

4

37

514

97

785
We aim to provide an overview of the prevalence of bacteriocin classes in LAB. We highlight the classes that have been described in LAB providing examples of the most relevant cases for each class paying attention to the genetics, structure, and mechanism of action. Moreover, we discuss some bacteriocin groups that can be detected in silico in publicly available LAB genomes even though no representative from a LAB has yet been reported. Due to their biotechnological interest, the application of some bacteriocins in food processing is briefly described.
Classification of bacteriocins from lactic acid bacteria
There are a large number of bacteriocins isolated from nature. Some databases have been created to compile this information (e.g., van Heel et al. 2013). In addition to published bacteriocins, the repertoire of molecules hidden in the genomes that have not been isolated yet represents a valuable source of novel compounds with great potential. Diverse tools have been created that can be used for the automated screening of bacteriocin gene clusters (Blin et al. 2013; van Heel et al. 2013). A total of 238 complete LAB genomes deposited in public databases and belonging to the genera indicated in Table 1 were analyzed using Bagel3. This search resulted in a list of 785 putative bacteriocin gene clusters, including ribosomally produced and posttranslationally modified peptides (RiPPs) that were not previously identified in LAB. In this list, we could observe previously characterized bacteriocins or natural variants, some of them spread among different species, and new putative bacteriocins with no significant homology to known peptides based on the blast results provided (Table S1).
Since the first classification of LAB bacteriocins, proposed by Klaenhammer (
1993
), different schemes have been proposed taking it as a basis. New RiPP subgroups with antimicrobial activity produced by bacteria have been discovered that do not fit in either classification in spite of fitting in the definition of bacteriocin. We propose a slightly adjusted classification for LAB that can accommodate the novel subclasses that are appearing, based on the biosynthesis mechanism and biological activity, which is in acoordance with previous proposals (Cotter et al.
2013
; Arnison
2013
). Although we focus on bacteriocins from LAB, this scheme is also valid for known compounds from other microorganisms (Fig.
1
).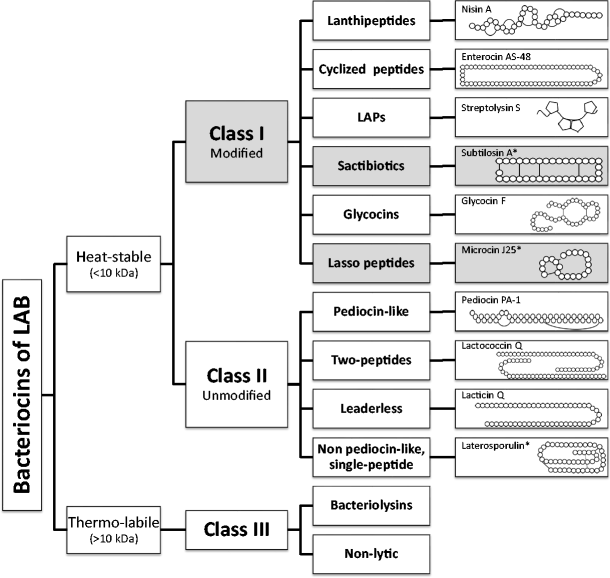 Class I: RiPPs (less than 10 kDa)
This class encompasses all the peptides that undergo enzymatic modification during biosynthesis, which provides molecules with uncommon amino acids and structures that have an impact on their properties (e.g., lanthionine, heterocycles, head-to-tail cyclization, glycosylation). They consist of a leader peptide which serves for enzyme recognition, transport, and keeping the peptide inactive, which is fused to a core peptide (Arnison et al. 2013). The key signatures for an appropriate and systematic definition of novel members of this class have been recently suggested (Medema et al. 2015). Other RiPP subclasses not found in LAB are not further discussed here (for a review see Arnison et al. 2013).
Class II: unmodified bacteriocins (less than 10 kDa)
This class groups bacteriocins that do not contain unusual modifications. Thus, they do not require enzymes for their maturation other than a leader peptidase and/or a transporter.
Class III
These are unmodified bacteriocins larger than 10 kDa with bacteriolytic or non-lytic mechanism of action.
Class I: small posttranslationally modified peptides
Class II: unmodified bacteriocins
Class III
Class III bacteriocins are large-molecular-weight and heat-labile antimicrobial proteins usually composed of different domains. For instance, based on sequence analysis, enterolysin A consists of an N-terminal endopeptidase domain and a C-terminal substrate recognition domain similarly to zoocin A (Nilsen et al. 2003; Lai et al. 2002). Zoocin A, a d-alanyl-l-alanine endopeptidase, is one of the best-characterized LAB bacteriolysins (Fig. 2) (Simmonds et al. 1996). It shows antimicrobial activity against other streptococci by cleaving the peptidoglycan cross-links of the target cell wall (Simmonds et al. 1996). The zif gene, close to zooA, encodes an immunity protein which adds l-alanine into the peptidoglycan cross-bridges, thus decreasing the ability of zoocin A to degrade the peptidoglycan layer (Gargis et al. 2009).
Millericin B is a murein hydrolase. Its production depends on the expression of three genes encoding millericin B precursor (MilB), immunity protein (MilF), and transporter protein (MilT) (Beukes et al. 2000). Similarly, enterolysin A cleaves within the peptidoglycan of target cells between l-alanine and d-glutamic acid of the stem peptide and between l-lysine of the stem peptide and d-aspartic acid of the interpeptide bridge (Khan et al. 2013).
On the other hand, non-lytic bacteriocins exhibit their bactericidal mode without causing concomitant cell lysis. For instance, dysgalacticin from S. pyogenes binds to the glucose- and/or Man-PTS, resulting in the inhibition of the sugar uptake, and also causes a membrane leakage of small molecules (Swe et al. 2009). In contrast, caseicin from Lactobacillus casei inhibits the biosynthesis of DNA and proteins of target bacteria (Müller and Radler 1993). Little is known about their genetics. The biosynthesis of helveticin J from Lactobacillus helveticus 481 involves at least three ORF, but their specific functions remain still unknown (Fig. 2) (Joerger and Klaenhammer 1990).
Application in the food industry
Nowadays, consumers ask for safe, healthy, tasting, long shelf-life, and minimally processed food products. LAB are food-grade microorganisms that have been extensively used in fermented foods, and many of them have GRAS and QPS status. As a result, bacteriocins and other metabolites produced by LAB are also generally considered as safe compounds with interesting properties (e.g., stability, antimicrobial activity, lack of toxicity, no flavor alteration) (Carr et al. 2002; Cotter et al. 2005). Until now, only nisin and pediocin PA-1 have been commercialized as food additives. However, other LAB bacteriocins also offer promising perspectives to be used as biopreservatives in food, like for instance the enterocin AS-48 (Sánchez-Hidalgo et al. 2011) or lacticin 3147 (Suda et al. 2012).
Bacteriocins can be added as bacteriocin preparations or by direct inoculation of the bacteriocin-producing strain. The bacteriocin preparation can be a purified or semi-purified bacteriocin added as food preservative, such as nisin which is commonly exploited under the name of Nisaplin™ (Danisco, E234) (Cotter et al. 2005). In fact, nisin is the only bacteriocin licensed as biopreservative in over 50 countries. Bacteriocins can also be added in the form of concentrated fermentate generated from a bacteriocin-producing strain. For instance, ALTA 2431™ (Quest) is a fermentation product from a pediocin PA-1-producing strain (Rodríguez et al. 2002). Bacteriocinogenic strains can be as well directly inoculated into the food as starter, adjunct, or protective cultures. Actually, LAB and, therefore, their bacteriocins, have been empirically applied as starter cultures in the production of traditional foods (Leroy et al. 2006; Alegría et al. 2010). Recently, bacteriocins have also been incorporated into packaging films to control food-borne pathogenic bacteria ensuring a gradual release of bacteriocins into the food and avoiding the inactivation of the bacteriocin by interaction with food components (Guerra et al. 2005). Furthermore, several studies have shown that bacteriocin antimicrobial activity is enhanced against Gram-negative bacteria when combined with physicochemical treatments (hurdle technology) such as high pressure (Pérez Pulido et al. 2015), organic acids (Ukuku and Fett 2004), phenolic compounds (Grande et al. 2007), and pulsed electric fields (Martínez Viedma et al. 2008).
Enhancement of probiotic action
Many LAB strains are proposed as probiotics, i.e., live microorganisms which, when administered in adequate amounts, confer a health benefit on the host (FAO/WHO 2001). In recent years, several in vitro and in vivo studies have shown that LAB bacteriocins exhibit a protective effect in the gastrointestinal tract (GIT) by excluding pathogens or promoting gut colonization (Corr et al. 2007; Dobson et al. 2012; Kommineni et al. 2015). For instance, the antilisterial Abp118 from Lactobacillus salivarius UCC118 protects mice against infection with the pathogen L. monocytogenes (Corr et al. 2007), and the S. mutans BCS3-L1 strain is able to replace existing S. mutans populations and persist over time in the oral cavity, due to the advantage conferred by its bacteriocin, mutacin 1140 (Hillman et al. 2000). Furthermore, Kominneni et al. (2015) proved that niche competition in the GIT is directly influenced by bacteriocin expression by commensal bacteria.
Gastrointestinal infections are a major concern in human health, but antibiotics cause a harmful effect on gut microbiota. Therefore, the anti-infective effect of LAB-producing bacteriocins is a promising alternative to antibiotics, especially for particular cases where other methods are not allowed (e.g., pregnant women) (Hammami et al. 2013).
Concluding remarks
The concomitant application of bacteriocin-producer LAB or (semi)purified bacteriocins, together with the application of other physicochemical treatments, constitutes an effective method of natural biopreservation in food industry and enables the reduction of other costly or user-unfriendly treatments, while increasing the product self-life.
The discovery of the gene clusters encoding for RiPPs that were previously thought to be non-ribosomally produced but assembled by multimeric enzymatic complexes demonstrates the huge chemical diversity that can be achieved in natural products by the sequential modification of a peptide substrate by specific PTMs. This chemical diversity is related to different properties (i.e., antimicrobial spectrum, stability, potency). The conserved motifs in the PTMs and the core peptides facilitate the high-throughput analysis of (meta)genomic data which can help focus the screening efforts to discover new molecules using diverse alternatives (Montalbán-López et al. 2012b; Hegemann et al. 2015; Rutledge and Challis 2015). In addition to the three bacteriocin classes proposed in the early 1990s (Klaenhammer 1993), our broad genome mining analysis of LAB shows that the repertoire of antimicrobials that are encoded in public sequences could be even broader than expected, with some putative classes not reported so far in LAB (i.e., lasso peptides and sactipeptides), opening up a wide range of possibilities for future applications.
Notes
Acknowledgments
We thank Dr. Anne de Jong for his help with genome mining using Bagel 3.
Compliance with ethical standards
This article does not contain any studies with human participants or animals performed by any of the authors.
Funding
D. Mu was supported by the China Scholarship Council (no. 2010605032). M. Montalbán-López was supported by the EU FP7 project SynPeptide.
Conflict of interest
The authors declare that they have no competing interest.
Copyright information
© The Author(s) 2016
Open Access This article is distributed under the terms of the Creative Commons Attribution 4.0 International License (http://creativecommons.org/licenses/by/4.0/), which permits unrestricted use, distribution, and reproduction in any medium, provided you give appropriate credit to the original author(s) and the source, provide a link to the Creative Commons license, and indicate if changes were made.