Abstract
Background: HMG-CoA-reductase (statin) therapy to reduce low-density lipoprotein cholesterol (LDL-C) levels in patients with coronary heart disease can substantially improve outcomes; however, the benefits of statins in stroke patients, particularly for secondary stroke prevention, remain poorly under stood. Moreover, the degree of decrease in LDL-C that is required to prevent the recurrence of stroke is unknown.
Objective: To determine whether the on-treatment LDL-C/high-density lipoprotein cholesterol ratio (LDL-C/HDL-C) is a predictive marker of stroke recurrence in patients with acute ischaemic stroke, and whether medical management of the LDL-C/HDL-C ratio would be of strategic significance for stroke prevention.
Methods: A total of 137 dyslipidaemic patients who had suffered acute ischaemic stroke were enrolled and treated with rosuvastatin 2.5 mg within 24 hours of onset. Blood pressure and serum lipids were assessed at baseline and after 1 month of treatment with rosuvastatin. Fatal and non-fatal stroke events were recorded during a follow-up period of 36 months. We used univariate and multivariate analyses, as well as Kaplan-Meier analysis, to assess the predictive value of various parameters and to identify factors independently associated with stroke recurrence.
Results: During a mean follow-up of 34.9 ± 0.8 months, there were ten cases of stroke recurrence. Age, chronic kidney disease (CKD) at baseline, and an on-treatment LDL-C/HDL-C ratio >2 after 1 month of rosuvastatin treatment were predictors of stroke recurrence in univariate analyses. Stepwise regression analysis showed that CKD (standardized adjusted odds ratio [OR] 6.55; 95% confidence interval [CI] 1.12, 36.43; p = 0.030) and on-treatment LDL-C/HDL-C ratio >2 (standardized adjusted OR 9.70; 95% CI 1.70, 55.33; p = 0.011) were independent risk factors for stroke recurrence. Post hoc analysis indicated that more intensive lipid control, to an LDL-C/HDL-C ratio ≤1.5, may reduce the risk of stroke recurrence.
Conclusion: These results suggest that the use of statin therapy to achieve an on-treatment LDL-C/HDL-C ratio ≤2 is a suitable treatment strategy in patients having suffered acute ischaemic stroke. Further studies are required to confirm the clinical benefits of reducing the on-treatment LDL-C/HDL-C ratio to ≤1.5.
This is a preview of subscription content,
to check access.
Access this article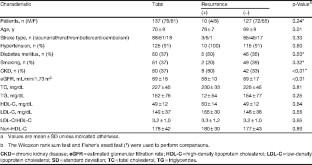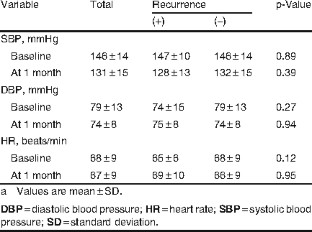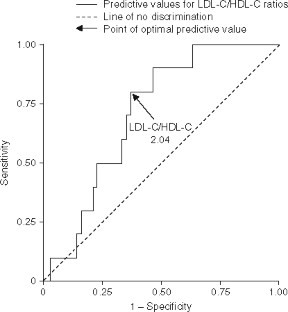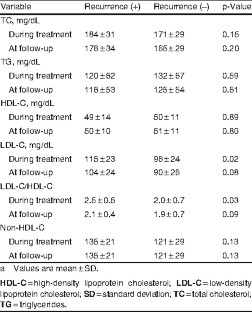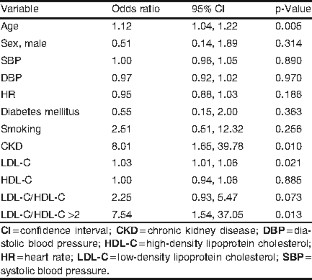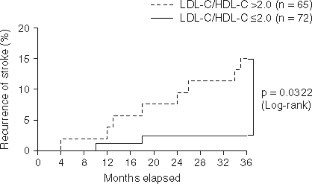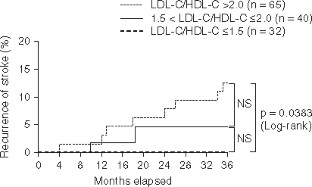 References
Rosenson RS. Statins: can the new generation make an impression?. Expert Opin Emerg Drugs 2004 Nov; 9 (2): 269–79

La Rosa JC, Grundy SM, Walters DD, et al. Intensive lipid lowering with atorvastatin in patients with stable coronary disease. N Engl J Med 2005 Apr; 352: 1425–35

Sever PS, Dahlöf Poulter NR, et al. Prevention of coronary and stroke events with atorvastatin in hypertensive patients who have average or lower-than-average cholesterol concentrations in the Anglo-Scandinavian Cardiac Outcomes Trial-Lipid Lowering Arm (ASCOT-LLA): a multicentre randomised controlled trial. Lancet 2003 Apr; 361 (9364): 1149–58

Collins R, Armitage J, Parish S, et al. Effects of cholesterol-lowering with simvastatin on stroke and other major vascular events in 20536 people with cerebrovascular disease or other high-risk conditions. Lancet 2004 Mar; 363 (9411): 757–67

Crouse 3rd JR, Byington RP, Hoen HM, et al. Reductase inhibitor monotherapy and stroke prevention. Arch Intern Med 1997 Jun; 157 (12): 1305–10

von Birgelen C, Hartmann M, Mintz GS, et al. Relation between progression and regression of atherosclerotic left main coronary artery disease and serum cholesterol levels as assessed with serial long-term (> or = 12 months) follow-up intravascular ultrasound. Circulation 2003 Dec; 108 (22): 2757–62

Ando Y, Ito S, Uemura et al. CKD Clinical Practice Guidebook. The essence of treatment for CKD patients. Clin Exp Nephrol 2009 Jun; 13 (3): 191–248

Friedewald WT, Levy RI, Fredrickson DS. Estimation of the concentration of low-density lipoprotein cholesterol in plasma, without use of the preparative ultracentrifuge. Clin Chem 1972 Jun; 18 (6): 499–502

Japan Atherosclerosis Society Guidelines for Diagnosis and Treatment of Atherosclerotic Cardiovascular Diseases [in Japanese]. Tokyo: Japan Atherosclerosis Society, 2002

Matsumoto I, Miyake Y, Mizukawa M, et al. Usefulness of aggressive lipid management for prevention of recurrence subsequent to PCI [in Japanese]. Pharma Medica 2009; 27 (11): 93–9

Japan Atherosclerosis Society Guidelines for Prevention of Atherosclerotic Cardiovascular Diseases [in Japanese]. Tokyo: Japan Atherosclerosis Society, 2007

Baigent C, Keech A, Kearney PM, et al. Efficacy and safety of cholesterol-lowering treatment: prospective meta-analysis of data from 90 056 participants in 14 randomised trials of statins. Lancet 2005 Oct; 366 (9493): 1267–78

Cannon CP, Steinberg BA, Murphy SA, et al. Meta-analysis of cardiovascular outcomes trials comparing intensive versus moderate statin therapy. J Am Coll Cardiol 2006 Aug; 48 (3): 438–45

Amarenco P, Goldstein LB, Szarek M, et al. Effects of in tense low-density lipoprotein cholesterol reduction in patients with stroke or transient ischemic attack: the Stroke Prevention by Aggressive Reduction in Cholesterol Levels (SPARCL) trial. Stroke 2007 Dec; 38 (12): 3198–204

Vergouwen MD, de Haan RJ, Vermeulen M, et al. Statin treatment and the occurrence of hemorrhagic stroke in patients with a history of cerebrovascular disease. Stroke 2008 Feb; 39 (2): 497–502

Bang OY, Saver JL, Liebeskind DS, et al. Cholesterol level and symptomatic hemorrhagic transformation after ischemic stroke thrombolysis. Neurology 2007 Mar; 68 (10): 737–42

Athyros VG, Tziomalos K, Karagiannis A, et al. Aggressive statin treatment, very low serum cholesterol levels and haemorrhagic stroke: is there an association?. Curr Opin Cardiol 2010 Jul; 25 (4): 406–10

Ridker PM, Danielson E, Fonseca FA, et al. Rosuvastatin to prevent vascular events in men and women with elevated C-reactive protein. N Engl J Med 2008 Nov; 359: 2195–207

Gordon T, Kannel WB, Castelli WP, et al. Lipoproteins, cardiovascular disease, and death. The Framingham study. Arch Intern Med 1981 Aug; 141 (9): 1128–31

Soyama Y, Miura Morikawa Y, et al. High-density lipoprotein cholesterol and risk of stroke in Japanese men and women: the Oyabe Study. Stroke 2003 Apr; 34 (4): 863–8

Phan BA, Chu Polissar N, et al. Association of high-density lipoprotein levels and carotid atherosclerotic plaque characteristics by magnetic resonance imaging. Int J Cardiovasc Imaging 2007 Jun; 23 (3): 337–42
Acknowledgements
The authors have no conflicts of interest to declare. No funding was received for the research reported in the article. A version of this manuscript was previously published in Japanese in the journal Therapeutic Research (2011; 32 (2): 215-22). The publishers of Therapeutic Research have given permission for publication of this article in English.
About this article
Cite this article
Igase, M., Kohara, K., Katagi, R. et al. Predictive Value of the Low-Density Lipoprotein Cholesterol to High-Density Lipoprotein Cholesterol Ratio for the Prevention of Stroke Recurrence in Japanese Patients Treated with Rosuvastatin. Clin Drug Invest 32, 513–521 (2012). https://doi.org/10.1007/BF03261902
Published:

Issue Date:

DOI: https://doi.org/10.1007/BF03261902
Keywords