Abstract
There is a growing body of recent evidence showing that micronutrients (combinations of minerals, vitamins and amino acids) improve the symptoms of attention-deficit/hyperactivity disorder (ADHD). Dopamine agonists, such as methylphenidate, have long been identified as effective in treating ADHD symptoms, by inhibiting dopamine transporter (DAT) function. This article explores the role that B vitamins might have in the treatment of ADHD symptoms by investigating the structural similarities between B vitamins and methylphenidate. We suggest that the presence of B vitamins and their postulated structure activity relationships (SARs) with dopamine may be responsible for the observed pharmacological effect. This pharmacological activity is likely to be via their competitive binding to the DAT dopamine binding site with a concomitant increase in synaptic dopamine concentration, which in turn might activate the postsynaptic dopamine D2 receptor and thus ameliorate the symptoms ofADHD.Further research is required to assess the validity of the intriguing possibility that B vitamins and methylphenidate share a common neurochemical mechanism of action.
This is a preview of subscription content, log in to check access.
Access options
Buy single article
Instant access to the full article PDF.
US$ 49.95
Price includes VAT for USA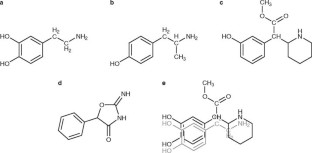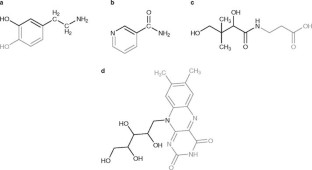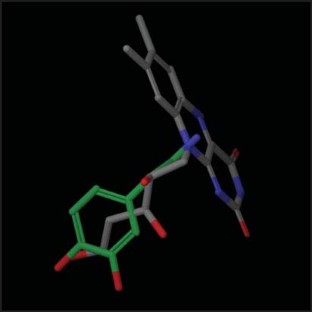 References
1.

American Psychiatric Association. Diagnostic and statistical manual of mental disorders: DSM-IV-TR. Text revision: 4th ed. Washington, DC: APA, 2000

2.

Gittelman R, Mannuzza S, Shenker R, et al. Hyperactive boys almost grown up: I. Psychiatric status. Arch Gen Psychiatry 1985 Oct; 42 (10): 937–47

3.

Polanczyk G, de Lima MS, Horta BL, et al. The worldwide prevalence of ADHD: a systematic review and metaregression analysis. Am J Psychiatry 2007; 164 (6): 942–8

4.

MTA Cooperative Group. A 14-month randomized clinical trial of treatment strategies for attention-deficit/hyperactivity disorder. Arch Gen Psychiatry 1999 Dec; 56 (12): 1073–86

5.

Barkley RA, editor. Attention-deficit hyperactivity disorder: a handbook for diagnosis and treatment. 3rd ed. New York: The Guilford Press, 2006

6.

Torgersen T, Bjervan B, Rasmussen K. Treatment of adult ADHD: is current knowledge useful for clinicians? Neuropsychiatr Dis Treat 2008; 4 (1): 177–86

7.

Wilens TE, Hammerness PG, Biederman J, et al. Blood pressure changes associated with medication treatment of adults with attention-deficit/hyperactivity disorder. J Clin Psychiatry 2005 Feb; 66 (2): 253–9

8.

Graham J, Coghill D. Adverse effects of pharmacotherapies for attentiondeficit hyperactivity disorder: epidemiology, prevention and management. CNS Drugs 2008; 22 (3): 213–37

9.

Wolraich ML. Stimulant medications and their adverse events and the Food and Drug Administration: what can we conclude? J Dev Behav Pediatr 2006; 27 (2): 177–8

10.

Arnold LE, Christopher J, Huestis RD, et al. Megavitamins for minimal brain dysfunction: a placebo-controlled study. JAMA 1978; 240 (24): 2642–3

11.

Haslam RHA, Dalby JT, Rademaker AW. Effects of megavitamin therapy on children with attention deficit disorders. Pediatrics 1984; 74 (1): 103–11

12.

Kershner J, Hawke W. Megavitamins and learning disorders: a controlled double-blind experiment. J Nutr 1979; 159: 819–26

13.

Arnold LE. Treatment alternatives for attention-deficit/hyperactivity disorder (ADHD). J Atten Disord 1999 Apr; 3 (1): 30–48

14.

Brenner A. The effects of megadoses of selected B complex vitamins on children with hyperkinesis: controlled studies with long-term follow-up. J Learn Disabil 1982; 15 (5): 258–64

15.

Coleman M, Steinberg G, Tippett J, et al. A preliminary study of the effect of pyridoxine administration in a subgroup of hyperkinetic children: a doubleblind crossover comparison with methylphenidate. Biol Psychiatry 1979; 14: 741–51

16.

Rucklidge JJ, Johnstone J, Kaplan BJ. Nutrient supplementation approaches in the treatment of ADHD. Expert Rev Neurother 2009; 9 (4): 461–76

17.

Harding KL, Judah RD, Gant C. Outcome-based comparison of ritalin versus food-supplement treated children with AD/HD. Altern Med Rev 2003; 8 (3): 319–30

18.

Patel K, Curtis LT. Acomprehensive approach to treating autism and attentiondeficit hyperactivity disorder: a prepilot study. J Altern Complement Med 2007 Dec; 13 (10): 1091–7

19.

Kaplan BJ, Fisher JE, Crawford SG, et al. Improved mood and behavior during treatmentwith amineral-vitamin supplement: an open-label case series of children. J Child Adolesc Psychopharmacol 2004; 14 (1): 115–22

20.

Rucklidge JJ, Gately D, Kaplan BJ. Database analysis of children and adolescents with bipolar disorder consuming a micronutrient formula. BMC Psychiatry 2010 Sep; 10 (1): E74

21.

Rucklidge JJ, Taylor M, Whitehead K. Effect of micronutrients on behavior and mood in adults with ADHD: evidence from an 8-week open label trial with natural extension. J Atten Disord. Epub 2010 Jan 13

22.

Rucklidge JJ, Harrison R. Successful treatment of bipolar disorder II and ADHD with a micronutrient formula: a case study. CNS Spectr 2010; 15 (5): 289–95

23.

Mehta MA, Sahakian BJ, Robbins TW. Comparative psychopharmacology of methylphenidate and related drugs in human volunteers, patients withADHD, and experimental animals. In: Solanto MV, Arnsten AFT, Castellanos FX, editors. Stimulant drugs and ADHD: basic and clinical neuroscience. Melbourne (VIC): Oxford University Press, 2001: 303–31

24.

Solanto MV. Dopamine dysfunction in AD/HD: integrating clinical and basic neuroscience research. Behav Brain Res 2002; 130: 65–71

25.

Aron AR, Robbins TW, Poldrack RA. Inhibition and the right inferior frontal cortex. Trends Cogn Sci 2004; 8: 170–7

26.

Leonard BE, McCartan D, White J, et al. Methylphenidate: a review of its neuropharmacological, neuropsychological and adverse clinical effects. Human Psychopharmacol 2004; 19: 151–80

27.

Arnsten AFT. Stimulants: therapeutic actions in ADHD. Neuropsychopharmacology 2006; 31: 2376–83

28.

Shaw IC, McCully S. A review of the potential impact of dietary endocrine disrupters on the consumer. Int J Food Sci Technol 2002; 37: 471–6

29.

Shroedinger. Maestro, version 8.5 and MacroModel, version 9.6. New York: Shroedinger LLC, 2008

30.

Gately D, Kaplan BJ. Database analysis of adults with bipolar disorder consuming a multinutrient formula. Clinical Medicine: Psychiatry 2009; 4: 3–16

31.

Kaplan BJ, Crawford SG, Field CJ, et al. Vitamins, minerals, and mood. Psychol Bull 2007 Sep; 133 (5): 747–60
Acknowledgements
The authors thank Lisa Graham for her expert help with the Shroedinger 2008 molecular modelling software.
The authors declare that they have no competing financial interests and no sources of funding were used to assist in the preparation of this article.
About this article
Cite this article
Shaw, I., Rucklidge, J.J. & Hughes, R.N. A Possible Biological Mechanism for the B Vitamins Altering Behaviour in Attention-Deficit/Hyperactivity Disorder. Pharm Med 24, 289–294 (2010). https://doi.org/10.1007/BF03256827
Keywords
Dopamine

Methylphenidate

ADHD Symptom

Pemoline

Dextroamphetamine