Abstract
In the past, postmarketing surveillance of drugs relied mainly on the spontaneous reporting of adverse drug reactions. There are now several other approaches used, including databases with individual prescription data (or prescription event monitoring systems), electronic health records and record linkage between health databases. The recent drug withdrawals have continued to highlight the inadequacies of current postmarketing surveillance and the need for better strategies to monitor the safety of new drugs. One such strategy is the use of drug registries.
Drug registries facilitate a special form of prospective observational cohort study of patients exposed to a particular drug. They are particularly useful in establishing the safety of orphan drugs and ascertaining the safety of drugs in specific populations. To minimize bias, patient eligibility is defined and data capture is standardized. All patients are followed up systematically over a pre-defined time period, either manually or using electronic record linkage to other health databases. To establish the incidence of any adverse events using a drug registry, there should be complete follow-up of all patients.
Drug registries may play an important role in postmarketing surveillance of new drugs. Unlike spontaneous reporting systems they have the benefit of being able to determine the incidence of one or more outcomes in the patient population. Drug registries do, however, have some limitations, including a potential for bias and confounding, long periods of follow-up and high cost.
Access options
Buy single article
Instant access to the full article PDF.
US$ 49.95
Tax calculation will be finalised during checkout.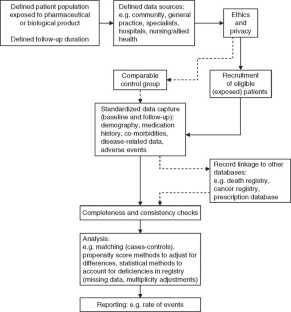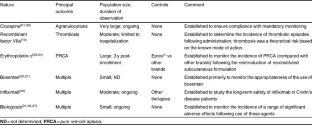 Notes
1.

1 For a characteristic to be a confounder it must be related to the outcome in terms of prognosis or susceptibility and the distribution of the characteristic is different in the groups being compared (either the mean or the degree of variation or variability in that characteristic).
References
1.

McClellan M. Drug safety reform at the FDA: pendulum swing or systematic improvement? N Engl J Med 2007; 356: 1700–2

2.

Kao DP. What can we learn from drug marketing efficiency? BMJ 2008; 337: a2591

3.

Platt R, Wilson M, Chan A, et al. The new sentinel network: improving the evidence of medical-product safety. N Engl J Med 2009; 361: 645–7

4.

European Medicines Agency. Public status report on the implementation of the European riskmanagement strategy, 2007 [online].Available fromURL: http://www.emea.europa.eu/pdfs/human/phv/16895407en.pdf [Accessed 2010 Aug 30]

5.

European Medicines Agency. EU-ADR website [online]. Available from URL: http://www.euadr-project.org [Accessed 2010 Aug 30]

6.

Sturkenboom MC, Kors J, Díaz Acedo C, et al. EU-ADR: a European multifaceted approach to improving postmarketing surveillance of drugs. London: bmj.com. Rapid Response, 2009 Feb 26

7.

Furu K, Wettermark B, Andersen M, et al. TheNordic countries as a cohort for pharmacoepidemiological research. Basic Clin Pharmacol Toxicol 2009; 106: 86–94

8.

Mackay FJ. Post-marketing studies: the work of the Drug Safety Research Unit. Drug Saf 1998; 19: 343–53

9.

Fogg C, Kasliwal R, Shakir SA. Risk management and outcomes of adverse events to pioglitazone in primary care in the UK: an observational study. Drug Saf 2009; 32 (3): 229–37

10.

Perrio MJ, Wilton LV, Shakir SA. The safety profiles of orlistat and sibutramine: results of prescription-event monitoring studies in England. Obesity 2007; 15 (11): 2712–22

11.

Twaites BR, Wilton LV, Shakir SA. Safety of zafirlukast: results of a postmarketing surveillance study on 7976 patients in England. Drug Saf 2007; 30 (5): 419–29

12.

Kasliwal R, Wilton LV, Shakir SA. Safety and drug utilization profile of varenicline as used in general practice in England: interim results from a prescription-event monitoring study. Drug Saf 2009; 32 (6): 499–507

13.

Clark DW, Harrison-Woolrych M. The role of the New Zealand Intensive Medicines Monitoring Programme in identification of previously unrecognised signals of adverse drug reactions. Curr Drug Safety 2006; 1: 169–78

14.

Agency for Healthcare Research and Quality. Registries for evaluating patient outcomes: a user's guide, 2007 Apr [online]. Available from URL: http://www.effectivehealthcare.ahrq.gov/ehc/products/21/11/PatOutcomes.pdf [Accessed 2010 Mar 17]

15.

Tanaka K, Morita Y, Kawabe E, et al. Drug use investigation (DUI) and prescription-event monitoring in Japan (J-PEM). Pharmacoepidemiol Drug Saf 2001; 10: 653–8

16.

Chen RT, Glasser JW, Rhodes PH, et al. Vaccine Safety Datalink project: a new tool for improving vaccine safety monitoring in the United States. The Vaccine Safety Datalink Team. Pediatrics 1997; 99: 765–73

17.

Food and Drug Administration, US Department of Health & Human Service. Prescription Drug User Fee Act (PDUFA) IV. Drug safety five-year plan: draft 2008 Mar [online]. Available from URL: http://www.fda.gov/downloads/ForIndustry/UserFees/PrescriptionDrugUserFee/ucm093946.pdf [Accessed 2010 Jun 16]

18.

Committee for Medicinal Products for Human Use, European Medicines Agency. Guideline on risk management systems for medicinal products for human use. 2005 Nov [online]. Available from URL: http://www.emea.europa.eu/pdfs/human/euleg/9626805en.pdf [Accessed 2010 Jun 16]

19.

Isbister J, Phillips L, Dunkley S, et al. Recombinant activated factor VII in critical bleeding: experience from the Australian and New Zealand Haemostasis Register. J Intern Med 2008; 38 (3): 156–65

20.

Humbert M, Segal ES, Kiely DG, et al. Results of European post-marketing surveillance of bosentan in pulmonary hypertension. Eur Respir J 2007; 30: 338–44

21.

Keogh A, McNeil K, Williams TJ, et al. The bosentan patient registry: long-term survival in pulmonary arterial hypertension. Intern Med J. Epub 2009

22.

Grothey A, Sugrue MM, Purdie DM, et al. Bevacizumab beyond first progression is associated with prolonged overall survival in metastatic colorectal cancer: results from a large observational cohort study (BRiTE). J Clin Oncol 2008; 26 (33): 5326–34

23.

Australian Commission on Safety and Quality in Healthcare, NHMRC Centre for Research Excellence in Patient Safety (CREPS) atMonash University and the National E-Health Transition Authority (NEHTA). Operating principles and technical standards for Australian Clinical Quality Registries. 2008 Nov [online]. Available from URL: http://www.crepatientsafety.org.au/registries/operating_principals_technical_standards_nov08.pdf [Accessed 2010 Mar 17]

24.

Zink A, Askling J, Dixon WG, et al. European biologicals registers: methodology, selected results and perspectives. Ann Rheum Dis 2009; 68: 1240–6

25.

Ray W. Evaluating medication effects outside of clinical trials: new-user designs. Am J Epidemiol 2003; 158 (9): 915–20

26.

Hetland ML. DANBIO: a nationwide registry of biological therapies in Denmark. Clin Exp Rheumatol 2005; 23 (5 Suppl. 39): S205–7

27.

Kremers HM. Methods to analyze real-world databases and registries. Bull NYU Hosp Jt Dis 2009; 67: 193–7

28.

Mamdani M, Sykora K, Li P, et al. Reader's guide to critical appraisal of cohort studies. 2: assessing potential for confounding. BMJ 2005; 330: 960–2

29.

Levine MN, Julian JA. Registries that show efficacy: good, but not good enough. J Clin Oncol 2008; 33: 5316–9

30.

Kremer JM, Greenberg J. Interpreting registry-derived drug studies: does societal context matter? Arthritis Rheum 2009; 60: 3155–7

31.

Honigfeld G, Arellano F, Sethi J, et al. Reducing clozapine-related morbidity and mortality: 5 years of experience with the Clozaril National Registry. J Clin Psych 1998; 59 Suppl. 3: 3–7

32.

Alvir JM, Lieberman JA, Safferman AZ, et al. Clozapine induced agranulocytosis: incidence and risk factors in the United States. N Engl J Med 1993; 329: 162–7

33.

Locatelli F, Aljama P, Barany P, et al. Erythropoiesis-stimulating agents and antibody-mediated pure red-cell aplasia: where are we now and where do we go from here? Nephrol Dial Transplant 2004; 19: 288–93

34.

Thomas A. Immunogenicity assessment of therapeutic proteins: strategy of RMP. Johnson & Johnson, BMWP/BWP workshop on immunogenicity: assessment of therapeutic proteins. London: EMEA, 2007 Sep 4 [online]. Available from URL: http://www.ema.europa.eu/pdfs/conferenceflyers/bmwp/thomas.pdf [Accessed 2010 Mar 26]

35.

Lichtenstein GR, Feagan BG, Cohen RD, et al. Serious infections and mortality in association with therapies for Crohn's Disease: TREAT Registry. Clin Gastroenterol Hepatol 2006; 4: 621–30

36.

Dixon WG, Watson K, Lunt K, et al. Rates of serious infection including sitespecific and bacterial intracellular infection in rheumatoid arthritis patients receiving anti-tumor necrosis factor therapy. ArthritisRheum 2006; 54: 2368–76

37.

Askling J, Fored CM, Geborek P, et al. Swedish registers to examine drug safety and clinical issues in RA. Ann Rheum Dis 2006; 65: 707–12

38.

Mitra B, Philips L, Cameron PA, et al. The safety of recombinant factor VIIa in cardiac surgery. Anaesth Intensive Care 2010; 38 (4): 671–7

39.

Curtis JR, Patkar N, Xie A, et al. Risk of serious bacterial infections among rheumatoid arthritis patients exposed to tumor necrosis factor alpha antagonists. Arthritis Rheum 2007; 56: 1125–33

40.

Schneeweiss S, Setoguchi S, Weinblatt ME, et al. Anti-tumor necrosis factor alpha therapy and the risk of serious bacterial infections in elderly patients with rheumatoid arthritis. Arthritis Rheum 2007; 56: 1754–64

41.

Curtis JR, Martin C, Saag KG, et al. Confirmation of administrative claimsidentified opportunistic infections and other serious potential adverse events associated with tumor necrosis factor alpha antagonists and disease-modifying antirheumatic drugs. Arthritis Rheum 2007; 57: 343–6
Acknowledgements
No sources of funding were used to assist in the preparation of this article. Dr Ronaldson was employed at Medsafe, Ministry of Health, New Zealand, which has a contractual relationship with the Intensive Medicines Monitoring Programme, from 1989 to 2002. The remaining authors have no conflicts of interest that are directly relevant to the content of this article.
About this article
Cite this article
McNeil, J.J., Piccenna, L., Ronaldson, K. et al. The Value of Patient-Centred Registries in Phase IV Drug Surveillance. Pharm Med 24, 281–288 (2010). https://doi.org/10.1007/BF03256826
Keywords
Fabry Disease

Varenicline

Zafirlukast

Drug Registry

Recombinant Factor VIIa