Abstract
Investigators conducting clinical trials need to appreciate the important role of adherence in clinical research. Poor compliance may reduce the power of a study and lead to an underestimation of the efficacy of a treatment and dismissal of a potentially useful therapeutic agent. In general, medication adherence of participants in clinical trials is better than in clinical practice. The study protocol should indicate how adherence will be handled, both in terms of measurement and in the data analysis. Unfortunately, no perfect method for assessing compliance exists, complicating research in this area. Techniques commonly employed in research include self-reporting (such as diaries), pill counts and electronic monitors with a combination of methods preferred. Selection of which method(s) to use will depend on the goals of the study, the type of noncompliance of interest and the resources available. When designing a clinical trial, interventions to facilitate optimal adherence should be considered. One strategy to attempt to minimize the number of study subjects who will be poor adherers is to attempt to identify these individuals and eliminate them using a runin period. Study participants should be well informed and expectations with respect to study procedures should be realistic. Factors that affect compliance should be taken into account in drug development in an effort to improve medication-taking behaviour. Drugs with less frequent dosing to enhance patient convenience or fixed-dose combination drugs to reduce the pill burden are possible options, as is the use of specialized containers and packaging. Newer technologies such as 'smart' pill boxes and text messaging offer promise; however, further research into their usefulness and patient acceptance needs to be undertaken. This article will provide an overview of patient adherence with drugs in the clinical trial setting including factors that affect patient adherence, methods to monitor adherence and strategies to minimize the barriers to adherence, including the use of newer technologies.
Access options
Buy single article
Instant access to the full article PDF.
USD 49.95
Price includes VAT (USA)
Tax calculation will be finalised during checkout.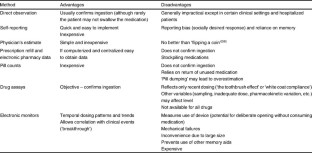 References
1.

Bonaccorso S, Sturchio JL. Perspectives from the pharmaceutical industry. BMJ 2003; 327: 863–4

2.

World Health Organization. Adherence to long-term therapies: evidence for action [online]. Available from URL: http://www.who.int/chp/knowledge/publications/adherence_full_report.pdf [Accessed 2009 Sep 20]

3.

Tilson HH. Adherence or compliance: changes in terminology. Ann Pharmacother 2004; 38: 161–2

4.

Cramer JA, Roy A, Burrell A, et al. Medication compliance and persistence: terminology and definitions. Value Health 2008; 11: 44–7

5.

Pullar T. Compliance with drug therapy. Br J Clin Pharmacol 1991; 32: 535–9

6.

Feinstein AR. On white-coat effects and the electronic monitoring of compliance. Arch Intern Med 1990; 150: 1377–8

7.

Osterberg L, Blaschke T. Adherence to medication. N Engl J Med 2005; 353: 487–97

8.

Ellis S, Shumaker S, Sieber W, et al. Adherence to pharmacological interventions: current trends and future directions. Control Clin Trials 2000; 21 Suppl. 5: 218S–25S

9.

Vrijens B, Vincze G, Kristanto P, et al. Adherence to prescribed antihypertensive drug treatments: longitudinal study of electronically compiled dosing histories. BMJ 2008; 336: 1114–7

10.

Bloom BS. Daily regimen and compliance with treatment [editorial]. BMJ 2001; 323: 647

11.

Morgan SG, Yan L. Persistence with hypertension treatment among community- dwelling BC seniors. Can J Clin Pharmacol 2004; 11: e267–73

12.

DiMatteo MR. Variations in patients' adherence to medical recommendations: a quantative review of 50 years of research. Med Care 2004; 42: 200–9

13.

Pritchard MT, Butow PN, Stevens MM, et al. Understanding medication adherence in pediatric acute lymphoblastic leukemia: a review. J Pediatr Hematol Oncol 2006; 28: 816–23

14.

Ruddy K, Mayer E, Partridge A. Patient adherence and persistence with oral anticancer treatment. CA Cancer J Clin 2009; 59: 56–66

15.

Fine RN, Becker Y, De Geest S, et al. Nonadherence consensus conference summary report. Am J Transplant 2009; 9: 35–41

16.

DiMatteo MR, Giordani PJ, Lepper HS, et al. Patient adherence and medical treatment outcomes: a meta-analysis. Med Care 2002; 40: 794–811

17.

Simpson SH, Eurich DT, Majumdar SR, et al. A meta-analysis of the association between adherence to drug therapy and mortality. BMJ 2006 Jul 1; 333 (7557): 15. Epub 2006 Jun 21

18.

Storms W. Clinical trials: are these your patients? J Allergy Clin Immunol 2003; 112 Suppl. 5: S107–11

19.

Miller LG, Hays RD. Measuring adherence to antiretroviral medications in clinical trials. HIV Clin Trials 2000; 1: 36–46

20.

Boudes P. Drug compliance in therapeutic trials: a review. Control Clin Trials 1998; 19: 257–68

21.

Farmer KC. Methods for measuring and monitoring medication regimen adherence in clinical trials and clinical practice. Clin Ther 1999; 21: 1074–90

22.

Robiner WN. Enhancing adherence in clinical research. Contemp Clin Trials 2005; 26: 59–77

23.

International Conference on Harmonization. E8: general considerations for clinical trials [online]. Available from URL: http://www.ich.org/LOB/media/MEDIA484.pdf [Accessed 2009 Sep 20]

24.

Urquhart J. Role of patient compliance in clinical pharmacokinetics. Clin Pharmacokinet 1994; 27: 202–15

25.

Soutter BR, Kennedy MC. Patient compliance assessment in drug trials usage and methods. Aust N Z J Med 1974; 4: 360–4

26.

Jayaraman S, Rieder MJ, Matsui DM. Compliance assessment in drug trials: has there been improvement in two decades? Can J Clin Pharmacol 2005; 12 (3): e251–3

27.

Matsui D. Drug compliance in pediatrics: clinical and research issues. Pediatr Clin North Am 1997; 44: 1–14

28.

Ho PM, Bryson CL, Rumsfeld JS. Medication adherence: its importance in cardiovascular outcomes. Circulation 2009; 119: 3028–35

29.

Winnick S, Lucas DO, Hartman AL, et al. How do you improve compliance? Pediatrics 2005; 115: e718–24

30.

Ingersoll KS, Cohen J. The impact of medication regimen factors on adherence to chronic treatment: a review of literature. J Behav Med 2008; 31: 213–24

31.

Blowey DL, Hebert D, Arbus G, et al. Compliance with cyclosporine in adolescent renal transplant recipients. Pediatr Nephrol 1997; 11: 547–51

32.

Lau RCW, Matsui D, Greenberg M, et al. Electronic measurement of compliance with mercaptopurine in pediatric patients with acute lymphoblastic leukemia. Med Pediatr Oncol 1998; 30: 85–90

33.

McNamara PS, McCormack P, McDonald AJ, et al. Open adherence monitoring using routine data download from an adaptive aerosol delivery nebulizer in children with cystic fibrosis. J Cyst Fibros 2009; 8: 258–63

34.

Claxton AJ, Cramer J, Pierce C. A systematic review of the associations between dose regimens and medication compliance. Clin Ther 2001; 23: 1296–310

35.

Saini SD, Schoenfeld P, Kaulback K, et al. Effect of medication dosing frequency on adherence in chronic diseases. Am JManag Care 2009; 15: e22–33

36.

Richter A, Anton SF, Koch P, et al. The impact of reducing dose frequency on health outcomes. Clin Ther 2003; 25: 2307–35

37.

Hayes TL, Hunt JM, Adami A, et al. An electronic pillbox for continuous monitoring of medication adherence. Proceedings of the 28th IEEE EMBS Annual International Conference. IEEE Eng Med Biol Soc 2006 Aug 30–Sep 3; 6400–3

38.

Sackett DL, Haynes RB, Guyatt GH, et al., editors. Helping patients follow the treatments you prescribe. In: Clinical epidemiology: a basic science for clinical medicine. Boston (MA): Little, Brown and Company, 1991: 249–81

39.

Stone AA, Shiffman S, Schwartz JE, et al. Patient compliance with paper and electronic diaries. Control Clin Trials 2003; 24: 182–99

40.

Kerr T, Walsh J, Lloyd-Smith E, et al. Measuring adherence to highly active antiretroviral therapy: implications for research and practice. Curr HIV/AIDS Rep 2005; 2: 200–5

41.

Simmons MS, Nides MA, Rand CS, et al. Unpredictability of deception in compliance with physician-prescribed bronchodilator inhaler use in a clinical trial. Chest 2000; 118: 290–5

42.

Paschal AM, Hawley SR, St. Romain T, et al. Measures of adherence to epilepsy treatment: review of present practices and recommendations for future directions. Epilepsia 2008; 49: 1115–22

43.

Breath monitor tracks medication adherence. AIDS Patient Care STDS 2008; 22 (5): 437–9

44.

Cramer JA. Microelectronic systems for monitoring and enhancing patient compliance with medication regimens. Drugs 1995; 49: 321–7

45.

Christensen A, Osterberg LG, Hansen EH. Electronic monitoring of patient adherence to oral antihypertensive medical treatment: a systematic review. J Hypertens 2009; 27: 1540–51

46.

Santschi V, Wuerzner G, Schneider M, et al. Clinical evaluation of IDAS II, a new electronic device enabling drug adherence monitoring. Eur J Clin Pharmacol 2007; 63: 1179–84

47.

Shellmer DA, Zelikovsky N. The challenges of using medication event monitoring technology with pediatric transplant patients. Pediatr Transplant 2007; 11: 422–8

48.

Klocke RA. Ethics of monitoring patient adherence: an evolving dilemma [editorial]. Am J Respir Crit Care Med 1994; 149: 286

49.

Shumaker SA, Dugan E, Bowen DJ. Enhancing adherence in randomized controlled clinical trials. Control Clin Trials 2000; 21 Suppl. 5: 226S–32S

50.

Kastrissios H, Blaschke TF. Medication compliance as a feature in drug development. Annu Rev Pharmacol Toxicol 1997; 37: 451–75

51.

Heneghan CJ, Glasziou PP, Perera R. Reminder packaging for improving adherence to self-administered long-term medications. Cochrane Database Sys Rev 2006; (1): CD005025

52.

Hughes D. When drugs don't work: economic assessment of enhancing compliance with interventions supported by electronic monitoring devices. Pharmacoeconomics 2007; 25: 621–35

53.

Kripalani S, Yao X, Haynes B. Interventions to enhance medication adherence in chronic medical conditions. Arch Intern Med 2007; 167: 540–50

54.

Haynes RB, Ackloo E, Sahota N, et al. Interventions for enhancing medication adherence. Cochrane Database Sys Rev 2008; (2): CD000011

55.

van Dulmen S, Sluijs E, van Dijk L, et al. Furthering patient adherence: a position paper of the international expert forum on patient adherence based on an internet forum discussion [letter]. BMC Health Serv Res 2008; 8: 47

56.

Urquhart J. Ascertaining how much compliance is enough with outpatient antibiotic regimens. Postgrad Med J 1992; 68 Suppl. 3: S49–59

57.

Bangalore S, Kamalakkannan G, Parker S, et al. Fixed-dose combinations improve medication compliance: a meta-analysis. Am J Med 2007; 120: 713–9

58.

The Indian Polycap Study (TIPS), Yusuf S, Pais P, Afzal R, et al. Effects of a polypill (Polycap) on risk factors in middle-aged individuals without cardiovascular disease (TIPS): a phase II, double-blind, randomized trial. Lancet 2009; 373: 1341–51

59.

Rudd P. Medication packaging: simple solutions to nonadherence problems? Clin Pharmacol Ther 1979; 25: 257–65

60.

Huang H, Maguire M, Miller III E, et al. Impact of pill organizers and blister packs on adherence to pill taking in two vitamin supplementation trials. Am J Epidemiol 2000; 152: 780–7

61.

Connor J, Rafter N, Rodgers A. Do fixed-dose combination pills or unit-of-use packaging improve adherence? A systematic review. Bull World Health Organ 2004; 82: 935–9

62.

Glass BD, Haywood A, Llewelyn V, et al. Compliance aids and medicine stability: new evidence of quality assurance. Curr Drug Saf 2009; 4: 74–8

63.

Wise J, Operario D. Use of electronic reminder devices to improve adherence to antiretroviral therapy: a systematic review. AIDS Patient Care STDS 2008; 22: 495–504

64.

Taddeo D, Egedy M, Frappier J. Adherence to treatment in adolescents. Paediatr Child Health 2008; 13: 19–24

65.

Naditz A. Medication compliance — helping patients through technology: modern "smart" pillboxes keep memory-short patients on their medical regimen. Telemed J E Health 2008; 14: 875–80

66.

Volpp KG, Loewenstein G, Troxel AB, et al. A test of financial incentives to improve warfarin adherence. BMC Health Serv Res 2008; 8: 272

67.

Sather BC, Forbes JJ, Starck DJ, et al. Effect of a personal automated dose-dispensing system on adherence: a case series. J Am Pharm Assoc 2007; 47: 82–5

68.

Cocosila M, Archer N. A framework for mobile healthcare answers to chronically ill outpatient non-adherence. Inform Prim Care 2005; 13: 145–52

69.

Krishna S, Boren SA, Balas EA. Healthcare via cell phones: a systematic review. Telemed J E Health 2009; 15: 231–40

70.

Cocosila M, Archer N, Haynes RB, et al. Can wireless text messaging improve adherence to preventive activities? Results of a randomized controlled trial. Int J Med Inform 2009; 78: 230–8

71.

Franklin VL, Waller A, Pagliari C, et al. A randomized controlled trial of Sweet Talk, a text-messaging system to support young people with diabetes. Diabet Med 2006; 23: 1332–8

72.

Miloh T, Annunziato R, Arnon R, et al. Improved adherence and outcomes for pediatric liver transplant recipients by using text messaging. Pediatrics 2009; 124: e844–50

73.

Safren SA, Hendriksen ES, Desousa N, et al. Use of an on-line pager system to increase adherence to antiretroviral medications. AIDS Care 2003; 15: 787–93

74.

Takacs B, Hanak D. A prototype home robot with an ambient facial interface to improve drug compliance. J Telemed Telecare 2008; 14: 393–5

75.

Koop A, Mosges R. The use of handheld computers in clinical trials. Control Clin Trials 2002; 23: 469–80

76.

Sahm L, MacCurtain A, Hayden J, et al. Electronic reminders to improve medication adherence: are they acceptable to the patient? Pharm World Sci 2009; 31: 627–9

77.

Reidel K, Tamblyn R, Patel V, et al. Pilot study of an interactive voice response system to improve medication refill compliance. BMC Med Inform Decis Mak 2008; 8: 46
Acknowledgements
No sources of funding were used to assist in the preparation of this review. The author has no conflicts of interest that are directly relevant to the content of this review.
About this article
Cite this article
Matsui, D. Strategies to Measure and Improve Patient Adherence in Clinical Trials. Pharm Med 23, 289–297 (2009). https://doi.org/10.1007/BF03256784
Keywords
Medication Adherence

Text Messaging

Interactive Voice Response

Pill Count

Medication Event Monitoring System