Abstract
This review presents a new optimal model-based regimen for cytotoxic chemotherapy. The main purpose of designing this improved regimen was to minimize the adverse effects of chemotherapy on healthy tissue whilst still destroying tumour cells. By considering the Gompertzian model for tumour and normal cell growth, and simple models for drug pharmacokinetics and pharmacodynamics, a two-part cost function is defined and minimized subject to constraints defined by each patient's physical condition. The response of the neutrophil cell population to the drug is modelled, together with the tumour response, and some features of this response are used as constraints. The proposed model-based regimen includes refined drug doses and administration intervals in each chemotherapy cycle.
Access options
Buy single article
Instant access to the full article PDF.
US$ 49.95
Tax calculation will be finalised during checkout.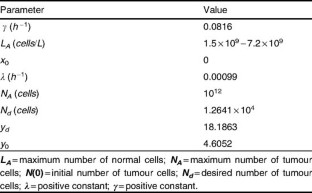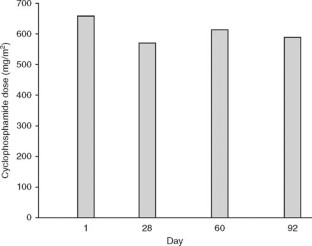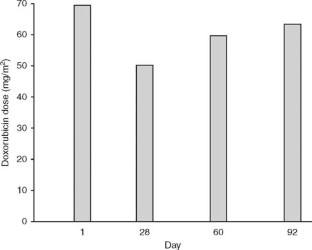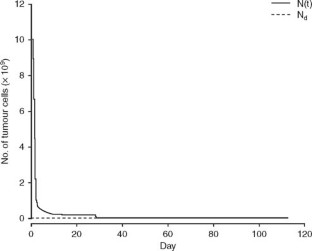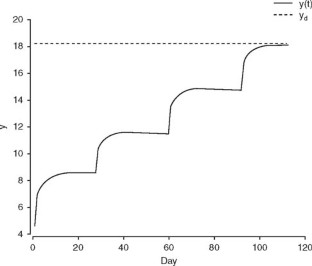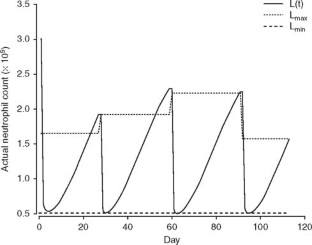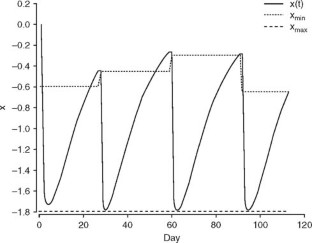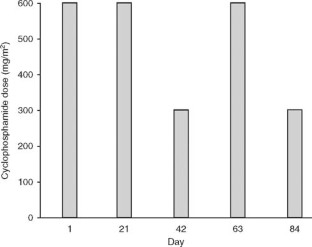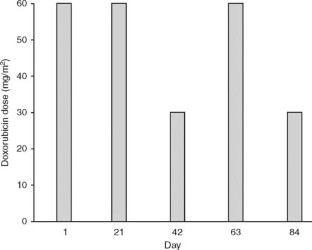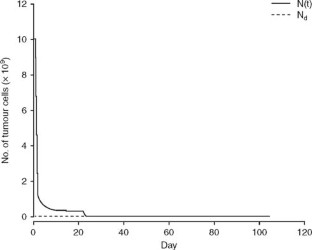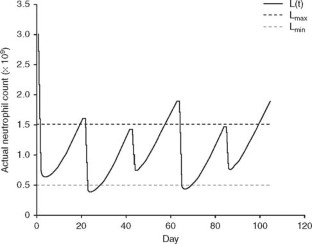 References
1.

Martin RB. Optimal control drug scheduling of cancer chemotherapy. Automatica 1992; 28: 1113–23

2.

Bojkov B, Hansel R, Luus R. Application of direct search optimization to optimal control problems. Hung J Ind Chem 1993; 21: 177–85

3.

Floares A, Floares C, Cucu M, et al. Adaptive neural networks control of drug dosage regimens in cancer chemotherapy. Proceedings of the International Joint Conference on Neural Networks 2003; 1: 154–9

4.

Khaloozadeh H, Homaei Shandiz F, Yazdanbakhsh P. The optimal dose of drug in neoadjuvant chemotherapy before surgery for patients suffering with breast cancer stage IIB. Singapore: IEEE-ICBME, 2005

5.

BC Cancer Agency. Doxorubicin. In: Cancer drug manual revised. Vancouver (BC): BC Cancer Agency, 2006 Aug

6.

BC Cancer Agency. Cyclophosphamide. In: Cancer drug manual limited revision. Vancouver (BC): BC Cancer Agency, 2006 Mar

7.

Biganzoli L, Cufer T, Bruning P, et al. Doxorubicin and paclitaxel versus doxorubicin and cyclophosphamide as first-line chemotherapy in metastatic breast cancer: the European Organization for Research and Treatment of Cancer 10961 multicenter phase III trial. J Clin Oncol 2002 July 15; 20 (14): 3114–21

8.

Radhakrishnan R. Formulation of population pharmacokinetic models of anti-cancer agents [thesis]. Pittsburgh (PA): University of Pittsburgh, 2004

9.

Harrold JM. Model-based design of cancer chemotherapy treatment schedules [thesis]. Pittsburgh (PA): University of Pittsburgh, 2005

10.

Atta H, Beijnen J, Vermorken JB, et al. Pharmacokinetics and pharmacodynamics of anticancer agents used in gynecological oncology. CME J Gynecol Oncol 2004 July; 5–16

11.

Hamilton A, Biganzoli L, Coleman R, et al. A phase I clinical and pharmacokinetic study of polyethylene glycol liposomal doxorubicin (Caelyx®, Doxil®) at a 6-week interval in patients with metastatic breast cancer. Ann Oncol 2002; 13 (6): 910–8

12.

Toutain PL. Pharmacokinetic/pharmacodynamic integration in drug development and dosage-regimen optimization for veterinary medicine. AAPS Pharm Sci 2002; 4 (4): article 38

13.

Khaloozadeh H, Homaei Shandiz F, Yazdanbakhsh P. The optimal dose of CAF regimen in adjuvant chemotherapy for breast cancer patients at stage IIB. Math Biosci 2008; 213 (2): 151–8
Acknowledgements
No sources of funding were used to assist in the preparation of this review. The authors have no conflicts of interest that are directly relevant to the content of this review.
About this article
Cite this article
Khaloozadeh, H., Yazdani, S. & Kamyab, M. Optimization of Breast Cancer Chemotherapy Regimens using a Pharmacokinetic/Pharmacodynamic Model-Based Design. Pharm Med 23, 11–18 (2009). https://doi.org/10.1007/BF03256744
Keywords
Doxorubicin

Cost Function

Neutrophil Count

Plan Dose

Cumulative Total Dose