Abstract
Background Adherence to long-term intraocular pressure (IOP) lowering medication is poor in patients with glaucoma, which is a significant factor in disease progression.
Aim To investigate whether objectively monitored adherence to 0.004% travoprost (Travatan®), an IOP-lowering prostaglandin-analogue eye drop, improves if the audible alarm function of the monitoring device is activated.
Methods Thirty-nine consecutive patients already on self-administered once-daily (evening) travoprost medication for glaucoma received an electronic monitoring device on loan and detailed training on its use. An adherent day was defined as a day with instillation of travoprost (from the monitoring device) at 9:00 pm ± 2 hours. In the first 3-month phase of the investigation, the audible alarm function of the device was disabled, but in the second 3-month period it was activated and set for 9:00 pm. The participants continued using their other eye drops in both phases of the study.
Results Thirty-four participants completed both periods. Non-adherence (mean ± SD) was 18.4 ± 18.9% in the first period and 14.7 ± 18.9% during the second (Wilcoxon signed rank test, p = 0.059). Thus, adherence was 81.6% with the alarm function disabled, and 85.3% when the signal was activated. A significant positive correlation was found between the number of daily eye drop instillations and change of non-adherence (Spearman's correlation, p = 0.014), showing that when more instillations were used, less marked adherence-improvement was achieved.
Conclusion Though adherence to once-daily topical travoprost medication was satisfactorily high even without the audible alarm function being activated, a nonsignificant tendency for a further improvement of adherence was found when the audible signal was present. For patients who instilled eye drops more frequently, this improvement was significantly less. Our results suggest that using an audible alarm signal set for the time of instillation may have a role in improving adherence in patients with glaucoma who already have relatively good adherence to their medication regimen; however, further studies are required to test this hypothesis.
Access options
Buy single article
Instant access to the full article PDF.
US$ 49.95
Tax calculation will be finalised during checkout.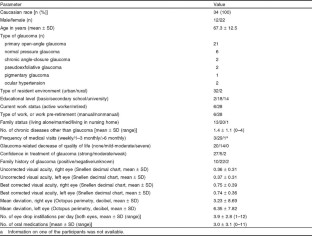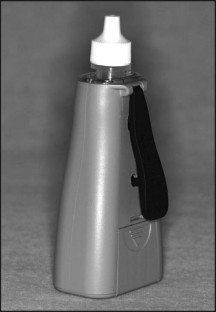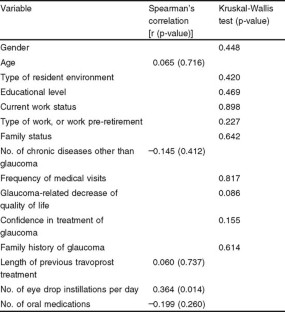 Notes
1.

1The use of trade names is for product identification purposes only and does not imply endorsement.
References
1.

Olthoff CMG, Schouten JSAG, van de Borne BW, et al. Noncompliance with ocular hypotensive treatment in patients with glaucoma or ocular hypertension. Ophthalmology 2005; 112 (6): 953–61

2.

Sleath B, Robin AL, Covert D, et al. Patient-reported behavior and problems in using glaucoma medications. Ophthalmology 2006; 113 (3): 431–6

3.

Tsai JC, McClure CA, Ramos SE, et al. Compliance barriers in glaucoma: a systematic classification. J Glaucoma 2003; 12 (5): 393–8

4.

Claxton AJ, Cramer J, Pierce C. A systemic review of the association between dose regimens and medication compliance. Clin Ther 2001; 23 (8): 1296–310

5.

Kass MA, Meltzer DW, Gordon M, et al. Compliance with topical pilocarpine treatment. Am J Ophthalmol 1986; 101 (5): 515–23

6.

Schwartz GF. Compliance and persistence in glaucoma follow-up treatment. Curr Opin Ophthalmol 2005; 16: 114–21

7.

Flowers B, Wand M, Piltz-Seymour J, et al. Patients' and physicians' perceptions of the Travoprost Dosing Aid: an open-label, multicenter study of adherence with prostaglandin analogue therapy for open-angle glaucoma or ocular hypertension. Clin Ther 2006; 28 (11): 1803–11

8.

Cronin TH, Kahook MY, Lathrop KL, et al. Accuracy and performance of a commercially available dosing aid. Br J Ophthalmol 2007; 91 (3): 497–9

9.

Robin A, Novack GD, Covert DV, et al. Adherence in glaucoma: objective measurements of once-daily and adjunctive medication use. Am J Ophthalmol 2007; 144: (10) 533–40

10.

Wilensky J, Fiscella RG, Carlson AM, et al. Measurement of persistence and adherence to regimens of IOP-lowering glaucoma medications using pharmacy claims data. Am J Ophthalmol 2006; 141: S28–33
Acknowledgements
Dr Holló is supported by a grant from the Hungarian National Health Institute (Grant [ETT] 001/2006). He has also acted as a consultant for Allergan, Alcon, Pfizer, Santen, and Merck Sharpe & Dohme.
Dr Kóthy has no conflicts of interest that are relevant to this paper.
About this article
Cite this article
Holló, G., Kóthy, P. Can Adherence to Topical Glaucoma Medication be Improved by Using an Audible Alarm?. Pharm Med 22, 175–179 (2008). https://doi.org/10.1007/BF03256699
Keywords
Glaucoma

Alarm Signal

Travoprost

Glaucoma Medication

Audible Alarm