Samenvatting
Dit case report beschrijft de casus van twee patiënten met een fractuur van de proximale humerus, waarbij in eerste instantie traumatisch letsel van de ipsilaterale elleboog is gemist. In casus 1 betreft dit een terrible triad van de elleboog, waarbij de uiteindelijke behandeling een totale elleboogartroplastiek is. In casus 2 is een olecranonfractuur miskend, wat heeft geleid tot een milde extensiebeperking die geen behandeling behoeft. Miskenning van letsel van de elleboog bij een fractuur van de proximale humerus kan worden voorkomen met behulp van de elleboogextensietest, die snel en eenvoudig is af te nemen. Indien de patiënt zijn elleboog niet volledig actief kan strekken, is aanvullend röntgenonderzoek noodzakelijk. Hiermee kan blijvende schade en functionele beperking van de elleboog worden voorkomen.
Abstract
This case report describes the cases of two patients with a fracture of the proximal humerus in which concomitant traumatic injury of the ipsilateral elbow failed to be diagnosed. In case 1 a terrible triad of the elbow was initially not recognized, wherefore the final treatment was a total elbow arthroplasty. In case 2 an olecranon fracture was missed, which lead to a mild extension deficit, that needed no further treatment. In order to recognize a combined shoulder-elbow injury in patients with a proximal humerus fracture, the elbow extension test is a simple and reliable test. A radiograph is indicated when the patient is unable to fully extend his elbow. Hereby, it is possible to prevent irreversible damage and functional limitation of the elbow joint.
Access options
Buy single article
Instant access to the full article PDF.
USD 39.95
Price excludes VAT (USA)
Tax calculation will be finalised during checkout.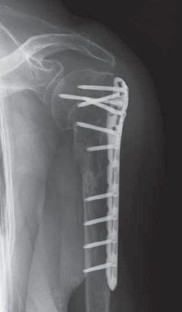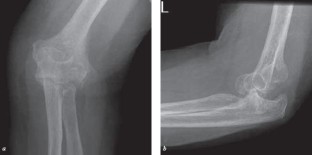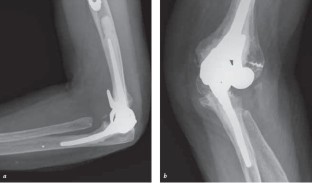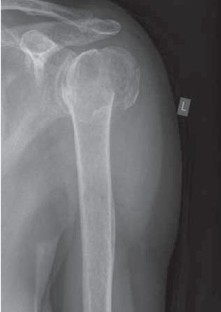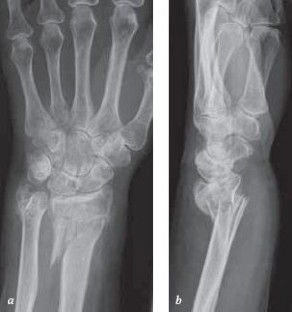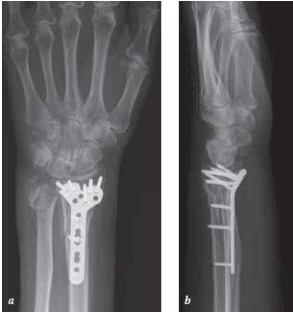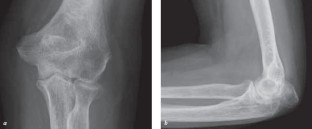 Literatuur
Ring D, Jupiter JB, Zilberfarb J. Posterior dislocation of the elbow with fractures of the radial head and coronoid. J Bone Joint Surg Am. 2002;84-A:547-51.

Hotchkiss R. Fractures and dislocations of the elbow. In: Fractures in adults. Rockwood CA, Green DP, editors. Philadelphia: Lippincott-Raven; 1996. pp. 929-1024.

Sarup S, Bryant PA. Ipsilateral humeral shaft and Galeazzi fractures with a posterolateral dislocation of the elbow: a variant of the floating dislocated elbow. J Trauma. 1997;43:349-52.

Inan U, Cevik AA, Omeroglu H. Open humerus shaft fracture with ipsilateral anterior shoulder fracture-dislocation and posterior elbow dislocation: a case report. J Trauma. 2008;64:1383-6.

Rogers JF, Bennett JB, Tullos HS. Management of concomitant ipsilateral fractures of the humerus and forearm. J Bone Joint Surg Am. 1984;66:552-6.

Viegas SF, Gogan W, Riley S. Floating dislocated elbow: case report and review of the literature. J Trauma. 1989;29:886-8.

Broadbent MR, Quaba O, Hadjucka C, McQueen MM: The epidemiology of multifocal upper limb fractures. Scand J Surg. 2003;92:220-3.

Regan W. Morrey B. Fractures of the coronoid process of the ulna. J Bone Joint Surg Am. 1989;1348-54.

Tamai K, Ishige N, Kuroda S, Ohno W, Itoh H, Hashiguchi H, e.a. Four-segment classification of proximal humeral fractures revisited: A multicenter study on 509 cases. J Shoulder Elbow Surg. 2009;18(6):845-50.

Frykman G. Fracture of the distal radius including sequelae-shoulder-hand-finger syndrome, disturbance in the distal radio-ulnar joint and impairment of nerve function. A clinical and experimental study. Acta Orthop Scand. 1967; Suppl 108:1-153.

Mathew PK, Athwal GS, King GJ. Terrible triad injury of the elbow: current concepts. J Am Acad Orthop Surg. 2009;17:137-51.

McKee MD, Pugh DM, Wild LM, Schemitsch EH, King GJ. Standard surgical protocol to treat elbow dislocations with radial head and coronoid fractures. Surgical technique. J Bone Joint Surg Am. 2005; 87 Suppl 1:22-32.

Winter M, Chuinard C, Cikes A, Pelegri C, Bronsard N, Peretti F de. Surgical management of elbow dislocation associated with non-reparable fractures of the radial head. Chir Main. 2009;28(3):158-67.

Bennett JB, Mehlhoff TL. Total elbow arthroplasty: surgical technique. J Hand Surg Am. 2009;34:933-9.

Moro JK, King GJ. Total elbow arthroplasty in the treatment of posttraumatic conditions of the elbow. Clin Orthop Relat Res. 2000;370:102-14.

Morrey BF, Schneeberger AG. Total elbow arthroplasty for posttraumatic arthrosis. Instr Course Lect. 2009;58:495-504.

Freed HA, Shields NN. Most frequently overlooked radiographically apparent fractures in a teaching hospital emergency department. Ann Emerg Med. 1984;13:900-4.

Hallas P, Ellingsen T. Errors in fracture diagnoses in the emergency department – characteristics of patients and diurnal variation. BMC Emerg Med. 2006;6:4.

Kissoon N, Galpin R, Gayle M, Chacon D, Brown T. Evaluation of the role of comparison radiographs in the diagnosis of traumatic elbow injuries. J Pediatr Orthop. 1995;15:449-53.

Swischuk LE, Hayden CK, Kupfer MC. Significance of intraarticular fluid without visible fracture in children. AJR Am J Roentgenol. 1984;142:1261-2.

Appelboam A, Reuben AD, Benger JR, Beech F, Dutson J, Haig S, e.a. Elbow extension test to rule out elbow fracture: multicentre, prospective validation and observational study of diagnostic accuracy in adults and children. BMJ. 2008;337:a2428.

Docherty MA, Schwab RA, Ma OJ. Can elbow extension be used as a test of clinically significant injury? South Med J. 2002;95:539-41.

Hawksworth CR, Freeland P. Inability to fully extend the injured elbow: an indicator of significant injury. Arch Emerg Med. 1991;8:253-6.

Lamprakis A, Vlasis K, Siampou E, Grammatikopoulos I, Lionis C. Can elbow-extension test be used as an alternative to radiographs in primary care? Eur J Gen Pract. 2007;13:221-4.
Additional information
anios Spoedeisende Hulp, Kennemer Gasthuis (voorheen coassistent Orthopedie, Medisch Centrum Alkmaar)
orthopedisch chirurg, afdeling Orthopedische Chirurgie, Medisch Centrum Alkmaar
About this article
Cite this article
Kraal, T., Keijser, L.C.M. Miskend letsel van de elleboog bij een ipsilaterale proximale humerusfractuur. TVTR 18, 110–116 (2010). https://doi.org/10.1007/BF03089829
Issue Date:

DOI: https://doi.org/10.1007/BF03089829