Samenvatting
Het dagelijks dragen van een schooltas is een zware belasting voor de rug van studenten en scholieren. Het gewicht, de duur van het dragen en de draagwijze spelen hierin een belangrijke rol. In dit artikel worden bij verschillende draagwijzen zuurstofverbruik, houding, longfunctie, rompspieractiviteit, voetkrachten en het subjectief ervaren comfort vergeleken. Met een symmetrisch geplaatste last, zo dicht mogelijk bij het lichaamszwaartepunt is het zuurstofverbruik het laagst. Dit vereist namelijk minder rompstabiliserend spierwerk. Een rugzak met twee schouderbanden geeft minder houdingsafwijkingen dan wanneer slechts één band wordt gebruikt. Eén band dwars over de borst kan het best worden vermeden omdat deze druk de longfunctie kan belemmeren. Tijdens het wandelen met een rugzak geven een verstevigde achterkant, compartimenten, brede schouderbanden en een heupband meer comfort. De laagste voetkrachten worden genoteerd bij een dubbelzak, met het gewicht verdeeld over buik- en rugzijde.
Access options
Buy single article
Instant access to the full article PDF.
USD 39.95
Price excludes VAT (USA)
Tax calculation will be finalised during checkout.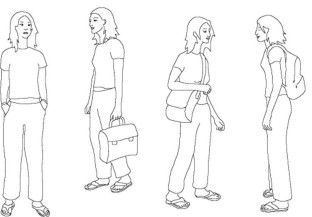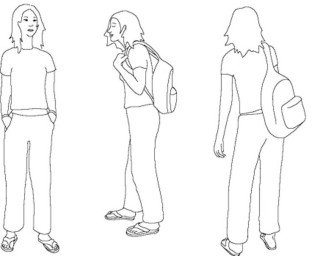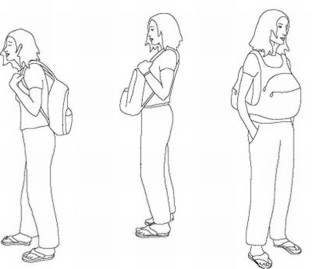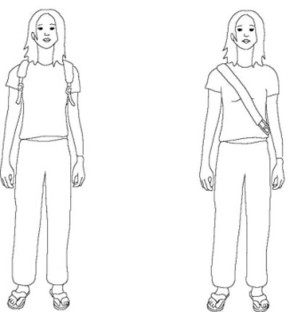 Literatuur
Bobet J, Norman RW. Effects of load placement on back muscle activity in load carriage. Eur J Appl Physiol 1984;53:71-5.

Chansirinukor W, Wilson D, Grimmer K. Effects of backpacks on students: measurement of cervical and shoulder posture. Austr J Phys 2001;47:110-6.

Cromwell RL, Aadland-Monahan TK, Nelson AT. Sagittal plane analysis of head, neck, and trunk kinematics and electromyographic activity during locomotion. J Orthop Sports Phys Ther 2001;31:255-62.

Filiaire M, Vacheron JJ, Vanneuville G. Influence of the mode of load carriage on the static posture of the pelvic girdle and the thoracic and lumbar spine in vivo. Surg Radiol Anat 2001;23:27-31.

Grimmer KA, Williams MT, Gill TKM. The associates between adolescent head-on-neck posture, backpack weight and anthropometric features. Spine 1999;24:2262-7.

Grimmer K, Williams M. Gender-age environmental associates of adolescent low back pain. Appl Ergon 2000;31:343-60.

Grimmer K, Dansie B, Milanese S. Adolescent standing postural response to backpack loads: a randomised controlled experimental study. BMC Musculoskeletal Disorders 2002;3:10 (http://www.biomedcentral.com/1471-2474/3/10).

Harman E, Han KH, Frykman P. The effects of gait timing, kinetics and muscle activity of various loads carried on the back. Med Sci Sports Ex 1992;24:S129.

Harman E, Frykman PN, Knapik JJ. Backpack vs. front-backpack: differential effects of load on walking posture. Med Sci Sports Ex 1994;26: S140.

Hong Y, Brueggeman GP. Changes in gait patterns in 10-year-old boys with increasing loads when walking on a treadmill. Gait posture 2000;11:254-9.

Hong Y, Li JX, Wong AS. Effects of load carriage on heart rate, blood pressure and energy expenditure in children. Ergonomics 2000;43:717-27.

Klasse. De boekentassen zijn te zwaar. Klasse voor ouders 1996;3:8.

Lai JP, Jones AY. The effect of shoulder-girdle loading by a school bag on long volumes in Chinese primary school children. Early Human Development 2001;62:79-86.

Legg SJ, Cruz CO. Effect of single and double strap backpacks on lung function. Ergonomics 2004;47:318-23.

Legg SJ, Mahanty A. Comparison of five modes of carrying a load close to the trunk. Ergonomics 1985;28:1653-60.

Li JX, Hong Y, Robinson PD. The effects of load carriage on movement kinematics and respiratory parameters in children during walking. Eur J Appl Physiol 2003;90:35-43.

Lloyd R, Cooke CB. The oxygen consumption associated with unloaded walking and load carriage using two different backpack designs. Eur J Appl Physiol 2000a;81:486-92.

Lloyd R, Cooke CB. Kinetic changes associated with load carriage using two rucksack designs. Ergonomics 2000b;43:1331-41.

Mackie HW, Legg SJ, Beadle J. Comparison of four different backpacks intended for school use. Appl Ergon 2003;34:257-64.

Merati G, Negrini S, Sarchi P. Cardio-respiratory adjustments and cost of locomotion in school children during backpack walking (the Italian Backpack Study). Eur J Appl Physiol 2001;85:41-8.

Motmans R, Elsen D. Vier draagwijzen van schooltassen: een fysiologische en biomechanische vergelijking. Tijdschrift voor Ergonomie 2003;28:4-11.

Pascoe DD, Pascoe DE, Wang YT. Influence of carrying book bags on gait cycle and posture of youths. Ergonomics 1997;40:631-41.

Wang YT, Pascoe DD, Weimar W. Evaluation of book backpack load during walking. Ergonomics 2001;44:858-69.

Whittfield JK, Legg SJ, Hedderley DI. The weight and use of schoolbags in New Zealand secondary schools. Ergonomics 2001;44:819-24.
Additional information
Docent Productergonomie Katholieke Hogeschool Limburg België.
About this article
Cite this article
Motmans, R. Hoe dragen kinderen het best hun schooltas?. STIM 23, 105–109 (2004). https://doi.org/10.1007/BF03076099
Issue Date:

DOI: https://doi.org/10.1007/BF03076099