Abstract
Docenten en praktijkopleiders onderhandelen over planning van studenten, documenten, overeenkomsten, werkverdeling, tussentijdse en eindevaluaties, stageboeken, opdrachten, verslaggeving, terugkomdagen, financiële vergoedingen en verlofregelingen. Ook wordt tussen scholen en zorginstellingen onderhandeld over strategische onderwerpen die zich richten op kwesties als afstemming tussen leren op school en leren op de werkplek en de verandering van traditionele onderwijsconcepten in concepten van werkplekleren. In deze toolkit worden concepten en modellen gepresenteerd die de relatie tussen 'het onderwijs binnen de beroepskolom' en 'de gezondheidszorginstellingen' rondom het werkplekleren problematiseren. De gepresenteerde modellen en de voorbeelden kunnen docenten en praktijkopleiders stimuleren met elkaar het debat aan te gaan om de kloof tussen onderwijs en werkveld te slechten.
Access options
Buy single article
Instant access to the full article PDF.
USD 39.95
Price excludes VAT (USA)
Tax calculation will be finalised during checkout.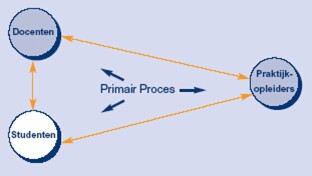 Notes
Zie voor de theorie rondom de communities of practice van Wenger, Onderwijs en gezondheidszorg, jaargang 27, maart 2002, nummer 2.
Referenties
Glaudé, M.Th. (1997). Werkplek-opleidingen als innovatie. (Dissertatie). Utrecht: Universiteit Twente

Klink, M.R. van der (1999). Effectiviteit van werkplekopleidingen. (Dissertatie). Enschede: Universiteit Twente.

Nieuwenhuis, L., Mulder, R., Jellema, M., en van Berkel, H., (2001). Tussen voorschrift en autonomie: het organiseren van attractief beroepsonderwijs. In: Pedagogische Studiën, jaargang 78, nummer 6, pagina 412-424

Onstenk, J.H.A.M. (1997). Lerend leren werken. Brede vakbekwaamheid en de integratie van werken, leren en innoveren, Proefschrift Katholieke Universiteit Nijmegen, Delft: Eburon

Poell, R.F. (1998). Organizational Work-related Learning Projects: A Network Approach. Nijmegen: Katholieke Universiteit

Rijkers,T (1999). Effectief opleiden voor praktijkopleiders. Baarn: Uitgeverij Nelissen BV

Wenger, E. (1998). Communities of practice. Learning, meaning, and identity. Cambridge: University Press

Wenger, E., McDermott, R., Snyder, W.M. (2002). Cultivating Communities of Practice: A Guide to Managing Knowledge. Boston: Harvard Business School Press
Additional information
Drs. Henk Ritzen is lid van de bestuursstaf van ROC Oost-Nederland en hoofdredacteur van O & G Vakblad voor opleiders in het gezondheidszorgonderwijs
About this article
Cite this article
Ritzen, H. Docenten en praktijkopleiders verbindende schakel van werkplekleren. ONGE 28, 140–145 (2004). https://doi.org/10.1007/BF03071388
Issue Date:

DOI: https://doi.org/10.1007/BF03071388