Abstract
Introduction
Tibiocalcaneal (TC) arthrodesis is commonly performed in patients with severe hindfoot disease. These include severe Charcot deformities, ankle malformations, chronic osteomyelitis (COM), and avascular necrosis (AVN). The talar vascular becomes disrupted to the point that the bone can no longer be salvaged. The procedure involves performing a talectomy and fusing the tibia to the calcaneus. This helps in preserving the remaining hindfoot anatomy, while allowing the patient to regain function and mobility. Our study highlights certain risk factors that influence the rate of postoperative complication after tibiocalcaneal surgery.
Materials and Methods
We retrospectively reviewed the charts of 18 patients from a single institution who underwent tibiocalcaneal between the years of 2011 and 2019. Preoperative diagnoses, comorbidities, and post-operative outcomes were noted among all patients. Then, the rates of non-union, below-knee amputations, revision surgeries, postoperative infections, and hardware failure were recorded. These data were then analyzed to determine which preoperative and perioperative factors affected postoperative outcomes for patients after tibiocalcaneal arthrodesis surgery.
Results
Nonunion was the most commonly reported complication in this series. Eight of the eighteen patients were documented to have nonunion including three patients with stable pseudarthrosis. Diabetic patients had a slightly higher incidence of nonunion (4 of 7 patients) compared to those without diabetes (4 of 11 patients). Of the nine patients diagnosed with Charcot arthropathy, five had nonunion. Three of the five individuals with a BMI ranging from 25 to 30, and four of the six individuals with a BMI of greater than 30 had a nonunion. Infection was a post-operative complication for four of the eighteen patients. Two of the four patients had multiple comorbidities in addition to chronic infections in the joint which were recurrent after surgery.
Conclusion
In conclusion, TC arthrodesis provides a viable option for high-risk patients with complicated ankle pathology who have not had successful outcomes from previous treatment. It is not without complications considering the comorbidities the patients present with before requiring this procedure. Further studies are necessary to validate the trends of outcomes and comorbidities of patients with TC arthrodesis.
This is a preview of subscription content, log in to check access.
Access options
Buy single article
Instant access to the full article PDF.
US$ 39.95
Price includes VAT for USA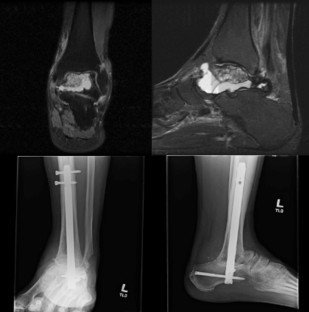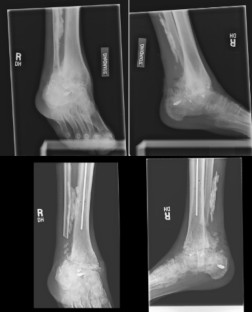 References
1.

Ochman, S., Evers, J., Raschke, M. J., & Vordemvenne, T. (2012). Retrograde nail for tibiotalocalcaneal arthrodesis as a limb salvage procedure for open distal tibia and talus fractures with severe bone loss. Journal of Foot and Ankle Surgery,51, 675.

2.

Hammett, R., Hepple, S., Forster, B., & Winson, I. (2005). Tibiotalocalcaneal (hindfoot) arthrodesis by retrograde intramedullary nailing using a curved locking nail. The results of 52 procedures. Foot and Ankle International,26, 810.

3.

Anderson, T., Linder, L., Rydholm, U., Montgomery, F., Besjakov, J., & Carlsson, Å. (2005). Tibio-talocalcaneal arthrodesis as a primary procedure using a retrograde intramedullary nail: A retrospective study of 26 patients with rheumatoid arthritis. Acta Orthopaedica,76, 580.

4.

Caravaggi, C., Cimmino, M., Caruso, S., & Dalla, Noce S. (2006). Intramedullary compressive nail fixation for the treatment of severe Charcot deformity of the ankle and rear foot. Journal of Foot and Ankle Surgery,45, 20.

5.

Pinzur, M. S., & Noonan, T. (2005). Ankle arthrodesis with a retrograde femoral nail for Charcot ankle arthropathy. Foot and Ankle International,26, 545.

6.

Kelly, P. J., & Sullivan, C. R. (1963). Blood supply of the talus. Clinical Orthopaedics and Related Research,30, 37.

7.

Berlet, G. C., Lee, T. H., & Massa, E. G. (2001). Talar neck fractures. Orthopedic Clinics of North America,32(1), 53–64.

8.

Mulfinger, G. L., & Trueta, J. (1970). The blood supply of the talus. Journal of Bone and Joint Surgery: Series B,52, 160.

9.

Gelberman, R. H., & Mortensen, W. W. (1983). The arterial anatomy of the talus. Foot and Ankle,4, 64.

10.

Peterson, L., & Goldie, I. F. (1975). The arterial supply of the talus: A study on the relationship to experimental talar fractures. Acta Orthopaedica,46, 1026.

11.

Mindell, E. R., Cisek, E. E., Kartalian, G., & Dziob, J. M. (1963). Late results of injuries to the talus. The Journal of Bone & Joint Surgery,45, 221.

12.

Canale, S. T., & Kelly, F. B., Jr. (1978). Fractures of the neck of the talus. Long-term evaluation of 71 cases. The Journal of Bone and Joint Surgery,60, 143.

13.

Myerson, M. S., Alvarez, R. G., & Lam, P. W. C. (2000). Tibiocalcaneal arthrodesis for the management of severe ankle and hindfoot deformities. Foot and Ankle International,21, 643.

14.

Liener, U. C., Bauer, G., Kinzl, L., & Suger, G. (1999). Tibiocalcaneal fusion for the treatment of talar necrosis. An analysis of 21 cases. Die tibiokalkaneare Arthrodese Eine Analyse von 21 Fallen,102, 848.

15.

Reckling, F. W. (1972). Early tibiocalcaneal fusion in the treatment of severe injuries of the talus. Journal of Trauma and Acute Care,12, 390.

16.

Altindas, M., & Kilic, A. (2008). Is Boyd's operation a last solution that may prevent major amputations in diabetic foot patients? Journal of Foot and Ankle Surgery,47, 307.

17.

Jeng, C. L., Campbell, J. T., Tang, E. Y., Cerrato, R. A., & Myerson, M. S. (2013). Tibiotalocalcaneal arthrodesis with bulk femoral head allograft for salvage of large defects in the ankle. Foot and Ankle International,34, 1256.

18.

Sagherian, B. H., & Claridge, R. J. (2012). Porous tantalum as a structural graft in foot and ankle surgery. Foot and Ankle International,33, 179.

19.

Mann, R. A., & Chou, L. (1995). Tibiocalcaneal arthrodesis. Foot & Ankle International,16(7), 401–405.

20.

Ettinger, S., Stukenborg-Colsman, C., Plaass, C., Yao, D., Claassen, L., Berger, S., et al. (2016). Tibiocalcaneal arthrodesis as a limb salvage procedure for complex hindfoot deformities. Archives of Orthopaedic and Trauma Surgery,136, 457.

21.

Thevendran, G., Younger, A., & Pinney, S. (2012). Current concepts review: Risk factors for nonunions in foot and ankle arthrodesis. Foot and Ankle International,33, 1031.

22.

Ahmad, J., & Raikin, S. M. (2008). Ankle arthrodesis: The simple and the complex. Foot and Ankle Clinics,13, 381.

23.

Jansen, R. B., & Svendsen, O. L. (2018). A review of bone metabolism and developments in medical treatment of the diabetic Charcot foot. Journal of Diabetes and its Complications,32, 708.

24.

Rabinovich, R. V., Haleem, A. M., & Rozbruch, S. R. (2015). Complex ankle arthrodesis: Review of the literature. World Journal of Orthopaedics,6, 602.

25.

Gaston, M. S., & Simpson, A. H. R. W. (2007). Inhibition of fracture healing. Journal of Bone and Joint Surgery: Series B,89, 1553.

26.

Marenzana, M., & Arnett, T. R. (2013). The key role of the blood supply to bone. Bone Research,1, 203.

27.

Adigwem, U., Oki, A., Johnson, K., Baddaloo, T., Cala, M., & Merrill, T. (2017). Tibiocalcaneal arthrodesis as a limb salvage solution for a patient with rearfoot charcot neuroarthropathy and avascular necrosis of the Talus. Decatur: Podiatry Institute.

28.

Frey, C., Halikus, N. M., vu-Rose, T., & Ebramzadeh, E. (1994). A review of ankle arthrodesis: Predisposing factors to nonunion. Foot & Ankle International,15, 581.

29.

Thorud, J. C., Mortensen, S., Thorud, J. L., Shibuya, N., Maldonado, Y. M., & Jupiter, D. C. (2017). Effect of obesity on bone healing after foot and ankle long bone fractures. Journal of Foot and Ankle Surgery,56, 258.

30.

Bhargava, A., & Greiss, M. E. (2007). Effects of smoking in foot and ankle surgery—An awareness survey of members of the British Orthopaedic Foot & Ankle Society. The Foot,17, 132.

31.

Kim, J. H., & Patel, S. (2017). Is it worth discriminating against patients who smoke? A systematic literature review on the effects of tobacco use in foot and ankle surgery. Journal of Foot and Ankle Surgery,56, 594.
Funding
The author(s) received no financial support for the research, authorship, and/or publication of this article.
Ethics declarations
Conflict of interest
No benefits in any form have been received or will be received from a commercial party related directly or indirectly to the subject of this article.
Ethical standard statement
The authors had IRB approval to perform this retrospective study. There were no animal subjects.
Informed consent
For this type of study informed consent is not required.
Additional information
Publisher's Note
Springer Nature remains neutral with regard to jurisdictional claims in published maps and institutional affiliations.
Electronic supplementary material
Below is the link to the electronic supplementary material.
About this article
Cite this article
Love, B., Alexander, B., Ray, J. et al. Outcomes of Tibiocalcaneal Arthrodesis in High-Risk Patients: An Institutional Cohort of 18 Patients. JOIO 54, 14–21 (2020). https://doi.org/10.1007/s43465-020-00048-z
Received:

Accepted:

Published:

Issue Date:
Keywords
Tibiocalcaneal arthrodesis

Arthrodesis

Complications

Talus