Abstract
Background
Turf toe injuries, though most common in athletes, can also occur in non-athletes. No study exists in the current literature investigating operative outcomes in non-athlete patients with chronic turf toe injury. In this study, we present our outcomes on operatively treated turf toe injuries in non-athletes in the only cohort yet studied.
Methods
Using ICD-10 codes, we assembled a cohort of 12 patients who underwent operative repair of chronic turf toe injury from January 2012 through January 2018 at the investigating institution. These 12 patients were evaluated to determine demographic information, method of injury, length of time from injury to surgery, clinical and radiologic characteristics of the injury, and operative outcomes including mean preoperative and postoperative VAS (Visual Analog Scale) scores, preoperative and postoperative FFI (Foot Function Index) scores, and postoperative complications.
Results
On initial clinical presentation, all 12 patients had local tenderness with associated painful range of motion. Four patients had restricted range of motion, all patients had a positive Lachman test, two had local edema, and eight had hallux valgus deformity. Mean VAS improved from 4.6 (range 2–9) to 1 (range 0–4). Mean FFI improved from 102.5 (range 56–177) to 61.75 (range 23–144). All patients had a negative Lachman test at final follow-up. No patients developed major complications or required revision surgery.
Conclusions
Our study is the first to investigate operative outcomes following chronic turf toe injury in non-athlete patients. Based on our study, surgeons and patients can expect significant improvement in overall pain and function following surgery.
This is a preview of subscription content, log in to check access.
Access options
Buy single article
Instant unlimited access to the full article PDF.
US$ 39.95
Price includes VAT for USA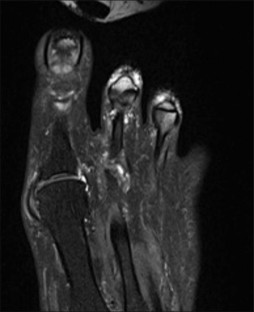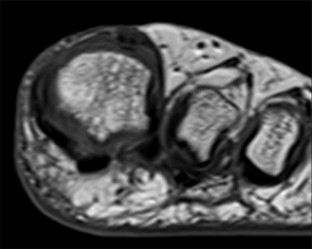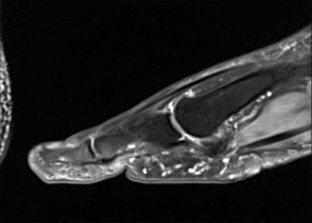 References
1.

Clanton, T. O., & Ford, J. J. (1994). Turf toe injury. Clinics in Sports Medicine,13, 731–741.

2.

Coughlin, M. J., Kemp, T. J., & Hirose, C. B. (2010). Turf toe: soft tissue and osteocartilaginous injury to the first metatarsophalangeal joint. The Physician and Sportsmedicine,38, 91–100.

3.

Lui, T. H. (2008). Stabilization of first metatarsophalangeal instability with plantar plate tenodesis. Foot and Ankle Surgery.,14, 211–214.

4.

McCormick, J. J., & Anderson, R. B. (2009). The great toe: turf toe, chronic turf toe, and complicated sesamoid injuries. Foot and Ankle Clinics.,14, 135–150.

5.

Coughlin, M. J. (2003). Turf toe injuries to the hallux MTP joint. Orthopaedic Sports Medicine Principles and Practice (pp. 2483–2588). Philadelphia: WB Saunders.

6.

Doty, J. F., & Coughlin, M. J. (2013). Turf toe repair: A technical note. Foot and Ankle Specialist.,6, 452–456. https://doi.org/10.1177/1938640013507107

7.

McCormick, J. J., & Anderson, R. B. (2010). Turf toe: Anatomy, diagnosis, and treatment. Sports Health.,2, 487–494. https://doi.org/10.1177/1941738110386681.

8.

McCormick, J. J., & Anderson, R. B. (2010). Rehabilitation following turf toe injury and plantar plate repair. Clinics in Sports Medicine,29, 313–323.

9.

Biedert, R., & Hintermann, B. (2003). Stress fractures of the medial great toe sesamoids in athletes. Foot and Ankle International.,24, 137–141.

10.

Crain, J. M., Phancao, J. P., & Stidham, K. (2008). MR imaging of turf toe. Magnetic Resonance Imaging Clinics of North America.,16, 93–103.

11.

Anderson, R. B., Hunt, K. J., & McCormick, J. J. (2010). Management of common sports-related injuries about the foot and ankle. Journal of American Academy of Orthopaedic Surgeons,18, 546–556.

12.

Anderson, R. B. (2002). Turf toe injuries of the hallux metatarsophalangeal joint. Techniques in Foot and Ankle Surgery.,1, 102–111.

13.

Clanton, T. O., Butler, J. E., & Eggert, A. (1986). Injuries to the metatarsophalangeal joints in athletes. Foot and Ankle.,7, 162–176.

14.

Coker, T. P., Arnold, J. A., & Weber, D. L. (1978). Traumatic lesions of the metatarsophalangeal joint of the great toe in athletes. American Journal of Sports Medicine,6, 326–334.

15.

Tewes, D. P., Fischer, D. A., Fritts, H. M., & Guanche, C. A. (1994). MRI findings of acute turf toe: a case report and review of anatomy. Clinical Orthopaedics and Related Research,304, 200–203.

16.

Prieskorn, D., Graves, S. C., & Smith, R. A. (1993). Morphometric analysis of the plantar plate apparatus of the first metatarsophalangeal joint. Foot and Ankle.,14, 204–207.

17.

Waldrop, N. E., Zirker, C. A., Wijdicks, C. A., Laprade, R. F., & Clanton, T. O. (1993). Radiographic evaluation of plantar plate injury: An in vitro biomechanical study. Foot & Ankle Int.,34, 403–408.

18.

Drakos, M. C., Fiore, R., Murphy, C., & DiGiovanni, C. W. (2015). Plantar-plate disruptions: the severe turf-toe injury three cases in contact athletes. Journal of Athletic Training.,50, 553–560.

19.

Van Hal, M. E., Keene, J. S., Lange, T. A., & Clancy, W. G., Jr. (1982). Stress fractures of the great toe sesamoids. American Journal of Sports Medicine,10, 122–128.

20.

Smith, K., & Waldrop, N. (2018). Operative outcomes of grade 3 turf toe injuries in competitive football players. Foot & Ankle Int.. https://doi.org/10.1177/1071100718775967.
Ethics declarations
Conflict of interest
The authors declare that there is no conflict of interest.
Informed consent
The authors certify that they have obtained all appropriate patient consent forms. In the form, the patient(s) has/have given his/her/their consent for his/her/their images and other clinical information to be reported in the journal. The patients understand that their names and initials will not be published and due efforts will be made to conceal their identity, but anonymity cannot be guaranteed.
Additional information
Publisher's Note
Springer Nature remains neutral with regard to jurisdictional claims in published maps and institutional affiliations.
About this article
Cite this article
Pinter, Z.W., Farnell, C.G., Huntley, S. et al. Outcomes of Chronic Turf Toe Repair in Non-athlete Population: A Retrospective Study. IJOO (2020) doi:10.1007/s43465-019-00010-8
Received:

Accepted:

Published:
Keywords
Metatarsophalangeal joint

Turf toe

Plantar plate

Hyperextension