Inhibition of pyruvate dehydrogenase complex activity by 3-bromopyruvate affects blood platelets responses in type 2 diabetes
Abstract
Background
Hyperactivation of blood platelets is an essential factor in the pathomechanism of diabetes-evoked angiopathies. The aim of this work was to investigate whether blood platelets hyperactivation resulting from type 2 diabetic hyperglycaemia-increased pyruvate dehydrogenase complex activity and excessive acetyl-CoA accumulation may be brought to the normal range by the enzyme inhibitors.
Methods
Platelets were isolated from the blood of 9 type 2 diabetic patients and 10 healthy donors. Effects of 3-bromopyruvate and 3-nitropropionate on pyruvate dehydrogenase complex (PDHC) and succinate dehydrogenase activities, as well as levels of acetyl-CoA, ATP, thiobarbituric acid reactive species and aggregation were assessed in non-activated and thrombin-activated platelets.
Results
In type 2 diabetic patients fasting plasma glucose and fructosamine levels were 61 and 64% higher, respectively, than in the healthy group (p < 0.001). In non-activated diabetic platelets PDHC activity, PDHC-E2, acetyl-CoA and ATP levels were 66, 70, 68 and 60%, higher, respectively, than in platelets from healthy controls (p < 0.01). 3-bromopyruvate (0.1 mM) decreased pyruvate dehydrogenase activity in healthy and diabetic platelets by 42% and 59%, respectively. Similar inhibitory effects were observed for acetyl-CoA and ATP levels, aggregation and TBARS accumulation rates. Succinate dehydrogenase activity was inhibited by 3-nitropropionate (10 mM) to 38 and 41% of control values in healthy and diabetic platelets, respectively, but affected neither function nor acetyl-CoA metabolism in platelets of both groups.
Conclusions
These data indicate that inhibition of pyruvate dehydrogenase excessive activity in diabetic platelets by 3-bromopyruvate may normalise their functional parameters through adjustment of acetyl-CoA/ATP levels to control values.
Graphic abstract
Platelets from blood of diabetic patients display higher activities of pyruvate dehydrogenase complex (PDHC), higher levels of dihydrolipoate transacetylase (DLAT, E2 subunit of PDHC) as well as higher levels of acetyl-CoA yielding greater ATP/ADP accumulation than in platelets of normoglycemic subjects. Therefore, in diabetic platelets, thrombin caused higher release of ATP/ADP triggering excessive production of reactive oxygen species (ROS) and stronger aggregation compared to control platelets. In diabetic platelets, relative excess of DLAT in PDHC made them highly susceptible to 3-bromopyruvate (3BrP) inhibition. Resulting limitation of acetyl-CoA provision by 3-BrP normalised activity of diabetic platelets.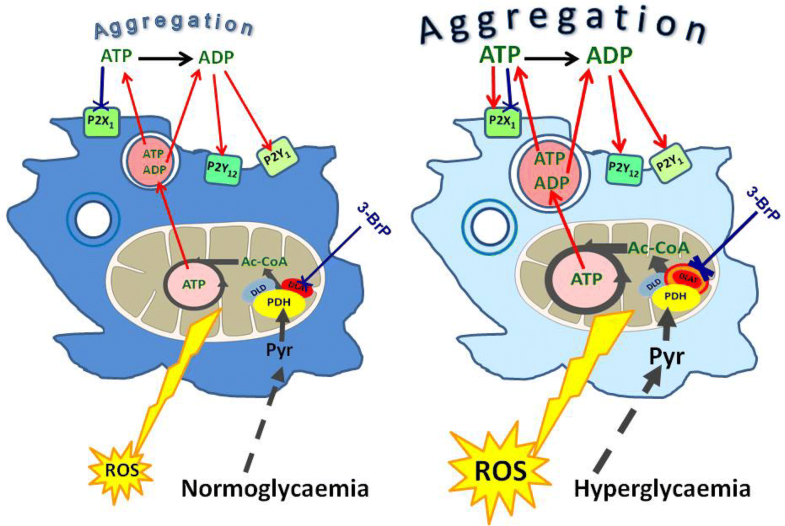 Keywords
3-Bromopyruvate 
Acetyl-CoA 
ATP 
Blood platelets 
Pyruvate dehydrogenase complex 
TBARS 
Aggregation 
Abbreviations
3-BrP

3-Bromopyruvate

3-NP

3-Nitropropionic acid

PDHC

Pyruvate dehydrogenase complex

TBARS

Thiobarbituric acid reactive species

TCA

Tricarboxylic acid cycle
Notes
Acknowledgements
This work was supported by Medical University of Gdansk projects, ST-57, MN0116.
Author contribution
AM was responsible for conceptualization, validation, investigation, data curation, formal analysis, writing, supervision and project administration. KG was responsible for investigation and resources. HB was responsible for data curation, validation, and funding acquistation. MZ was resoponsible for statistical analysis. AS was responsible for conceptualization, formal analysis , writing and supervision.
Compliance with ethical standards
Conflict of interest
All the co-authors of the manuscript contributed to the presented manuscript. There are no circumstances that present a potential conflict of interest.
Copyright information
© Maj Institute of Pharmacology Polish Academy of Sciences 2020