Abstract
Study design
Case report.
Objective
To describe the importance of preoperative halo-gravity traction and posterior vertebral column resection (PVCR) for severe proximal thoracic kyphoscoliosis associated with Desbuquois dysplasia, after breakage of a growing rod construct.
Summary of background data
Desbuquois dysplasia is a rare, autosomal recessive chondrodysplasia characterized by short stature, joint laxity, kyphoscoliosis, and characteristic facial dysmorphism. Our 8-year-old patient developed severe, progressive, infantile-onset kyphoscoliosis and had been initially treated with Vertical Expandable Prosthetic Titanium Rib (VEPTR) rods. She subsequently underwent growing rod placement, but the eventual rod fracture resulted in a severe angular kyphosis.
Methods
Clinical and radiographic case review.
Results
The broken implants were removed, and she was treated with 2.5 months of preoperative halo-gravity traction. She then underwent a T4 PVCR and C7–L4 instrumented posterior spinal fusion. The patient had an uneventful postoperative course without any neurologic problems. Two years postoperatively, correction was well maintained with appropriate alignment and balance without implant breakage.
Conclusion
To our knowledge, this is the first report of treatment of spinal deformity associated with Desbuquois dysplasia. Our results suggest that preoperative halo-gravity traction and PVCR are safe and efficacious techniques for severe rigid kyphoscoliosis in the cervicothoracic region associated with broken growing rods in a patient with Desbuquois dysplasia.
Level of evidence
Level IV.
This is a preview of subscription content, log in to check access.
Access options
Buy single article
Instant unlimited access to the full article PDF.
US$ 39.95
Price includes VAT for USA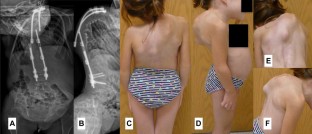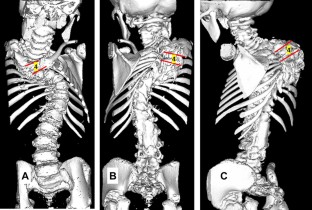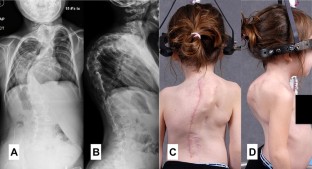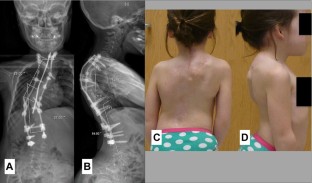 References
1.

Faivre L, Le Merrer M, Zerres K et al (2004) Clinical and genetic heterogeneity in Desbuquois dysplasia. Am J Med Genet A 128:29–32

2.

Faivre L, Cormier-Daire V, Eliott AM et al (2004) Desbuquois dysplasia, a reevaluation with abnormal and "normal" hands: radiographic manifestations. Am J Med Genet A 124:48–53

3.

Huber C, Oulès B, Bertoli B et al (2009) Identification of CANT1 mutations in Desbuquois dysplasia. Am J Hum Genet 85:706–710

4.

Laccone F, Schoner K, Krabichler B et al (2011) Desbuquois dysplasia type I and fetal hydrops due to novel mutations in the CANT1 gene. Eur J Hum Genet 19:1133–1137

5.

Bui C, Huber C, Tuysuz B et al (2014) XYLT1 mutations in Desbuquois dysplasia type 2. Am J Hum Genet 94:405–414

6.

Al Kaissi A, Radler C, Klaushofer K et al (2009) Advanced ossification of the carpal bones, and monkey wrench appearance of the femora, features suggestive of a propable mild form of Desbeqious dysplasia: a case report and review of the literature. Cases J 2:45

7.

Bethem D, Winter RB, Lutter L et al (1981) Spinal disorders of dwarfism. Review of the literature and report of eighty cases. J Bone Joint Surg Am 63:1412–1425

8.

Tolo VT (1990) Spinal deformity in short-stature syndromes. Instr Course Lect 39:399–405

9.

Karol L, Johnston C, Mladenov K et al (2008) Pulmonary function following early thoracic fusion in non-neuromuscular scoliosis. J Bone Joint Surg Am 90:1272–1281

10.

Thompson GH, Akbarnia BA, Campbell RM (2007) Growing rod techniques in early-onset scoliosis. J Pediatr Orthop 27:354–361

11.

Tis JE, Karlin LI, Akbarnia BA et al (2012) Early onset scoliosis: modern treatment and results. J Pediatr Orthop 32:647–657

12.

Akbarnia BA, Marks DS, Boachie-Adjei O et al (2005) Dual growing rod technique for the treatment of progressive early-onset scoliosis: a multicenter study. Spine 30:S46–57

13.

Bess S, Akbarnia BA, Thompson GH et al (2010) Complications of growing-rod treatment for early-onset scoliosis: analysis of one hundred and forty patients. J Bone Joint Surg Am 92:2533–2543

14.

McElroy MJ, Sponseller PD, Dattilo JR et al (2012) Growing rods for the treatment of scoliosis in children with cerebral palsy: a critical assessment. Spine 37:E1504–E1510

15.

Nemani VM, Kim HJ, Bjerke-Kroll BT et al (2015) Preoperative halo-gravity traction for severe spinal deformities at an SRS-GOP site in West Africa: protocols, complications, and results. Spine 40:153–161

16.

Xia L, Li P, Wang D et al (2015) Spinal osteotomy techniques in management of severe pediatric spinal deformity and analysis of postoperative complications. Spine 40:E286–E292

17.

Rinella A, Lenke L, Whitaker C et al (2005) Perioperative halo-gravity traction in the treatment of severe scoliosis and kyphosis. Spine 30:475–482

18.

Yang C, Zheng Z, Liu H et al (2016) Posterior vertebral column resection in spinal deformity: a systematic review. Eur Spine J 25:2368–2375

19.

Stoker GE, Lenke LG, Dorward IG (2012) Posterior vertebral column resection for the treatment of dystrophic kyphosis associated with type-1 neurofibromatosis. Spine 37:E1659–E1664
Acknowledgements
The authors acknowledge and thank Brenda Sides, MA, for her assistance in data collection for this report.
Funding
None.
Ethics declarations
IRB approval
This study was approved by the Institutional Review Board of the Washington University School of Medicine, St. Louis, MO.
Additional information
Publisher's Note
Springer Nature remains neutral with regard to jurisdictional claims in published maps and institutional affiliations.
Surgery and research for this report was performed at the Department of Orthopedic Surgery, Washington University School of Medicine, in St. Louis, MO.
About this article
Cite this article
Takata, Y., Lenke, L.G. & Kelly, M.P. Posterior vertebral column resection for rigid proximal thoracic kyphoscoliosis with broken growing rods in a patient with Desbuquois dysplasia. Spine Deform (2020) doi:10.1007/s43390-020-00030-7
Received:

Accepted:

Published:
Keywords
Posterior vertebral column resection

Infantile-onset kyphoscoliosis

Desbuquois dysplasia

Halo-gravity traction

Chin-on-chest deformity