Abstract
Study design
A radiological study.
Objectives
To examine lumbar segment angle according to the Roussouly type of global sagittal alignment and to determine the reference disc angles in minimally invasive surgery (MIS) for adult spinal deformity.
Summary of background data
Optimal restoration of lumbar lordosis (LL) in adult spinal deformity surgery includes achieving the ideal shape of LL as well as the amount of LL. However, the distribution of lumbar segment angles by the Roussouly type has yet to be elucidated.
Methods
Forty sets of whole spine lateral radiographs covering the four Roussouly types (N = 160) were obtained from a database of asymptomatic adult subjects. Global and spinopelvic parameters were measured. Disc and vertebral angles at each lumbar level were compared among the Roussouly types.
Results
There were 75 (46.9%) men with a mean age of 32.8 ± 8.9 years among the total of 160 study subjects. A significant difference was found in spino-sacral angle, sacral slope, pelvic incidence, LL, and lower arc of LL (L4S1) among the Roussouly types (all P < 0.001). The ratio of the lower arc of LL (L4S1) to LL was 83.4% in Roussouly type 1, 65.2% in type 2, 64.7% in type 3, and 61.5% in type 4. The disc angles at the L1-2 and L2-3 levels in Roussouly type 1 were significantly smaller than in the other types. The disc angle at the L5-S1 level in Roussouly type 1 was significantly larger than that in type 2. Roussouly type 4 had a larger disc angle at the L2-3 and L4-5 levels than types 1 and 2.
Conclusions
The results of this study showed that the disc angle distribution differs among Roussouly types. The configuration of LL as well as the amount of LL should be considered in adult spinal deformity surgery.
Level of evidence
Level IV.
This is a preview of subscription content, log in to check access.
Access options
Buy single article
Instant unlimited access to the full article PDF.
US$ 39.95
Price includes VAT for USA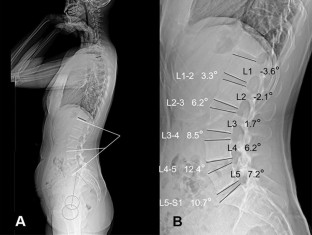 References
1.

Le Huec JC, Saddiki R, Franke J, Rigal J, Aunoble S (2011) Equilibrium of the human body and the gravity line: the basics. Eur Spine J 20(Suppl 5):558–563

2.

Amabile C, Le Huec JC, Skalli W (2018) Invariance of head-pelvis alignment and compensatory mechanisms for asymptomatic adults older than 49 years. Eur Spine J 27(2):458–466

3.

Stagnara P, De Mauroy JC, Dran G et al (1982) Reciprocal angulation of vertebral bodies in a sagittal plane: approach to references for the evaluation of kyphosis and lordosis. Spine (Phila Pa 1976) 7(4):335–342

4.

Bernhardt M, Bridwell KH (1989) Segmental analysis of the sagittal plane alignment of the normal thoracic and lumbar spines and thoracolumbar junction. Spine (Phila Pa 1976) 14(7):717–721

5.

Gelb DE, Lenke LG, Bridwell KH, Blanke K, McEnery KW (1995) An analysis of sagittal spinal alignment in 100 asymptomatic middle and older aged volunteers. Spine (Phila Pa 1976) 20(12):1351–1358

6.

Jackson RP, Kanemura T, Kawakami N, Hales C (2000) Lumbopelvic lordosis and pelvic balance on repeated standing lateral radiographs of adult volunteers and untreated patients with constant low back pain. Spine (Phila Pa 1976) 25(5):575–586

7.

Vialle R, Levassor N, Rillardon L, Templier A, Skalli W, Guigui P (2005) Radiographic analysis of the sagittal alignment and balance of the spine in asymptomatic subjects. J Bone Jt Surg Am 87(2):260–267

8.

Boulay C, Tardieu C, Hecquet J et al (2006) Sagittal alignment of spine and pelvis regulated by pelvic incidence: standard values and prediction of lordosis. Eur Spine J 15(4):415–422

9.

Schwab F, Lafage V, Patel A, Farcy JP (2009) Sagittal plane considerations and the pelvis in the adult patient. Spine (Phila Pa 1976) 34(17):1828–1833

10.

Lee CS, Chung SS, Park SJ, Kim DM, Shin SK (2014) Simple prediction method of lumbar lordosis for planning of lumbar corrective surgery: radiological analysis in a Korean population. Eur Spine J 23(1):192–197

11.

Lafage R, Schwab F, Challier V et al (2016) Defining spino-pelvic alignment thresholds: should operative goals in adult spinal deformity surgery account for age? Spine (Phila Pa 1976) 41(1):62–68

12.

Le Huec JC, Hasegawa K (2016) Normative values for the spine shape parameters using 3D standing analysis from a database of 268 asymptomatic Caucasian and Japanese subjects. Eur Spine J 25(11):3630–3637

13.

Roussouly P, Gollogly S, Berthonnaud E, Dimnet J (2005) Classification of the normal variation in the sagittal alignment of the human lumbar spine and pelvis in the standing position. Spine (Phila Pa 1976) 30(3):346–353

14.

Berjano P (2018) Reviewer's comment concerning "Classification of normal sagittal spine alignment: refounding the Roussouly classification" by F. Laouissat et al. (2017). https://doi.org/10.1007/s00586-017-5111-x Eur Spine J 7(8):2012–3. (Epub ahead of print)

15.

Barrey C, Jund J, Noseda O, Roussouly P (2007) Sagittal balance of the pelvis–spine complex and lumbar degenerative diseases. A comparative study about 85 cases. Eur Spine J 16(9):1459–1467

16.

Sebaaly A, Grobost P, Mallam L, Roussouly P (2018) Description of the sagittal alignment of the degenerative human spine. Eur Spine J 27(2):489–496

17.

Sebaaly A, Riouallon G, Obeid I et al (2018) Proximal junctional kyphosis in adult scoliosis: comparison of four radiological predictor models. Eur Spine J 27(3):613–621

18.

Lee CS, Park SJ, Chung SS, Lee JY, Yum TH, Shin SK (2016) Mini-open anterior lumbar interbody fusion combined with lateral lumbar interbody fusion in corrective surgery for adult spinal deformity. Asian Spine J 10(6):1023–1032

19.

Mundis GM Jr, Turner JD, Kabirian N et al (2017) Anterior column realignment has similar results to pedicle subtraction osteotomy in treating adults with sagittal plane deformity. World Neurosurg 105:249–256

20.

Kanter AS, Tempel ZJ, Ozpinar A, Okonkwo DO (2016) A review of minimally invasive procedures for the treatment of adult spinal deformity. Spine (Phila Pa 1976) 41(Suppl 8):S59–S65

21.

Akbarnia BA, Mundis GM Jr, Moazzaz P et al (2014) Anterior column realignment (ACR) for focal kyphotic spinal deformity using a lateral transpsoas approach and ALL release. J Spinal Disord Tech 27(1):29–39

22.

Hu P, Yu M, Sun Z et al (2016) Analysis of global sagittal postural patterns in asymptomatic Chinese adults. Asian Spine J 10(2):282–288

23.

Cho Y (2017) Evaluation of global sagittal balance in koreans adults. J Korean Neurosurg Soc 60(5):560–566

24.

Yu M, Zhao WK, Li M et al (2015) Analysis of cervical and global spine alignment under Roussouly sagittal classification in Chinese cervical spondylotic patients and asymptomatic subjects. Eur Spine J 24(6):1265–1273

25.

Berjano P, Cecchinato R, Sinigaglia A et al (2015) Anterior column realignment from a lateral approach for the treatment of severe sagittal imbalance: a retrospective radiographic study. Eur Spine J 24(Suppl 3):433–438
Ethics declarations
Conflict of interest
The authors declare that they have no conflict of interest.
Ethical approval
The ethical committee of the hospital reviewed and approved the design of the present study.
Additional information
Publisher's Note
Springer Nature remains neutral with regard to jurisdictional claims in published maps and institutional affiliations.
About this article
Cite this article
Chung, N., Lee, H. & Jeon, C. Differences in lumbar segment angle among Roussouly types of global sagittal alignment in asymptomatic adult subjects. Spine Deform (2020) doi:10.1007/s43390-019-00010-6
Received:

Accepted:

Published:
Keywords
Roussouly classification

Lumbar Lordosis

Disc angle

Minimally invasive surgery

Adult spinal deformity