Zusammenfassung
Ziel der Operation ist es, das vordere Kreuzband (VKB) mit einem autologen Sehnentransplantat zu ersetzen (Semitendinosussehne). Der femorale Tunnel wird über ein tiefes anteromediales Portal unter arthroskopischer Kontrolle gebohrt. Das Knie muss beim Bohren mehr als 110° gebeugt sein. Als Landmarken dienen die Linea intercondylaris und die Knorpel-Knochen-Grenze. Die Position des Tunnels sollte über das mediale Portal kontrolliert werden (medialer Portalblick). An der Tibia dient das Außenmeniskusvorderhorn als Landmarke. Zur Fixation des Transplantates wird femoral ein Kippanker und tibial eine Interferenzschraube ggf. mit zusätzlichem extrakortikalem Knopf verwendet. Die Nachbehandlung erfolgt in verschiedenen Phasen. Die Progression bis zur Wiederkehr zum Sport sollte kriterienbasiert erfolgen.
Abstract
The aim of this procedure is to replace the anterior cruciate ligament (ACL) with an autologous tendon graft. Typical autologous graft sources are the hamstring tendon, patellar tendon and quadriceps tendon. The femoral tunnel for the ACL graft is drilled by a deep anteromedial portal under arthroscopic control. For anteromedial portal drilling the knee must be flexed more than 110°. Landmarks are the intercondylar line and the cartilage-bone interface. The position of the guidewire should be controlled by the medial portal (medial portal view). The anterior horn of the lateral meniscus is used as a landmark on the tibia. For fixation of the graft to the femur a pivoted anchor is used and for the tibia an interference screw, if necessary with extracortical button. The follow-up treatment is divided into different phases. The progression until return to sport should be criteria-based.
This is a preview of subscription content, log in to check access.
Access options
Buy single article
Instant unlimited access to the full article PDF.
US$ 39.95
Price includes VAT for USA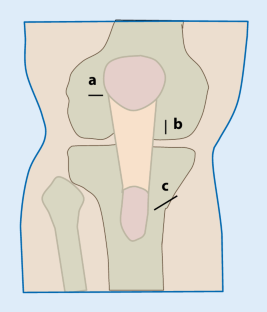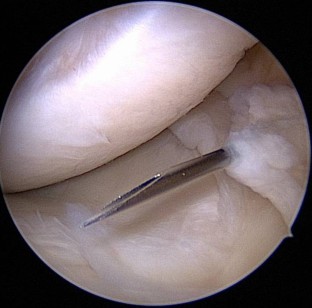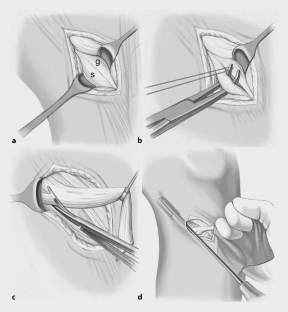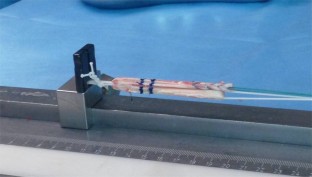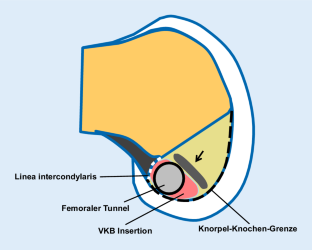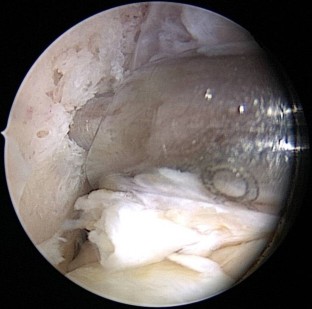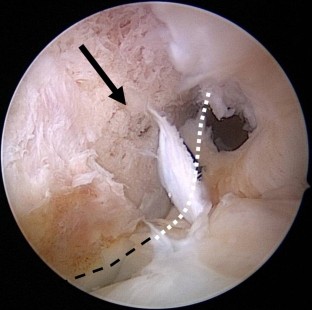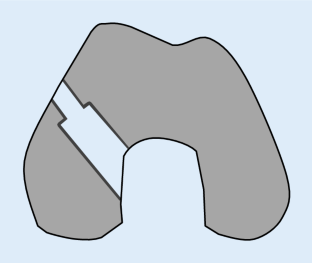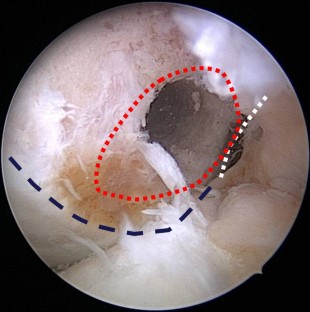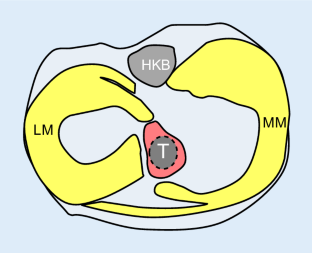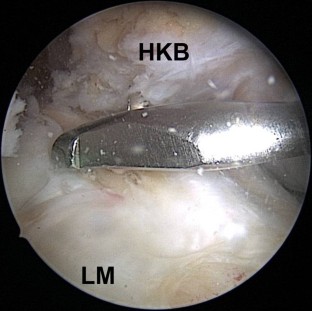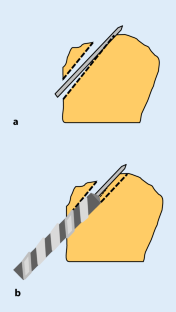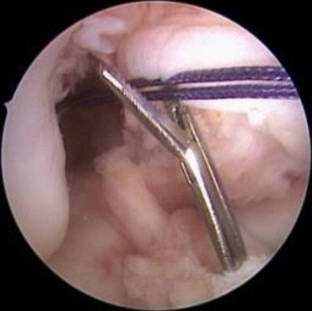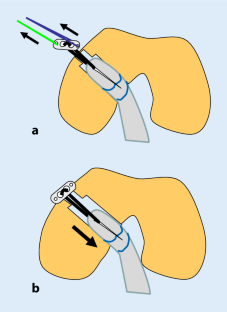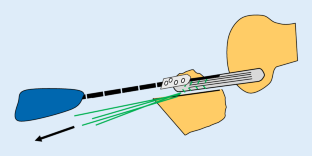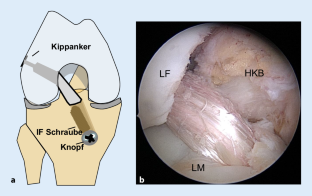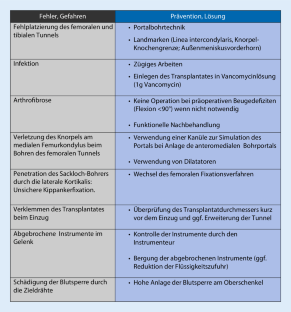 Literatur
1.

Bedi A, Altchek DW (2009) The "footprint" anterior cruciate ligament technique: an anatomic approach to anterior cruciate ligament reconstruction. Arthroscopy 25(10):1128–1138

2.

Bedi A, Musahl V, Steuber V, Kendoff D, Choi D, Allen AA, Pearle AD, Altchek DW (2011) Transtibial versus anteromedial portal reaming in anterior cruciate ligament reconstruction: an anatomic and biomechanical evaluation of surgical technique. Arthroscopy 27(3):380–390

3.

Behrendt S, Richter J (2010) Anterior cruciate ligament reconstruction: drilling a femoral posterolateral tunnel cannot be accomplished using an over-the-top step-off drill guide. Knee Surg Sports Traumatol Arthrosc 18(9):1252–1256

4.

Chhabra A, Kline AJ, Nilles KM, Harner CD (2006) Tunnel expansion after anterior cruciate ligament reconstruction with autogenous hamstrings: a comparison of the medial portal and transtibial techniques. Arthroscopy 22(10):1107–1112

5.

Petersen W, Zantop T (2007) Anatomy of the anterior cruciate ligament with regard to its two bundles. Clin Orthop Relat Res 454:35–47

6.

Petersen W, Forkel P, Achtnich A, Metzlaff S, Zantop T (2013) Anatomic reconstruction of the anterior cruciate ligament in single bundle technique. Oper Orthop Traumatol 25(2):185–204

7.

Sadoghi P, Kröpfl A, Jansson V, Müller PE, Pietschmann MF, Fischmeister MF (2011) Impact of tibial and femoral tunnel position on clinical results after anterior cruciate ligament reconstruction. Arthroscopy 27(3):355–364

8.

Zantop T, Ferretti M, Bell KM, Brucker PU, Gilbertson L, Fu FH (2008) Effect of tunnel-graft length on the biomechanics of anterior cruciate ligament-reconstructed knees: intra-articular study in a goat model. Am J Sports Med 36(11):2158–2166

9.

Petersen W, Zantop T (2010) Die arthroskopische Ersatzplastik des anterolateralen Bündels des hinteren Kreuzbandes in Einzelbündeltechnik mit autologer Semitendinosus‑/Grazilissehne. Oper Orthop Traumatol 22:354–372
Ethics declarations
Interessenkonflikt
W. Petersen und T. Zantop weisen auf folgende Beziehung hin: W. Petersen und T. Zantop erhalten Beraterhonorare der Firma Karl Storz. W. Petersen erhält Beraterhonorare der Firma Ottobock und Vortragshonorare der Firmen Plasmaconcept und AAP Implantate. T. Hees gibt an, dass kein Interessenkonflikt besteht.
Für diesen Beitrag wurden von den Autoren keine Studien an Menschen oder Tieren durchgeführt. Für die aufgeführten Studien gelten die jeweils dort angegebenen ethischen Richtlinien.
Caption Electronic Supplementary Material
Operationstechnik der anatomischen Kreuzbandrekonstruktion mit der autologen Semitendinosussehne. (Mit freundlicher Genehmigung der Autoren, alle Rechte vorbehalten)
About this article
Cite this article
Petersen, W., Hees, T. & Zantop, T. Anatomische Kreuzbandrekonstruktion mit der autologen Semitendinosussehne. Knie J. 1, 57–65 (2019). https://doi.org/10.1007/s43205-019-00010-6
Schlüsselwörter
Pivot shift

Fixation

Portalblick

Transtibiale Bohrung

Portalzielgerät
Keywords
Pivot shift

Graft fixation

Portal view

Transtibial drilling

Portal aimer