Vision Tracking: A Survey of the State-of-the-Art
Abstract
Vision tracking is a well-studied framework in vision computing. Developing a robust visual tracking system is challenging because of the sudden change in object motion, cluttered background, partial occlusion and camera motion. In this study, the state-of-the art visual tracking methods are reviewed and different categories are discussed. The overall visual tracking process is divided into four stages—object initialization, appearance modeling, motion estimation, and object localization. Each of these stages is briefly elaborated and related researches are discussed. A rapid growth of visual tracking algorithms is observed in last few decades. A comprehensive review is reported on different performance metrics to evaluate the efficiency of visual tracking algorithms which might help researchers to identify new avenues in this area. Various application areas of the visual tracking are also discussed at the end of the study.
Keywords
Visual tracking 
Visual computing 
Motion estimation 
Object motion 
Object localization 
Introduction
Visual tracking is one of the significant problems in computer vision having wide range of application domains. A remarkable advancement of the visual tracking algorithm is observed because of the rapid increase in processing power and availability of high resolution cameras over the last few decades in the field of automated surveillance [1], motion-based recognition [2], video indexing [3], vehicle navigation [4], and human–computer interaction [5, 6]. Visual tracking can be defined as, estimating the trajectory of the moving object around a scene in the image plane [7].
Various computer vision tasks to detect, track and classify the target from image sequences are grouped in visual surveillance to analyze the object behavior [7]. A better surveillance system is developed by integrating the motion detection and visual tracking system in [8]. A content-based video indexing technique is evolved from object motion in [9]. The proposed indexing method is applied to analyze the video surveillance data. Visual tracking is effectively applied in vehicle navigation. A method for object tracking and detection is developed in [10] for maritime surface vehicle navigation using stereo vision system to locate objects as well as calculating the distance from the target object in the harsher maritime environment. A methodology of human computer interaction to compute eye movement by detecting the eye corner and the pupil center using visual digital signal processor camera is invented in [11]. The mentioned novel approach helps the users to move their head freely without wiring any external gadgets.
In visual tracking system, the 3D world is projected on a 2D image that results in loss of information [12]. The problem becomes more challenging due to the presence of noise in images, unorganized background, random complex target motion, object occlusions, non-rigid object, variation in the number of objects, change in illumination, etc. [13]. These issues need to be handled effectively to prevent the degradation of tracking performance and even failure. Different visual representations and statistical models are used in literature to deal with these challenges. These models use state-of-the-art algorithms and different methodologies for visual tracking. Different metrics are used to effectively measure the performance of the tracker. Motivated by this, different state-of-the-art visual tracking models widely used in literature are discussed in this paper. In each and every year, a substantial number of algorithms for visual tracking are proposed in literature. To efficiently evaluate their performance, different performance metrics for robust evaluation of trackers are elaborated here after vividly describing the tracking models. Several popular application domains of visual tracking are identified and briefly described here. One can have overall overview of visual tracking methods and best practices as well as a vivid idea about the different application domains related to visual tracking from this study.
A visual tracking system consists of four modules, i.e., object initialization, appearance modeling, motion estimation and object localization. Each of these components and associated tracking methods are briefly described in Sect. 2. Some popular performance measures for visual tracking, for, e.g., center location error, bounding box overlap, tracking length, failure rate, area under the lost-track-ratio curve, etc. are discussed in Sect. 3. Progress in visual tracking methodologies introduced a revolution in health care, space science, education, robotics, sports, marketing, etc. Section 4 highlights some pioneering works related to different application domains of visual tracking. Conclusion section is presented in Sect. 5.
Visual Tracking Methods
In visual tracking system, a trajectory of the target over the time is generated [14] based on the location of the target, positioned in consecutive video frames. The detected objects from the consecutive frames maintained a correspondence [15] using visual tracking mechanism.
The fundamental components of a visual tracking system are object initialization, appearance modeling, motion estimation and object localization [
16
]. Figure 
1
reports the detailed taxonomy of vision tracking.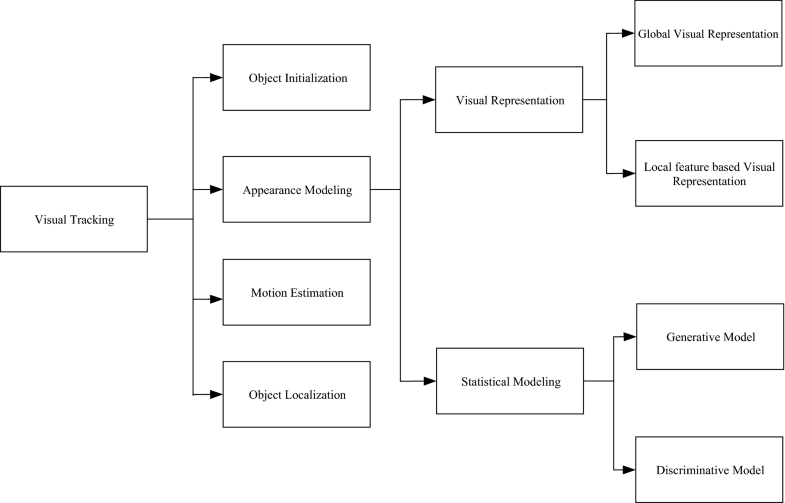 Visual Tracking Performance
The performance measures represent the difference or correspondence between the predicted and actual ground truth annotations. Several performance measures, widely used in visual tracking [186, 187] are—center location error, bounding box overlaps, tracking length, failure rate, area under the lost-track-ratio curve, etc. A brief description of each of these measures is given below.
Applications of Visual Tracking
Different methods of visual tracking are used in a wide range of application domains. This section is mainly focused around seven application domains of visual tracking—Medical Science, Space Science, Augmented Reality Applications, Posture estimation, Robotics, Education, Sports, Cinematography, Business and Marketing, and Deep Learning Features.
Discussion
The traditional visual tracking methods perform competently in well-controlled environments. The image representations used by the trackers may not be sufficient for accurate robust tracking in complex environments. Moreover, the visual tracking problem becomes more challenging due to the presence of occlusion, un-organized background, abrupt fast random motion, dramatic changes in illumination, and significant changes in pose and viewpoints.
Support vector machine (SVM) classifier was fused with optical flow-based tracker in [266] for visual tracking. The classifier helps to detect the location of the object in the next frame even though a certain part of the object is missing. In this method, the next frame is not only matched with the previous frame, but also against all possible patterns learned by the classifier. More precise bounding boxes are identified in [267] using a joint classification–regression random forest model. Here, authors demonstrated that the aspect ratio of the variable bounding boxes was accurately predicted by this model. In [268], a neural network-based tracking system was proposed to describe a collection of tracking structures that enhance the effectiveness and adaptability of a visual tracker. Multinetwork architectures are used here that increase the accuracy and stability of visual tracking.
An extensive bibliographic study has been carried out based on the previously published works listed in Scopus database for the period of last 5 years (2014–2018). Amongst 2453 listed works, 48.9% articles were published in journals and 44.5% in conferences. It is observed that major contributions in this area are from computer science engineers (42%). Medical science and related domains (6%) also have notable contribution in this arena. The leading contributors are from countries like China (57%), USA (12%), UK (5%), etc. Figure 
2
clearly depicts the increasing interest in vision tracking in the last few years.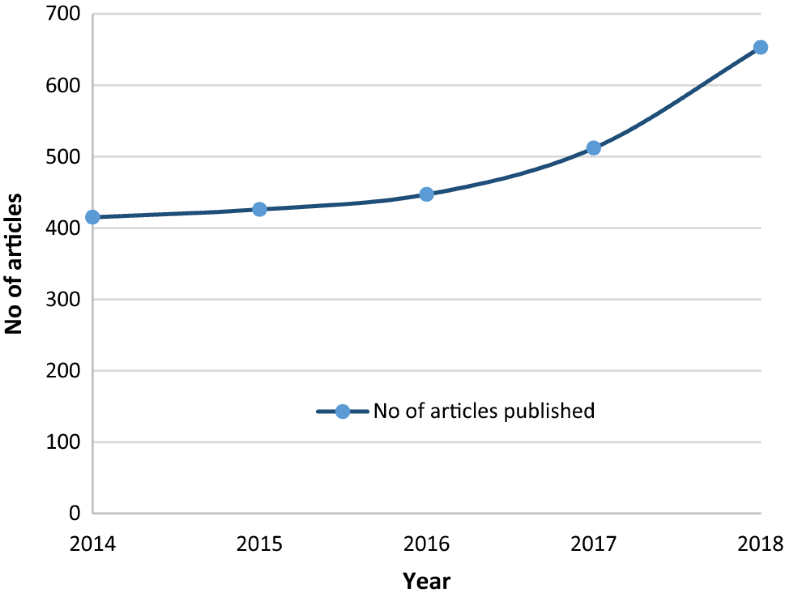 The above study clearly shows that, in recent years with the advent of deep learning, the challenging problem to track a moving object with a complex background has made significant progress [269]. Unlike previous trackers, more emphasis is put on unsupervised feature learning. A noteworthy performance improvement in visual tracking is observed with the introduction of deep neural networks (DNN) [269, 270] and convolutional neural networks (CNN) [271, 272, 273, 274, 275]. DNN, especially CNN, demonstrate a strong efficiency in learning feature representations from huge annotated visual data unlike handcrafted features. High-level rich semantic information is carried out by the object classes which assist in categorizing the objects. These features are also tolerant to data corruption. A significant improvement in accuracy is observed in object and saliency detection besides image classification due to the combination of CNNs with the traditional trackers.
Conclusion
An overall study on visual tracking and its performance measures is presented in this study. Object initialization is the first stage of visual tracking. Initialization could be manual or automatic. The object properties like appearance, velocity, location, etc. are represented by observation model or appearance model. Special features like color, gradient, texture, shape, super-pixel, depth, motion, optical flow, etc. are used for robust visual tracking, that describe the appearance model. Appearance modeling consists of visual representation and statistical modeling. In visual representation, various visual features are used to form robust object descriptors; whereas in statistical modeling, a mathematical model for identifying the target object is developed. In the last few decades, a huge number of visual tracking algorithms are proposed in the literature. A comprehensive review of different measures to evaluate the tracking algorithms is presented in this study. Visual tracking is applied in a wide range of applications including medical science, space science, robotics, education, sports, etc. Some of the application areas of visual tracking and related studies in the literature are presented here.
Notes
Compliance with ethical standards
Conflict of interest
On behalf of all authors, the corresponding author states that there is no conflict of interest.
Copyright information
© Springer Nature Singapore Pte Ltd 2020