Abstract
Plant essential oils contained secondary metabolite chemicals showing toxicities on stored grain insects. The main aims of this study was to evaluate the insecticidal efficacies and chemical compositions of essential oil from C. flexuosus, C. winterianus, C. martini, and P. cablin against Sitophilus oryzae (L.). The GC-MS analysis results showed that, the essential oils of four aromatic plants are rich in citral, neral, geranyl acetate, geraniol, citronellal, geraniol, citronellol, photocitral B, azulene and α-guaiene respectively. The essential oils of C. flexuosus with LC50 values are 44.5 and 26.1 μl/L air after 24 and 48 h exposure which was found to be most potent fumigant than C. winterianus followed by C. martini and P. cablin respectively. Further, in contact toxicity, C. martini oil being the most effective against adults of S. oryzae with LC50 values of 2.6 and 1.8 μl/cm2 after 24 and 48 h exposure respectively, whereas moderate toxicity was observed in S. oryzae from the essential oils of C. winterianus and P. cablin. These results suggested that the essential oils extracted from C. flexuosus, C. winterianus, C. martini, and P. cablin can be used as in the management of S. oryzae in order to decrease the harmful effects and risk of synthetic insecticides on human beings.
This is a preview of subscription content, log in to check access.
Access options
Buy single article
Instant unlimited access to the full article PDF.
US$ 39.95
Price includes VAT for USA
Subscribe to journal
Immediate online access to all issues from 2019. Subscription will auto renew annually.
US$ 99
This is the net price. Taxes to be calculated in checkout.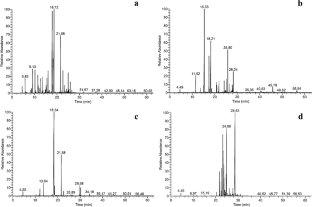 References
Abbott WS (1925) A method of computing the effectiveness of an insecticide. J Econ Entomol 18:265–267

Abdelgaleil SA, Mohamed MI, Badawy ME, El-arami SA (2009) Fumigant and contact toxicities of monoterpenes to Sitophilus oryzae (L.) and Tribolium castaneum (Herbst) and their inhibitory effects on acetylcholinesterase activity. J Chem Ecol 35:518–525

Alexander M (1981) Biodegradation of chemicals of environmental concern. Science 211:132–138

Ayvaz A, Karaborklu S, Sagdic O (2009) Fumigant toxicity of five essential oils against the eggs of Ephestia kuehniella Zeller and Plodia interpunctella (Hübner) (Lepidoptera: Pyralidae). Asian J Chem 21:596–604

Bachrouch O, Ferjani N, Haouel S, Jemâa JMB (2015) Major compounds and insecticidal activities of two Tunisian Artemisia essential oils toward two major coleopteran pests. Ind Crop Prod 65:127–133

Bett PK, Deng AL, Ogendo JO, Kariuki ST, Kamatenesi-Mugisha M, Mihale JM, Torto B (2016) Chemical composition of Cupressus lusitanica and Eucalyptus saligna leaf essential oils and bioactivity against major insect pests of stored food grains. Ind Crop Prod 82:51–62

Bhatnagar A (2018) Composition variation of essential oil of Cymbopogon spp. growing in Garhwal region of Uttarakhand. India J Appl Nat Sci 10:363–366

Broussalis AM, Ferraro GE, Martino VS, Pinzón R, Coussio JD, Alvarez JC (1999) Argentine plants as potential source of insecticidal compounds. J Ethno Pharmacol 67:219–223

Bruneton J (1999) Pharmacognosy, Phytochemistry, medicinal plants: essential oils, 2nd edn. Lavoisier Publising, New York, pp 461–780

Caballero-Gallardo K, Olivero-Verbel J, Stashenko EE (2012) Repellency and toxicity of essential oils from Cymbopogon martinii, Cymbopogon flexuosus and Lippia origanoides cultivated in Colombia against Tribolium castaneum. J Stored Prod Res 50:62–65

Cetin H, Erler F, Yanikoglu A (2004) Larvicidal activity of a botanical natural product, AkseBio2, against Culex pipiens. Fitoterapia 75:724–728

Chen Y, Li Y, Su Z, Xian J (2017) Insecticidal and repellent action of pogostone against Myzus persicae (Hemiptera: Aphididae). Florida Entomol 100:346–349

Cheng SS, Liu JY, Huang CG, Hsui, Chen WJ, Chang ST (2009) Insecticidal activities of leaf essential oil from Cinnamomum osmophloeum against three mosquito species. Bioresour Technol 100:457–464

Delespaul Q, de Billerbeck VG, Roques CG, Michel G, Marquier-Viñuales C, Bessière JM (2000) The antifungal activity of essential oils as determined by different screening methods. J Essent Oil Res 12:256–266

Ebadollahi A, Nouri-Ganbalani G, Hoseini SA, Sadeghi GR (2012) Insecticidal activity of essential oils of five aromatic plants against Callosobruchus maculatus F. (Coleoptera: Bruchidae) under laboratory conditions. J. Essent. Oil bear. Pl. 15:256–262

El-Bakry AM, Abdel-Aziz NF, Sammour EA, Abdelgaleil SAM (2016) Insecticidal activity of natural plant essential oils against some stored product insects and their side effects on wheat seed germination. Egypt J Biol Pest Con 26:83

Filomeno CA, Barbosa LCA, Teixeira RR, Pinheiro AL, de Sá Farias E, de Paula Silva EM, Picanço MC (2017) Corymbia spp. and Eucalyptus spp. essential oils have insecticidal activity against Plutella xylostella. Ind. Crops Prod 109:374–383

Finney DJ (1971) Probit Analysis, 3rd edn. Cambridge University Press, London

Hasegawa Y, Tajima K, Toi N, Sugimura Y (1992) An additional constituent occurring in the oil from a patchouli cultivar. Flavour Fragr J 7:333–335

Isman MB (2006) Botanical insecticides, deterrents, and repellents in modern agriculture and an increasingly regulated world. Annu Rev Entomol 51:45–66

Isman MB (2000) Plant essential oils for pest and disease management. Crop Prot 19:603–608

Jeon JH, Lee CH, Lee HS (2009) Food protective effect of geraniol and its congeners against stored food mites. J Food Prot 72:1468–1471

Kalemba DAAK, Kunicka A (2003) Antibacterial and antifungal properties of essential oils. Curr Med Chem 10:813–829

Khanuja SP, Shasany AK, Pawar A, Lal RK, Darokar MP, Naqvi AA, Kumar S (2005) Essential oil constituents and RAPD markers to establish species relationship in Cymbopogon Spreng (Poaceae). Biochem Syst Ecol 33:171–186

Kumar P, Mishra S, Malik A, Satya S (2011) Repellent, larvicidal and pupicidal properties of essential oils and their formulations against the housefly, Musca domestica. Med Vet Entomol 25:302–310

Li H, Huang J, Zhang X, Chen Y, Yang J, Hei L (2005) Allelopathic effects of Cymbopogon citratu volatile and its chemical components. Ying yong sheng tai xue bao= J. Appl Ecol 16:763–767

Mondal M, Khalequzzaman M (2009) Ovicidal activity of essential oils against red flour beetle, Tribolium castaneum (Herbst) (Coleoptera: Tenebrionidae). J Biosci 17:57–62

Nenaah GE (2014) Toxic and antifeedant activities of prenylated flavonoids isolated from Tephrosia apollinea L. against three major coleopteran pests of stored grains with reference to their structure–activity relationship. Nat Prod Res 28:2245–2252

Ogendo JO, Kostyukovsky M, Ravid U, Matasyoh JC, Deng AL, Omolo EO, Shaaya E (2008) Bioactivity of Ocimum gratissimum L. oil and two of its constituents against five insect pests attacking stored food products. J. Stored Prod. Res. 44:328–334

Olivero-Verbal J, Nerio LS, Stashrnko EE (2010) Bioactivity against Tribolium castaneum Herbst (Coleoptera: Tenebrionidae) of Cymbopogon citratus and Eucalyptus citrodora essential oil grown in Columbia. Pest Manag Sci 66:664–668

Pandey AK, Rai MK, Acharya D (2003) Chemical composition and antimycotic activity of the essential oils of corn mint (Mentha arvensis) and lemon grass (Cymbopogon flexuosus) against human pathogenic fungi. Pharm Biol 41:421–425

Peixoto MG, Costa-Júnior LM, Blank AF, da Silva LA, Menezes TSA, de Alexandria Santos D, de Fátima Arrigoni-Blank M (2015) Acaricidal activity of essential oils from Lippia alba genotypes and its major components carvone, limonene, and citral against Rhipicephalus microplus. Vet Parasitol 210:118–122

Pimentel MAG, Faroni LRDA, Tótola MR (2007) Phosphine resistance, respiration rate and fitness consequences in stored-product insects. Pest Manag Sci 63:876–881

Prashar A, Hili P, Veness RG, Evans CS (2003) Antimicrobial action of palmarosa oil (Cymbopogon martinii) on Saccharomyces cerevisiae. Phytochemistry. 63:569–575

Raina VK, Srivastava SK, Aggarwal KK, Syamasundar KV, Khanuja SPS (2003) Essential oil composition of Cymbopogon martinii from different places in India. Flavour Fragr. J. 18:312–315

Rajashekar Y (2016) Toxicity of coumaran to stored products beetles. J Stored Prod Res 69:172–174

Rajashekar, Y., Bakthavatsalam, N., Shivanandappa, T., 2012a. Botanicals as grain protectants. Psyche: A. J. Entomol

Rajashekar Y, Kumar HV, Ravindra KV, Bakthavatsalam N (2013) Isolation and characterization of biofumigant from leaves of Lantana camara for control of stored grain insect pests. Ind Crop Prod 51:224–228

Rajashekar Y, Rao LJM, Shivanandappa T (2012b) Decaleside: a new class of natural insecticide targeting tarsal gustatory sites. Naturwissenschaften. 99:843–852

Rajashekar Y, Tonsing N, Shantibala T, Manjunath JR (2016) 2, 3-Dimethylmaleic anhydride (3, 4-Dimethyl-2, 5-furandione): a plant derived insecticidal molecule from Colocasia esculenta var. esculenta (L.) Schott. Sci. Rep. 6:20546

Rajendran S, Sriranjini V (2008) Plant products as fumigants for stored product insect control. J Stored Prod Res 44:126–135

Schmidt GH, Risha EM, Nahal AKM (1991) Reduction of progeny of some stored-products Coleoptera by vapours of Acorus calamus oil. J Stored Prod Res 21:121–127

Shaaya E, Kostyukovsky M (2011) The use of phytochemicals as fumigants for the control of stored product insect pests. J Entomol Acarol Res 43:245–251

Shaaya E, Ravid U, Paster N, Juven B, Zisman U, Pissarev V (1991) Insecticidal activity of essential oils against four major stored product insects. J Chem Ecol 17:499–504

Shah G, Shri R, Panchal V, Sharma N, Singh B, Mann AS (2011) Scientific basis for the therapeutic use of Cymbopogon citratus, stapf (lemongrass). J Adv Pharm Technol Res 2:3

Simic A, Rancic A, Sokovic MD, Ristic M, Grujic-Jovanovic S, Vukojevic J, Marin PD (2008) Essential oil composition of Cymbopogon winterianus and Carum carvi and their antimicrobial activities. Pharm Biol 46:437–441

Sousa RMO, Rosa JS, Oliveira L (2015) Activities of Apiaceae essential oils and volatile compounds on hatchability, development, reproduction and nutrition of Pseudaletiaunipuncta (Lepidoptera: Noctuidae). Ind Crop Prod 63:226–237

Swamy, M.K., Akhtar, M.S., Sinniah, U.R., 2016. Antimicrobial properties of plant essential oils against human pathogens and their mode of action: an updated review Evid Based Complement Alternat Med 2016

Yen HY, Lin YC (2017) Green extraction of Cymbopogon citrus essential oil by solar energy. Ind Crop Prod 108:716–721

Zhang JS, Zhao NN, Liu QZ, Liu ZL, Du SS, Zho L, Deng ZW (2011) Repellent constituents of essential oil of Cymbopogon distan aerial parts against two stored-product insects. J Agric Food Chem 59:9910–9915
Acknowledgements
The authors thank the Director, Institute of Bioresources and Sustainable Development, Imphal, for encouragement and support. The authors gratefully acknowledge the financial support by the Department of Biotechnology (DBT), India.
Ethics declarations
Conflict of interest
The authors declare that they have no conflicts of interest regarding the publication of this paper.
Ethical standard
This study does not contain any studies with animals, as defined by the Institute of Bioresources and Sustainable Development, performed by any of the authors.
Additional information
Publisher's note
Springer Nature remains neutral with regard to jurisdictional claims in published maps and institutional affiliations.
Key messages
• Evaluated the insecticidal efficacy and chemical composition of essential oils from Cymbopogon flexuosus, Cymbopogon winterianus, Cymbopogon martini, and Pogostemon cablin
• The essential oils of C. flexuosus and C. martini exhibited potent fumigant and contact toxicities against Sitophilus oryzae
• The essential oils were found to be a potent bio-fumigant and contact toxicity to stored grain pests instead of synthetic fumigant and insecticides
About this article
Cite this article
Devi, M.A., Nameirakpam, B., Devi, T.B. et al. Chemical compositions and insecticidal efficacies of four aromatic essential oils on rice weevil Sitophilus oryzae L. Int J Trop Insect Sci (2020) doi:10.1007/s42690-020-00102-1
Received:

Accepted:

Published:
Keywords
Cymbopogon species
Pogostemon cablin

Essential oils

GC-MS

Insecticidal efficacy

Sitophilus oryzae