Pervasive computing middleware: current trends and emerging challenges
Abstract
Driven by the increasing diffusion of embedded sensors and actuators, and more in general by "Internet of Things" (IoT) devices, pervasive computing is becoming a reality. Yet, most actual implementations of pervasive computing environments rely on rather centralized architectures and on middleware solutions that integrate only the minimal set of services to enable interoperabilty and data integration. In this article, after having overviewed the state of the art in the area of pervasive computing middleware, we discuss the many challenges that still have to be faced for pervasive computing middleware to be able to support elastic, easy to configure, easy to develop, safe, and ethically acceptable, pervasive computing services and applications.
Keywords
Pervasive computing 
System software 
Middleware 
1

Introduction

Pervasive computing, as common in "Internet of Things" scenarios (Atzori et al. 2010), promotes the integration of connected electronic devices in our living spaces in order to assist us in our daily activities, be they professional or private. These pervasive devices can be blended in the environment, integrated in smartphones or into everyday objects and appliances, or even woven into clothing. They are mobile or static, can take multiple forms, and pick up a wide variety of signals from the environment. Pervasive devices collect contextual information, run local computation, and, in some cases, directly act upon the environment. This allows the implementation of simple, reactive services like opening an emergency door when a triggering condition is detected. Pervasive devices are also enhanced with networking capabilities so that they can communicate with each other or with more powerful computing elements, located in close proximity (i.e., in the "fog" Bonomi et al. 2012), or more distant (i.e., in the "cloud"). An elastic use of a mixture of device-to-device, fog, and cloud coordination is necessary to implement more complex services that integrate multiple data sources, must be responsive at human time scales, but may demand significant computing and memory capacities.

In the realm of pervasive computing and the Internet of Things, much progress has been made since initial research challenges were posited (Atzori et al. 2010), and challenges more specific to the convergence of the cyber and the physical of pervasive computing have been enumerated (Conti et al. 2012). However, given the many bold visions of pervasive computing applications, the services available today to end users are still quite limited in terms of performance, cost, security, adaptivity, and even basic functionality.

In this paper, we motivate a simple yet bold claim: while much research has made it possible to connect pervasive computing elements and let them interoperate to provide simple services, we still lack facilities to dynamically combine elements and allow them to adaptively coordinate to provide more flexible (and more useful) services, while also dynamically accounting for the needs of the human inhabitants of pervasive computing environments.

Indeed, many protocols exist to address the communication element of transmitting data from device to device (Asadi et al. 2014; Bello and Zeadally 2014; Cho and Julien 2016; Choi and Han 2015), from a device to the fog (Bonomi et al. 2012; Golrezaei et al. 2012; Satyanarayanan et al. 2009; Verbelen et al. 2012), or from a device to the cloud. Similarly, protocols exist for discovering the available resources surrounding a user in a pervasive computing environment (Amadeo et al. 2014; Gu et al. 2005; Guo et al. 2013; Jenson et al. 2014; Lin et al. 2014; Liu et al. 2014; Mayer et al. 2014; Quevedo et al. 2016; Wehner et al. 2014), and for combining them according to some static service composition patterns (Escoffier et al. 2007; Wehner et al. 2014). However, creating larger more general-purpose solutions out of these connected elements still founders in the face of complexity, dynamism, and the need to adapt to physical and social contexts.

Yet it is exactly such combinations that will fulfill the broader vision of pervasive computing. What are now small devices capable of simply sending sensor streams to a cloud database or receiving simple actuation commands will soon become highly intelligent and integrated embedded systems capable of autonomous decisions and able to "speak" to one another at a high level. They will "argue" and "arbitrate" myriad situations while negotiating how to cooperatively (or competitively) achieve their goals (on behalf of their human users) (Lippi et al. 2018). In this context, users will not simply "invoke" services by pushing some button or by launching some app that will trigger a composition of devices' functionalities according to some static design pattern. Rather, users will be able to dialogue with devices and smart environments and will be able to dynamically direct the coordination of such devices in order to satisfy needs. Pervasive computing devices and applications, by their side, will be able to make a better use of the available computing facilities, by dynamically re-arranging their configuration (such as the way code is distributed over devices, edge computers, and cloud servers, and the way in which cooperation among these architectural layers happens) in order to meet new challenging requirements related to changed patterns of usage or changed users' requirements, privacy and security, etc.

In realizing such a vision, middleware is an integral part. Middleware will provide the abstractions necessary to achieve high-level goals while also providing the concrete realizations of the nuts and bolts required to make it all happen. This paper focuses on precisely this integral role of middleware in realizing the long vision of pervasive computing. We frame the discussion by starting with a set of "hot" applications, which, while seemingly achievable today, are as yet unrealized. We then explicitly connect this lack of available implementations to gaps in middleware solutions for pervasive computing. Section 3 takes a deep dive into the state of the art; much research exists that relates to our vision of advanced middleware for pervasive computing. Yet our analysis of the state of the art clearly shows that there remain several open challenges in filling the identified gaps. Accordingly, Sect. 4 enumerates and details the key remaining open challenges that must be addressed to realize our vision.
2

Identifying the gap

In this section, we examine some particularly "hot" application domains and use them to frame the "gaps" that remains to be filled by pervasive computing middleware.
2.1

Hot application domains and paradigm gaps

The proliferation of pervasive computing devices, coupled with the widespread availability of the Internet, makes pervasive computing more concrete every day. Whether at home, in commute, or at work, we already enjoy a variety of simple, unobtrusive services that enhance our quality of life or allow us to optimize resource management. These new technologies have, and will continue to have, profound effects on entire industries and society.

In the manufacturing domain the notion of Industry 4.0 is gaining increasing attention (Lalanda et al. 2017). The purpose of the Industry 4.0 initiative is to bring together new technologies and production processes to enable the emergence of smart, connected manufacturing. The term, coined in 2011 by a government-funded German project, refers to what could be the fourth industrial revolution. Industry 4.0 envisions new production techniques, new materials, and the generalized adoption of digital technologies. Our focus in this paper is on the latter point, and in particular on the adoption of dense and pervasive networks of sensors and actuators in industrial environments (including robotic systems). This constitutes a tremendous challenge, in that it can promote the seamless integration of field devices controlling operations on a plant floor and supervision systems, usually located in IT facilities. Among many benefits, such integration should allow the systematic oversight and improvement of production activities and resource management and an overall increase in safety and sustainability of production systems.

However, given the dynamics of the modern economy, it is important that these new technologies also open the way for more flexibility in production processes and that the overall pervasive infrastructure can be easily (if not automatically) and safely reconfigured to meet changing demands and enable novel products.

Similar ideas and challenges also apply in the popular domains of smart homes, smart buildings, and more in general smart cities. The smart home domain is an interesting and highly symbolic example that touches our daily lives (Helal et al. 2005). A smart home is filled with electronic devices providing multiple, unobtrusive services to its inhabitants. Although most existing homes were not designed to be smart, the availability of small wireless devices enables the seamless instrumentation of home environments with pervasive sensing and actuating capabilities and thus makes it possible to realize services to monitor and control ambient conditions and nearly every appliance in our homes.

Clearly, such home environments are not expected to be inhabited by skilled administrators, and therefore novel pervasive devices and services must be extremely simple to use and install. They should not require the intervention of expert programmers to configure, update, and retire. Therefore, on the one hand users should be given a way to be in control of the configurations and activities of their home environments, while on the other hand such environments should be made somewhat "autonomic" in nature, i.e., capable of self-configuration and self-adaptation (VanSyckel et al. 2013).

Further, quality expectations are very high in our homes. Services must be secure, robust, tailored to inhabitants, and highly relevant. Keeping humans in the loop is crucial for social adoption of new technologies in our most private environments. There is nothing more annoying than shutters moving down for no apparent reason—and a great reason to give up on technology! Life at home must remain easy, calm, and predictable (Keith Edwards et al. 2001).

At a scale, very similar consideration can be applied to smart buildings and smart cities. In these environments, we may reasonably assume the existence of organizations that provide skilled administrators. Instead, it is the inherent spatial distribution of the system that calls for simple to install and configure devices and services, so as to make their management economically bearable. In any case, since acceptability and predictability of the technology is not only a usability issue but a general political and democratic one (Zambonelli et al. 2018), it is still important that inhabitants and citizens are somehow given a way to easily understand the overall functioning of such environment, and some way of tuning the environment's behaviour according to the user's specific needs.

Industry 4.0, smart homes, and smart cities are just three out of many "hot" application domains for pervasive and IoT systems. Additional interesting application areas include smart education systems, agriculture, logistics, smart transport systems, food industries, and the food chain. Yet, the technical and social challenges discussed in this paper transcend the particular application domains. However, the above discussion enables identifying important gaps in how today's pervasive systems and services are conceived, and consequently in the functionalities provided by pervasive middleware. The dominant paradigm today is to conceive pervasive devices as loci of simple services, e.g., a service for uploading sensed data or one for executing a simple actuation command. As a consequence, building and configuring complex pervasive systems out of these devices requires defining low-level composition rules for basic services and middleware to support the execution of such composite services. End users are mostly ruled out by this process and are left little control over defining or modifying the rules. This also naturally impacts the paradigm of usage: end users today tend to exploit pervasive devices by exploiting some "app" as a means to invoke specific services; users have little or no means of configuring devices or of programming new composite services.

This dominant perspective will have to change. First, as we have outlined in the discussion of the application areas, users have to be empowered with means to control and configure pervasive computing environments and services, other than by simply being given access to services. What are now "apps to invoke services" will have to become "handles to configure services". Second, in all the above application areas, what are now simple devices will soon become highly intelligent embedded devices with integrated autonomous decision logic. Simply consider the already emerging robotic assistants in smart homes or autonomous self-driving cars in smart cities. For these autonomous devices, providing composite services will not be simply a matter of composition, but a matter of distributed decision making and distributed agreement.

Such new characteristics must be explicitly addressed and enabled within pervasive computing middleware. Emerging middleware will need to facilitate on-device reasoning about high-level situations and focus on goal achievement and autonomy rather than assuming devices will blindly carry out simple commands. To support this autonomy, middleware will need to allow devices to interact directly, to share their views about the ambient situation, and to cooperatively reason to control it. The middleware will have to arbitrate fairness, conflict-freedom, and legal and ethical rules, as individual devices are empowered to make individual decisions. In short, the middleware will become a moderator of lively discussions among devices. Last but not least,

humans' voices

must be integrated in these conversations and decision making processes, in that the final decisions of the devices must respond to the humans' requirements. Further, the decisions made and actions taken by the devices must be understandable (even subconsciously) by the humans in the space. In a sentence, we expect pervasive computing middleware to support a paradigm shift from "pushing a button in an app" to "participating in discussions and decision making".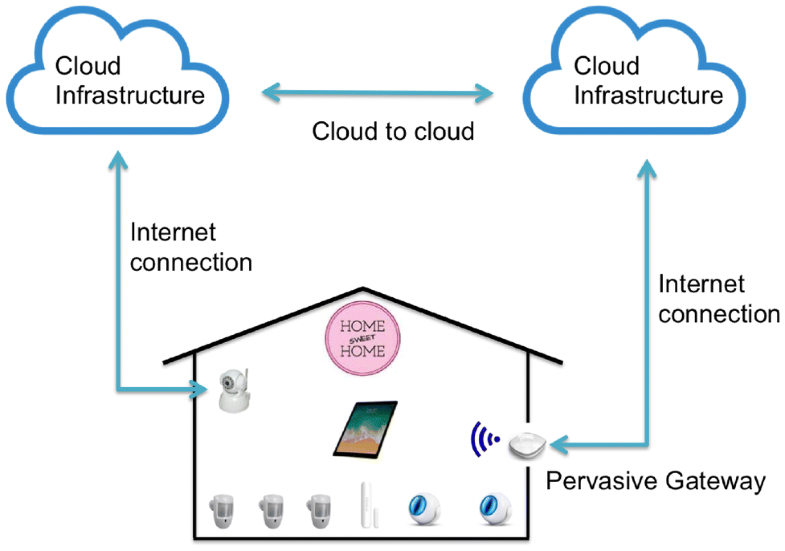 2.2

Architectural gaps

From the architectural viewpoint, most of today's industrial, home, and smart city services rely on cloud solutions. Data collected in the field is stored in centralized data centers and processed by powerful cloud servers deployed as necessary. As illustrated by Fig. 1 with reference to a smart home scenario, dedicated gateways act as intermediaries between physical environments (e.g., the home) and the cloud. These existing gateways are very simple: their role is to collect data from field devices, possibly perform simple pruning and mediation operations, and send relevant data to the cloud. In some cases, they also run simple, prescribed scenarios to coordinate devices' actions. Applications also rely on the gateways to reify actions to be taken in the physical space, as decided at the cloud level.

This architectural approach has many attractive aspects. The high-value data and analytics services identified and installed in the domains of smart buildings and homes are generally very greedy in terms of computing power and time. They are also based on large volumes of sensitive data that must be stored and accessed rapidly and easily. Cloud infrastructures provide the necessary facilities to run such complex services. They are known to offer great benefits in terms of computing power, elasticity, flexibility, pay-per-use facilities, and security.

A centralized cloud architecture also provides administration simplicity. Cloud providers are in charge of the management and control of the cloud infrastructure. Business service providers can focus on the administration of their own code, generally through virtualized gateways provided in the cloud. Most of the time, this is easy and fast. In contrast, managing business code running on field gateways is more complicated and time-demanding. In the telecommunications domain, the administration of gateways (e.g., Internet boxes, set-top-boxes, etc.) is generally delegated to teams of experts; these teams are often overwhelmed by maintenance and evolution requests. Such organization causes delays that are not in line with customers' expectations. A third major architectural benefit relates to integration. It is clearly much easier to adopt cloud-to-cloud integration (as illustrated by Fig. 1) to connect heterogeneous devices rather than implementing local integration. This is especially true when integrating devices that use new field buses or lack open APIs for integration. Cloud-to-cloud integration requires sharing data format and semantics but requires no additional tricky code since smart devices are already connected to and managed in a cloud.

As explained, cloud infrastructures and underlying organizations meet the requirements of complex analytics services. Today, however, emerging new services impose requirements that cannot be met by cloud-based architectures (Chiang and Zhang 2016; Shi et al. 2016). For instance, some services implement time-critical control loops that sense and act upon the environment. These services cannot be executed in the cloud due to unpredictable delays or insufficient bandwidth. Security also seriously challenges current architectures for several reasons. First, users are not comfortable with the idea of personal data being stored in clouds or data centers they do not trust. For instance, smart speakers connected to the cloud are not accepted by a growing crescendo of people concerned with eavesdropping. Further, the way cloud-based services are run raises issues. Cloud solutions for security rely on perimeter-based protection. If the perimeter is endangered, the common countermeasure is to take the system offline (Chiang and Zhang 2016). This causes service disruption in all the physical entities (e.g., homes, businesses) managed by the corrupted cloud. Finally, in economical and ecological terms, it does not appear opportune to transport and store huge amounts of data that could instead be processed and used in gateways located closer to data sources.

Executing services at the gateway level or even in situ is, however, very complex due to the dynamic, heterogeneous, and stochastic nature of the pervasive computing environments themselves. This is further complicated by the fact that gateways and in situ devices have limited resources that must be managed explicitly. Streamlining the production of fog-level services will require developers and system administrators to be equipped with new software engineering tools.

A common approach is to introduce an execution platform that provides a development model and a set of technical services. This can be done at the operating system level, like \(\varPhi\)-stack (Xu et al. 2017) for instance, or at a higher level. In the latter case, the term middleware is generally introduced.

Making a distinction between the execution platform and the hosted services lowers complexity in terms of code, debug, configuration, and administration operations. Decades of research in pervasive computing have led to many solutions for individual components of such middleware. In the next section, we examine the state of the art in middleware for pervasive computing. A general takeaway is that, while we know how to build and connect individual solutions, it remains hard to flexibly and adaptively combine them. That is, we lack a fluid pervasive computing ecosystem that integrates these individual advances in support of envisioned applications. This motivates a need for middleware solutions that support elastic pervasive computing, embodying techniques that optimize across implementation options that include in-situ or on-device processing, fog integration, or off-loading entirely to the cloud. In integrating these options, middleware must still provide seamless interactive experiences, which may demand revisiting antique concepts like graceful degradation, lazy transaction processing, prefetching and other challenges addressed in classical distributed systems. Registries listing available services must be made more expressive to expose the qualitative ramifications of the myriad options without exposing developers (or users!) to the complexity of making an explicit decision.
3

State of the art

In this section we overview the state of the art and the current trends in pervasive computing middleware. Although there are several approaches and proposals that go in the directions of filling the previously identified gaps, they still exhibit several limitations and leave open several challenges that we elaborated upon in Sect. 4.
4

Open challenges

The gaps identified previously highlight a neglected issue in pervasive computing middleware, namely, an integrated view of the effective design, development, and deployment of pervasive computing environments (Zambonelli 2017). Given this broader view, it becomes reasonable to ask what are the most suitable software engineering abstractions and system capabilities that are particular to pervasive computing middleware.
4.1

Understanding the players

From the methodological viewpoint, traditional approaches to engineering information systems attack the analysis of system requirements by assuming the existence of well-defined "end-users", who will interact with the resulting system, and "system administrators", who are responsible for configuring the system. Together, these two sets of actors are the parties responsible for eliciting the system's requirements. Traditional approaches also typically adapt a purely functional (typically service-oriented) perspective. However, as we have seen, the situation in pervasive computing environments is much more complex.

Indeed, in such environments, the actors involved may belong to many different categories and may take on much more complex and overlapping roles. For instance, pervasive computing deployments often have global administrators, typically the owners of an overall pervasive system and infrastructure, or at least the people empowered to exert control over the configuration, structure, and overall functioning of its applications and services. This is also sometimes referred to as the enterprise. There are often also local administrators, who typically own (whether permanently or on a temporary basis) a limited portion of the pervasive computing system and are empowered to enforce local control for some portion of the infrastructure for some period of time. Then there are users, who typically have some limited access to the overall configuration of the applications and services, i.e., users may not be able to impose new policies on the broad system, but they may nevertheless be entitled to exploit the provided services and in some way configure how such services are provided. That is, user-level programming becomes much more mainstream in pervasive computing environments. What is an IFTTT rule3 if not a user-written program?

The three classes of actors identified above are of a very general nature. For example, considering a scenario of a smart hotel, the above categories can correspond, respectively, to: the hotel managers imposing global policies on, e.g., heating level and surveillance strategies; the organizers of a conference who may be entitled to impose the required behaviours and policies on the meeting rooms they have rented; and regular clients, who need to access pervasive services in their room, and to some extent configure them. Similarly, in the area of urban mobility, the actor categories could correspond to, respectively: mobility managers, parking facility owners or car sharing companies, and private drivers. Accordingly, if a pervasive computing environment and its middleware are not properly developed and configured to account for the different needs of the above classes of actors, and if the above a classes are not properly accounted for the analysis phase, the final system may be unacceptable or unusable.
4.2

Pervasive computing ecosystems

Current pervasive computing architectures are centralized and standalone. That is, they comprise a number of devices, sometimes with direct interactions, linked to a centralized gateway. The purpose of such a gateway is to provide value-added services based on information collected by devices (as said earlier, this is not even so common since most gateways are only used to send information up to the cloud). So, there is no pervasive ecosystem per se available today.

This inhibits the development of advanced pervasive computing applications, where a number of devices and gateways have to communicate and then interoperate in order to meet their requirements. Several approaches are currently investigated to enable this broader vision of pervasive infrastructure.

The IoT European Platforms Initiative (IoT-EPI),4 for instance, is an interesting initiative for IoT platform development. Its aim is to build a sustainable IoT ecosystem in Europe, and it comprises seven projects of which four revolve around interoperability at the communication, protocol, or service level. These projects aim to provide interoperability between IoT platforms through a uniform access to services (often provided by some sort of dedicated hub). Those approaches state that interoperability with legacy devices is ensured and mainly focus on the semantic data heterogeneity. Here, mediation plays a major role that is explored, for instance, through the use of Enterprise Service Bus (ESB) style approaches.

These different and complementary initiatives are noticeable in the sense that they show that a service-based view of the infrastructure allows the construction of pervasive computing ecosystems. However, they still have considerable limitations regarding data management. They see pervasive computing elements essentially as service providers. The fact is that most of them are also data providers. In some domains, like smart manufacturing, they are even intense data providers. Work is needed to allow interactions of almost continuous data flows between pervasive elements in service-based environments. We believe that, in the near future, several interaction paradigms will have to coexist in pervasive computing ecosystems.
4.3

The architecture of a system

From a system abstraction perspective, the functional (service-oriented) view that is typically adopted in "Web of Things" approaches, does not fit well in pervasive computing environments for multiple reasons. In addition to "things" that have basic sensing and actuating functionalities, one should consider the presence of smarter things that can be activated to autonomously perform some long-term activities associated with their capabilities and with their role in the socio-physical environment in which they are situated. These smarter devices can range from cleaning robots to more sophisticated autonomous personal assistants. Second, pervasive computing applications and systems are not simply concerned with providing a suite of coordinated functionalities, but they must often also globally regulate the activities of the system on a continuous basis, according to policies established by its stakeholders and their objectives.

As a consequence, developing pervasive computing services and applications, other than defining and implementing service functionalities, most often implies defining policies and goals that are then associated to services and applications. In general terms, policies and goals represent desirable "states of affairs" to strive for. In the context of a pervasive computing system, policies and goals represent specific configurations of the system (or of a portion of the system) that applications and services are in charge of eventually producing and/or maintaining. Policies and goals may be defined to apply to the whole system (as realized by global managers), or to apply to specific sub-portions of the systems (realized by local managers).

In this context, the traditional service-oriented perspective of software engineering methodologies and the strong emphasis on services and service composition fall short. On the one hand, software engineering methodologies must properly analyze and design not only services, but also goals and policies, and must provide guidelines for enabling designers to enact these goals and polices dynamically in the system, aided by middleware. One the other hand, middleware for supporting future pervasive computing systems must support the existence of autonomous goal-oriented entities, coordinating with each other towards the achievement of goals and policies, either at the local or at the global level, supported by increased autonomy and intelligence in the devices.

Apart from mapping high level objectives to basic functionality via policies and and goals, the application structure itself may change due to integrating fog and edge resources. Identifying, specifying, and scheduling offloadable parts of an application needs end-to end support from design to runtime. Especially at runtime user expectations and requirements have to be met and mapped to the dynamic execution environment, e.g., if access to a private cloud or edge resource is not possible, offloading of sensitive data/computation should not be done. Units of computation need to contain data and code. This resembles a closure for computing a task. Integrating this into software engineering methodology and supporting by middleware architectures is a challenge for future pervasive computing systems.
4.4

Supporting autonomy and intelligence

As discussed above, most current middleware systems for pervasive computing and the IoT assume a service-oriented perspective (Razzaque et al. 2016). That is, their primary goal is to coordinate and combine the execution of services and contextual events. Thus, the question of what additional (and possibly different) features a middleware should integrate to properly support autonomous components arises. We believe that much can be taken from the lessons and experiences of research in multiagent systems (Wooldridge 2009).

As is the case in pervasive computing, deploying and executing a distributed multiagent system (i.e., a system of interacting autonomous software agents), calls for a suitable middleware infrastructure. However, unlike traditional pervasive computing middleware, most research in the area of agent-based middleware has explicitly focused on the necessary support for autonomy and distributed decision making. Supporting autonomy implies giving agents the "freedom of action" to eventually pursue their goals, but at the same time implies defining means to monitor autonomous actions, guarantee such actions are "safe" from an overall system viewpoint, and possibly reclaim some degree of autonomy from components whenever necessary in order to preserve some global goal (Mostafa et al. 2017). Supporting distributed decision making implies more than simply composing a set of services according to specific orchestration rules and constraints. It implies supporting a variety of negotiation protocols (Beer et al. 1999) that enable autonomous components to dynamically reach consensus on their courses of action, preserving their autonomy in strategy, yet ensuring that such protocols adhere to "social norms" (Aldewereld et al. 2016).

Looking further into the future, another area in which multiagent systems research could suggest important guidelines for future pervasive computing middleware concerns knowledge-based reasoning. As of today, in the pervasive computing and IoT arenas, sensors are treated almost exclusively as producers of raw data streams and events. Advancements in machine learning techniques, and in the increase of computational power that can be embedded in everyday sensors and objects, will soon make it possible for such devices to locally analyze and classify streams of sensed data to extract relevant semantic knowledge (Lippi et al. 2018). We can also expect that such capabilities will evolve to recognize more complex situations, making them capable of causally connecting individual patterns into composite situations, that is, making assertions about what is happening around them. For instance, a set of wearables may construct the assertion that "Heart rate increased due to a training session" by integrating the results of sensing two distinct patterns. Or a camera may perform scene understanding, by relating the individual objects it recognizes, e.g., "patient Marco has left the stretcher in corridor X". Similarly, we can soon expect actuators to become not only capable of executing simple tasks, but they will also be able to understand and interpret goals at the semantic knowledge-based level, and possibly argue about their capabilities to achieve such goals. In an environment populated by such smart, autonomous and semantic sensors and actuators, coordination will have to naturally evolve from negotiation towards distributed multi-party conversations, or dialogues (Amgoud et al. 2000), where the devices discuss and argue with each other to reach a common understanding of situations around, talk to each other to agree on common courses of actions, and possibly dynamically re-negotiate their goals and beliefs. Clearly, as for negotiation protocols, the capability of supporting complex dialogues between such smart components will call for specifically conceived functionalities to be integrated in future pervasive computing middleware systems.
4.5

Humans in the loop

The vision of a future pervasive environment populated by smart goal-oriented components acting autonomously in our everyday environments cannot overlook humans as a vital component of the scenario. Humans, in their role of ultimate "users" (in a broad sense) of a pervasive computing system, are the ones that must ultimately be entitled to impose on components to act (and possibly how to act) towards the achievement of specific goals or states in the environment in which they live. To this end, humans must be given the ability to inspect, at any time, the current behaviour of the pervasive computing system. When the environment includes autonomous goal-oriented components, this also implies enabling the human to understand how the system perceives the current state of the affairs, what goals it is currently pursuing and with what planned actions, and why those goals are the "right" ones, given the perceived state.

The above issue can be seen as a specific instance of the more general issue—now a very hot one, due to the increased difficulty of understanding the behaviour of modern deep learning systems—of promoting "explainable" systems (Gunning 2017). In this regard, the perspective of future pervasive computing systems that—yes—devices can integrate deep learning components to understand situations and plan actions, they can converse to justify their choices, and they can carry out these choices in real time, takes pervasive computing in the correct direction. Indeed, argumentation-based conversations are crucial to help users understand what is happening and are also a mean to enable users to effectively participate in the pervasive computing space.

The ability for humans to participate in the conversational process, other than for understanding, envisions humans as actual critical component of the system: they can participate by providing sensing capabilities (thus acting as smart semantic sensors), and they are inherently intelligent actuators. This convergence between human and software entities is witnessed by many modern socio-technical systems (Zambonelli 2012), and it demands researchers and practitioners to conceive, design, and develop systems seamlessly interacting with other software systems and with human agents as well.

Finally, conversation may be a useful and effective user-level way to program a system and configure its behaviour. The need to enable easy and flexible ways to support user-level programming is increasingly recognized as essential. Yet current approaches to user-level programming are very simple, enabling the simple configuration of some device parameters and the definition of cause-effect relations (Kubitza and Schmidt 2017). The approach of current chatbot-based home devices such as Google Home and Amazon Alexa is promising but must evolve to become an enabler for real conversations among humans and devices in ways that allow collaboratively understanding and achieving goals.
5

Conclusions

After three decades of research in pervasive and ubiquitous computing, there is a lot of common understanding and many fundamental research questions have been addressed. Core services, such as context-management and service discovery, are well explored. Interaction models from service oriented models to loosely coupled event based communication have been successfully deployed. However, there remain inherent open challenges that inhibit the realization of the long vision of pervasive computing.

Interoperability is one of these challenges. It will be a major requirement in the near future since many greenfield developments will be made of distributed and often heterogeneous platforms and devices that will need to communicate and cooperate. Interoperability is additionally challenged by the need to incorporate legacy systems (both hardware and software). In addition to all the services and devices present at a time, potentially all devices from earlier installations must also be dealt with and seamlessly integrated. This exceeds syntactic and semantic mappings. New services, sensors, and actuators may affect systems differently, leading to new compositions that provide a better utility than existing ones—or ones that lead to conflicts.

End-users with little or no knowledge and interest of configuration, computer technology, etc., will often be the only humans who are present at deployment, runtime, and maintenance. This is especially true in private places like homes, offices, and ... smart-phones! Means will be needed to keep human in the loop without being overwhelmed by technology.

Complexity and dynamism are inherent in these environments. When more and more everyday items communicate, provide sensor information, and allow outside entities to set their state, systems will have to be tailored to a specific environment. This, in most cases, will have to be done by the user. Application composition and scheduling remain cornerstone open challenges. Many early and existing approaches to pervasive computing are based on closed scenarios, e.g., smart homes, and on service-oriented interaction. Incorporating edge and fog devices leads to new challenges in the application architecture as well as in scheduling a distributed, Pervasive Computing application.

As of today, there is no silver bullet. But a number of different research areas converge and will help to conquer the challenges. Autonomic techniques, artificial Intelligence mechanisms, and efficient algorithms will provide means for configuration in dynamic environments. Human computer interaction has explored a number of applications and interaction models. This in combination with efficient algorithms, interaction models of multi agent systems and systems research can provide the necessary balance between the users expectations and skills in order to configure and manage the environment.

Even after such a long period of research middleware for pervasive computing remains an exciting research field.
Copyright information
© China Computer Federation (CCF) 2019