Abstract
Bauxite residue (red mud) is an alkaline waste derived from the industrial process for extraction of alumina from bauxite ore. Some bauxite residues contain considerable concentrations of critical metals, for example, rare earth elements. Lithium in red mud was also reported as a potential resource. In the current study, a Li-rich red mud was leached using acetic acid to investigate the leaching behavior of lithium followed by neutralizing with hydrochloric or oxalic acid. By neutralizing red mud using diluted hydrochloric acid (0.01 mol/L), 58.04–60.27% of lithium was leached using 25% acetic acid at 95 °C for 60 min. In the meantime, more than 95% of sodium and 85% of calcium were also dissolved in the leachate solution. While oxalic acid (0.5 mol/L) was used to neutralize red mud prior to acetic acid leaching, lithium performed lower leaching efficiencies (42.41–46.88%) in comparison of using of hydrochloric acid–neutralized red mud. Nevertheless, these leaching efficiencies of lithium were close to that of calcium and much higher than those of sodium under the condition. In this study, 25% (v/v) of acetic acid, at 85 °C for 60 min, was demonstrated as optimum conditions for lithium extraction from oxalic acid–neutralized red mud using acetic acid. The results would be useful and of interest for lithium recovery and purification from red mud.
This is a preview of subscription content, log in to check access.
Access options
Buy single article
Instant unlimited access to the full article PDF.
US$ 39.95
Price includes VAT for USA
Subscribe to journal
Immediate online access to all issues from 2019. Subscription will auto renew annually.
US$ 148
This is the net price. Taxes to be calculated in checkout.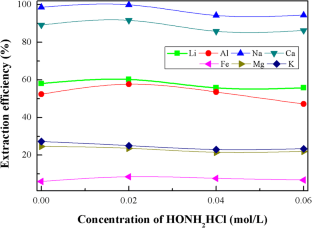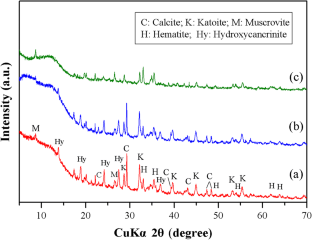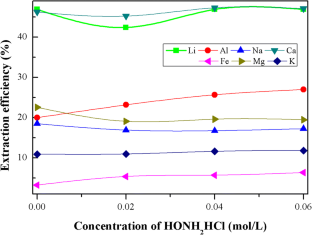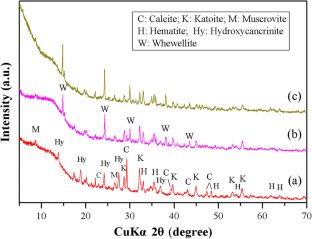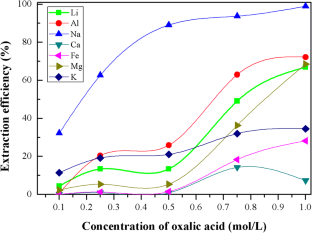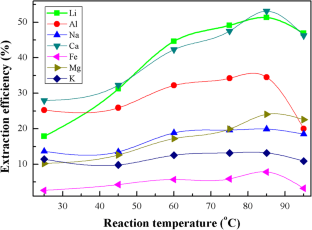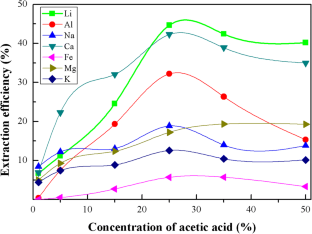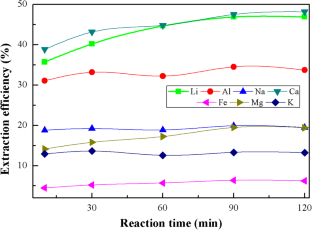 References
1.

Zhang L, Li L, Shi D, Li J, Peng X, Nie F (2017) Selective extraction of lithium from alkaline brine using HBTA-TOPO synergistic extraction system. Sep Purif Technol 188:167–173

2.

Meshram P, Pandey BD, Mankhand TR (2014) Extraction of lithium from primary and secondary sources by pre-treatment, leaching and separation: a comprehensive review. Hydrometallurgy 150:192–208

3.

McLemore VT (2019) Preface to the MME special issue on critical minerals part I. Min Metall Explor 36:857–859

4.

Amer AM (2008) The hydrometallurgical extraction of lithium from Egyptian montmorillonite-type clay. JOM 60(10):55–57

5.

Boxall NJ, Adamek N, Cheng KY, Haque N, Bruckard W, Kaksonen AH (2018) Multistage leaching of metals from spent lithium ion battery waste using electrochemically generated acidic lixiviant. Waste Manag 74:435–445

6.

Li S, Qin S, Kang L, Liu J, Wang J, Li Y (2017) An efficient approach for lithium and aluminum recovery from coal fly ash by pre-desilication and intensified acid leaching processes. Metals 7(7):272

7.

Wang D, Li P, Qu W, Yin L, Zhao Z, Lei Z, Wen S (2013) Discovery and preliminary study of the high tungsten and lithium contents in the Dazhuyuan bauxite deposit, Guizhou, China. Sci China Earth Sci 56(1):145–152

8.

Zhong L, Zhang Y, Zhang Y (2009) Extraction of alumina and sodium oxide from red mud by a mild hydro-chemical process. J Hazard Mater 172:1629–1634

9.

Deng B, Li G, Luo J, Ye Q, Liu M, Peng Z, Jiang T (2017) Enrichment of Sc2O3 and TiO2 from bauxite ore residues. J Hazard Mater 331:71–80

10.

Borra CR, Blanpain B, Pontikes Y, Binnemans K, Van Gerven T (2016) Smelting of bauxite residue (red mud) in view of iron and selective rare earths recovery. J Sustain Metall 2(1):28–37

11.

Abdulvaliyev RA, Akcil A, Gladyshev SV, Tastanov EA, Beisembekova KO, Akhmadiyeva NK, Deveci H (2015) Gallium and vanadium extraction from red mud of Turkish alumina refinery plant: hydrogarnet process. Hydrometallurgy 157:72–77

12.

Deady ÉA, Mouchos E, Goodenough K, Williamson BJ, Wall F (2016) A review of the potential for rare-earth element resources from European red muds: examples from Seydişehir, Turkey and Parnassus-Giona, Greece. Mineral Mag 80(1):43–61

13.

Borra CR, Blanpain B, Pontikes Y, Binnemans K, Van Gerven T (2017) Recovery of rare earths and major metals from bauxite residue (red mud) by alkali roasting, smelting, and leaching. J Sustain Metall 3(2):393–404

14.

Narayanan RP, Kazantzis NK, Emmert MH (2018) Selective process steps for the recovery of scandium from Jamaican bauxite residue (red mud). ACS Sustain Chem Eng 6(1):1478–1488

15.

Lu F, Xiao T, Lin J, Li A, Long Q, Huang F, Xiao L, Li X, Wang J, Xiao Q, Chen H (2018) Recovery of gallium from Bayer red mud through acidic-leaching-ion-exchange process under normal atmospheric pressure. Hydrometallurgy 175:124–132

16.

Zhu X, Niu Z, Li W, Zhao H, Tang Q (2019) A novel process for recovery of aluminum, iron, vanadium, scandium, titanium and silicon from red mud. J Environ Chem Eng. https://doi.org/10.1016/j.jece.2019.103528

17.

Gu H, Wang N, Hargreaves JSJ (2018) Sequential extraction of valuable trace elements from Bayer process-derived waste red mud samples. J Sustain Metall 4(1):147–154

18.

Mayes WM, Jarvis AP, Burke IT, Walton M, Feigl V, Klebercz O, Gruiz K (2011) Dispersal and attenuation of trace contaminants downstream of the Ajka bauxite residue (red mud) depository failure, Hungary. Environ Sci Technol 45:5147–5155

19.

Gu H, Wang N, Liu S (2012) Radiological restrictions of using red mud as building material additive. Waste Manag Res 30(9):961–965

20.

Gomes HI, Mayes WM, Rogerson M, Stewart DI, Burke IT (2016) Alkaline residues and the environment: a review of impacts, management practices and opportunities. J Clean Prod 112:3571–3582

21.

Gu H, Guo T, Wen H, Luo C, Cui Y, Du S, Wang N (2020) Leaching efficiency of sulfuric acid on selective lithium leachability from bauxitic claystone. Miner Eng 145:106076

22.

Rubinos DA, Barral MT (2013) Fractionation and mobility of metals in bauxite red mud. Environ Sci Pollut Res Int 20(11):7787–7802

23.

Mishra B, Staley A, Kirkpatrick D (2002) Recovery of value-added products from red mud. Min Metall Explor 19(2):87–92

24.

Clark MW, Johnston M, Reichelt-Brushett AJ (2015) Comparison of several different neutralisations to a bauxite refinery residue: potential effectiveness environmental ameliorants. Appl Geochem 56:1–10

25.

Kong X, Li M, Xue S, Hartley W, Chen C, Wu C, Li X, Li Y (2017) Acid transformation of bauxite residue: conversion of its alkaline characteristics. J Hazard Mater 324:382–390

26.

Guo T, Yang H, Liu Q, Gu H, Wang N, Yu W, Dai Y (2018) Adsorptive removal of phosphate from aqueous solutions using different types of red mud. Water Sci Technol 2017(2):570–577

27.

Pepper RA, Couperthwaite SJ, Millar GJ (2016) Comprehensive examination of acid leaching behaviour of mineral phases from red mud: recovery of Fe, Al, Ti, and Si. Miner Eng 99:8–18

28.

Yu Z, Shi Z, Chen Y, Niu Y, Wang Y, Wan P (2012) Red-mud treatment using oxalic acid by UV irradiation assistance. Trans Nonferrous Metals Soc 22:456–460
Acknowledgments
The authors acknowledge Dr. Wanchao Liu who provided the HN red mud sample.
Funding Information
This work received financial supports from the National Natural Science Foundation of China (U1812402; 41972048), the National Key Research and Development Program of China (2018YFC1903500), Guizhou Provincial Science and Technology Foundation ([2016]1155), and Guizhou Scientific and Technological Innovation Team (2017-5657).
Ethics declarations
Conflict of Interest
The authors declare that there is no conflict of interest.
Additional information
Publisher's Note
Springer Nature remains neutral with regard to jurisdictional claims in published maps and institutional affiliations.
About this article
Cite this article
Gu, H., Li, W., Li, Z. et al. Leaching Behavior of Lithium from Bauxite Residue Using Acetic Acid. Mining, Metallurgy & Exploration (2020). https://doi.org/10.1007/s42461-020-00181-1
Received:

Accepted:

Published:
Keywords
Lithium

Red mud

Leaching

Acetic acid

Oxalic acid