Distribution of cesium and cationic mineral elements in napiergrass
Part of the following topical collections:
Abstract
Napiergrass is fast-growing perennial known for its high potential for accumulation of cesium (Cs). Cs is highly mobile within a plant and can be distributed to various plant organs. Here, we investigated the distribution of cesium-133 (133Cs) and competitively translocated cationic minerals, such as potassium (K), calcium (Ca), and magnesium (Mg), in different organs of napiergrass. Treatments comprised four concentrations of 133Cs applied to soil: 0 (as control); 300; 500; and 1000 μM. Leaf blades contained significantly higher concentrations of 133Cs than stems under 300 and 500 μM 133Cs treatments (P < 0.01). Specifically, significantly greater 133Cs content was measured in younger parts of stems and leaf blades compared with mature or older plant parts. The 133Cs content in younger parts was 5302, 13,059, and 51,678 mg kg−1 in stems and 6961, 16,363, and 52,781 mg kg−1 in leaf blades under 300, 500, and 1000 μM 133Cs treatments, respectively. Distribution ratios of K were higher in stems than in leaf blades in all 133Cs-treated conditions (P < 0.05). A significantly negative correlation was found between K and Ca or Mg in leaf blades, suggesting that 133Cs and K are similarly competitive with Ca or Mg within napiergrass. We conclude that 133Cs is distributed to younger plant parts, especially leaf blades, and that translocation of Ca and Mg is strongly inhibited by the presence of 133Cs or K within organs. This suggests that 133Cs or K can inhibit Mg translocation and could lead to Mg deficiency in younger plant parts.
Keywords
Competition 
133Cs 
Macronutrients 
Pennisetum purpureum Schum 
Plant organ 
Translocation 
1

Introduction

Many areas surrounding the Fukushima Daiichi Nuclear Power Plant in Fukushima Prefecture, Japan, remain highly contaminated with long-lived radiocesium (Cs) since the 2011 tsunami, in particular 137Cs, which has a half-life of 30 years [12]. 137Cs is one of the most dangerous radionuclides; it is highly water soluble and has a marked tendency to accumulate in sediment and aquatic organisms [2, 27].

Cs and potassium (K) are both Group I alkali metals [9], but the higher atomic weight and ionic radius and lower hydration energy of Cs result in slightly different behaviors [2]. It has been suggested that competitive and inhibitory interactions between 137Cs and K play an important role in the uptake and translocation of alkaline and alkaline-earth metals by plant roots [19]. One possible reason for this inhibition could be that small amounts of 137Cs block K+-channels [27]. Low concentrations of 134Cs were shown to be easily taken up by plant roots and translocated to aboveground plant parts [17]. 134Cs translocation and accumulation vary by plant species and plant organs [20]. Because Cs is mobile and can be easily distributed, its distribution within plants or within organs also varies among different plant species [2]. Examples include uptake via the vascular system of stems and leaves in Arabidopsis thaliana [9], seeds in Vicia faba [15], growing parts such as fruits, leaves, twigs, and bark in woody trees [1, 18], new leaves in cedar plants [16], leaves in Indian mustard [22], and leaves in Chengiopanax sciadophylloides [24].

The uptake of nutrient elements by roots is also influenced by the presence of Cs. Cs is transported from the soil solution to the plant by various cation transporters located in the plasma membrane of root cells [25, 27]. The concentration of K in soil can influence Cs uptake, with greater uptake occurring as K concentrations increase, suggesting that K channels are blocked, potentially affecting mineral nutrition [21]. Therefore, it is important to consider the nutrient status of the soil [2], because interactions with the analogs K and calcium (Ca) affect 137Cs transfer [6]. Additionally, it is well established that high concentrations of K in soil competitively inhibit magnesium (Mg) uptake, and that even within plants, excess K competes with Mg to reduce protein synthesis function [8].

Napiergrass (Pennisetum purpureum Schum) produces the greatest shoot-mass of all herbaceous plants [5], and it has a relatively high 137Cs removal ratio (CR) among species studied for phytoremediation [10, 11]. In a previous field study, a maximum CR of 0.57% was achieved in napiergrass planted at high density on soils contaminated with high levels of 137Cs (3404 kBq m−2) [12]. We also previously confirmed that 133Cs and 137Cs became more localized in leaf blades of napiergrass compared with stems [10, 11]. However, the distribution of 133Cs within napiergrass stems or leaf blades after translocation has not been fully elucidated. We anticipated that 133Cs distribution would vary between leaf blades and stems and may in fact also be quite different depending on organ maturity. Therefore, in the present study, we hypothesized that 133Cs content would be highest in the leaf blades of napiergrass following translocation, and that 133Cs would be primarily distributed in the younger parts of stems and leaf blade organs. We further hypothesized that alkaline cationic minerals, such as K, Ca, and Mg, would be competitively distributed in the presence of 133Cs within plant organs.
2

Materials and methods

We used a common variety of napiergrass (var. Merkeron), which showed high

137

Cs accumulation compared with other napiergrass varieties [

11

]. The experiment was conducted in a rainout greenhouse in Goshogawara, Aomori Prefecture (40.5494 N, 140.2743 E), northern Japan, between May 25 and August 21, 2017 (88 days). In this study, five pots (replicates) per each

133

Cs treatment concentration were used. Four-week-old nursery plants were transplanted into 1/2000a Wagner pots filled with 7 kg dried commercial soil on May 25, 2017. A compound fertilizer, N–P–K (15–15–15), was applied as a basal dressing at 4.0 g pot

−1

, and the same amount was applied as a top dressing once per month (total two times) until harvest. The maximum and minimum temperatures in the greenhouse were measured using a data logger (Temperature and Humidity USB Datalogger DL171, AS ONE Co. Ltd., Osaka, Japan) throughout the experiment (Fig. 

1

).

Cs (atomic weight 133Cs) at concentrations of 0 (control), 300, 500, and 1000 µM, as cesium chloride (CsCl) in 2 L water, was applied to the soil in each pot prior to transplanting. Pots were watered by applying 1050 mL of tap water when soil tension reached approximately − 20 to − 30 kPa. The total water applied equaled 15% of the total soil volume during the growth period. Soil tension in the pots was continuously assessed at a depth of 20 cm using a tension meter (DIK-8333, Daikirika Co. Ltd.) until harvest.
Before being harvested, five individual plants were measured for plant height, tiller number, and SPAD value (SPAD-502; Minolta Co., Ltd., Osaka, Japan); the SPAD value indicates chlorophyll content or color of a leaf. These plants were harvested, on the same day, from each
133
Cs-treatment group to determine the
133
Cs content in each part of the leaf blade and stem (including the leaf sheath). The harvested leaf blades and stems were further separated into young, mature, and old sections (Fig. 
2
), and then the plant materials were dried in an oven at 80 °C for 72 h. To determine
133
Cs concentration within each plant, 0.2 g each of dried leaf blades and stems were digested in 10 mL HNO
3
(nitric acid) using a Milestone microwave digestion system (ETHOS; Milestone Inc., Sorisole, Italy). After cooling, the samples were centrifuged and supernatants were passed through a 0.45-µm filter.
133
Cs concentrations were measured using an inductively coupled plasma-mass spectrophotometer (ICP-MS; PerkinElmer Elan, Co., Ltd., Fremont, CA, USA) according to a protocol by Kang et al. [
10
].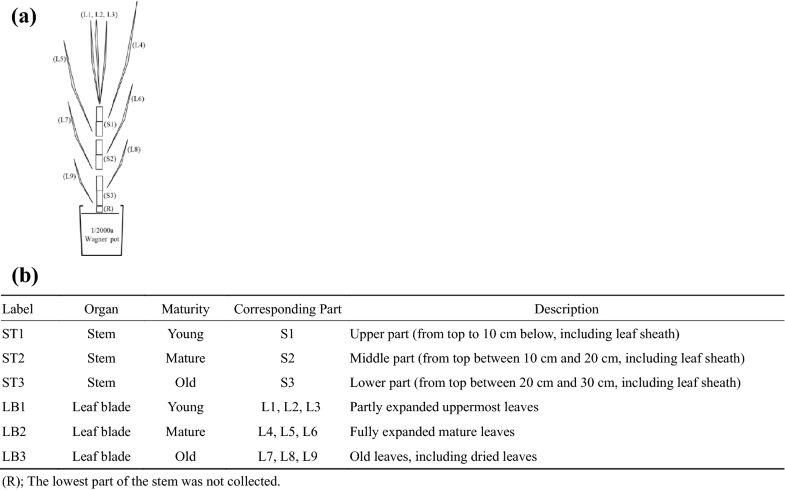 2.1

Statistical analysis

Five plant replicates in the four 133Cs treatment groups were measured for plant height, tiller number, SPAD value, and 133Cs content within both leaf blades and stems. The data obtained in the experiments were analyzed using Tukey's multiple-range test to determine the significance of any differences between the mean values, using KaleidaGraph (ver. 4.1, Synergy Software) software. Significant differences in 133Cs content between mean values in leaf blades and stems were determined using Fisher's least significant difference test.
4

Conclusion

We investigated the distribution of cesium-133 (133Cs) and competitively translocated cation minerals, such as potassium (K), calcium (Ca), and magnesium (Mg), in different organs of napiergrass under 133Cs-treated conditions. The results of our experiment showed that: (1) 133Cs content was significantly higher in leaf blades than in stems, (2) 133Cs was principally distributed throughout the younger parts of the stems or leaf blades, and (3) translocation of Ca and Mg, particularly Mg, was strongly inhibited by the presence of 133Cs or K within plant organs.

Our results suggest that large amounts of 133Cs or K translocation could lead to nutrient imbalance, especially Mg deficiency, in younger plant organs of napiergrass. Further studies are necessary to verify the competition between 133Cs and cationic minerals, particularly Mg, under relatively low 133Cs concentrations, such as 300 or 500 µM, applied with different levels of K fertilizer.
Notes
Funding
This study was funded by Grant-in-Aid for Scientific Research (Grant Number 17K08163).
Compliance with ethical standards
Conflict of interest
The authors declare that they have no conflict of interest.
Copyright information
© Springer Nature Switzerland AG 2019