Bilateral Orbital Myositis in a Child Following Streptococci Group A Pharynx Infection
Part of the following topical collections:
Background
Orbital myositis, a rare inflammatory disorder of the extra-ocular muscles, represents approximately 8% of all non-specific orbital inflammatory syndromes (NOIS). It most frequently affects middle-aged women and it is often unilateral. Its exact etiology remains unknown but it has been linked to ophthalmic and systemic diseases such as scleritis, rheumatoid arthritis, Wegener's disease, Crohn's disease, and systemic lupus erythematosus [1], as well as to infectious processes such as group A streptococcal (GAS) pharyngitis, respiratory viruses [2, 3, 4, 5, 6], and Borrelia burgdorferi infection [7].
There have been three previously reported cases of pediatric unilateral orbital myositis following streptococcal pharyngitis [4, 5, 6]. We report the first case of documented streptococcal pharyngitis–associated recurrent bilateral orbital myositis in a child.
Case Presentation
A 7-year-old girl was admitted to the emergency room (ER) with diplopia and pain on movements of her right eye (OD). Other personal medical history was not referred. Her father had psoriatic arthritis and her uncle, ankylosing spondylitis, as family history.
Upon admission, her visual acuity was 20/20 in both eyes (OU). She had horizontal diplopia in the right lateral gaze without clear muscular restrictions, ptosis, swelling, and purplish discoloration of the right upper eyelid. The slit-lamp examination revealed right-eye conjunctival hyperemia and chemosis. The remaining tests and eye examinations were normal.
She had no fever (36.5 °C) and her systemic physical exam was normal: there were no murmurs on heart auscultation, normal pulse (82 bpm), and examination of the throat, lungs, abdomen, and skin was normal. Eosinophilia (0.85 × 109/l) was detected but the rest of the complete blood count values, hemostasis, erythrocyte sedimentation rate, C-reactive protein concentration, creatine phosphokinase, urine test results, aldolase levels, lysozyme, angiotensin I–converting enzyme levels, and thyroid profile were normal. Tests results for rheumatoid factor, human leukocyte antigen B27, anti-nuclear antibodies, anti-neutrophil cytoplasmic antibodies, anti-liver kidney microsome antibodies, anti-smooth muscle antibody, anti-mitochondrial antibody, and immunoglobulin G4 were all negative. Blood culture test results (Borrelia, Bartonella, and Brucella) were normal. A magnetic resonance imaging (MRI) scan of the orbits showed a uniform thickening—including tendons—of the right medial rectus muscle (MRM) which enhanced after contrast administration. The paranasal sinuses were normal.
Initial treatment consisted of intravenous (IV) prednisolone (60 mg). Within 48 h, the eyelid edema had resolved. Next, an oral-prednisolone regimen with gradually decreasing doses was initiated and the patient was discharged from the hospital.
Twenty-four hours after hospital discharge, the patient—still under oral corticosteroid therapy—returned to the ER reporting pain in her OU, accompanied by vomiting and bradycardia (52 bpm). When questioned this time, she reported an episode of culture-proven GAS pharyngitis with a documented antistreptolysin O (ASLO) titer elevation 620 IU/ml (normal < 200 IU/ml) that had occurred 7 days before her first consultation. This episode had been treated elsewhere with oral amoxicillin for 5 days (Fig. 
1
). The reexamination revealed horizontal diplopia in her right and left lateral gaze. An MRI scan showed a uniform thickening—including tendons—of the right MR, right inferior rectus, and left MR with blurred margins and enhancement after contrast administration (Fig. 
2
a). Next, a transconjunctival biopsy of the OD's MRM was performed; a 3 × 2 × 3-mm muscle sample was analyzed. The results showed no alterations in the fibers' size or shape, no inflammatory infiltrates, and no areas of necrosis. Intravenous-prednisolone therapy—1 mg/kg/day—was initiated, followed by oral prednisolone tapered down over 1 month. Amoxicillin/clavulanic acid was also initiated until throat culture and ASLO titer results were obtained, which turned out to be negative. After 4 weeks, all ocular symptoms had disappeared and a control MRI scan showed no pathological findings (Fig. 
2
b). Two years later, no further recurrences have been reported.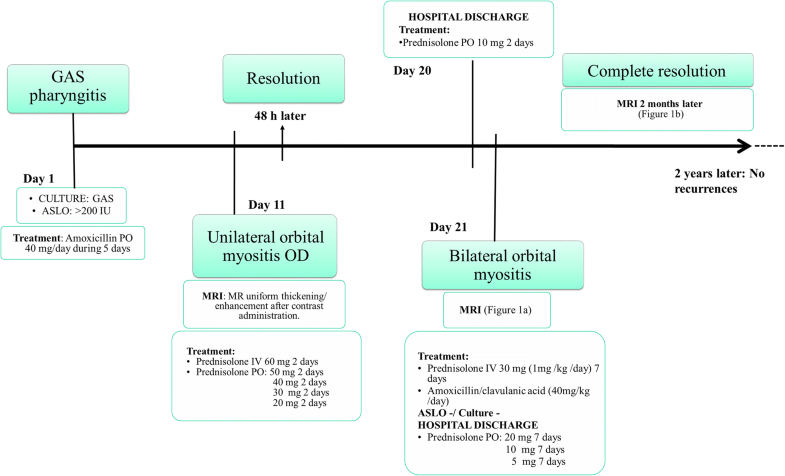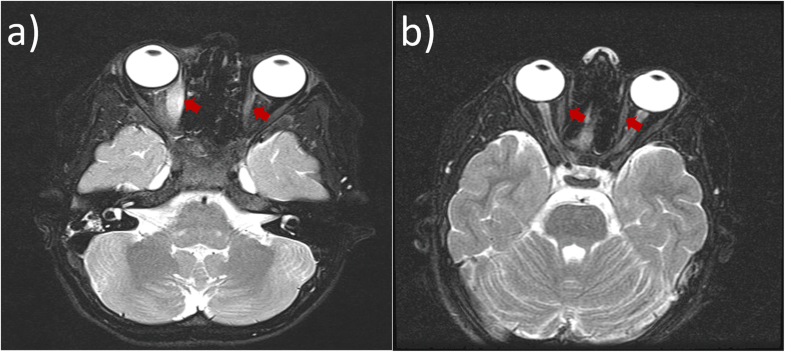 Discussion and Conclusions
Our patient presented with the clinical and radiological characteristics that define a pediatric idiopathic orbital myositis. She had eosinophilia, bilaterality of the clinical picture and constitutional signs—vomiting and bradycardia due to the stimulation of the oculocardiac reflex and vagus nerve—which are more prevalent in children [
1
,
8
]. Furthermore, the markers for other autoimmune and infectious diseases were normal, as were the thyroid-function test results. The clinical response to corticosteroid therapy was quick and dramatic, which is a characteristic of NOIS [
1
]. Nevertheless—although orbital myositis recurrence happens in as much as 1/2 of patients [
8
,
9
]—, the fact that in our case, the condition had a long clinical course and it recurred despite an adequate high-dose tapered-down corticosteroid regimen, led us to consider the possibility of an atypical orbital myositis [
1
]. For this reason, we decided to re-assessed the patient's medical record, which now included her history of GAS pharyngitis; this happens to be a relevant data since there are previously reported cases of orbital myositis following serology or culture-proven streptococcal pharyngitis in children [
4
,
5
,
6
] (Table
1
). We then decided to perform a muscle biopsy, which is recommended so as to rule out any malignancies or other infectious or inflammatory disorders [
8
]. The biopsy results were anodyne. None of the characteristic traits of an orbital myositis were present: a non-specific polymorphic inflammatory infiltrates with differing degrees of granulomatous inflammation and sclerosis [
1
]. The reason could be that either the biopsied muscle region did not have any abnormalities to start with, or because the area had already healed as a result of the prescribed corticosteroid regimen. Anyhow, we did not find in the literature any previous histological description of the muscular damage resulting from GAS-pharyngitis-associated myositis, as biopsies were not performed in those previous cases [
2
,
3
,
4
,
5
,
6
].
Table 1
Previous cases of orbital myositis following streptococcal pharyngitis in pediatric patients
Patient case

Age

Medical history symptoms and signs

Complementary tests

Treatment

Results

Culligan B (2005) [4]

13-year-old boy

- 3 weeks earlier: streptococcal pharyngitis treated with penicillin (intramuscular injection)

- Photophobia, pain on eye movement, mild restriction LRM OD

- Eyelid edema, conjunctival injection OD

- ESR, CBC, ANA, CRP, RF, thyroid function tests: normal

- ASLO: 1188 IU/ml

- Throat culture: negative

- CT: thickening in LRM and posterior thickening in MRM OD

- 0.12% prednisolone q.i.d OD 3 days, followed by 1% prednisolone q.i.d OD until clinical improvement

- 400 mg t.i.d 1 month

Resolution/ No recurrences/ 7 weeks follow-up.

Alshaikh M (2008) [5]

9-year-old girl

- 6 weeks earlier: tonsillitis and right-sided tonsillar abscess treated with penicillin (intramuscular injection) 5 days.

- Photophobia, pain on eye movement, diplopia on lateral gaze OD

- Proptosis, swelling, purplish discoloration upper eyelid OD

- WCC 18.6 × 109/L, neutrophils 14.1 × 109/L, ESR 47, creatinine phosphokinase, thyroid function tests normal

- ASLO 560 IU/mL, Anti-DNAse 160 (normal < 20)

- CT: uniform thickening of MRM OD which enhanced after contrast administration

- Cefotaxime IV 3 days, discharged on oral cephalosporin (under initial diagnosis of periorbital cellulitis)

- Oral prednisolone 1 mg/kg gradually reduced over 8 weeks

Resolution/ No recurrences/ 4 weeks follow-up.

Rabina G (2017) [6]

9-year-old boy

- 4 weeks earlier: tonsillitis (throat culture: GAS positive) treated with oral amoxicillin

- Pain on eye movement OS, diplopia

- Conjunctival congestion OS, proptosis, limitation in abduction OS

- ASLO 400 IU/ml

- MRI: enlargement of the LRM OS with hyperintensic T2 signal

- Prednisolone 20 mg/ slowly tapered down.

Resolution/no. recurrences/2 weeks follow-up.
The medical literature has shown a clear association between streptococcal pharyngitis, acute rheumatic fever, rheumatic heart disease, glomerulonephritis, reactive arthritis, pediatric autoimmune neuropsychiatric disorders, erythema, and uveitis, which are all considered to have an immunopathogenic basis [10]. This link could be the etiopathogenic mechanism in our case, which would explain the positive response to corticosteroid therapy, as seen in others GAS pharyngitis-associated myositis patients [2, 3, 4, 5, 6].
However, there are documented cases of orbital myositis in which direct invasion is considered to be the etiopathogenic mechanism. This is the case of myositis associated with Borrelia burgdorferi—a bacteria that is also present in muscle biopsies from Lyme disease patients—whose treatment requires adding ceftriaxone IV (an antibiotic targeting the Borrelia burgdorferi) in order to achieve complete and definitive resolution [7].
In our patient's case, following the recurrence under corticoids and despite normal throat examination and biopsy results, we decided to add amoxicillin/clavulanic acid (an antibiotic regimen targeting GAS) to the corticosteroid therapy (which again followed a tapered-down approach) until throat culture and ASLO titer results turned out to be negative. With this approach, we also wanted to cover a possible infectious etiology mechanism of orbital myositis in our patient, since steroid therapy inhibits inflammation, but allows a return of symptoms when the causative organism has not been eliminated. This time, we attained a complete resolution during a follow-up period of 2 years, the longest one compared to previous pediatric cases (Table 1).
To conclude, specific etiology of orbital myositis is still unknown. According to the previous literature, two scenarios are possible: an autoimmune mechanism, similar to glomerulonephritis and reactive arthritis, or a direct infection mechanism as occurs with myositis due to B. burgdorferi. Our case, as well as the previous ones (Table 1), suggests that there is an association between streptococcal infection and onset of orbital myositis. However, it sheds a little light on the exact pathophysiological mechanism. The clinical history and the condition's response to antibiotics—as an add-on to corticosteroid therapy— makes us suspect that underlying infectious and/or immunological mechanisms, both, could have been the triggering cause.
Notes
Compliance with Ethical Standards
Conflict of Interest
The authors declare that they have no conflict of interest.
Ethical Approval
This article does not contain any studies with human participants or animals performed by any of the authors.
Informed Consent
Additional informed consent was obtained from all individual participants for whom identifying information is included in this article.
Copyright information
© Springer Nature Switzerland AG 2019