Ferromagnetic xyloglucan–Fe3O4 green nanocomposites: sonochemical synthesis, characterization and application in removal of methylene blue from water
Abstract
In present study, novel magnetic nanocomposites based on an agro-based material, non-toxic and biocompatible xyloglucan (XG) with magnetic iron oxide (Fe3O4) were synthesized by a simple, safe and ecofriendly sonication method. The synthesized nanocomposites (XG–Fe3O4) were characterized by various analytical techniques such as powder X-ray diffraction (PXRD), Fourier transform infrared spectroscopy (FTIR), scanning electron microscopy (SEM)-energy dispersive X-ray (EDX), transmission electron microscopy (TEM)–EDX analysis and selected-area electron diffraction (SAED). The average crystallite size of the nanocomposites as estimated by the Scherrer analysis were in the range of 17–20 nm and thus exhibited no significant difference in mean particle size on changing the ratios of Fe3O4 and Xyloglucan. The high resoloution (HR) TEM analysis revealed nanorod like shape of synthesized Fe3O4 nanoparticles. Lattice fringes of the individual crystallites were seen in the HRTEM image, indicative of their good crystallinity. The distance of 0.29 nm was found in between the lattice fringes that confirmed the cubic structure of nanoparticles. The FTIR spectrum of nanocomposite indicated the interaction of functional groups in XG with the Fe3O4 nanoparticles at the surface. The SEM analysis revealed the average crystal size of pure Fe3O4 nanocrystals to be 22.4 nm. The SAED analysis revealed that the nanocomposites (20 nm) were very close to behaving as superparamagnets at room temperature. A preliminary study on removal of methylene blue (MB) dye from aqueous solution indicated that the nanocomposite has potential to be used for photocatalytic and adsorptive removal of MB from aqueous solutions.
Keywords
Xyloglucan 
Nanocomposites 
Ferromagnetic 
TEM–EDX 
Polysaccharide 
Nanogels 
Hydrogels 
Dye removal 
Introduction
The contamination of water streams by synthetic dyes has emerged as a serious environmental issue worldwide. During manufacturing and handling of synthetic dyes, 15–20% dyes are lost and released into waste water causing water pollution. Dyes are highly visible even at a very low concentration. Synthetic dyes present in waste water severely affect primary production in receiving water bodies and cause adverse biochemical effects on plants and aquatic animals. In humans, dyes may cause allergic dermatitis, skin problems, and cancer (Rong et al. 2014).
Different physico-chemical methods like electrolysis (Ruan et al. 2010), sorption (Lapwanit et al. 2018), photochemical destruction, membrane filtration (Karim et al. 2018), coagulation/flocculation, chemical precipitation and oxidation (Nidheesh et al. 2018; Mijinyawa et al. 2019) have been reported for the removal of dyes from the water. Sorption technique has drawn significant attention of the researchers due to its simplicity of operation, low cost and relatively high resistance to toxic substances (Lapwanit et al. 2018). The synthesis of novel and safe adsorbents with high sorption capacity following green chemistry principles to remove synthetic dyes is equally necessitated.
The sonochemical synthesis is considered as eco-friendly approach as compared to other methods (forced hydrolysis and precipitation, reactive sputtering, pulsed laser evaporation, sol–gel process and chemical vapor deposition) in the synthesis of materials based in metal oxides (Dolores et al. 2015; Hassanjani-Roshan et al. 2011; Sivasankaran and Kishor Kumar 2019). Sonochemical synthesis of metal oxide nanoparticles is considered safe as it does not produce toxic intermediates (Hassanjani-Roshan et al. 2011). Ultrasonic method for synthesis has been found to be particularly useful to prevent aggregation of the magnetic nanoparticles and ensures their intimate dispersion within the polymeric matrix.
Hydrogels, known for absorbing large amounts of water or biological fluids, are polymer networks. Hydrogels offer a wide variety of applications for various industries (Yuk et al. 2019). In the last few decades, polysaccharide-based hydrogels have been recognized as materials having exceptional properties (Dave and Gor 2018). Polysaccharide-based nanocomposites with different surface reactivity have drawn the significant attention of the researchers for the removal of dyes from water as they do not produce any toxic intermediates (Makarchuk et al. 2016) and may easily be separated from the wastewater under the influence of the magnetic field (Verma et al. 2017).
The major applications of polysaccharide-based nanocomposites include biomedical applications such as controlled drug releasing agents, in medicine, pharmacology and sensors, electronic devices, energy production and storage, food packaging films and water treatment (Ribeiro et al. 2009; Kirschning et al. 2017; Shankara et al. 2018; Mittal et al. 2018 Shankara et al. 2018; Mittal et al. 2018; Batista et al. 2019; Yuk et al. 2019). Additionally, these materials have their application in photocatalytic removal of synthetic dyes from their solutions. They are supposed to be the environmentally sustainable ideal materials for their potential utility in abatement of dye pollution in water for having unique properties like biodegradability, biocompatibility, and renewability (Yahya et al. 2018; Lassoued et al. 2018).
In the backdrop of aforesaid context, the synthesis of a new magnetic nanocomposite material based on tamarind seed xyloglucan (XG) using ultrasonic energy has been planned. XG from tamarind seeds is known to be a flocculant for water treatment (Mishra et al. 2006; Mishra and Bajpai 2006; Mishra 2013). The magnetic responsive behavior was introduced in XG hydrogel networks by Fe(II)/Fe(III) nanoparticles adsorption.
Materials and methods
The Tamarind seed powder (TSP) was obtained from Venus Starch Suppliers, Tamil Nadu, India and XG was extracted from TSP by the method described by Mishra and Malhotra (2012). Iron salts (FeCl2·4H2O and FeCl3·6H2O) used for the synthesis of nanoparticles and methylene blue (MB) dye (MB, Basic Blue 9 Color Index 52015) were purchased from Merck, India and CDH (P) Ltd. India, respectively.
Results and discussion
MB dye removal potential of XF50
Preliminary study on MB removal using XG–Fe
3
O
4
magnetic nanocomposites showed promising results for its potential use in wastewater treatment. The photocatalytic activity of XF50 to degrade MB dye was evaluated under visible light irradiation at 664 nm. The color disappeared completely after about 30 min. In the case of adsorptive removal of MB dye, it was seen that the dye removal was time-dependent (Fig. 
6
) and the color of the dye almost disappeared after an incubation period of 75 min. These results were comparable to the results obtained by other researchers with the magnetic nano-adsorbents similar to reported in this study (Hua et al.
2018
; Li et al.
2018
).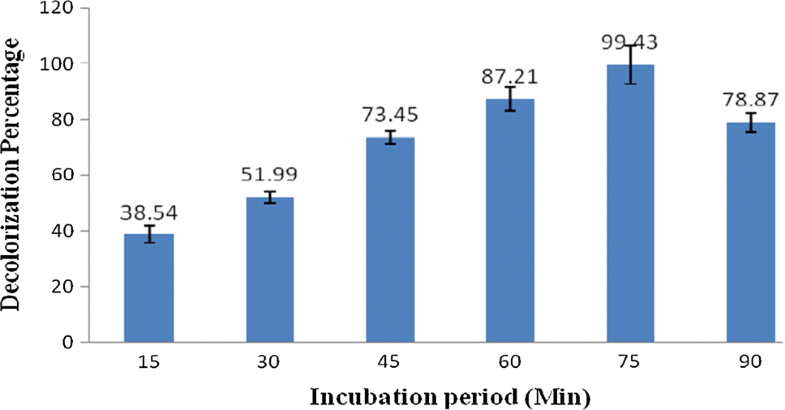 Conclusion
The synthesis of magnetic nanocomposites of XG and Fe3O4 has been done using a nonhazardous sonication method. The PXRD results of all the four nanocomposites suggested that the small size carbon and hydrogen has been incorporated at the surface of ferric oxide. Both the TEM and SEM images validated the change in the morphology while their EDX confirmed the formation of uniform nanocomposites. The XG–Fe3O4 nanocomposites exhibited small ferromagnetic behaviour and the saturation magnetizations were in the range of 2.65–8.58 emu/g. This unique combination of XG and Fe3O4 made this as multifunctional nanocomposites. Preliminary studies showed that the material is capable of removing the hazardous organic dye, MB, from water; however, the material may also be used for many other classes of dyes. Hence, xyloglucan based magnetic nanocomposites are proposed as a promising newer material and eco-friendly sustainable approach for remediation of wastewater containing synthetic dyes.
Notes
Acknowledgement
One of the authors, Shahzad Ahmad, expresses his sincere thanks to UGC, New Delhi, India, for Dr D S Kothari Post Doc Fellowship.
Compliance with ethical standards
Conflicts of interest
There is no conflict of interest to declare.
Copyright information
© Society for Environmental Sustainability 2019