Abstract
Vine decline or sudden wilt caused by a complex of pathogens with unknown etiology is emerging as most destructive disease of watermelon in the southern part of India. In this direction ICAR-IIHR, has identified a prebred line derived from Citrullus amarus viz., BIL-53 to be field tolerant to this disease. This study was planned to understand the genetics of vine decline resistance in this accession. The BIL-53 used as resistant parent was crossed with icebox accession, IIHR‐140–152, a susceptible genotype to develop F1, F2, BC1 and BC2 generations and observe the segregation for disease reaction. The results in F2 and backcross progenies suggested that resistance is governed by a single recessive gene. BIL-53 is also known to possess resistance to WBNV and hence, this line can be used in resistance breeding programs to develop combined resistance to vine decline and watermelon bud necrosis orthotospovirus employing back cross breeding. Further, this line can be tested as a rootstock in overcoming vine decline as an immediate measure.
This is a preview of subscription content, log in to check access.
Access options
Buy single article
Instant access to the full article PDF.
US$ 39.95
Price includes VAT for USA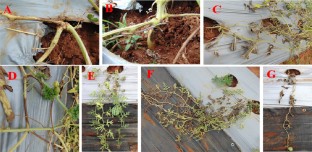 References
Campbell CL, Madden LV (1990) Introduction to plant disease epidemiology. Wiley, New York

Cohen R, Elkind Y, Burger Y, Offenbach R, Nerson H (1996) Variation in the response of melon genotypes to sudden wilt. Euphytica 87:91–95

Ghignone S, Tamietti G, Girlanda M (2003) Development of specific PCR primers for identification and detection of Rhizopycnis vagum. Eur J Plant Pathol 109:861–870

Gusmini G, Luis RB, Wehner TC (2017) Inheritance of resistance to gummy stem blight in watermelon. HortScience 52:1477–1482

Iglesias A, Picó B, Nuez F (2000) A temporal genetic analysis of disease resistance genes: resistance to melon vine decline derived from Cucumis melo var agrestis. Plant Breed 118:1–6

Krikun J (1985) Observation on the distribution of the pathogen Monosporascus eutypoides as related to soil temperature and fertigation. Phytoparasitica 13:225–228

Mertely JC, Martyn RD, Miller ME, Bruton BD (1991) Role of Monosporascus cannonballus and other fungi in a root rot/vine decline disease of muskmelon. Plant Dis 75:1133–1137

Martyn RD, Miller ME (1996) Monosporascus root rot and vine decline: an emerging disease of melons worldwide. Plant Dis 80:716–725

Martyn RD (2007) Late-season vine declines of melons: pathological, cultural or both? Acta Hortic 731:345–356

Nagesh GC, Rao ES, Pitchaimuthu M, Varalakshmi B, Lakshmana Reddy DC, Samuel DK, Rekha A, Krishna Reddy M (2018) Genetic analysis of resistance to watermelon bud necrosis orthotospovirus in watermelon [Citrullus lanatus (Thunb.) Matsum & Nakai]. Plant Breed 137:814–822

NHB (2017) Indian horticulture database. National Horticulture Board, Ministry of Agriculture, Government of India, Gurgaon

Panse VG, Sukhatme RV (1985) Statistical methods for agricultural workers, 4th edn. ICAR, New Delhi

Roberts P, Adkins ST, Bruton BD (2006) Fungi and bacteria associated with watermelon vine decline in Florida [abstract]. Am Phytopathol Soc S1:88

Song RG, Gusmini G, Wehner TC (2002) Screening the watermelon germplasm collection for resistance to gummy stem blight. Acta Hortic 637:63–68

Wolff DW (1995) Evaluation of melon germplasm for resistance to Monosporascus root rot/vine decline. In: Dunlap JR, Lester GE (eds) Cucurbitaceae 94, evaluation and enhancement of cucurbit germplasm, gateway printing, Edinburg, pp 224–228
Acknowledgements
The authors would like to acknowledge ICAR-IIHR, Bengaluru, for providing facilities for field and lab experiments.
Ethics declarations
Conflict of interest
The authors declare that they have no conflict of interest.
Additional information
Publisher's Note
Springer Nature remains neutral with regard to jurisdictional claims in published maps and institutional affiliations.
About this article
Cite this article
Maragal, S., Arpitha, K., Revadi, M. et al. Genetic analysis of partial resistance to vine decline in watermelon [Citrullus lanatus (Thunb.) Matsum&Nakai]. Indian Phytopathology (2020). https://doi.org/10.1007/s42360-020-00197-z
Received:

Revised:

Accepted:

Published:
Keywords:
Watermelon

Resistance

Inheritance

Vine decline

Citrullus amarus